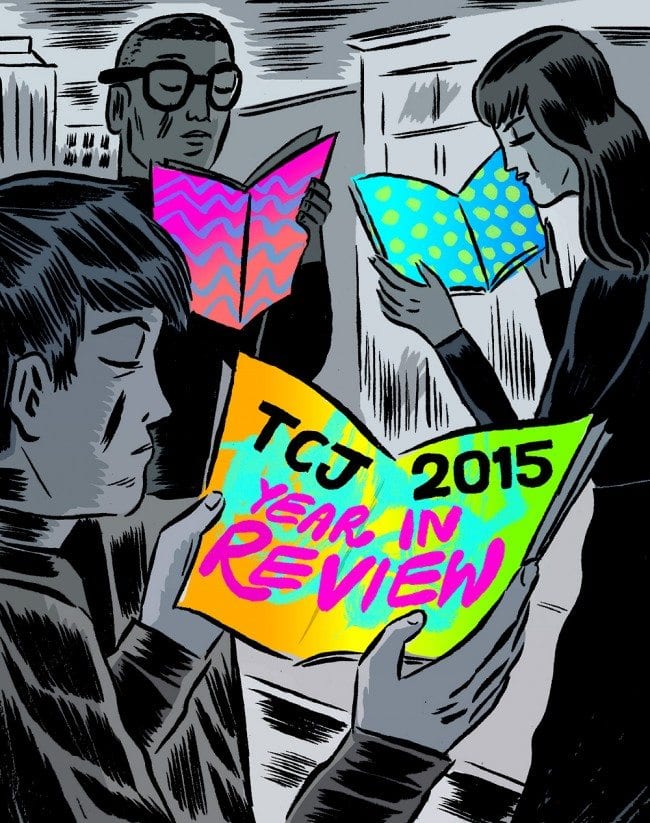 It's that holiday season time, and so it's our tradition to run down some the year in TCJ. Go in and enjoy some reading material. We'll be back on January 4th, 2016.
Commentary:
Anne Ishii on the olds vs. the youngs.
Ken Parille on superheroes and solitude.
Ryan Holmberg on Sasaki Maki (twice) and Tezuka.
Paul Tumey on Clare Dwiggins and Basil Wolverton. 
R. Fiore on comics snobbery.
Craig Fischer on Hawkeye.
R.C. Harvey on Otto Soglow.
Reports:
Kevin Huizenga on Autoptic.
Sara Lautman on the Queer Comics Conference.
John Kelly on alt-weekly comics.
Cynthia Rose on Belgian comics history.
Frank Santoro on the Lakes International Comics Festival and diving in dollar bins.
Interviews
We've had some great interviews this year with the likes of Adrian Tomine, Kate Beaton, Sammy Harkham, Jillian Tamaki, Jon Chandler, Yumi Sakugawa, Dan Clowes, Jane Mai, Anders Nilsen, Dash Shaw, Sophie Goldstein, and Bill Griffith.
Reviews
Nicole Rudick on The Complete Zap Comix.
Paul Karasik on Harvey Kurtzman.
Leslie Stein on the film version of Diary of a Teenage Girl.
Sarah Horrocks on OMWOT.
Annie Mok on two by Michael DeForge.
Chris Mautner on Stroppy.
Eleanor Davis on Futchi Perf.
Monica Johnson on Honor Girl.
Matthias Wivel on the D&Q 25th anniversary tome and The Arab of the Future. 
Rob Clough on Bright-Eyed at Midnight.
Brian Nicholson on Blubber.
Naomi Fry on Melody.
Tim Hanley on Lois Lane: Fallout.
Rob Kirby on Shirtlifter #5.
Katie Skelly on Wendy.
Bob Levin on Fogel's Underground Price Guide.
Diaries
We had great cartoonist's diaries this year, including Jeremy Sorese, Rina Ayuyang and Aron Nels Steinke. 
Passings: