I'm lucky. I get to share with you some  things I like. Your list will be be different, no doubt. Far from a definitive, representative  list of anything (least of all the "best" of 2015), here are some of my favorite comics-related publications of 2015, in no particular order. You are about to encounter a very personal, quirky, opinionated and biased selection that in no way attempts to cover all, or the highlights of what was published in 2015. It's what I'd put in your hands and talk excitedly about if you came over for coffee.
Comics
White Boy in Skull Valley by Garrett Price,
edited by Peter Maresca
For me, this is the book of the year. Of all the comics I read this year, Garrett Price's approximately eighty-year-old comic strip was the most sublime. In a quiet, humble way the strip conveys a surprisingly fresh and affecting sense of the sacred and the profane. I liked it so much I wrote two Comics Journal columns about the strip and its creator, soon to be published. A few of the White Boy pages have been published in previous collections (including an 18-page run in Dan Nadel's 2003 Art Out of Time), and this has served to place a complete reprinting high on the want lists of many readers. Price's only comic strip is extremely unusual, capturing delicate moments and striving to convey how things feel, rather than being overly concerned with telling a story (although there are plenty of narrative twists and turns in these pages). Price creates effects in White Boy I've never experienced before in comics.
It turns out the series is actually three strips. Very likely syndicate pressures caused these changes, but Price worked with them in an artful way, creating what could be seen as three chapters in a life. The first, White Boy, gives us the Native American view of the world, with its myths. The second strip, White Boy in Skull Valley, presents the white man's mythology of the American West, with pulpy cowboy adventures. The final strip, Skull Valley, brings us full circle, as we see Indians and cowboys working a dude ranch filled with crass tourists -- things feel smaller and more trivial. As publisher and editor Peter Maresca said to me over lunch recently, "It's as if Price is saying, 'Look, it's come to this.'" The presentation of the carefully restored strips in their original sizes and colors cannot be praised enough.
The Wild Piano and The Suspended Castle by Fred
(The Philémon Adventures)
I'd never heard of Fred until a friend showed me these books.  That's a little like saying I'd never heard of Winsor McCay or George Herriman. Frédéric Othon Théodore Aristidès (1931 – 2013) was a highly influential French cartoonist and master of fantastic realism who produced a large body of work, mostly signed simply as "Fred." He co-founded the satire and cartoon magazine Hara-Kiri in the sixties, a father of sorts to Charlie Hebdo. Fred's best-known works are the Philémon series of 16 comic books about a farm boy tumbling through one playfully surreal adventure after another. Published by Françoise Mouly's TOON Books, these two books are welcome follow-ups to TOON Books' first Fred Philémon book, Castaway on the Letter A, published in 2013, the year Fred died.
The backbone conceit of the series is that Philémon keeps entering a strange, alternate world through the letters on the map. So that, for a map with an ocean's name written on it ("Atlantic" in this case), Fred treats each letter as an island - hence being castaway on the letter "A." That gives you an idea of the whimsical and imaginative work of Fred. These books include a bull fight with a grand piano and walking on a lighthouse's beam that dissolves in the sunrise. The pages are beautiful to look at and the story is rock-solid. I couldn't put these books down until I had read them cover to cover.
The TOON Books are lovely little creatures in themselves, with smart design and great production values. Mouly has managed quite a hat trick: introducing America to Fred, while also shaping this classic comic to teach as well as entertain young readers, as per TOON Books' mission.
Walena by Sarah Roman Deihl
Sarah Romano Diehl's art style is soft and friendly, with a bit of an edge. She has the sensibility of a children's book illustrator and has turned her attention to creating comics, earning a place in the burgeoning Seattle comix scene. In Walena, a long, full-color, self-published comic book, she creates a surprisingly intense, charming story of a fantastic, post-apocalyptic world where people carry sticks around to knock the mutated walking sharks, turtle-like, on their backs so they can't get up and bite them. Clancy is a sardonic talking dog that walks on two legs. He is a bully but Diehl has planted the seeds for his redemption in the story. Walena combines the darkness of modern young adult survival tales, seen in books like The Hunger Games and The Maze Runner, with the science fiction coolness of Mad Max and Dune. And it's a comic you could read to a child at bedtime.
Bloody Pussy: A Feminist Rag by various
A playfully subversive, "adults only," in-your-face collection of comics by twelve Seattle-area women artists that seeks to outgross the comics of the mostly male Seattle comics group I sometimes refer to as the Goop Artists. Sort of an "answer song" to Seattle's free comics newspaper, The Intruder, Bloody Pussy was a one-shot newspaper freebie that appeared in the summer of 2015 and had all the hallmarks of an artistic triumph. The verve of this publication reaches beyond its locale and stands as an answer to other male creations, including Robert Crumb's Snatch, Hustler, and Internet porn. The comics in Bloody Pussy shockingly ooze menstrual blood, orgasmic fluids, and everything in between. This collection breaks new ground with a surprisingly cohesive overall theme and raison d'etre. This is a comic with a cause. The stuff is so raw that some of the artists felt it necessary to maintain anonymity by adopting pen names ending in "Blood." The list of contributors reads: "Marie Hausauer (cover), Elly Blood, Mimi Blood, ET Russian, Kelly Froh, Tatiana Gill, Anna Vo, Brittany Kusa, Erma Blood, Sarah Romano Diehl (see Walena, above), Lara Kaminoff, and Ruby Blood."
The comics are laden with images of bare breasts and dripping vaginas but they are anything but sexually gratifying.  Many of these frank and funny comics seek to de-objectify women's bodies with pages about cleaning for oral sex and depictions of the variety of fluids a woman's body makes. The effect goes beyond shock value to almost a tender appreciation of women. One is reminded of the endearing section in David Mazzuchelli's Asterios Polyp in which a missing lover is fondly remembered for her bad breath and underarm hair as much as the swell of her breasts.
Taking another approach, Kelly Froh's uncompromising fantasy of brutalizing a rapist is especially harrowing and powerful. In her 2015 book, The Weeknight Casserole Collection (reviewed in The Comics Journal by Robert Kirby here), Froh has a comic called "The Rake", about a dark, menacing figure that seems to be present in the mornings when she wakes up. Perhaps her rapist strip is an exorcism of The Rake. In the carefully curated Bloody Pussy, one gets a blast of pure feminine energy far more powerful, and acceptable, than the grotesque fantasies of women superheroes that seem to dominate the comics world. This paper was a one-shot, but I would love to read more comics like this.
Extruder by various
Around the time Bloody Pussy emerged in Seattle, another local "adults only" anthology comic appeared, also connected to the long-running comics newspaper, The Intruder, cleverly called Extruder. The artists in this book include: Brian Dionisi (cover), Travis Rommereim, Marie Hausauer (see Bloody Pussy, above), Seth Goodkind (see Predators and Prophets, below), Ben Horak, Marc Palm, Bjorn Miner, Joe Garber, Handa, James the Stanton, Mark Allender, Justin Quinlan, Scott Travis, and  John Ohannesian. This 38-page book, limited to 200 copies, offers vivid short-form works that run the gamut in style, content, and tone. I really liked Marie Hausauer's underground-flavored "Swing Shift," about a waitress discovering her feminine power at a truck stop. I also dug Travis Rommereim's formal experiment, interweaving three sequential storylines into one matrix. The Seattle artists remind me of a music scene where there are about six or eight local bands all doing great stuff, with members overlapping. Comics are more vital than ever.
Bikram Addict: My struggles with the man, the brand, the pain, and the sweat  by Eroyn Franklin
This small book has a strong core. I like Franklin's work for many reasons. She is ambitious, and mostly successful at instilling fine art values into her comics. She writes about stuff I haven't read about before, such as yoga addiction in Bikram Addict, part auto-bio and part exposé. Franklin has a direct honesty in her work. She is unafraid to show an obsessive nature and underlying insecurity in this story about her becoming almost a cult member in a militaristic Bikram Yoga clan. The images of her twisting and contorting while sweating profusely suggest a psychic workout, as well. I have re-read this one several times. I might need to try Bikram Yoga someday soon. You can read an online version at The Nib, here.
Predators & Prophets: A Comic History of Pacific Northwest Cults by Seth Goodkind
Originally created for a Seattle newspaper, Goodkind's self-published comic book could be called "comics journalism." Presenting thoroughly researched, dense narratives of cults in the Pacific Northwest, Goodkind's work vibrates with an intense energy and outrage. The underlying tone of these sad stories of pain and delusion is: "can you believe this?!" Goodkind is a gifted artist and his dark, muscular style gives a tough, exploitative feel to the book that perfectly compliments the subject matter. Predators and Prophets reminds me of the work of Jack Jackson (Jaxon), another underground comics historian fond of depicting the sort of historical events that never seem to make it into the school books. An online version of Predators and Prophets, which utterly destroys Goodkind's dynamic page layouts, can be read here.
Fante Bukowski by Noah Van Sciver
Robert Zimmerman borrowed the name of a famous writer and reinvented himself into Bob Dylan. That didn't inspire much interest in Carl Sandburg during an impromptu visit by the adored young musician during a mid-Sixties, cross country, Kerouac-inspired road trip, according to Dylan biographer Anthony Scaduto. The strategy is even less effective for Van Sciver's character, a pretend writer unable to gain membership into literary society. Fante Bukowski lacks self-awareness, inspiration, and a work ethic. The general approach of a comically flawed protagonist is reminiscent of older works by Dan Clowes, and feels like faintly familiar territory. John Fante (1909-1983) was a forgotten American writer that Charles Bukowski (1920 -1994) championed after he became famous. Bukowski got his publisher, Black Sparrow Press, to reprint some of Fante's books. Our name-stealing poseur's descent is shown in a series of full color one page episodes that include him borrowing money from his mother to stay solvent. Compared to Van Scriver's immensely rewarding The Hypo (2012), Fante Bukowski is a minor work. Sciver's talent is such that a minor work by him is better than the best of many others, suggesting this young creator has a great deal more to offer us. I am eager for his next long story.
Eat Eat Eat by Tom Van Deusen
Van Deusen is the Randy Newman of comics. In Eat Eat Eat (and elsewhere), he portrays himself as a bloated monster, a fat, ignorant, selfish, pathetic slob. Van Deusen likes to explore the comedy of discomfort and – because he is such a nice guy (and he's not overweight) – he usually makes himself the butt of his humor (he did pick on Seattle-based musician Dave Matthews in one of his 2015 Intruder strips, though). This sharp, sarcastic approach wouldn't work for me if Tom couldn't draw and sustain a visual narrative – but he can, and, as this book shows, he's getting stronger at it all the time. Eat Eat Eat is not a one-note story, however. Van Deusen has a streak of screwballism in his work, and he allows that to emerge as he pushes his conceit farther than one expects, to satisfying comic effect. Van Deusen was also connected with another self-effacing humorist, Dennis Eichhorn, who  passed away in 2015. Van Deusen's Poochie Press published Real Good Stuff 1 and 2 (combined into an "Ace double" style book). Fittingly, he wrote Eichhorn's obit for The Comics Journal.
Extra Good Stuff by Dennis Eichhorn and various
This came out just before the passing of its author, Dennis Eichhorn, one the most colorful raconteurs in modern autobio comics. While none of these stories present the titillating outrageousness of some of the earlier material in Eichhorn's Real Stuff series, this is a solid anthology comic, with every story offering off-the-wall weirdness shaped by ironclad logical visual storytelling. It's also interesting that Eichhorn worked with some of the new comics creators. I especially enjoyed "It's Good to be the King," Eichhorn's story about an Elvis impersonator at a senior care center, grotesquely and hilariously illustrated by Tom Van Deusen (see Eat Eat Eat, above). Noah Van Sciver provides the art for "Gold Dust Twins," about a nutty unsuccessful stint at gold mining. My favorite piece, one of the most memorable stories I read all year, was "Taxi Driver," with art by the king of sleazy, cross-hatched nightmares, Max Clotfelter. Reading this story is like discovering that there's an underground under the underground as Eichhorn stumbles into a decadent, depraved scene that Clotfelter's art, drenched with dread, greatly enhances. I will miss Eichhorn's stories and unabashed style.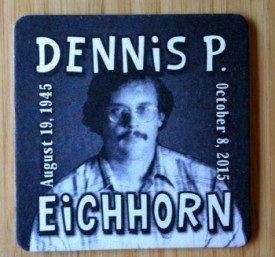 The Second Mouse Gets the Cheese by James Sturm
I have only seen this story in its appearance on The Nib, but it works very well as an online comic. I regard Sturm as one of our great comic artists. Here, he doesn't disappoint, spinning a struggling cartoonist's story in several installments that start on the present day and extending out about 50 years into the future, which, it turns out, will look a little like Chris Ware's comics. I know many artists who go through similar travails, including myself. Being an artist in America ain't for the faint of heart. Sturm co-founded a school for cartoonists in Vermont (before that, he co-founded The Stranger here in Seattle, which used to publish a lot of comics). I wonder if this comic is somehow connected with his experiences as a teacher. In any case, I'm changing my business card to read: "narrative architect."
Manifesto Items 5 by David Lasky
David Lasky puts one of these out a year, collecting some of his shorter pieces. This one is full-sized, in black and white, with a few well-colored pages.  These short-form works show different sides to Lasky's work than the long, slow, historical storytelling on display in the Eisner-winning graphic novel, The Carter Family: Don't Forget This Song (Abrams, 2012) Lasky co-authored with Frank M. Young. It's not well known, but Lasky is a prime modern practitioner of poetry comics, and there are several outstanding examples in Manifesto Items 5, including a great super-hero treatment of Frost's "Fire and Ice." I also quite like his "Catstronaut" comics. In this book one finds a rich mix of clever formal play, poetics, and humor. I have yet to read a Lasky comic I didn't like. Having seen what he can do with a sustained long-form work, I am impatient for another big story from Lasky, but for now, Manifesto Items 5 will tide me over. (Full disclosure: David Lasky is a friend and colleague. I was enjoying his comics long before I met him, however.)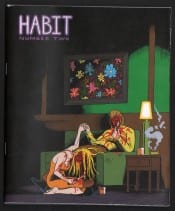 Habit #2 by Josh Simmons
This one caught me by surprise. I hadn't read Simmons before. I purchased the book (published by Oily Press) from him at Short Run in Seattle, a little repulsed by the dark, gory cover depicting a couple on a couch holding hands and cutting their faces into bloody pulps (making Simmons a member of what I like to call the Seattle Goop Art School). But, I could see the 52-page book offered solid narratives and those are rare in the small press, self-published world. When I read the first story, it creeped me out like the first time I saw David Lynch's "Twin Peaks." Set in a seaside town, Simmons' story is about a guileless young man who refuses to look a gift horse in the mouth when the town's overly avuncular leading citizen takes him in. The scene where the creepy fat geezer coughs up a giant taco shaped stomach sled is one of my favorite moments in comics this year. Other stories include collaborations with Tom Van Deusen, Ben Horak, and Eric Reynolds -- and that should tell you something, right there. I'm gonna look for more Josh Simmons comics -- I may have found a new favorite creator.
Invisible Ink: My Mother's Love Affair With a Famous Cartoonist by Bill Griffith
Bill Griffith is certainly not obscure, and his book deservedly is getting a lot of attention. It depicts Griffith engaged in the same kind of comics history research I spend a lot of time doing myself, digging through digital archives on the Internet and sifting through piles of old paper to learn about near-forgotten cartoonists - in this case, Lawrence Larriar's story. Coincidentally, as I wrote an article for the forthcoming print issue of The Comics Journal on another obscure cartoonist (Ving Fuller), I stumbled across Larriar a year before I read about him in Griffith's book -- turns out Larriar published a lot of Fuller's 1940s gag cartoons. In Griffith's case, the cartoonist he is researching happens to also be the man with whom his mother had a long, secret affair. This makes the historian's quest a personal one, as Griffith is also learning about his mother and himself. His ability to distance himself enough from his own personal history to be able to tell it clear-eyed and insightfully, is similar to some of the work by Art Spiegelman, Griffith's friend and Arcade co-editor.
In the end, Griffith doesn't judge his mother's affair harshly. Instead, Griffith sees her with compassion, as someone taking care of her core needs in a difficult situation. The story harkens back to a time in America when broken couples stayed together for the sake of the children. As I read the book, I wondered about Griffith letting his mother off the hook so easily. I also wondered how much awareness he had when he drew his mother being sensuous and sexual (Invisible Ink resonates with Griffith's early Young Lust stories). That being said, Griffith's sex scenes have always been far more comical and clinical than arousing. My point is not to judge this artist as a person, but to say that reading Invisible Ink produced in me a deeper response than I would have expected -- deeper than, say, a guffaw over a tasty Zippy-ism. I suspect this veteran visual storyteller knew exactly the type of potential discomfort over being invited to view the sordid details of his mother's steamy affair he was creating. There's an edginess and intelligence to this work that reaches back to the best of America's underground comix, a movement from which Griffith emerged in the 1970s. The tension of not knowing what is going on inside Griffith as he tells his story with disarming objectivity is part of what makes Invisible Ink, a bottomless dark well of unknowable secrets, so interesting. It's the best work so far by an artist who has given us decades of superlative work.
Commentary/History
Dinomania: The Lost Art of Winsor McCay, The Secret Origins of King Kong, and the Urge to Destroy New York by Ulrich Merkl
Like dinosaurs, this elaborate book is gigantic and wondrous. Dinomania is perhaps the most comprehensive collection of dinosaur-related art, comics, and memorabilia ever published. Hundreds of rare comics, paintings, illustrations, photos, and movie stills deliver so many eyeball jolts that the head swims. Constructed around this collection, there are meticulous timelines, notes, and informative writing. Merkl designed the book as well, giving it an eccentric, mad genius quality -- you've never seen a book like this before. You don't read Dinomania as much as let it stampede. On one level, Dinomania is a book about our long love affair with dinosaurs as seen in each generation's popular art, including a disturbing, multi-generational motif that involves the destruction of New York City skyscrapers. On another level, this impossibly ambitious book works as a comics history detective story. Merkle has excavated rare old comics that reveal a greater fascination with dinosaurs by early twentieth century cartoonists than one would have ever suspected.
The central artist explored in Dinomania is Winsor McCay. Merkl presents the "monster talent" of McCay and how he incorporated dinosaurs into a surprising amount of his work, not just his famous animated film of 1914, Gertie the Dinosaur. Having created and self-published, in 2007, The Complete Dreams of the Rarebit Fiend 1904-1913, Merkl has been working with McCay's art for a while.
It seems Winsor McCay was obsessed with dinosaurs until the very end of his career. In one chapter, with the same exuberant showmanship displayed in King Kong by the man that brings the giant ape in captivity to a stage in New York City, Merkl proudly unveils Dino, a lost McCay comic strip (a portion of which is seen on the top half of Dinomania's cover). Discovered on McCay's drawing board after he died, it has never been published. After all this time, only a few parts of the Winsor McCay Dino comics are known to exist in original art, long hoarded by collectors. Merkl worked with an artist to reconstruct the missing bones of Dino, resulting in something that gives one an idea of what might have been. While Dinomania provides scholarly scaffolding for the Dino fill-ins, and the new art gamely tries to capture McCay's complex style, the reconstruction seems unnecessary -- the majesty of McCay's art is more than enough to satisfy. That said, this is a stunning collection and McCay's previously unseen Dino art is not to be missed.
Creeping Death from Neptune: The Life and Comics of Basil Wolverton Volume 1 by Greg Sadowski
It's only part one but -- as Wolverton's rhyming Powerhouse Pepper might say -- it's swell, Mel! For decades, I've looked at the work of Basil Wolverton and longed to know more about this singular artist. Sadowski's book delivers the goods in spades. Whoever would have thought there were photos of Wolverton and Buster Keaton taken during the filming of The General? Or how about a series of Mickey Mouse comic strips by Wolverton? Sadowski presents not just rare art, but also rare family photos and even a series of letters that, in themselves, are valuable because they provide a glimpse of how some of the early New York comics editors worked. Kudos to Sadowski and Fantagraphics for not cramming this detailed story into a single volume, and sacrificing pages. Creeping Death From Neptune is as satisfying as a look at the life and comics of a fascinating creator as one is likely to find. Like Wolverton's art, the book is dense, detailed, and hugely entertaining. I reviewed the book here. Here's hoping 2016 will see Volume Two!
Harvey Kurtzman: The Man Who Created Mad and Revolutionized Humor in America by Bill Schelly
Harvey Kurtzman is one of the few comics masters in America to transcend the medium. The influence of his work reaches far beyond the boundaries of comic books. So, it is proper and fitting to have a comprehensive, detailed study of his life and work on the shelf. This book is so thick that even Superduperman might not be able to lift it. Instead of having the discipline to start reading at page one, I jumped around and read the parts of Kurtzman's life I didn't already know something about – his time in the army, the end of his Mad editorship, and his later years as a teacher. Then, I read other parts, until I had devoured every page, in screwball order. With this book, Schelly emerges as a first-rate comics historian, writer, and critic. For my money, this is a better comics creator biography than, say,  David Michaelis' flawed 2008 Schulz and Peanuts: A Biography. I was a big fan of Man of Rock, Schelly's slightly fannish, but nonetheless worthy, 2008 biography of Joe Kubert. His writing about Kubert's Golden Age Hawkman stories, in particular, helped me understand them in a totally new light. Harvey Kurtzman: The Man Who Created Mad and Revolutionized Humor in America is a considerably more accomplished and objective account, but it didn't hold any "new light" revelations for me – perhaps because because I already knew a lot of the information and held similar critical opinions. For a less Kurtzman-obsessed reader, this book will deliver a massive amount of interesting information. Schelly's superb marshalling of the myriad extant bits and pieces of Kurtzmania into a highly readable narrative allows one to fully grasp the life and career of the genius behind some of the funniest comics ever made. Hoo hah!
Hogan's Alley 20
Editors Rick Marschall and Tom Heintjes pack every issue of their comics history magazine full of fascinating articles and art, and number 20 is a prime example. From the endearing Patrick McDonnell interview to the outrageous Ripley's rip-offs, I keep finding new delights in this dense issue. This magazine is one of those "labors of love" projects (like most of the books in this column, come to think of it) and I'm grateful we have 20 issues of it, to date.  Especially valuable in the latest issue is the publication, for the first time, of Rick Marshall's 1988 interview with John Dirks, the son of Rudolph (Rudy)  Dirks, who created The Katzenjammer Kids. John took over the strip in 1958. This profusely illustrated interview is a fascinating and informative read, inspiring a greater appreciation of the Dirks and their works and filled with tidbits like the stories of Milt Gross and Gus Mager hanging out with Rudy.  Lately, Hogan's Alley has been releasing "Web Extras," which supplement the material in the print issues. The free extras for issue 20 include a jaw-dropping collection of hundreds of rare comics, including almost 200 hard-to-find Tracy Twins by Dik Browne and much more.
King of the Comics: One Hundred Years of King Features Syndicate, edited by Dean Mullaney
I worked a little on this one as a co-editor and minor essayist, so I can hardly claim objectivity. For anyone interested in the American newspaper comic, this book merits some attention and I think it's likely this would be a favorite read of 2015 for me, no matter what. One thing that sets this book apart is that, while there are many collections organized around series, characters, and creators, this may well be the first deluxe art book devoted to a comic strip syndicate. To celebrate King Features' 100th birthday (the official one, they are actually older), Library of American Comics mastermind Dean Mullaney pulled out all the stops and assembled a thick book that covers over 100 years of the American newspaper comic. There's a rich text narrative, telling King's story with detailed chapters written by some of the leading writers on comics, including Ron Goulart, Bruce Canwell, Brian Walker, and Jared Gardner.
A part of the Hearst empire for 100 years, King Features was, and is, the largest comics syndicate in America, by far, making their self-bestowed moniker the goods - in many ways, they are the King of Comics -- comic strips, at least. This means there are piles of comics to sample and savor in this book, including some of the most famous and celebrated: The Katzenjammer Kids, Happy Hooligan, Bringing Up Father, Krazy Kat, Thimble Theatre Starring Popeye, Polly and Her Pals, Blondie, Henry, Flash Gordon,  Prince Valiant,  Mandrake, The Phantom, and Steve Canyon. There's plenty of rarer, less-often seen goodies such as work by Gus Dirks (the fabulously gifted brother of Rudolph Dirks who took his life at age 22), Louis Wain's freaky cats, Jimmy Swinnerton's Little Jimmy, Harry Hershfield's Dauntless Durham and Abie the Agent, Jefferson Machamer's Petting Patty, Dr. Seuss' Hejji, Edwina's Tippy, and servings of screwball classics by Rube Goldberg, Milt Gross and Walter Hoban.
At the risk of having a king's treasure in my hands and saying "yes, but--," I would have loved a larger page size to show off the older art, which is much larger -- those old pages were huge!
To get a portfolio of these rare comics together, one would have to spend a great deal of time and money and so, as a collection, this book is a welcome addition. As a history, King of the Comics, offers a valuable, and hard to get, education about the development of the American newspaper comic strip. As a bonus, this book shows very clearly the linkage of past decades of comics to modern day King favorites, such as Mutts, Bizarro, and Zippy the Pinhead, also included in this comprehensive collection.
Overall, King of the Comics  adeptly marks a crowning accomplishment in American art and culture and is probably the single best volume on the history of the twentieth century American newspaper comic strip published in years.
Montezuma's Revenge by Jack Mendelsohn
The funniest book I read all year is not one you can easily get a hold of, currently. Comics creator (Jackys Diary) Jack Mendelsohn kindly sent me the manuscript of this as yet unpublished semi-fictional account of his years in Mexico, adorned with his cartoon of a cactus flipping the bird. It's much more a comic novel than comics history. Jack started out in the 1940s, writing comic book stories for D.C. with the gifted artist, Howie Post. He went on to forge a career in comics, most notably writing all of the last six issues of E.C.'s Panic. After that exhausting experience, Jack moved to Mexico, where he had heard he could live cheaply. His book begins with him sitting in a feces-infested Mexican prison cell, which gives you an idea of how it worked out for him. Actually, this Mexican odyssey is only partly true – Mendelsohn has blended fact and outrageous, guffaw-inducing fiction into an piquant (or, one could say in this case, picante) mixture. The tale is told with an admirably precise writing style honed by decades of writing comedy for television productions like Laugh-In and the Carol Burnett Show. Every word feels well chosen, and there's a delicious comic timing to the phrasing. While Montezuma's Revenge has a lot of embellishments, it is a fact that, during his Mexico years, Mendelsohn wrote for Mad magazine and American comic books. While in Mexico, he also created his famous cult favorite comic strip, Jackys Diary. Mendelsohn's ribald accounts of his south of the border trysts and romps, mixed with scenes of creating comic book stories makes for swell reading. I hope this book gets published soon, and you get the chance to read it.