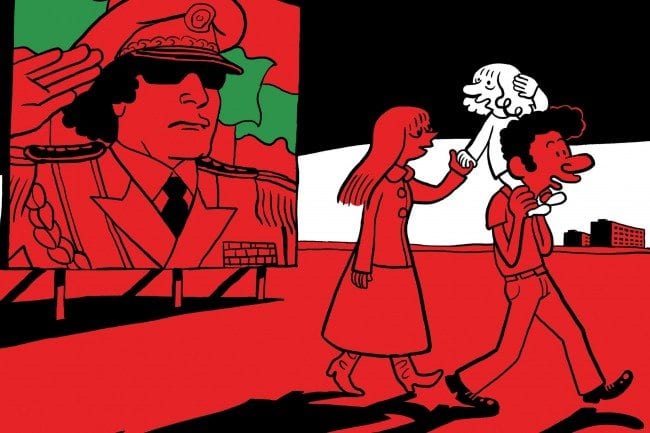 In L'Arabe du Futur ('The Arab of the Future'), the French-Syrian cartoonist Riad Sattouf remembers an errant childhood spent in France, as well as—and notably—the Libya of Muammar Gaddafi and the Syria of Hafiz al-Assad. His tone is mordantly critical, not just towards his egotistical idealist father who is the direct reason for the family's various displacements, but more profoundly the culture he represents.
It is a great success in France, the first two volumes each having sold in excess of 200.000 copies and having received massive media coverage. The first volume furthermore won the award for best comic at this year's Angoulême festival, and it has already been translated into several languages with an American edition due this Fall from Metropolitan Books.
Born in 1978, Sattouf is among the highest profile cartoonists in France and he is concurrently pursuing a successful career in film. His specialty is intelligent popular entertainment, often with serious social engagement at its heart. As a film director, his breakthrough was the César-winning high school comedy Les Beaux gosses ('The Pretty Boys', 2009), while in comics he has produced a wide variety of works. His award-winning satirical banlieue humor/speculative fiction comic about the macho Arab-French tough Pascal Brutal (four volumes published, 2006–2014; more at TCJ here) sits somewhere at the center, but his most successful work is arguably in nonfiction.
For Retour au college (2005), he for instance spent a few weeks in his old, upper class high school in Rennes, finding himself re-immersed in the less-than-innocent world of hormonally disturbed teenagers. As in his debut film, he evokes the sordid yet fascinating transition to adulthood lived by most during those years, and reminds us how the experience stays with us through life.
His most significant work to date, however, is arguably the weekly comic strip La Vie secrète des jeunes ('The Secret Life of the Young'), which has been published in Charlie Hebdo since 2004. It visualizes allegedly overheard, absurd and occasionally shocking conversations between young people. The episode he drew for the post-massacre issue of Charlie earlier this year was among the most notable contributions, showing a young French-Arab explaining to a friend over his cell phone that it is fundamentally wrong to kill somebody because belief or conviction.
Another notable work is the young adult graphic novelette/picture book Ma Circoncision (2004), which relates some of the cartoonist's childhood experiences in Syria around the time of his circumcision. In its subject matter as well as in its childlike yet subtly ironic narration and critical tone, it clearly anticipates L'Arabe du futur, seeming today almost like a dry run.
A work of comprehensive autobiography, L'Arabe is projected to cover in detail a large part of Sattouf's childhood, focusing on the years he spent in Libya and Syria. It has been announced as a trilogy, but it seems unclear whether it will run further volumes. In any case, the two so far published cover the years 1978–84 and 1984–85, respectively.
In the first book, we see how Sattouf's recently Sorbonne-educated father Abdel-Razak, mainly out of idealism, accepts a lectureship at the university in Tripoli, turning down an offer from Oxford University in the process.
Gaddafi's revolutionary socialist experiment is at its peak as the family arrives. All housing is owned 'by the people,' door locks are banned, and everyone is welcome to take over any 'empty' house, which in practice means that you have to leave someone at home at all times if you want to keep your home. There are huge, empty construction sites everywhere, as well as long, chaotic daily lines for food at the cooperative, which on a given day may only have available green bananas, and on another eggs.
Abdel-Razak enthusiastically reads Gaddafi's "Little Green Book" to his family, while Sattouf's mother Clémentine's job as a French reader on state radio ends up short-lived, because she is unable to reproduce with a straight face the dictator's boilerplate threats against the United States.
Sattouf's line is soft and slightly anonymous, but precise: his cartooning portrays equally well the many colorful walk-on characters and the more carefully delineated personalities that inhabit the book. His eye for detail—e.g. the dark, "furry" mulberry fruits he eats with his father; the heels worn by his taskmaster schoolmistress—animates his pared-down descriptions of space and place. And he has an especially developed sense of cartooning smell: his pages reek of sweat, dust, urine, and rosewater. Also notable is his use of a second color to mark geographical location: ochre for Libya, blue for France, and pink for Syria.
When Gaddafi decides that everyone has to swap jobs, so that for instance schoolteachers now have to work as farmers and vice versa, it becomes a bridge too far for the family, and they briefly move back to France. Ever the Pan-Arabic idealist, Adbel-Razak however soon finds an adjunct position at the university in Damascus. There—and eventually in his home village of Ter Maaleh, near Homs—he is reunited with his family, which in the meantime has sold off his possessions and inherited land, expecting him never to return from Europe. The contours of a conflicted family are quickly drawn, and events come to an horrific head toward the end of volume 2 that shall not be revealed here.
It is in the portrayal of his father's home country that Sattouf comes across the most unsparing: human excrement dots the streets; the victims of public hangings are displayed prominently; his family encourages violent fighting between their kids; anti-Semitism is rampant—in this regard, the conspicuously blonde little Riad is especially suspicious in the eyes of his peers.
Abdel-Razak's fervent patriotism provides a sharp contrast to the absurd state of things, and even if he is in passages described sympathetically, the overall portrait is close to unforgiving. Sattouf's approach is basically retrospective, despite his clear talent for assuming a child's perspective: his recollections as presented tend to be more sharply defined than one would expect from a kid between three and seven, and the reflections thereon are clearly that of the author today.
L'Arabe thus combines several of Sattouf's key assets as a creator: his complex cultural background, his talent for assuming the vantage of youth, his sense of the tellingly absurd, his acuity as a visual storyteller and –humorist, and his willingness to brave controversy.
At a time when the kind of cultural criticism Sattouf here practices invariably arouses strong feelings, and when identity politics have become so prominent, this work is refreshingly honest, not to mention eminently readable and entertaining. But it does carry a bitter aftertaste that might ultimately work against it.
For all their many qualities, the first two volumes still leave this reader somewhat wanting. However, if Sattouf develops further the fundamental reckoning with his father that the work on some level appears to be; if he succeeds in explicating more clearly the role it plays for his cultural identity and sense of belonging; and if he manages to flesh out the still fairly bland portrayal of his rather passive mother, we might hope for a future classic of the form, of a stature comparable to Marjane Satrapi's Persepolis. If not, it will be a bit of a shame.