The alt/indy comics world returned to Ohio in full force this fall, with the opening of a massive and breathtaking exhibit and memorial of the life's work of UG master Justin Green in Cincinnati, and a full slate of programming and exhibitor tabling at Cartoon Crossroads Columbus (CXC) 2022 following several years of COVID-challenged limited activity. This report will first take a look at the wonderful Binky Brown's Funeral Pyre exhibit, which opened at Cincinnati's (DSGN)CLLCTV gallery to packed attendance on October 6.
* * *
Subtitled "A memorial exhibition celebrating the life of Justin Green," Binky Brown's Funeral Pyre is unlike any gallery show that I have ever experienced. The entire scope of Green's career—and life!—is on display in several rooms in this large gallery, which is owned and operated by his daughter, Julia, and her partner, Michael Gonsalves. Along with copious examples of Green's art from throughout his years—yes, there are lots and lots of Binky Brown pieces, including many wonders that have never before been seen by the public—the show is also an intimate window into the world of one of the most legendary figures of the underground comics world and the creator of not only the autobiographical comics genre, but also the minicomics field.
Mounted by Julia Green and the cartoonist Carol Tyler, Justin's wife, Binky Brown's Funeral Pyre was conceived by Justin himself during the later days of his life. He died on April 23, 2022, following a battle with colon cancer. A full obituary by the comics historian Patrick Rosenkranz can be found here.
"I discussed [with him] his 'final show,' an oeuvre of his lifetime of talent, that [Justin had] titled 'Binky Brown's Funeral Pyre'," said Julia Green. "He had ideas for installations, furiously sketching in the Thomas Nast style. He would laugh and his brilliance was as clear as the days before his health declined, punctuated only by howls of pain and outbursts of tears. It was clear to me that he would miss this deadline. Like Amadeus, he was writing his own requiem."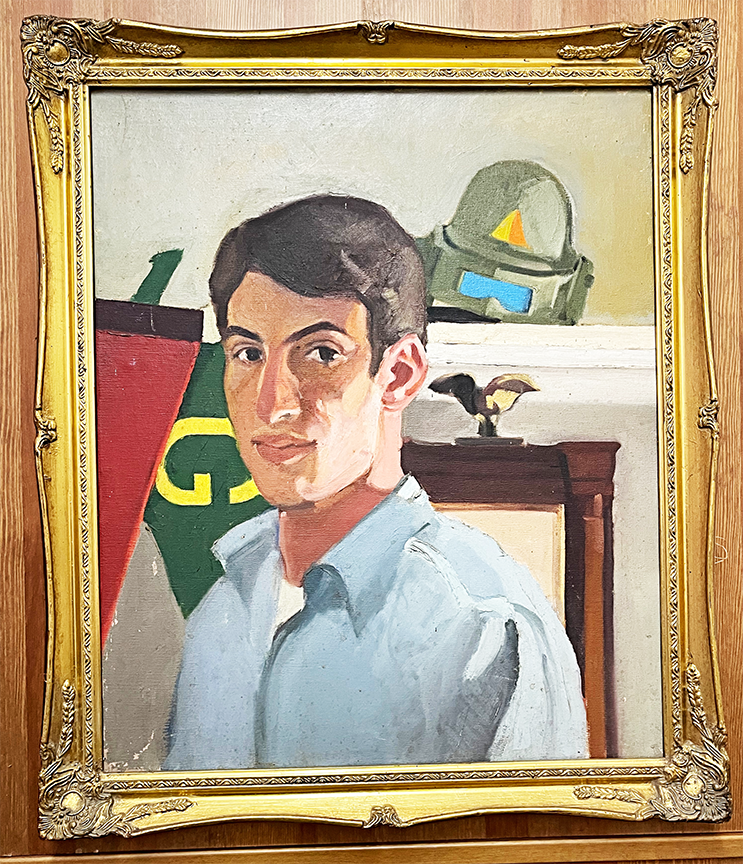 Soon after Green's death, plans were underway to produce this staggering exhibit and tribute, as Tyler, Julia Green and helpers sorted through decades of piles of material from his life, including hundreds (thousands?) of letters, postcards and other personal correspondence, plus artwork, sketches, photos, notebooks, supplies and much, much more. The resulting experience is less a traditional art show (though there is plenty of art -both his comics and work as a master sign painter) than it is a museum exhibit or guided tour of one immensely talented and complicated artist.
"In the last week of his life, Justin requested an art show instead of a funeral," Tyler said. "He wanted Julia's gallery to succeed, and I think he imagined that the sale of a few posters and maybe a sketch or two would help her that way. What he couldn't have imagined is the epic retrospective of his entire life's work, a museum-quality spectacular presented in detail with great love by his family, which is why I call it the Love Show. But he wanted it to be called 'Binky Brown's Funeral Pyre,' and so it is."
Among the many mind-blowing items in the show is an elaborate, unpublished Binky Brown instruction guide titled "Judgement Calls", which breaks down in painstaking detail exactly how a Binky figurine or statue should be designed. In the video clip below, Tyler demonstrates just how meticulous Green was in his process and his absolute insistence in getting every single detail correct in his work. This obsessive level of perfectionism extended to other areas of his life - perhaps not surprising, considering his OCD condition.
"Justin was a private person, very protective of his personal space," Tyler said.  "And like many of us, he had a lot of stuff. But he was not into an artful curation of talismans or any ostentatious showcasing of his tchotchkes. His space was full and cluttered and junky and stacked with layer-cake towers. For example, on an oversized paper bag of mismatched socks and old t-shirts that never got tossed because eventually they could be paint rags, there'd be a worn down box of throw-back Katie [Catlin Wulferdingen, Green's elder daughter] stuff from the '70s heaped with pictures of signs, ancient bankruptcy paperwork covered with a thick layer of Pulse magazine tear sheets from the '90s, covered in dust, then a letter from [Robert] Crumb, and finally topped off with a slew of overdue water bills and a pair of pliers. In general, though, he knew what he had, and us 'interlopers' better not mess with any of it."
"He tried to make order," Tyler said. "He'd pull a file cabinet from the curb. Too bad the drawers didn't close all the way, so he'd use them in his kitchen to store potatoes and set the papers on a repurposed store fixture contraption that had stir sticks pointing upward. And then he'd emblazon the side with a capital R or K with a drop-shade, in lead paint. Of course! The master sign man never held back from practicing on any surface, any time. It was only in the last decade that he discovered the magic of magnets, using them on large metal panels he'd dragged in from somewhere. They were all over the house, along with wires to deflect energy fields and rays. Justin called his stuff 'the morass of shit,' but it was not that at all. A trove of treasures, I call it. He kept everything, every bill, every scrap of ephemera, bunches of ideas, and book projects and proposals. Even transient little love notes I left here and there for him along with grocery lists. He kept it all. But OCD was the reason behind everything, including the lack of cogent ordering. His intentions of someday making order were as persistent as the symptoms that vexed him his whole life."
The exhibit focuses on five areas of the life of this gifted artist.
Tyler described: "Underground Comics, Binky, the Studio, the Sign Shop, and his Inner Sanctum. I knew about his comics. I knew about his signs. Those parts of the exhibit would be easy to design for, which included moving his drawing table to the gallery exactly how he left it. But the sorting brought around three big surprises that became vital to the show. (1.) That he valued correspondence with people enough to not only keep every letter anyone ever sent him, going back over 50 years, but to save them in three-ring binders - kooky salesman's sample/commercial product binders from the sign biz. (2.) His search to find release from profound mental torment resulted in a deep, personal spiritual practice manifest in writing, craft, and music. He wrote down his prayers in a notebook. (3.) A blues guitar virtuoso, he also wrote about two dozen really great original songs, maybe more. I haven't even begun to get through the hundreds of hours of cassette recordings he made, found in a contractor bag in the basement."
"It took me a month after he passed away before I could even enter his space," said Tyler. "By this time, the family had agreed to an October show, and I had to get in there and see what we had to work with. I felt uncomfortable, like I was violating his sacred space. Gingerly, I began to go through the papers, and with the help of a few friends, began to see groupings. But then the phrase 'in situ' popped into my head and I realized that context and proximity were key to presenting Justin's story. From then on, the 'magnets and morass' vibe would be included in the exhibit."
"I don't want to say putting the exhibit together was cathartic, because it was not," said Tyler. "I had to put my guard up because if I had stopped - if we had stopped pushing this thing through to ponder the loss, me and Julia, there would be no show. I'll leave the expression of my feelings of losing him for the final chapter of my in-progress upcoming book on grief and continue to pray Jud's prayers for his two daughters. Instead, I found it was better to focus on the mechanics of telling the story of this charismatic, troubled, much-loved genius in our daughter's gallery because, like I said, it's a love show. A much needed show of love. Everyone has brought forward their love for Justin. And that's what makes it spectacular."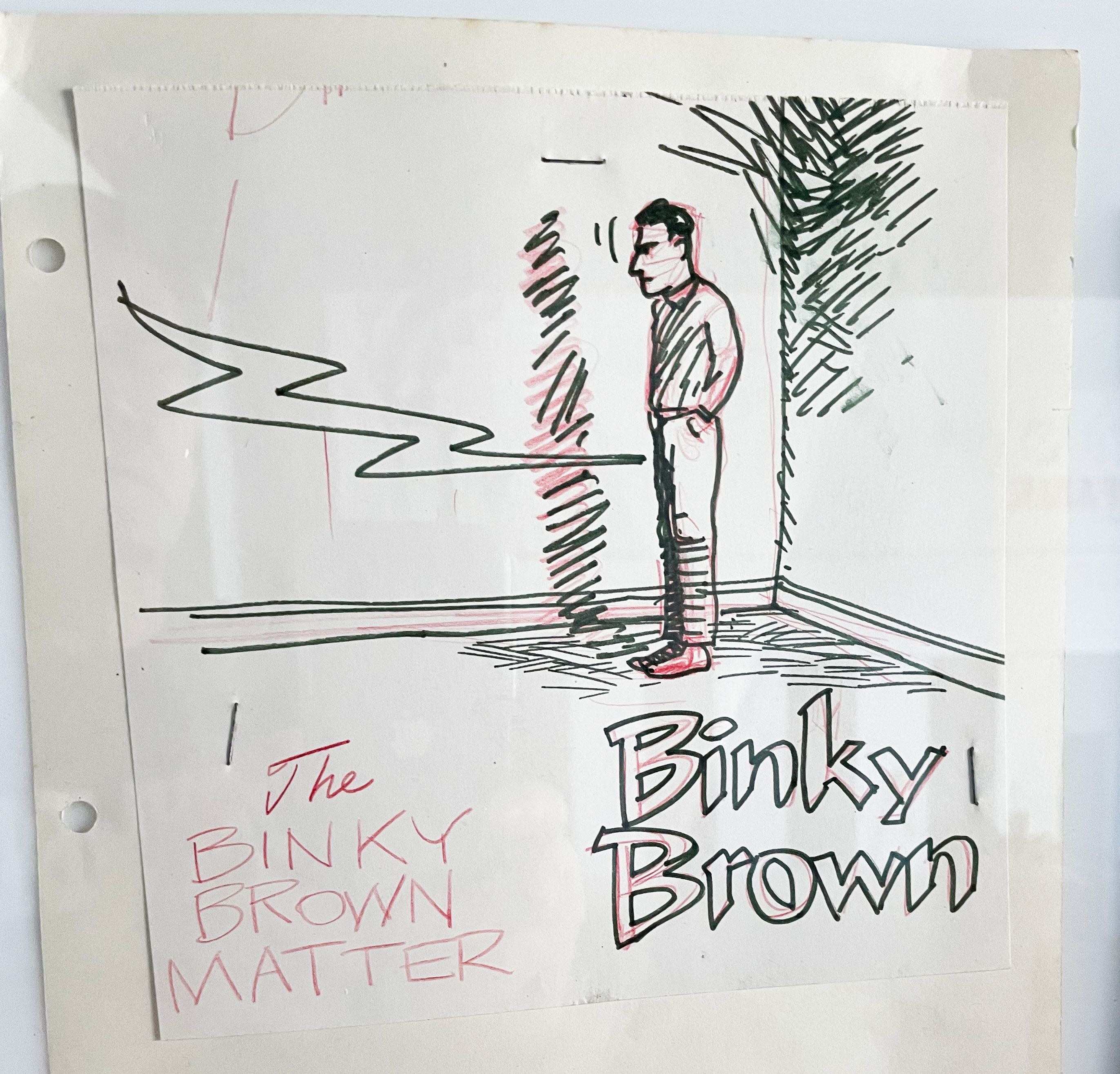 Binky Brown's Funeral Pyre will run at (DSGN)CLLCTV through the end of 2022. A series of events will continue to take place at and around the gallery, including a Comics Journal memorial event on December 17th and a Sacred Flame Bonfire event at Green's and Tyler's Ink Farm on December 31st. A full schedule can be found here.
"How lucky to have access to a great space and enthusiastic, helpful volunteers, and generous donors," said Tyler. "And getting to do this with Julia and Katie made all the difference. I wish the exhibit could travel. I don't look forward to taking it down. We're enjoying it too much, and the related programming has been excellent. There will be an actual pyre to end the show out at the farm, but don't worry. The only thing of Justin's I plan on burning are those overdue water bills!"
* * *
The following day, October 7, halfway across the state, CXC 2022 began at Ohio State University's Billy Ireland Cartoon Library & Museum in Columbus. We had attended the festival last year, which had been presented in a much more limited format due to COVID, and it was wonderful to see the event back in full swing and highly attended by fans and creators. Launched in 2015, CXC models itself after the comics festivals of Europe like Angoulême and takes place in several locations in the city of Columbus, including the Billy Ireland Library, the Columbus Metropolitan Library, the Columbus Museum of Art, Ohio State's Wexner Center for the Arts, and the Columbus College of Art & Design. Historically a venue for alternative and small-press creators and fans, this year CXC also served as host for the annual conference for the Association of American Editorial Cartoonists, so many of the still-remaining artists working in that field mixed in with the crowd.
Some highlights of the sessions we attended included a talk by cartoonist Paige Braddock, who is the chief creative officer of Charles M. Schulz Creative Associates. At the time of CXC, one of the exhibits running at the Billy Ireland was Celebrating Sparky: Charles M. Schulz and Peanuts, and attendees were able to see a huge selection of work and memorabilia by the master, who would have turned 100 on November 26th. 
In the presentation, Braddock discussed working with Schulz, his love of talking about theology, his preference in pen nibs, and other personal insights. Braddock said she once asked Schulz why his character Marcie always called Peppermint Patty 'sir'. "He said, 'I have no idea,'" Braddock remarked, laughing. When asked if Schulz ever talked about other cartoonists, particularly ones who could be seen as adapting Schulz's style to their own, Braddock said that he spoke extensively about the topic, but "I have to take that to my grave." Braddock added that Schulz did often talk about how much he enjoyed Patrick McDonnell's Mutts. A full recording of Braddock's talk with Billy Ireland's Jenny Robb is found below.
On Friday afternoon at the Wexner Center, Trina Robbins and Lee Marrs talked about the 50th anniversary of their launch of Wimmen's Comix and its place in the underground movement and beyond, as well as the struggles female creators faced at the time - and sometimes still face. Below is a brief excerpt from their interview with Sydney Heifler.
Later that evening, Robbins and Marrs were awarded CXC's Transformative Work Award. "Robbins' and Marrs' groundbreaking work with [the] Wimmen's Comix collective truly defines Transformative," said Caitlin McGurk, chair of CXC's Awards Committee and a curator at the Billy Ireland. "Their efforts paved the way for femme and queer creators whose essential voices are at the forefront of the industry today."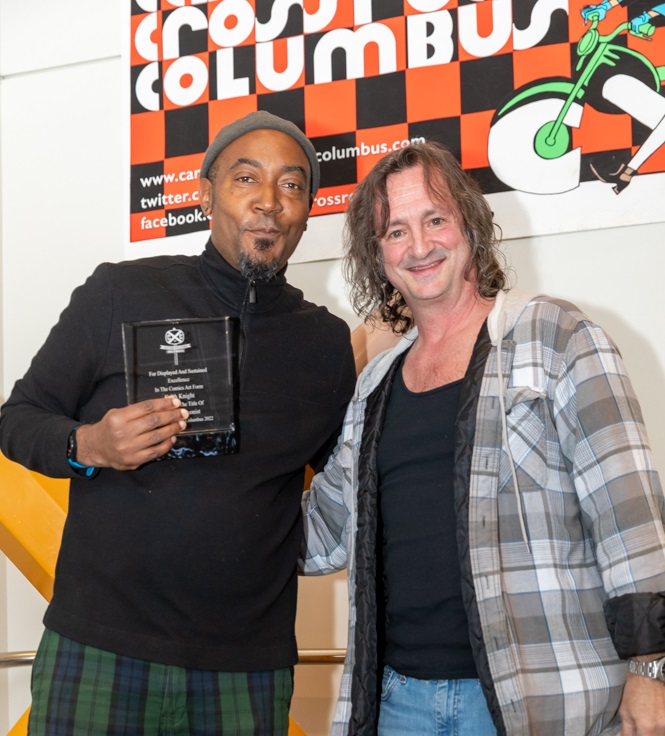 Friday evening events on the Ohio State campus concluded with a spotlight discussion with Keith Knight, who earlier at an Opening Reception held in the Billy Ireland lobby, was presented with CXC's Master Cartoonist Award.
"By using humor, Keith has exposed the insecurities and hypocrisy of modern society for almost three decades now," said Jeff Smith, CXC's artistic director. "His cartoons ring true because they are honest."
Saturday morning saw the events shift to the Columbus Metropolitan Library and featured a series of talks, author signings, and the return of the festival's Expo where the second floor of the library was filled with creators and publishers selling a wide variety of merchandise and books. (Swipe or drag left to navigate the photo gallery below).
One of the most "interesting" listings on the schedule of events was several appearances by the syndicated newspaper cartoonist Peter Gallagher, who is the current artist doing the daily—and often inscrutable—Heathcliff. In 1998, Gallagher took over doing the strip from his uncles, John Gallagher and George Gately, and since then Heathcliff has become increasingly weird. If you are unfamiliar, and remember Heathcliff only as the strip about an orange cat that isn't Garfield, Google it and see for yourself. At any rate, Gallagher turned out to be a perfectly normal guy and explained that, contrary to many conspiracy rumors and speculation, there isn't any hidden meaning behind his mysterious panels - Heathcliff is a strip that at times can be even more puzzling or Dada than Zippy. Gallagher understands that his humor isn't for everyone, but at least he thinks his work is funny. Perhaps a clue was revealed when he said that, growing up, his favorite strip was Jim Unger's Herman. Ah, yes... anyway, he was a surprise delight.
A Saturday night highlight was a talk with the hosts of the massively popular YouTube show Cartoonist Kayfabe, Ed Piskor and Jim Rugg, in discussion with CXC board member Dan Gearino. In the clip below, they talk about their love for comics fandom and their respect for mainstream artists who were able to make a living in the comics world.
On Sunday the festival wrapped up with some breakfast events, more tabling and selling and artist talks, and a suite of afternoon programming which included an appreciation for the contributions Chris Pitzer has made to the indy comics world through his AdHouse Books, which he is closing after 20 years of publishing excellent work. Pitzer was joined in conversation by Jim Rugg, who had several of his books published by AdHouse. Their talk can be seen in the video below.
Sunday closed with a panel on autobiographical comics. Considering we began this report with a look at an exhibition of work by Justin Green—the inventor of the autobiographical comics genre—this panel seemed like a fitting way to end our trip to Ohio. Moderated by Andrew Kunka, author of a biography of the cartoonist Howard Cruse, the panel featured M.S. Harkness (Desperate Pleasures, Tinderella and the forthcoming Time Under Tension), Sam Szabo (Comics Will Break Your Balls, Girl Hell and Brain Booger), Anne Haddox (multimedia artist and creator of several autobiographical zines), and Kayla E. (Precious Rubbish). In the clip below, the artists talk about how they hope their work helps others process their life experiences.
On a final note, earlier in the festival, CXC presented the Tom Spurgeon Award to the manga scholar and translator Frederik L. Schodt. It was the first time the award, named in honor of the late comics scholar and friend to many in the field, was given out in person. Spurgeon, the founding executive director of CXC, died in 2019.
"Tom would have been proud of what we pulled off for 2022, and delighted by the many cross-genre and cross-generational connections made throughout the weekend," said Billy Ireland's Caitlin McGurk in a Facebook post. "Miss you and love you buddy."
We all do.