On January 7th, 2015, a group of cartoonists and the policemen assigned to protect them were machine-gunned at the offices of the satirical tabloid Charlie Hebdo in Paris. The very next day, Marguerite Van Cook and I embarked on a mini-tour to support our Fantagraphics Books graphic memoir, The Late Child and Other Animals. We were chilled by the events in Paris, not least because that city was among our destinations. The art of cartooning was now deadly, which added urgency to our trip. Our first stop?
New Orleans.
When Marguerite was nominated for an Eisner for her watercolors in the revised edition of our 7 Miles a Second last year, she was offered a list of "Wizard World" cons in different cities to be a guest at, including New Orleans. We generally feel more comfy at alt/lit cons than these sorts of superhero-oriented affairs, but she had enjoyed the Big Easy when she traveled there to perform in the odd reworking of Hamlet, "The Rub", that she was featured in a few years ago, and I had never been there at all, so off we went. Surprisingly, instead of the warmer weather that we were expecting, it was freezing-ass cold! This made our meandering of the fascinating streets a little less pleasurable than it should have been.
Of course, we still made the rounds of local eateries to feast on a range of delicacies from blackened catfish to alligator sausage. Deee-licious. We only saw one classic New Orleans second line when it went by a restaurant we were eating in, but the meal was so great that we couldn't bear to leave it to join in. The con itself was pretty much what we expected; we were around the corner from con mainstays like Michael Golden and Neal Adams and we bookended a line of tables with fellow New Yorkers Dino Haspiel and Ben Katchor, which felt nice and homey. Our table did seem to be the only acknowledgement to be seen of the horrendous Parisian bloodbath that we thought should surely be consuming all of the comics industry's attention around the world:
It has to be said that the obligatory cosplayers seemed pretty restrained in a town where everybody dresses up in seriously crazy costumes at the drop of a hat. However, there were some pretty effective zombies, particularly a young girl corpse who would sneak up to snarl and scare the shit out of people.
At the end, the best part of the con was that Marguerite was invited to participate in a panel about comics and World War II moderated by comics historian Danny Fingeroth. The panel also included the aforementioned Ben K and the granddaughter of DC's founder, Nicky Wheeler-Nicholson; this went over swimmingly to a packed house. The weather actually warmed up the last day we were there, enough for this little group of musicians to liven up a street corner:
And then, we split and flew off to:
London.
In Old Blighty, after the prerequisite soaking in the pissing-down rain, we settled into a very nice apartment that had a wonderful panoramic view of the old city. Our son Crosby had procured it through Air B & B, which really is a source of banging good deals and we shared the place with him and his designer girlfriend Tata. Marguerite and I had been invited to sign at the comic shop Gosh! London which is located in fabulously seedy Soho, between the last of the old-school rock & roll clubs and a cluster of porno shops. The very elegant upstairs of Gosh! features the best in indy and alt/lit titles and a great selection of minicomics. The superhero-oriented work is all in the basement in their own domain, cozy for an afternoon of rummaging.
Our signing was preceded by an exceeding well-informed public interrogation of us. The place was full; the crowd  included the charming and urbane Paul Gravett, and we also finally met our longtime internet pal Ilya, formerly with Vertigo and now about to drop his own Kirbyesque masterpiece, Kid Savage:
The Gosh! crew were very warm; after we signed piles of books they offered us a copy of whatever book we chose. We selected the very well-done Mutiny Bay by Antoine Cossé, a murky, dreamlike account in ink and watercolor of Magellan's explorations published by the local Breakdown Press that is more comprehensively described in a recent column by Joe McCulloch here on TCJ:
On another day, we met with the excellent Alison Sampson, whose Genesis with writer Nathan Edmondson for Image has won her recognition as Britain's best young cartoonist and who has engaged us to eventually contribute to her fascinating Think of a City project. Alison was very open in her sharing of information, which was very refreshing; taken with the obvious signs of vigorous life seen in the brilliant output of publishers like Breakdown and No Brow, we felt that there is a lot of hope for English comics. But after nearly a week in London, it was time to move on to:
Paris.
Our first residence in the city of lights was in Republique, where a few weeks before millions of shattered Parisians had come together to mourn the artists of Charlie Hebdo and their defenders. The monument in the center still held the tattered remnants of peoples' gestures, posters, candles, and scrawled declarations. These had a similar visual and emotional effect to the spontaneous public gestures made by New Yorkers after 9/11, but hopefully this awful massacre will not result in the religious revenge wars and badly designed memorials of our American response.
Whenever we passed by, day or night, people were still gathered around this statue. It seemed that in the community of French cartoonists, everyone knows each other--cartoons for the French are a national institution and this murder event touched them all. And this is not just true of the French; we also feel that the Charlie Hebdo artists were and are heroic and that no religion or institution deserves any immunity whatsoever from satire.
The first night we were in Paris, we connected with comics scholar Alex Buchet, someone else who we had previously known only via the internet. We met him by the sad tributes on the Republique monument and then we passed the evening in conversation at a little cafe.  Alex offered us considerable insight into the history of Charlie Hebdo and he disputed pundits that criticized the CH artists as "racist" for their anti-religious stance. Charlie's artists were not racists; they were equal-opportunity satirists and their targets were and are deserving of critique.
When I first heard of Georges Wolinski's death, I thought back to several years ago when I was at Columbia University in a class about the Black expatriate writers in Paris. I was considering that Chester Himes (Cotton Comes to Harlem, Blind Man with a Pistol) is due for adaptation into comics form (perhaps by me) and my professor Brent Edwards pointed out that Wolinski had already done just that for Hara Kiri. It showed that Wolinski was a sharp iconoclast from jump; nothing was exempt from his barbs. Edwards said that the famously testy Himes was not thrilled with this version of his work, that Wolinski's efforts were way more cartoony than the writer would have liked. But he sure as hell didn't shoot Wolinski!
One thing I was able to do was fulfill the request that our editor Gary Groth made to all of his artists for a Charlie Hebdo "In Solidarity" piece for the FBI website. However, it was much more difficult to accomplish than it should have been---it took a friggin' village! Our French friends had saved copies of the new, in-demand Charlie Hebdo issue for us. Marguerite took a photo of me "reading" it on her phone, then it was like hell to get the internet to upload the image; we had to use roaming charges in Starbucks! --urk. Then our expat painter pal David West scanned my drawing of a bunch of religious creepos (including the forbidden M. and that other god, the Euro) and then Crosby uploaded a temporary version of Photoshop into our little laptop so I could assemble it. Whew!
Okay, I admit I can't read or speak French, but Marguerite sure can, so she handled a lot of communication in the weeks that followed. First we had a signing at SuperHeros, a very deep and cavernous shop packed to the rafters with bande dessinée (or BD, i.e. graphic novels). We had done a little drawing for them to make into a bookplate and there was quite a line when we got there. We were able to meet yet another 'til-now internet-only acquaintance, this time our Facebook pal Patrick Chaduc and add our efforts to his considerable trove of artist-signed books.
Marguerite had noticed a fabulous book among the abundant wealth of previously unknown material around us, Random, by Abdelkader Benchamma from L'Association. At the end of the event, the owners gifted a copy to us. This huge tome needs no translation; it is wordless and depicts cosmic events such as the paths of comets and their impacts into heavenly bodies with linear majesty:
We're told that Benchamma crosses over into the gallery world, as well.
We then went to Caen in the area of the North of France that figured into the final section of Marguerite's writing for The Late Child. The ancient town features a castle, a cathedral, and several BD-oriented shops, including Brouillon de Culture, where Marguerite read the locally relevant passage. Then we signed books and did the drawing below for the shop: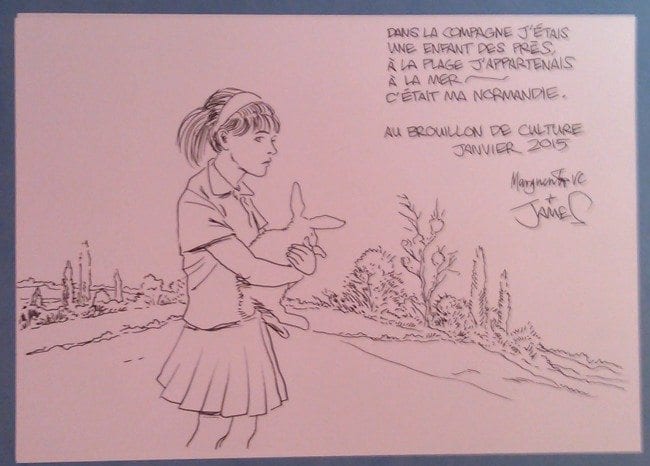 Back in Paris the next week, we shifted to a friend's apartment in Bastille. Here we continued sampling the profusion of incredibly good local restaurants and also made the rounds of a number of interesting stores dealing in BD. In one excellent large shop, BD Net, the very receptive proprietor enlightened us about a variety of fantastic books, of which we chose one that is beyond gorgeous, Futuropolis' Kililana Song by Benjamin Flao---this  is the first installment of a serial tale, a book drawn with such engaging renderings and lush color that it would be a crime for a translation to not reach our shores:
In fact, we saw many books of obvious great worth that we have not previously heard of; take heed American publishers.
We were particularly charmed by another tiny shop, Opera BD, where we got to know the owner and his erudite compadre. Here I bought Casterman's beautiful facsimile edition of Hugo Pratt's Corto Maltese en Siberie, which is singular in that it is realized in the ben-day dot color of American daily/Sunday strips. Through the tolerant translations of Marguerite, we discussed the virtues of Caniff, Foster, Toth and Kirby relative to those of Pratt, Moebius, Cabanes and Alberto Breccia:
A visiting acquaintance of theirs (second from right) allowed us to see images of a collaboration he was in the midst of accomplishing with Phillipe Druillet, in the form of a hand-painted book done for a private collector. But soon enough, we would be in:
Angoulême
---and one of the things we admired there was this huge mural on the side of a building by Druillet:
Angoulême is host to a variety of conventions every year, but its BD festival is the jewel in the crown of European comics. Our time was very limited there and much of it would be taken up signing the French version of our book, translated as L'enfant inattendue. One of the first people we encountered was the elegant and cerebral Matt Madden. He had just been signing at the L'Association tables. He and his talented partner Jessica Abel serve as America's cartooning ambassadors to France. In fact, Matt has recently been knighted there!
It was also great to re-encounter Paul Gravett and to finally meet a cartooning couple we often talk with online, Antoine Dodé and our fellow Tales from the Crypt chain-rattler, painter Momo Kim.
We were only able to stay for two days and one night at Angoulême; our time was extremely limited. So while there were all sorts of interesting exhibitions we might have liked to check out, even a Jack Kirby show (although I hardly need to travel halfway around the world for a Kirby fix), we simply didn't have the time. We did take a brief pass through a street-level gallery that was filled with classic European BD talent, from a statue and a tapestry by Druillet to original art by Hermann and François Boucq's huge M.C. Escher-like perspective rendering of a winding stairway, which was something to see:
Though much of our time was earmarked for signing sessions, we had a few spare moments to meander through the festival. But, though we were warned by our publisher that the crowds were overwhelming if we tried to visit the various tents containing a range of other publishers, we found that the mobs were nowhere near as dense as the average sardine squeeze of a Comic Arts Brooklyn, for instance---and so we had a nice time meeting quite a few publishers and their artists. And in the "Rights and Licensing" tent, we found a pair of oddfellow Americans indeed: our current editor, Fantagraphics' Eric Reynolds sharing a booth with former DC czar Paul Levitz!
It should be said that all was not 100% glowing at the festival; the specters of the murdered Charlie Hebdo cartoonists hovered sadly over the proceedings. They would be recognized in special ways, which on the one hand reflect the BD community's genuine feelings, but also make one wonder why it takes death for some to be noticed after lifetimes of committed work.
On Saturday, there was a "march of cartoonists." I dislike marches in general and the implication of an "army" of cartoonists on principle--but at any rate, we were scheduled to sign at the time it was taking place. However, as it turned out, the march was not some sort of anti-fundamentalist riot, but rather a protest against four issues: firstly, that cartoonists in France  increasingly live in states of poverty: one of every two authors must survive on less than the minimum wage; secondly, that a new French law dictates that cartoonists (who do not get salaries, nor employment benefits or health insurance) must set aside 8% of their already low income for their retirement; thirdly, that copyright protections for authors are being threatened by the EU administration in Brussels; and finally, in reference to distribution, that bookstores are balking at stocking BD albums, thereby limiting the potential audience greatly. We agree with their concerns and in fact, these problems are not so far from those that affect creative artists in the US.
Now, one can protest "the way things are done" in any given place and hope for the best, or one can take one's fate into one's own hands. When Marguerite and I had lived in Belgium for six months in the late 1980s, our best friend was a young cartoonist named Vincent Gazda. Now Vinnie (as we had dubbed him) unexpectedly popped up before our signing table and it turned out that in the years since we'd seen him, he had moved to Angoulême and was now a publisher himself! With some like-minded associates he had co-founded an imprint, Le Troisième Homme, and their newest project was a book that he was one of the artists of, a history of Angoulême itself, for which his architectural renderings are impressive and exacting :
It is a canny move by these intrepid young artists; during the festival, Vinnie and his co-authors held several independent signing events around town, where we enjoyed watching his steady flow of admiring readers.
But now, it was time to return to NYC and so, with Vinnie and his artist wife Catherine and their son Leo, we enjoyed our final glasses of wonderful French wine and made plans to see them at next year's festival!