On November 29th and 30th, the self-published self that I often think I am was lovingly drawn with tip-of-tongue in corner-of-mouth into a new panel or comic or zine, copied less than a hundred but more than a thousand times, folded, refolded, stapled, sewn, glued, and displayed on tables at the 2013 Short Run Small Press Fest in Seattle, Washington where a vast tribe of creators, self-publishers, big-time publishers, young adults, radiantly beautiful women, old outliers like me, hip young people, famous cartoonists, genius and searching twenty-somethings, filmmakers, artists, writers and the Inspired bought and sweetly traded me, them, and the moment. If it sounds like I sold my own zines and comics at this event, I did not (though I gave some of my stuff away). If it sounds like I had a transcendent, redefining moment: yeah, I did.
Short Run was created in 2011 by four talented, crafty, artistic women who love D.I.Y. publishing – Kelly Froh, Eroyn Franklin, Martine Workman, and Jenny Gialenes (Martine and Jenny left in 2012, Janice Headley joined in 2013). It makes sense that this would eventually happen. SPX (Small Press Expo) has been going on for years, New York's MoCCA and Chicago's Cake Alternative Comics Expo are well-established. Seattle, which may well have more cartoonists per square inch than any other city in the world, seems a natural for a small press festival. The first Short Run Small Press Fest, funded by bake sales and the organizer's bank accounts, featured 90 exhibitors and drew 800 people.
Insert a narration box at the top of the next panel that reads "Three years later..." and Short Run (this time partially funded by grants from Humanities Washington and 4Culture) 2013 drew about  1700 attendees and featured 120 beautifully mad people makin' copies, comics, zines, prints, and doodads for sale and trade. This year, Short Run took a long sprint across the entire month of November, with such events as November 9th's Rookie Yearbook 2 signing party with editor and fashion sensation Tavi Gevinson, the small press art show at the Fantagraphics Bookstore and Gallery, and November 29th's Read/Write event that featured a panel, an interactive performance with David Lasky and Greg Stump, a silkscreen workshop with Eric Carnell, and much more.
Short Run's long run-up culminated Saturday, November 30 in a day-long zine selling/trading, small press event extravaganza in which about 1200 people packed into a three story, 105-year old historic red brick community center located in Seattle's Central District (which is not actually in the center of the city, but east of downtown).
One of organizer Janice Headley's favorite moments at the Festivals was "when I saw Eroyn across the room, putting Jim Woodring to work in the early morning when we were setting up." Indeed, seemingly every well-known, well-established comics creator currently residing in the Seattle area attended Short Run this year. The inimitable Peter Bagge had a table where he sold piles of interesting old publications cheep, cheep, cheep.
Cartoonist and teacher Ellen Forney author of the acclaimed graphic novel Marbles: Mania, Depression, Michaelangelo, and Me: A Graphic Memoir (Penguin Books, 2012) attended on Saturday.
The original comics bad boy, J.R. Williams was there...
... as was Gary Groth, in a sense the most successful small press guy of our time.
2013 Eisner-Award winner David Lasky (The Carter Family: Don't Forget This Song, Abrams ComicArts 2012) had a table.
Frank Young, who co-authored The Carter Family, also made an appearance, selling a new zine.
This could go on for a while, so I'll just mention one more of the well-established cartoonist crowd that I spotted, one of my favorites -- Pat Moriarity.
To me, however, the real stars of Short Run 2013-- and the focus of my true interest -- were the people I had barely heard of, or met for the first time. There was something truly glorious and vital in being able to connect with so many interesting, creative, and sweet people. As someone who used to sit at the kitchen table and draw comics that I later copied and mailed out to strangers all over the country, most of whom I never have met in person -- an event like this was very inspiring. As organizer and inspired comics creator Eroyn Franklin said to me:
"My favorite moment of Short Run 2013 is my favorite moment from every year, which is when someone comes up to me with intense eyes like they are in shock and I think they are going to say that there has been a terrible accident or that they just killed someone but instead they say, "I have to leave RIGHT NOW to go home and make art."
And then, there's the sheer materialistic aspect -- the heady experience of being able to get a huge pile of very precious, very scarce (hence the name of the festival, Short Run, which denotes a miniscule print run) comics and zines. There's something very powerful about buying a handmade fringe comic I actually love from the creator themselves, and knowing that there may ever be only 20, 30, a hundred copies of this item in the world. It's like collecting enchanting seashells on an exotic beach.
After two days of meeting people, I had spent $187.50 and had a pile of 54 zines that ranged in price from free to $18.00. I bought zines that were serious, silly, artful, primitive, elegant, literary, bawdy, angry, fiercely independent, community-based, and every single one is more entertaining to me than 99% of the new mainstream comics I've read. Among other things, the zines in my pile address themselves to true-life accounts of people and places, autobiographical and highly personal sharing, stories about old jazz men and ghosts, Mr. Spock re-imagined as a member of the Clash, the aftermath of a bizarre suicide involving a deer, a sensitive comics version of a literary classic, the joys of pinball, dreams, sex, violence, and philosophical discourse on the nature of reality. And, that's just what I've read (I'm only about halfway through).
What follows is simply one person's experience of the festival (me). As always, with these things, if you spoke to another attendee, you'd get a completely different account. My mentions of various creators and publications is not meant in any way to be the defining review of the Festival (in fact, I am often at the outside edge of such things, unaware of the truly cool main events). This review mostly represents the few people at Short Run I connected with in one way or another. The photos in this article are mostly taken by my friend James Gill, who attended, as well. Jim and I, along with Frank Young ran our own self-publishing venture in the 1980s. It was called Working Class Comics (because we all had day jobs) and we put out about a dozen books -- all distributed in the mail (this was in the pre-Internet days). In digging out some old copies of our publications to use as trading material at Short Run, I found a letter from Scott McCloud (Understanding Comics, Zot!) that came with an order from him for some of our self-published comics.
Our particular entry point into Short Run 2013 began at a bus stop not too far from my house, when we experienced an unplanned meet-up with David Lasky. David said, "I thought that looked like the back of Jim Gill's head." A short, bumpy bus ride brought us to the Short Run site located underneath a fog-enshrouded Space Needle. We were greeted at the door by the Festival's organizers, Kelly Froh, Eroyn Franklin, and Janice Headley, all wearing vintage dresses. Jim was the very first person to buy an issue of On Your Marks, The Short Run 2013 Anthology.
There were several events that day that I regretfully missed, such as Amber Nelson's chap book and bookbinding workshop, an interactive reading, and a presentation by cartoonist Mita Mahato. I did, however manage to catch  the D.I.Y. Publishing in the Digital Age Panel, with with Eric Reynolds (Fantagraphics), Bruce Rutledge (Chin Music Press), self-publisher Alec Longstreth (The Center For Cartoon Studies), and moderator Zack Soto (Study Group).
Each panelist had a valid and different view of publishing comics in our time. Eric Reynolds briefly discussed his initial reluctance to run the recent Kickstarter campaign for Fantagraphics, while Alec Longstreth shared that his Kickstarter campaign for his large format graphic novel, Basewood, reached its goal in two days. "People ask me how it reached my Kickstarter goal in two days, and I tell them it took twelve years of drawing comics, self-publishing them and getting out there." Longstreth, who wore a jacket emblazoned on the back with a cover from celebrated self-publisher John Porcellino's King Kat Comics,  became one of his comic characters when he started acting out the panic that ensued when he realized that, while his printing costs on the sizable hardcover were covered, he now has a massively huge pallet heading toward him on a literal slow boat from China that he will have to figure out how to house. Considering the costs associated with storing and shipping large heavy books, Longstreth cracked me up when he leaned over to Eric Reynolds from Fantagraphics (who rejected Basewood) and said, "You guys are geniuses for not publishing my book! I had no idea that format had so much cost associated with it!"
The three panelists had some common ground with their various wins in targeted, niche publishing. Chin Music's publisher Bruce Rutledge said, "We're like the ballet. We don't need tens of thousands of supporters. But that two or three thousand we do need is very, very important." Eric Reynolds shared that one of Fantagraphic's best-selling titles is Wilfred Santiago's The Story of Roberto Clemente because it ties into the baseball market, instead of solely the market for comics and graphic novels, which is much smaller. Even self-publisher Alec Longstreth (Phase 7) revealed that he published with a pal a zine devoted to pinball (Drop Target) that sells well because it tilts toward a market that, while small, is hungry for new material. I made a mental note to see if I could score some of those pinball zines from this guy I'd never heard of before, and indeed -- on Saturday, I bought the entire run of five issues of Drop Target (and the latest two issues of  Longstreth's other zine, Phase 7 -- which I haven't read yet), showing the collateral benefits of appearing on panels: people get to know you and your work.
This zine, by Jon Chad and Alec Longstreth, is assembled with the typical intense, fanatical, enthusiastic love that you tend to find in the best of the zine world (which, for my money, is some of the best reading you can buy -- period). The issues are extremely well written and feature some appealing and lengthy autobiographical and pinballistic comics stories by both men, who are also teachers at the Center for Cartoon Studies. There's even centerfolds of fantasy pinball playfields (Harry Potter, Groo the Wanderer, and Inspector Gadget). The comics in these issues tell the story of two guys discovering a new shared obsession and getting deeper and deeper into. In issue #5, Alec even "embeds" himself as a cartoon journalist into a Portland, Oregon pinball gang called The Crazy Flipper Fingers.
Also on Friday, we sat in on an interactive, improvisational excursion into the sort of spontaneous, make-it-up-as-you-go-without-a-net comics that are often found in self-published zines. David Lasky and Greg Stump, who created two issues of a slick semiprozine called Urban Hipster, and who collaborate as co-teachers in comics how-to classes, solicited suggestions from the audience to create a giant, six-panel comic strip. Even though the paper was on the wall, the resulting strip -- which involves a tapir at the Tour de France -- is pleasingly off the wall!
After this fun event,  in the cavernous public meeting halls of the Seattle Center's Vera Project, I was perusing the zine library that was tucked into a dark corner and met Karen Looney, who gave me a copy of her well-written and appealingly candid perzine (personal zine), Grapefruit Reverie. She told me it was her first zine in eight years. The next day, I saw that Karen had dropped a stack of her zine on the free shelf at Short Run. There's something immediately energizing when a new person hands you a sheaf of folded and stapled pages onto which they have captured a visual-verbal representation of their life and times. Self-publications like this, which may very well never exist in more than 20 or 30 copies, represent the lifeblood and spirit of self-publishing.
I also met Tim Miller, who told me all about a comics publishing collective that so far has produced eight issues of The Intruder, a tabloid-sized newsprint comic anthology distributed free around Seattle. I was able to score a couple of issues at Short Run and there's some great work in these pages by some very Inspired cartoonists (Tim included). The Intruder reminded me of Michael Dower's Seattle Star, a tabloid newsprint short run comic freebie paper from a previous era.
The next day, after a comically complicated bus journey to Seattle's Central District, Jim Gill and I managed to find Washington Hall -- the site of the core event of Short Run. Washington Hall is a small, three story freestanding brick building with ancient, broad staircases made of dark hardwoods. We entered and plunged into the first floor, eager to purchase zines. Right away, I scored a pile of zines by Short Run organizer Kelly Froh.
Kelly's comics blend a Roz Chast cartooning style with a wickedly askew focus on the unusual and marginalized members of our world, whether it's a grouchy and violent senior woman in a nursing home, a psychotic Amazon employee, or a gorilla at the Milwaukee Country Zoo. Froh's comics invite you to slow down and find a way to see your fellow humans (and gorillas).
I also scored some comics by another organizer of Short Run, Eroyn Franklin. Where Kelly Froh embraces a simple visual style, Franklin's comics ambitiously reach for visual complexity in both the rendering and the format.  One of her comics (acknowledged but not reproduced in this year's Best American Comics anthology -- a fact that Tim Miller at her table was very sweetly enthusiastic about) features die-cut holes on every page where the speech balloons would go -- a provocative innovation. Of the two comics of Franklin's that I have read, both Dear Dear and Making Tide offer cinematic and intimate presentations of horrific events. Franklin's material reaches high, and while it sometimes falls short of its lofty goals, one can only have the utmost admiration for Franklin's integrity. For comics to grow as an art form and be relevant, we must fearlessly stare down the large and difficult issues -- something that Franklin and Froh know.
So when you have so much more material to browse than time, how do you make choices? Myself, I quickly scan the items on a table, and if they draw me in, I'll stop and pick one up. Or, in some cases, I'll make contact with the seller and that will lead to a purchase. And in some cases, I'll spot a name tag and go -- "Holy crap! I've been wanting to meet you for years!"
Such was the case when I turned a corner and encountered Mark Campos' table. I have only had the good fortune to find a few of Mark's well-written, superbly atmospheric, and genuinely humorous stories over the years, but they have always stood out to me. Suddenly, I was facing the chance to buy a big pile of them! From chronicles of his dreams to a wonderfully solopsistic, snake-eating-its-tail story about Seattle in the '90s, to Mezz Mezzrow and Louis Armstrong, Campos' art is singular, fresh, and everything you want in a good story.
"Well, THAT was fun!" I said to Jim Gill after a head-spinning hour spent on the first floor of Washington Hall. "I wonder what's on the second floor?" said Jim. I said it was likely where the panels and events were. Boy, was I wrong -- later I found out they were tucked away behind a curtain on the first floor -- although I never did spot where the "All-day Transformational Hairbrushing" event was staged). When we reached the second floor, I could hardly believe my eyes. There were easily FIVE TIMES as many comics and zine exhibitors on this floor as there had been in the room I had just explored.
I started creating my own self-published comics and zines in the heyday of Factsheet Five. This was a thick, monthly magazine with tiny print reviews of comics and zines. Each review ended with an address and a price for the zine. Sometimes money was requested, sometimes stamps or trades, and sometimes the zines were free for the asking. I sold and traded my comics to Matt Feazell, Clark Dissmeyer, Steve Willis, Lynn Hansen, Randy Paske and Bob Pfeffer (who later published some of my comics), John Mobbs, John Porcellino and many others -- none of whom I ever met. This room was like looking at an entire issue of Factsheet Five, in person! Space and energy do not permit me to share with you all the great people I met and zines I saw. So, I'll just share a few highlights.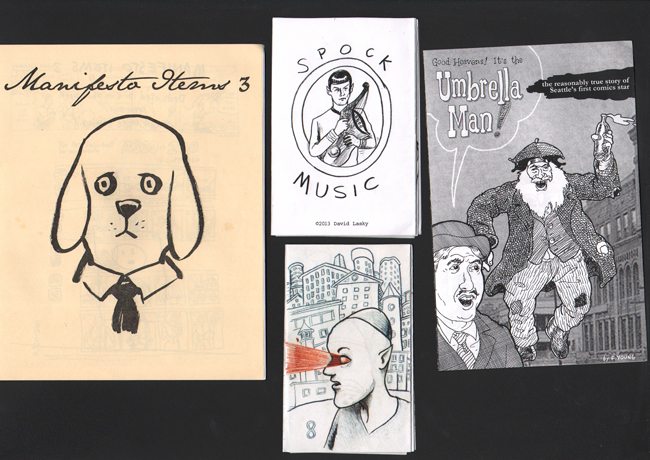 I was, of course, happy to score the three new comics that David Lasky premiered at Short Run: Manifesto Items 3, Eyebeams, and Spock Music. David's comics combine exquisite drawings with deliciously understated humor and his newest comics are a joy to behold.
I also scored (for free!) a copy of my old friend Frank Young's new zine. I first knew Frank as an insanely creative cartoonist. I mean, this guy filled up notebooks of great comics and cartoons every month. It's wonderful to see Frank stepping out again with a comic that he not only wrote, but also drew. Good Heavens, It's The Umbrella Man! tells the story of a street character from Seattle's early days that became the subject of a popular local daily comic panel that ran in the Seattle Daily Times by cartoonist "Dok" Hager.
Later in the day, I took the above photo from the third floor of filmmaker Ron Austin leaning precariously over the balcony to snap a photo for his and Louise Amandes' upcoming documentary on Northwest cartoonists, BEZANGO, WA. Frank Young's "Umbrella Man" comic is not only a great zine to get and read, but it's a prop in the movie. In fact, Frank and Jim Gill are both in the movie. They donned umbrella hats to film a scene for the movie at Short Run. While this was happening, a 15-minute segment of the documentary screened, and I got a tantalizing sneak preview of what looks like a cool film.
As if this three ring zine circus wasn't enuff, on the third floor, as well as in the proscenium, animated cartoons showed all day. I happened to catch one that had backgrounds drawn by TCJ's own Frank Santoro (unfortunately, I missed the film's title).
Back on the main floor, I continued to meet people and score zines. One of my favorites is the enigmatic, primal comic The Adventures of Nick and 14B9 by eleven-year old Judah Drury (who was also selling his comics at Short Run 2012). To be honest, in the chaos and confusion of the day I only bought the comic to encourage what appeared to be the youngest exhibitor there. Later, I wished that I had bought everything he had, as I really love this comic! There's no email or address on the comic, and the work is not even signed (unless you count the mysterious credits to "#B348"). I have no idea how to find more of Judah's excellent work. Ah, the cost of well-meaning condescension!
Cartoonist Sarah Rosenblatt's tiny colorful envelopes caught my eye as I walked by her table. "What's this?" I asked. She explained these were her "one-page comics."
I could not keep myself from opening one and looking: I felt as if I were unfolding a secret. Tides, a two-sided, one-page color comic written by Margo Shickmanter and drawn by Sarah Rosenblatt is a lovely, poetic comic. The packaging engages the reader on a deep level, as you must literally unpack the comic to discover its secrets. There were more of these. I wish I had bought them all.
Another table that caught my eye had an array of very simple and elegant prose chapbooks, all bearing the imprint of "Shotgun Wedding" (hence the simple, no frills, immediacy of the format). The title of one was intriguing: "A Portable Model of How Memory Works" by Joseph Mains. I struck up a conversation with the publisher, Amber Nelson (who had conducted the bookbinding workshop at Short Run the previous day). I realized that Amber (herself a noted published poet) was probably one of the few people in the room who was not actually self-publishing, but instead devoting her efforts to publishing others. I opened the chapbook whose title attracted me and read:
"There is a look one gives of power
and knowing one day I will enter her and make the inside
outside I said. I felt this look on me but did not acknowledge it."
(Joseph Mains, "A Portable Model of How Memory Works")
I bought this tantalizing poetry chapbook and several others from Amber, the set becoming an essential piece in the jigsaw puzzle of my day at Short Run 2013.
A few tables over, another literary effort caught my eye: two comics with bold covers called Miss Lonelyhearts. I asked the author, Gabrielle Gamboa, if this was connected to the celebrated dark novel by Nathaniel West and learned it is, indeed. Thumbing through the first issue, I got the sense the author had given a lot to this work. (Later, this hunch was confirmed. The one-large-panel-to-a-page format conveys the same stately gravitas of a wordless woodcut novel, although there are speech balloons. Gamboa has invested her large panels with details and carefully thought-out visuals. The somber tone the pacing provides serves the dark, despairing subject matter well. As if that weren't enough, Popeye, Nancy, Annie, and other icons of American comics from the story's time period -- is that Frank King's Danny Dreamer as an adult in book 2? -- are integrated into the story, providing an interesting but distracting sub-layer of meaning that almost, but not quite works. Nonetheless, I give Gamboa props for her ambition to deliver a complex work). I acquired the first two issues (of a projected 12) and a mini comic Gabrielle made that tells the story of obscure teenage rock star Chris Montez. Wow. This comics creator, who has been working in the form since the 90s, has some chops.
Speaking of chops: a few minutes after Miss Lonelyhearts 1 and 2 joined their new companion comics and zines in my backpack, Jim found me, and declared he could murder a pork chop. In short order, we made our way towards a restaurant for an early dinner and ended our Short Run 2013 experience.
I asked each of the three Short Run organizers if there will be a 2014 event, and if so, what plans they might already have. Here's their replies:
Kelly Froh: Of course! Well, this year we learned a lot about our new chosen home, and I think we can use the space even better next year now that we know that no, a floor to ceiling curtain does not actually soundproof half the room, and yes, we do need to add more time in between programming because they will run over, or require more set-up time. We are very interested in working with our prom co-sponsors again, The Seattle Globalist, and perhaps next year they can help us attract more International artists.
Janice Headley: Eroyn & Kelly might kill me, but I'd love to throw more adjunct events throughout the year -- I think it'd be great to host more educational programming, workshops, and guest speakers, to help inspire local artists to produce the pieces they'll debut at the festival later that year!
Eroyn Franklin: We're really excited to say that the main focus for 2014 is to become a 501c3!  We are planning an organizers retreat to discuss our plans for the future which focus a lot of attention on building a sustainable nonprofit model so we don't burn out.  It takes a lot of work to put on a festival like this and we want to make sure we always support our own artistic aspirations, relationships, and careers.
The ever-shifting kaleidoscope of subject matter, format, styles, and approaches to self-published comics, prose, films, and information that was available at Short Run 2013 burned a bright, folded, and stapled pattern across my mind. There were many more people and publications I met (and, regretfully, did not meet)-- this is a mere sampling. I left with a backpack filled with treasure and -- perhaps more important -- a rekindled fire in my belly to join the ranks of the Inspired and, as Eroyn Franklin put it, "MAKE ART!"
As Alec Longstreth, who has been drawing and self-publishing since he was 16, framed it in his December 10, 2012 lecture at the Jordan Schnitzer Museum of Art, "If you want to be a cartoonist, there's nothing stopping you. All it is is a pen and some paper. Okay? You got these... BOOM! You can be a cartoonist!"
"Framed! I was Framed!..."
- Paul Tumey
Notes:
More on Bezango, WA -- a film honoring Northwest cartoonists
Thanks again to James Gill for the photos. You can see his album of tagged Short Run 2013 photos here. And be sure to visit Jim's Cartoon Simple website (devoted to exploring simplicity in art) and his Trick Coin website, where you can listen to entertaining improvised comedy podcasts with Frank Young.
Frank Santoro's review of Gabrielle Gamboa's Miss Lonelyhearts 1
Gabrielle Gamboa's Cartoonist's Diary for The Comics Journal can be seen here