Happy Holidays to everyone, whatever it is you celebrate--or not celebrate--this time of the year.  In the spirit of the New Year, and in an effort to further explore some historical connections between comics and other forms of popular culture, today we will be focusing on some of the Christmas-time covers done by an extraordinary group of cartoonists and illustrators for Seattle's The Rocket, a magazine that helped launch the the careers of many rock musicians, cartoonists and graphic designers.
The Rocket was an extremely influential music/art/political alternative monthly (later, bi-monthly) magazine/newspaper that happened to be located in Seattle during a key moment of that city's comics, and pop culture generally, history.  The Rocket existed from 1979 to 2000, a period in which Seattle became the home of Fantagraphics, Peter Bagge moved to town and became editor of Robert Crumb's Weirdo, and Nirvana and the whole "grunge music" thing happened.
"For a lot of people, the only place you could get any attention or any action or get published was in The Rocket," said Art Chantry, whose latest book is Art Chantry Speaks: A Heretic's History of 20th Century Graphic Design.  "So it served as the hub of a wheel.  It was a very important magazine for a lot of things.  Sub Pop Records actually started as a column in The Rocket.  Bands like Nirvana and Soundgarden actually met each other through the classified ads in The Rocket.  It was that kind of a hub to what was happening there.  And of course, it pissed people off all the time so it's been kind of erased from the history books.  But as a place for the illustrators and cartoonists, it was a place for people to start doing their work and develop their voice.  It was interesting and fun to work with a lot of these people and watch them develop very rapidly into what they became."
Charles Burns was one of those artists; in addition to the holiday cover at the top of this page, some of Burns' earliest comic work appeared in The Rocket as a one panel strip called Mutantis (below).
"Since The Rocket was a monthly magazine, we tried to take the first month of January off as the Christmas holiday," said Chantry, who served as art director at The Rocket at least three different times during 1983 to 1994.   "We doubled-up the issues and put two out in December (the crunch).  The Xmas issue came out around Xmas, but was dated January to accommodate the vacation month.  We didn't put out the next issue until February.  The idea of the 'holiday issue' (not really Xmas, because there weren't any Christians on staff anyway, illustrators could do any holiday theme they felt like) came about by accident.  [Rocket editor and on and off art director] Bob Newman hired Lynda Barry (I don't think she was on staff any more because she had become famous with the publishing of her first book) to do an [illustrated] cover just as a quick solution .  But everybody all liked it so much we decided to continue it as a sort of  tradition.  But some years we still didn't bother."
"The Charles Burns one was the first Christmas one and that was art directed by Helene Silverman," said Newman.  " We had done previous comics covers and Lynda Barry had done one of them.  They were for 'end of the year' or 'best of' issues and we were probably too lazy to get some cool band for the cover and thought a comics cover would be fun.   Burns had done some pieces for us in the past so we thought of using him.  And he was from Seattle.  He was kind of just busting out at that time.  He had been doing street flyers for bands and some work for us and I guess he had been doing the RAW stuff, so I think he was well-know as an underground artist when it came out but not yet famous.  But is sure was a great cover.  And there was no art direction involved except that Helene told him to make it have a Christmas tree and that's what he did."
Working with a limited budget, the art directors told TCJ that they would set aside funds throughout the year specifically for the holiday cover project and try to entice artists they liked to contribute.
"Each one of these guys we offered $300 to $400, depending on what money we had," said Chantry.  "We'd sell them on the idea by sending copies of the magazine along with a fan letter and then held our breath."
"The thing was that alt-weeklies....The Rocket was free," said Newman, one of The Rocket's founders and later art director for numerous publications, including The Village Voice, New York Magazine, Entertainment Weekly, Fortune, Details, Readers Digest and the current Creative Director for This Old House Ventures.  "It wasn't an alt-weekly.  It was an alt-monthly and The Rocket was driven by its show listings--who was coming to town, who was playing where--and it was the combination of listings and ads [that made people pick it up] and so it did not matter much what you put on the cover.  Everybody grabbed it as soon as it came out because they wanted to see what shows were happening, so we kind of figured out that we could do something like a Charles Burns cover and everyone would grab it anyway.  So why not use that freedom and do cool stuff visually on the cover?"
In 1985, The Rocket used Lynda Barry for the cover (above).  Newman and Barry's working relationship dates back to Newman's previous position at the alt-weekly Seattle Sun, where he was art director and Barry would come by on the issue's closing nights to drop off comics and do spot illustrations for fillers and ads.
"At the Sun, they just decided at some points they wanted to run a couple of cartoons," said Newman.  "Lynda was running her comic strip in the [University of Washington] Daily and I'm not exactly sure how she ended up at the Sun, but she did.  She lived a couple of blocks away...and the size of her strip would change from week to week, depending on how much space they had.  Sometimes it'd be really tiny and sometimes it'd be really big.  And when she got more popular they moved it way up front of the paper.  And she lived right down the street, so she would come down on closing nights and draw on pages for us.  She'd do little decorations and fillers and ads for us for things like subscriptions.  And she would just draw on the page.  We'd say, like, 'Oh Lynda, we have this little three inch square space--could you fill it with something?'  And she would draw like borders around photographs if we wanted something like little graphic decorations.  And some of the ads she did for us were really elaborate, like half page ads where she wrote on them and do the whole thing, like little cartoons.  And she did a couple of covers, too."
When Newman left the Sun to help launch The Rocket, the practice of sometimes using comics on the cover of the publication came with him.
"At first we hired locals and pals to do the holiday covers, because they were so amazingly good," said Chantry.  "But, somehow (I think it was the Gary Panter cover...he was a famous outsider, even though he had been doing illustrations for us for a while by that point) we started to try to hire 'famous people' to do Xmas covers instead."
The 1984 Panter cover (below), art directed by his future wife Helene Silverman, was notable for a number of reasons.
"Gary did the second one, and Helene was the art director, and at that point we had decided that were going to do a Christmas cartoon cover at the end of the year and we're going to do it every year," said Newman.  "I remember sitting around talking about who would do it and Helene wanted Gary to do it.  And that's when they first met, over the phone, the first time they talked.  Gary was friends with Matt Groening, who we knew through Lynda, because they were friends, and [Groening's Life in Hell strip which ran in] the LA Reader and Helene and I went down and hung out with Matt in LA and went to some cool clubs.  And Helene must have gotten through to Gary through Matt, I guess, and she just called him up and he did that piece and that's how they met.
"And the story about that cover is that Helene screwed up the separations because she didn't know anything about production at all.  She's a brilliant art director but her production skills were somewhat limited because she was self-taught.  So Gary had sent an elaborate set of overlays, because the way he would do it was he would draw, I think he would draw his black lines right on the acetate, and then he would do overlays.  And so he drew a little color sketch for the cover's color separations and Helene used the color sketch for the cover instead of the overlays.  So what actual ran was Gary's funky sketched guides, which was cooler!  Gary's elaborate cut out guides were on the bottom of the box or something!  And we didn't even know!  We just thought, 'oh, yeah, that's the way Gary did it...'  I don't think we every heard anything back from Gary.  He probably thought it was cool."
After The Rocket, Silverman would go on to become the designer for Mademoiselle and Metropolis magazines and her book and music design work includes clients such as They Might Be Giants, the Red Hot Organization, Abrams, Random House and PictureBox.
Chantry's first holiday cover was the 1986 illustration by Ed "Big Daddy" Roth shown below.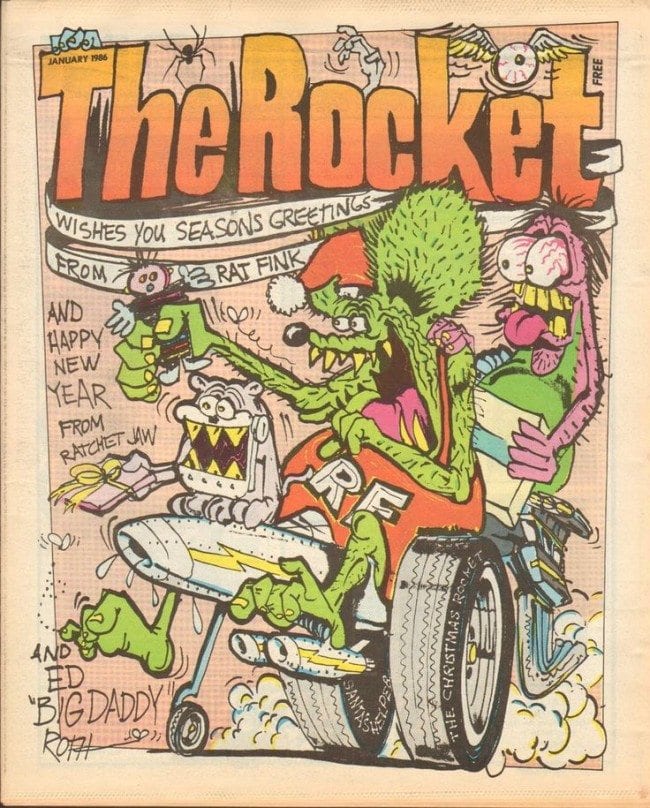 "I wanted to hire Ed Roth back in 1985 because I was still in childhood love with Rat Fink," Chantry said.  "The more I learned about Roth, the more I wondered whatever became of him.  So the idea of hiring him (he was our first really famous dude from outside our circles entirely) became something I had to bounce off Bob Newman, who was editor at that point.  Bob vaguely remembered Roth (remember this was way outside our circles and Roth was forgotten at that point still).  Bob didn't want to hire Roth at first and had to check around with other 'hip' cartoonists (like Pete Bagge) to see if it would be 'cool' to hire the him (Bagge flipped out at the idea).
"So, I managed to find a contact for him, I think through Coco Shinomiya in Los Angeles, and called him up at Knott's Berry Farm, where he had been working as the in-house sign shop guy for almost two decades.  When I told him about us and the cover idea, he said, 'No.  No more rock and roll stuff.'  Apparently, Roth had converted to Mormonism in the ensuing years and  wanted 'Ratty' to be a purveyor of good and ecology--he lived in a  dump, right?  When he was approached by The Birthday Party to do their infamous record cover, he had no idea what they sounded like.  His idea of rock and roll had stopped at Chuck Berry and torn auto speakers.  When he got the actual record of the Birthday Party's music (Nick Cave's first band, for chrissakes), he was utterly offended by the moral decay and sheer noise of the music.  He HATED it on spiritual level.  When I told him we were a music magazine specializing in rock music, he immediately turned off."
"So, I got permission to send him some copies of the magazine," said Chantry.  "We not only send him a nice box of back issues, but we gave him a free subscription, too.  After a week or two, I called him back up and he said he really liked The Rocket and he would do the cover."
For his contribution to the issue, Roth sent The Rocket a dirty t-shirt with Rat Fink images air brushed on both sides.
"He sent a t-shirt," said Newman.  "Anyone else would have freaked out, but Art didn't care.  He was just like, 'ok.' Art just statted both sides, cut it up and put it together.  I remember watching him do it...brilliantly.  He was just so methodical and anyone else would have been just devastated."
Chantry:  "A couple weeks later I got a t-shirt int he mail - hand airbrushed on both sides, just black line art - you could actually see pencil sketching underneath).  I photostatted both sides on our stat camera (ignoring the pit stains; it was a used t-shirt) and then collaged the best of both sides together to make one image (you might note that the masthead type drawing on this image below is actually the one I used on the finished printed cover, for instance).
"I added all the process color-builds using rubylith overlays and self-adhesive dot screens.  Because we had no money for a real color separation, I made my own by angling the dot patterns to build the correct moire patterns hand-creating the colors I wanted out of the CMYK palette our print shop had.  It took a couple of days to do all this, but the results were pretty amazing.  It's all hand done, every single color I made out of CMYK by hand.  Another skill tossed into the trashcan when computers came along.
"The cover was a big hit.  And Roth started sending us a 'Rat Fink' comic strip that we ran for a few issues (not so good or funny).  Eventually, word of my working with Roth reached the graphic design world when I wrote an article about my experience for the AIGA Journal (a national trade publication back then).  So many famous designers out there started life pinstriping and drawing monster hot rod t-shirts when they were kids that the article struck a chord immediately.  Just the nostalgia value of Rat Fink was enough to open everybody's eyes in the 'fine design world.'
"One guy, Michael Manwaring, was in charge of hiring the speakers for the Stanford Design Conference.  He saw the article and wanted my contact for Roth.  He ended up being the featured speaker and the hit of the conference/show.  After that his career skyrocketed all over again.
"A few years later, I saw him at the Kustom Kulture show that COCA (in Seattle) brought to town.  We shook hands (and he hugged me) and he told me that The Rocket magazine cover is responsible to re-starting his career.  He actually had tears in his eyes.  So, I guessed this cover was an all-round hit on all levels.  To hear one of my childhood idols thanks me like that was utterly priceless and beautiful.  I still get a little misty when I think about it."
The 1994 cover (below) was done by Matt Groening at the height of The Simpsons' success.  It was art directed by Jeff Kleinsmith, now Creative Director at Sub Pop Records.
"I was nervous to be talking to the creator of the Simpsons on the phone," said Kleinsmith of the Groening cover.   "I was big Simpsons fan. Having grown up in Oregon, it was fun was to hear him share a few Portland stories with me. We talked through a few possible illustration ideas he had for a cover, but it was all him. I added a few chunks of type and it was a finished cover."
For the 1987 cover, Drew Friedman presented Tor Johnson as Santa.  The cover was art directed by Kate Thompson, who would go to become an art director at The Village Voice and Entertainment Weekly and the creative director at ABCNews.com.
"It fit well toward my general ambivalence toward the holidays," said Thompson.
"It's Tor Johnson dressed as Santa, that's about it," said Friedman said of the cover.  "No hidden agenda, or meaning, or 'Tor Like Oatmeals' plot."
Not every cover was universally loved; one that brought controversy was the 1991 one art directed by Chantry and illustrated by MAD's Don Martin (below).
"Of course, good old Seattle took one look at the thing we got attacked for 'anti-semitism' (something to do with the Joseph character - his cuckolding and his shrug)...we got letters saying that it was a slap at Jewishness to have Joseph look like a schmuck like that," said Chantry. "But, we stood behind it and told everybody they were crazy.  IT"S FUCKING DON MARTIN!!!"
"Don Martin was amazing," Chantry continued.  "At the time I first talked to him on the phone, he was living in Florida, had just undergone double retina transplant surgery, and wasn't legally able to draw using his own style or his own name (Warner's saw to that when they bought MAD magazine).  So, he was thrilled when we called (he needed the money).  The best part was that Don Martin actually knew about The Rocket!  He stayed up on everything he could.  Ever seen his old jazz record covers?  He's has ALWAYS been a hip dude.  An extremely nice man.
"He sent me the image you see--again, in black and white line art.  I added all the color with overlays and zipatone screen builds of CMYK."
Other cover never panned out at all.  Chantry said that his work with Rocket cover artists "who bombed out" included rock poster designer Frank Kozik and painter Kenny Sharf.
"I also tried to get Cal Schenkel, Ron Cobb, Basil Gogos, Ralph Steadman and others, but failed," said Chantry.
Perhaps the biggest failure came with the attempt to use legendary Hot Rod pinstripe artist Von Dutch as a Xmas cover artist.  The notoriously difficult Von Dutch delivered the only work in The Rocket's history that was deemed far too offensive to print as a cover and was replaced by local artist Ed Fotheringham (below) at the issue's close.
"Well, working with Von Dutch was a trip," said Chantry.  "I managed to find a contact with him through Charles Krafft (a local artist and friend of Dutch's).  The Dutch didn't have a phone or a home address.  The way you contacted him was to send a letter to a 'J. L. Bachs' (short for 'joe lunch box') addressed to a local biker bar in Southern California.  The bartender would get the mail and (even if Dutch was sitting on the bar stool in front of him) he would take it out to Dutch's chopper and place it on the seat under his famous chrome Nazi helmet (best security in the world.  NOBODY touched Dutch's bike.  The penalty was having to deal with every outlaw biker in the joint).  He would retrieve the letter and then respond if he felt like it.  He also demanded payment in cash and I sent it to him in this manner as well.  This worked fine.
"It took a long time corresponding with Dutch before he felt he could trust me enough to do the gig (he did a lot checking on me, too.  Like I know he checked with Ed Roth). Not just ANYBODY got to work with Von Dutch, ya know?  You had to pass muster.  The letters we wrote back and forth were pretty amazing.  I had a hard time keeping up with his thinking, which was scattered and arcane and difficult to understand.  But, I tried and it worked; he agreed and we waited.  My assignment was (like every other famous guy I hired) to 'do whatever you wanted'.  After all we were paying him so little.  But what he sent us was a HORIZONTAL comic strip (it would only fit sideways on the vertical format cover).  Worst of all, in about five panels, he managed to squeeze in nasty insults (visual and written) to just about every religious, racial, sexual and otherwise minority in existence.  It was impressive and we couldn't run it.  In fact, his note with it said, 'I dare you to run this.'  We did, but not on our cover.  We ran it inside in Charles Krafft's column.
"I wrote Dutch a letter back expressing disappointment and I even scolded him for his smart ass challenge.  He was apologetic and he offered to do another image that wasn't so nasty.  But we used Ed Fotheringham, a local, in order to make deadline.   About a week after the issue was printed, I got a package in the mail and it was this:
"Now, we could have run this image just fine," said Chantry.  "I wish he had sent it earlier, ya know?  But, as it was, it was too late.  I gave both this image and the 'obscene' image to Charles Krafft for his help.  Less than  a year later, Von Dutch died.
"Charlie Krafft still likes to joke that I killed Von Dutch.  Thanks."

And not every cover is remembered fondly by the Rocket staffers.  Chantry calls the 1988 cover by graphic design icon Milton Glaser (below) a "total bummer experience."
"That was art directed by Jesse Marinoff Reyes," Chantry said, "but I was the contact through which the illustration was hired.  I used the same technique to get Glaser to do this--sent copies, a fan letter, the whole shebang.  I mean he was then considered the 'most famous graphic designer int he world,' so, it was a scary thing to do.
"He surprisingly agreed.  But he demanded payment in advance, so we sent him the $400 and waited, but the image never showed up.  We were desperate.  We called and called and left messages.  We were holding out Xmas cover for his artwork.  Finally, I got him on the phone again and he said, 'all right.  I'll send something out today.'  Then he asked for my FedEx number.    It showed up a few hours before deadline and it was a rather faint 35 mm slide of this image.  Frankly, it was terrible.  We hurried like rats to get it ready to use and really it is maybe the worst cover in the Rocket's history (certainly it's worst Xmas cover).  That's why Jesse put Milton's signature so large like that - he wanted everybody to know who did this lousy thing.  We were always snots at The Rocket."
Reyes, who started contributing to the Rocket in 1984 and later was an art director at Guitar World and The Village Voice, had better luck with his 1989 cover (below) by Mark Marek.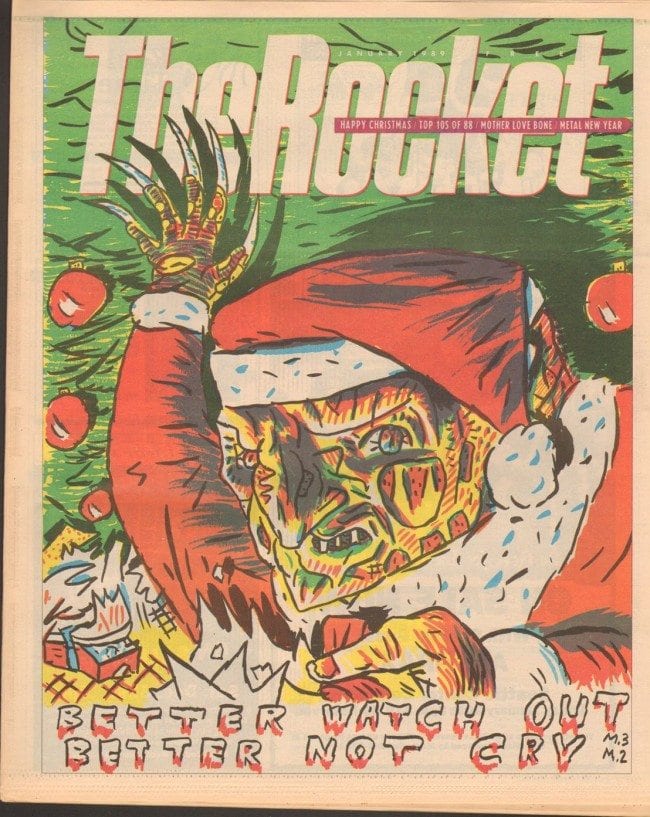 "This was my second Christmas cover, but the first (Glaser) had been arranged by Art Chantry who had preceded me," Reyes said.  "For my solo effort (and last as art director before departing Seattle for New York) I wanted another artist from the New York talent pool, but unlike Glaser, one from the alternative scene (who hadn't been asked yet) and I'd known of Marek's work from his New Wave Comics.
"By the late-'80s Marek had been tagged a Panter-wannabe by alt-comix fanboy snobs, which I thought was inaccurate and unfair -- the two look nothing alike and New Wave Comics and Jimbo were conceptually miles apart.   I sought him out and he agreed so long as he didn't 'have to do the same-old-same-old Christmas.' Certainly not!  Because we were a penniless regional paper, freelancers would get about as much money doing a cover for us that they'd normally get for doing a spot for a bigger publication, so the tradeoff was ceding as much creative freedom as possible.  Being an alternative publication also meant we could be more liberal with concepts -- be edgier and display more offbeat humor.  To Marek's relief, we didn't bat an eyelash when he turned in his Freddy Krueger Santa.  Or should I say Krueger Krampus -- you can't be more true to Christmas tradition than that!"
----------------------
The comic art that appeared in publications like The Rocket will be on display at the Alt-Weekly Comics show at Pittsburgh's comics museum The Toonseum.  The show, a collaboration between the Society of Illustrators and Small Press Expo and curated by SPX Executive Director Warren Bernard and Best American Comics series editor Bill Kartalopoulos, helps shed light on the impact the Alt-Weekly comics have had on popular culture.  Alt-Weekly Comics will be on display at The Toonseum from January 29th to April 7th.