You really never know what life has in store for you — a notion I imagine optimists find exciting. Of course, a bright outlook can be hard to hold onto during dim days, so we're often advised to remember the more pessimistic alternative: "manage expectations." I usually find myself caught somewhere in the middle, so I suppose I can't fault anyone for getting overly excited with the non-announcement this week that beloved newspaper comic panel The Far Side is doing some sort of something or other. Everyone from The New York Times to National Review to your uncle's tailor (sorry, no link provided) has essentially decided that The Far Side is "returning" or "coming back," thanks to a new image on the comic's updated homepage. Unfortunately, there's absolutely no concrete supporting evidence that there will be new material from creator Gary Larson. It's a bit of a tragic thing to watch, both small- and big-name news outlets tripping over themselves to cover this story and declare Larson's triumphant return. But I hope they're proven right.
Yes, I've jumped right into the links with barely a whiff of an intro. See, you just don't know what's coming, do you? And if that's not enough to knock the big pocket off the front of your overalls...
•••••
PREVIEWS!
Did I hear that right? PREVIEWS??? All the way up HERE? Well, I never!
It must be done, because this week brings us some big ones. Just watch:
• 12 pages of Kim Deitch's upcoming Reincarnation Stories, at The New Yorker.
• 11 pages of Kevin Huizenga's soon-to-be-released Glenn Ganges in: The River at Night at Publishers Weekly.
• And, I don't know, let's say about three or four pages worth of the almost-in-stores Excuse Me: Cartoons, Complaints, and Notes to Self by Liana Finck, also at The New Yorker.
•••••
• You don't need a preview of Raina Telgemeier's Guts, because that long-anticipated book is on the shelves! And in the major columns, too, as covered by The Times, The Philadelphia Inquirer and Forbes. (I never thought I'd be linking to Forbes so much in this column. That's at least twice this month.)
• Author Bill Schelly, whose work focused on the joy of comics fandom and the greatness of legendary comics creators, died on September 12th. TCJ has returned the favor by publishing a biography and remembrance of the prolific writer.
• The cartooning world lost Donal Rooum at the end of August. TCJ has an obituary for Rooum, as well as an interview with him from October, 2002.
• Small Press Expo had it's 25th show last weekend, and you were there or you were me. But I felt like maybe I had a smidgen of a sense what was going on, thanks to con recaps from Fleen and Publishers Weekly, and a full list of Ignatz award winner at The Beat. I just read Ignatz champ Lauren Dean Keeps Breaking Up With Me, and jeez do I wish I had that book in my hands when I was sixteen.
• New memories will be made this weekend at the Brooklyn Book Festival and the New York Art Book Fair. I was going to try to break down what the comics action would be at BBF, only to discover Fleen already beat me to it! (Thanks, Fleen! Love, Flanders.) Ummmm, you're on your own with NYABF. I can't make heads or tails of what's going on out there in Queens.
• While most of you (except me) were at SPX, the rest of you were at Portland's Rose City Comic Con (again, alas, not Flandy). The Beat gave a rundown of some possibly-overlooked Artist Alley creators at that show.
• If you're wondering about properly-acknowledged comics people in the northern half of North America, take a long look at the complete list of Joe Shuster Award winners, handed out to those Canadian creators who stood out over the past year.
• Speaking of quality Canucks, Lynn Johnston's work will be on display at her home country's embassy in Washington, D.C. for the next few months.
• Los Angeles! Are you paying attention out there? Lynda Barry and Chris Ware going to speak to each other — in public! — at Skylight Books in your city. It's on October 15th and you can buy tickets now! Don't you give me that look, Los Angeles. You'll thank me later.
• A couple weeks ago I half-joshingly and tongue-in-cheekily remarked that Keith Knight getting his own TV show meant he'd be able to sit back, relax and just make comics for fun from now on. Well, this week he ended his daily strip. As you can see below, he's not done drawing comics, so those manic eyes and rubber band arms of his will still be around...at least until the movie deal get announced.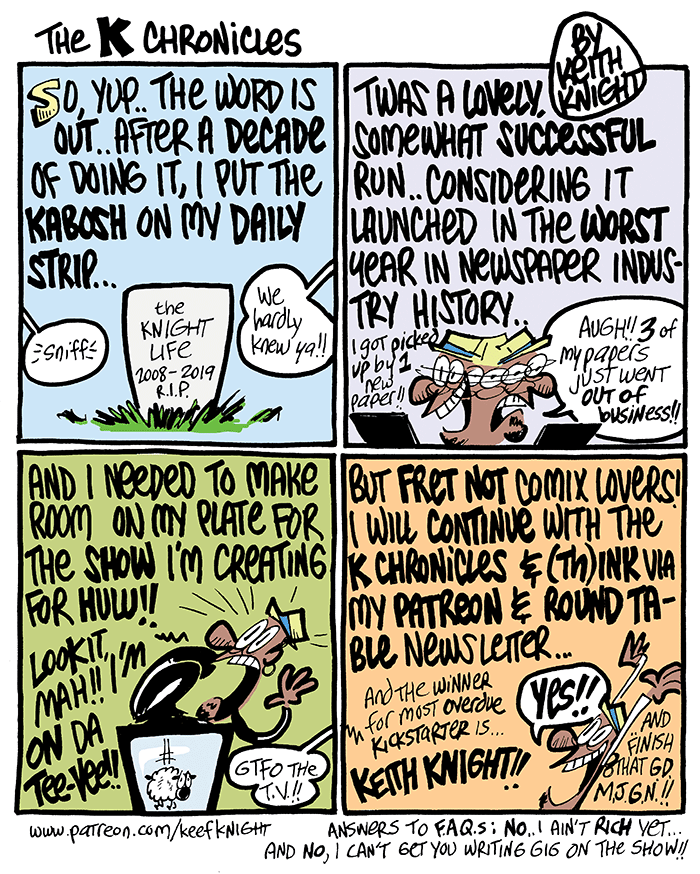 •••••
REVIEW MANIA LATE SUMMER 20NINETEEEEEEEN
• Connor Willumsen's Bradley of Him at Pop Matters
• Charles Burns' Free Shit at Panel Patter

• TCJ on Nathan Carson & Sam Ford's The Willows, Marion Fayolle's The Tenderness of Stones, and Ed Piskor's X-Men: Grand Design – Second Genesis

•Kim Jooha on CF's "receipt paper comics" and selected work by Ginette Lapalme, over at Your Chicken Enemy.
• The Kim Deitch book you saw up top there, reviewed at Publishers Weekly
• Meredith McClaren's Super Fun Sexy Time at Women Write About Comics
• Multiversity Comics on Tommi Musturi's The Anthology of Mind, Kate Charlesworth's Sensible Footwear, and Matsumoto Taiyo's Cats of the Louvre

• Celine Loup's The Man Who Came Down the Attic Stairs at Bleeding Cool

• The Beat on the Diane Noomin-edited anthology Drawing Power
• SyFy Wire on the "Sandman Universe"-connected House of Whispers
•••••

There was a little mixy-matchy in those reviews links, wasn't there? Keeping you on your toes, friends...
• Please excuse us while we pause for a lovelorn teenager identification break. From "The Best Comic Book Panels" tumblr, the first appearance of Archie Andrews and Betty Cooper. Maybe you've seen this before, but I have not:
• Congrats to Todd McFarlane, who with issue #301 of Spawn broke the record for longest-running creator-owned comic. (I assume he's eclipsed Dave Sim's Cerebus? Such a lovely little irony...)
• Here's a fascinating story in The Guardian about audio comic books created for the blind.
• The Billy Ireland Cartoon Library & Museum has announced its next big show: "Ladies First: A Century of Women's Innovations in Comics and Cartoon Art."
• Big news in the comics retailer world is that DC Entertainment is discontinuing a comic shop co-op ad buying program; questions abound as to what that might mean for the future of the direct market. The Comics Reporter had some thoughts on this move.
• Women Write About Comics gave a very funny satirical "review" of the completely unwritten and undrawn Vampirella Blank Comic, which is something I didn't know about and can't believe exists.
• I'm feeling good about how things are going on today's list, and I think you are too, so let's keep that sensation going with this Daily Cartoonist story about cartoonist Greg Cravens and his volunteer work drawing at a children's hospital in Memphis.
• Remember last week when we talked about the Russian culture minister's elitist remarks about comic book readers? Apparently, his attitude helped comic sales increase over there. What a country.
•••••
INTERVIEWS AHOY

• An audio(!) interview with Al Capp(!) at Mike Lynch Cartoons
• Joan and Ken Steacy on the Speech Bubble podcast
• Hassan Otsmane Elhaou of PanelxPanel on the Off-Panel podcast
• More of a profile, but it counts, of Infidelity artist Aaron Campbell, the "Ron Swanson of comics," at The Beat
• Also at The Beat, Alex Segura and Monica Gallagher on their new comic The Black Ghost
• Frank M. Young in conversation with Mark Newgarden about the comic strip Elmo, here on TCJ
• Travis Dandro interviewed by Pascal Girard, also just a hop skip and a jump away from the column you're currently reading. (I mean it's on TCJ, dang it.)
• The one and only Jaime Hernandez on Cartoonist Kayfabe:
•••••
• Jay Stephens logged a few hours at The Beguiling in Toronto last week in support of his Dejects book, and Sequential Canada was there.
• SyFy Wire went IN on this piece: "An Oral History of Age of Apocalypse," complete with memories from writers Scott Lobdell and Fabian Nicieza, along with editors and artists. This era is best know as the Decade of X-Men Ryan Flanders Didn't Read Because He Was All College-Age Snooty with His Seekers Into Mystery Comics, but I remember my friends liked 'em!
• An update from Mike Lynch about Turkish political cartoonist Musa Kart, who has had charges of "insulting through publication and slander" dismissed five years after publishing a cartoon critical of the current Turkish president.
• Oh hello, "exclusive" Simon Hanselmann "Megg" comic in Playboy.
• I enjoyed Brian Nicholson's TCJ profile of cartoonist Brian Blomerth, whose work and attitude feel like a welcome mix of modern indie and underground throwback.
• Looks like Andy Capp finally stood up for something bigger than him, choosing suds over xenophobia and economic catastrophe, as captured in a recent strip and expanded on at The Daily Mirror.
That woke me from my political slumber. pic.twitter.com/KlR5mfaf4g

— Andy Capp (@WorldofAndyCapp) September 12, 2019
Thank you, Andy, for bringing us full circle, and for proving my point: you just never know where life is going to take you...off the barstool, through the front door of Midvale School for the Gifted, or into the LCS to buy a comic book written by Frank Miller and drawn by Rafael Grampa, because I will always buy a comic with interiors by Rafael Grampa. Like so (and tata 'til next week!):