The gifted cartoonist and political writer Donald Rooum passed away last month in London. He was 91.
Donald Rooum was born into a working-class family in Bradford, England. His parents were left-leaning Baptists who were active in the Labour Party. Their politically minded son embraced anarchism as a teenager after hearing anarchist speakers at Speakers Corner in Hyde Park, London, in 1944. He remained committed to his youthful ideals for his entire life.
Conscripted into the military in the mid-1940s at the age of 18, Rooum registered as a conscientious objector. He was designated a subversive. Rather than being sent overseas, he spent most of his time in the service working at a transit camp for married couples. When he returned to civilian life, the government funded his art education.
After studying commercial design at the Regional College of Art in Bradford, Rooum moved to London in the early 1950s to find work in the commercial arts. He ended up in advertising, and later taught typographic design at the London College of Printing. He also pursued a career as a freelance gag cartoonist, placing single-panel cartoons in the Daily Mirror, Peace News, Private Eye, The Spectator and other newspapers and magazines.
Donald Rooum's best-known contribution to the world of cartooning is his comic strip, Wildcat, which began appearing in the pages of the anarchist newspaper Freedom in 1974. Freedom Press has published seven Wildcat collections and, in 2017, PM Press issued Wildcat Anarchist Comics, a full-color compendium that features a long autobiographical essay by Rooum as well as a companion essay by the underground cartoonist Jay Kinney.
Rooum created a second comic strip in 1987 for The Skeptic magazine, called Sprite. He contributed to several comics anthologies, including Outrageous Tales from the Old Testament (1987) and Anarchy Comics (2012), and furnished illustrations for several books, including Classics of Humor (1976), Adventures in a Mud Hut (1983), Citizenship Cartoons (2003) and Don't You Believe It! Some Things Everyone Knows That Actually Ain't So (2007).
In addition to his Wildcat strip, Rooum contributed numerous articles and reviews to the Freedom newspaper and other radical publications, such as The Freethinker and The Raven. He also edited and wrote the introduction to What Is Anarchism? An Introduction (2016). He developed an interest in the biological sciences as a young adult and was inducted into the Institute of Biology, later renamed the Royal Society of Biology, at the age of 80.
Rooum was briefly famous for his role in exposing corruption in the London police force. He had taken part in a 1963 demonstration against the King and Queen of Greece, who were in Britain for an official state visit only a few months after right-wing military officers had staged a coup with the tacit support of the Greek monarchy. When the protest was over, a detective sergeant named Harold Challenor, along with four other undercover police officers, arrested Rooum for disturbing the peace.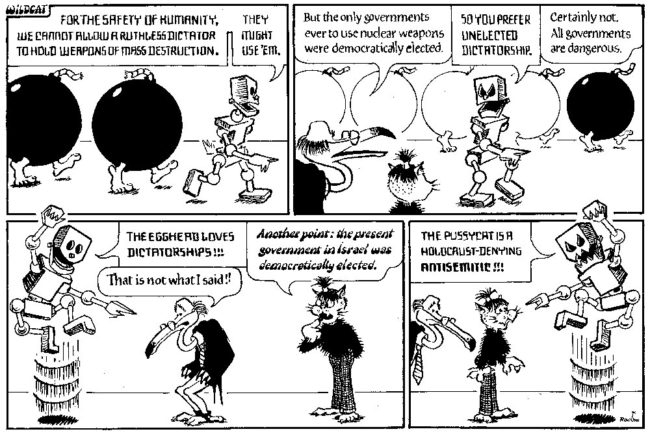 At the time of his arrest, Challenor claimed to have recovered half a brick from Rooum's jacket, which meant facing the more serious charge of carrying an offensive weapon. Fortunately, as he was waiting in a holding cell, Rooum remembered reading that "if a stone had been in my pocket it would have left traces … I knew I had a case, if I could show that the suit I was wearing had not been tampered with after the demonstration."
The police "made two big mistakes," Rooum later told The Comics Journal. "The first was that they kept me overnight in a holding cell so that there was no doubt about the suit I was wearing. The other was that the police never put the brick in my pocket. This not only led to my acquittal, but to a public inquiry, which received an enormous amount of press coverage at the time. A string of convictions from other demonstrations were overturned as a result of this case." Detective Sergeant Challenor subsequently spent several years in a mental hospital with a diagnosis of paranoid schizophrenia. Three of Challenor's colleagues on the force were sentenced to three years in prison each on related charges.
In 2017, the English film maker Adam Lewis Jacob released Wildcat, a 24-minute short film about Rooum and his comic strip. The film combines interview footage, animated cartooning and performed extracts of his writing. It can be viewed online.