Two images of enclosure today; two approaches. Above we see a page from the bravura climax to Taiyō Matsumoto's 2000 graphic novel GoGo Monster, the work I consider to be his masterpiece. What has happened is that a small boy is alone in the dark, and the way that Matsumoto conveys the dark is to pummel his pages into veritable relief with what appear to be thousands upon thousands of marks, leaving only near-abstract patterns of white speckles visible through the canopy. But they are not abstract; panel 8, for example, is a screaming mouth. What you have to do is stare intently at each page to vaguely make out what is happening - which is to say, you process information, squinting, as if you are actually in the dark, despite looking at a page of a book in a well-lit room. In this way, the idea of being enclosed by darkness is communicated ironically, by an extraordinary severity of minute visual information: visual noise, the absence of clarity, as the absence of light.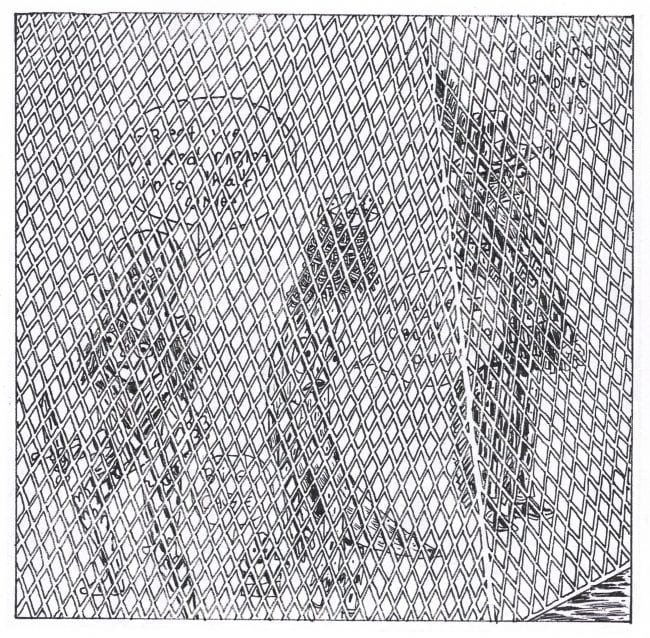 No stranger to noise is Brian Chippendale, the musician and cartoonist whose Puke Force was released by Drawn and Quarterly earlier this year, and who will soon be seen on a Doom Patrol variant cover for DC's new Young Animal imprint. This image is from a new 48-page self-published comic, Atrophy Life, a self-contained mystic western serialized in part by Providence's Mothers News. As with Chippendale's 2010 book If 'n Oof, each page in Atrophy Life is an unpaneled image; sometimes characters are introduced in the din of drawing, referenced by name only pages later. The image above though is unique in that the characters are literally jailed by marks, not just stuck in a cage but cut off from our very comprehension of what they are saying. This too is visual noise, wittily drowning out the 'audibility' of character speech. Several other intrusive patterns appear in the story, not the least of them a sentient checkered floor that figures into a confrontation between Chippendale's gunfighter protagonist and an undead brother powered by the shadow of the hero's ego, forever rejecting peace and stability for the meaningful flux of the trail. Quietude is the white page, and white space is death - the soul is ink, because that is the stuff of everything perceptible on the page. I'm not speaking too poetically; a dab of ink is *literally* a human soul in this comic, as explained in the story, its metaphor facilitated ably by the genre devices this artist so loves.
***
PLEASE NOTE: What follows is not a series of capsule reviews but an annotated selection of items listed by Diamond Comic Distributors for release to comic book retailers in North America on the particular Wednesday identified in the column title above. Be aware that some of these comics may be published by Fantagraphics Books, the entity which also administers the posting of this column, and that I also run a podcast with an employee of Nobrow Press. Not every listed item will necessarily arrive at every comic book retailer, in that some items may be delayed and ordered quantities will vary. I have in all likelihood not read any of the comics listed below, in that they are not yet released as of the writing of this column, nor will I necessarily read or purchase every item identified; THIS WEEK IN COMICS! reflects only what I find to be potentially interesting. You could always just buy nothing.
***
SPOTLIGHT PICKS!
The Boys of Sheriff Street: Very interesting, this. Dover has been reprinting a lot of unique comic projects recently -- an omnibus edition of Teri S. Wood's Wandering Star last week, for example, or that big compendium of The Puma Blues referenced by Michael Zulli yesterday -- but this appears to be their first effort at translating a comic otherwise unavailable in North America. Released in 1991 as "Les frères Adamov", the 80-page work pairs writer Jerome Charyn (whose 1986 album The Magician's Wife with François Boucq is also available from Dover) with artist Jacques de Loustal, once quite visible in English through a series of idiosyncratic collaborations with Philippe Paringaux translated in the late '80s and early '90s: Barney and the Blue Note (Paul Rijperman, 1988); Love Shots (Catalan Communications, 1988); New York/Miami (Catalan Communications, 1990); and Hearts of Sand (Catalan Communications, 1991). Some of these works could be loosely categorized as 'crime comics' -- though they are sometimes also experiments with juxtaposing omniscient texts with time-displaced images, often to impressionistic or psychologically revealing effect -- and so it goes here with a story of '30s NYC gangland siblings split by the entrance of a woman. Charyn himself translates, and supplies an introduction; $14.95.
Queen Emeraldas Vol. 1: In contrast, does Leiji Matsumoto need much introduction? Maybe! Some of you will doubtlessly be familiar with Space Battleship Yamato (aka "Star Blazers"), an animated television series he co-created in the 1970s. Others will know of Space Pirate Captain Harlock, a comics/animation manly honor saga he created shortly after. Or maybe you read some of his war comics in Frederik L. Schodt's seminal Manga! Manga! The World of Japanese Comics, or watched Daft Punk's Interstella 5555, the music video film created in his visual style, or even snapped up VIZ's editions of some of his Galaxy Express 999 comics in the '90s and early '00s - the last time, despite Matsumoto's visibility, that his manga appeared in English. Hell, I bet some younger alt-comics folk knew him first through artist Ryan Cecil Smith's SF Supplementary File #2A-C, which redrew portions of his Queen Emeraldas series as striking handmade translations. I dunno if anyone at Kodansha saw those little dōjinshi, but now we're getting a formal translation of the '70s original, a poetic space opera kissed with DEEDS and GALLANTRY and WILLOWY COSMIC LADIES and BOYS GROWING TO MANHOOD on the SEA OF STARS. A 416-page hardcover, translated by Zack Davisson of many Drawn and Quarterly releases of Shigeru Mizuki stuff; $24.99.
--
PLUS!
Bone: Coda: It's been 25 years since Jeff Smith launched his signature series; I still remember those days. Specifically, I remember seeing an ad and wondering if Bone was dirty, because who on earth would go through the trouble of self-publishing a comic if not to AMP! IT! UP!... I was a cerebral tween. Obviously, though, Bone not only survived the breaking self-publishing wave to finish its run in b&w, but enjoyed a full-blown second life as a top YA comics seller in color from Scholastic - even as Smith's own Cartoon Books remained an active entity. And it's from the home base we get this quarter-century treat: a genuine self-published 32-page NEW ISSUE of Bone in glorious black and white, paired with an illustration-bedecked rendition of Stephen Weiner's A Bone Companion and some new text supplements to form a 136-page softcover special. Preview; $14.99.
Musnet: The Mouse of Monet: A new release from Uncivilized Books, introducing their new Odod Books label of comics for kids. It's a 56-page, 9.2" x 11.5" color work from 'Kickliy', an artist about which I know nothing and can find no web presence, concerning a mouse painter (a mouse who paints, not a painter of mice) who becomes enamored with Monet, as the title might suggest; $19.95.
Batgirl #1 (&) Adventure Time Comics #1: Two mainstream comic book debuts, by which I mean freshly-numbered offshoots of popular franchises. Batgirl sees Hope Larson, a well-known and popular YA comics talent, assume the role of writer; the artist is Rafael Albuquerque, with rather lurid and sun-baked colors by Dave McCaig. Adventure Time Comics is a BOOM! anthology set in the world of the now-familiar television cartoon, with stories this issue by Tony Millionaire, Katie Cook and Art Baltazar; $2.99 (Batgirl), $3.99 (Adventure).
Ohio Is For Sale (&) Miss U.S. of Heya: Two Alternative Comics releases, as in the publisher/distributor. Ohio Is For Sale is a 272-page collection of comics by Jon Allen, in which animal characters amble through comedic and melancholic situations - pretty fundamental alt-comics fare. Miss U.S. of Heya is a 56-page Floating World book distributed by Alternative, in which artist Menorah Horwitz, a former Marvel editor and drag performer, presents 6.75" x 8" annotated illustrations from the beauty pageant of all of our dreams; $19.99 (Ohio), $12.00 (Heya).
Liselotte & Witch's Forest Vol. 1: Speaking of the '00s, for a certain stretch of years there were few bigger manga hits in translation than Fruits Basket, a shōjo mystic romance from creator Natsuki Takaya. Maybe it's a consequence of the title's association with Tokyopop -- in Japan, Takaya publishes with Hakusensha, an autonomous offshoot of the far older publisher Shueisha, which partially owns the American publisher VIZ -- or simply the fact that the series ended in 2006 (unlike similar hits such as Naruto or Bleach), but Takaya does not seem especially high-profile in English publishing; her follow-up series, Twinkle Stars, is still pending North American publication. This is her most recent original series, a folkloric fantasy project that began in 2011 and has since been placed on hiatus in favor of a Fruits Basket revival in Japan. Yen Press is the publisher, with five volumes expected; $15.00.
Dream Gang: This is the new book from writer/artist Brendan McCarthy, known for British and American surreal and psychedelic comics dating back to the 1970s, as well as significant contributions to the motion picture Mad Max: Fury Road. "To stop a psychic bomb that threatens to render all of humanity catatonic, the last Dream Voyager awakens!" I have not followed the serialization in Dark Horse Presents, though I understand this 112-page edition will feature new art and 'remastered' lettering. Preview; $14.99.
Suicide Squad: The Silver Age Vol. 1: I don't know how any of us are expected to pull ourselves together in the absence of Jai Courtney, but until global cinema is revolutionized in a week and a half, you might still enjoy these '50s/'60s DC covert monster-fighter comics originated by Robert Kanigher & Ross Andru (with inker Mike Esposito) in the pages of The Brave and the Bold and Star Spangled War Stories. Truly a nostalgic artifact of the pre-wicked clowns era; $49.99.
Garth Ennis Presents Battle Classics: Fighting Mann & War Dog: Moving overseas, here is the second hardcover collection of stories (following a 2014 debut) culled from the UK war comics magazine (est. 1975) by contemporary genre specialist Ennis, who began his career among various Battle veterans in 2000 AD and related titles. The focus of these 240 pages appears to be on artist Cam Kennedy, who contributed to both Fighting Mann (a Vietnam War strip) and the animal-themed War Dog, both written by Alan Hebden, with some art by Mike Western. A Titan release; $39.99.
Crossed: Badlands #100: And finally, well - when the great record of Garth Ennis is assembled, a worryingly generous entry will have to be apportioned for this, a not-quite-but-still-basically zombie horror series from Avatar. The initial 2008-10 Crossed project, written by Ennis and drawn by Jacen Burrows, posited a mysterious affliction that causes human inhibitions to vanish, transforming most of humanity into biological machines of murder, rape, cannibalism, etc.; a premise not unlike that of the 1970 Charles Platt novel The Gas (a succès de scandale upon its 1980 UK publication by Savoy Books, during Ennis' adolescence), but turned by Ennis in part to explore issues of pragmatism and hope in seemingly purposeful opposition to the suspense-driven brutality of The Walking Dead. However, Crossed itself then became popular enough to spin off into scores of additional storylines by various hired teams, to often dulling and sometimes appalling effect: an object lesson in commercial adaptability shifting the priorities of a concept toward replication and eventual exhaustion. Anyway, this is the 64-page final issue of the current Crossed series (actually closer to issue #150, counting its miniseries and one-shot predecessors, and *not* counting the still-running future-set Crossed +100 spinoff), with a script by Christos Gage and art by Emiliano Urdinola, and a special tribute to Burrows, who's presently working on the literary horror series Providence with Alan Moore. Very few rear-of-Previews comic book series enjoy visibility enough to make it past three digits, so I doubt this the last we've seen of the franchise; $5.99.