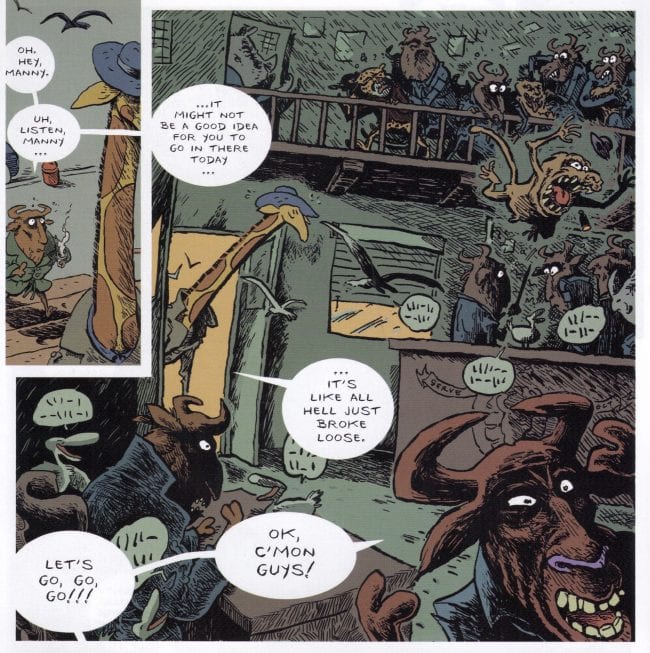 I generally don't dwell very much on what kind of perception I encourage of myself while doing this column -- I merely trust that universal acclaim and riches are gradually forthcoming, in the manner of Zeno's paradox -- but sometimes I'm forced to admit that certain types of comic are maybe more readily applicable to discussion up here than others. For example: a bandes dessinées-inflected funny animal detective comic about the porno underworld from a pair of Slovenian creators? Yeah, that *is* the kind of comic book you'd send to me, and so IDW did exactly that - they physically mailed me a copy of Animal Noir #1, which will be released to comic book stores this week at a cover price of $3.99.
Apparently the project came about when IDW CEO and Publisher Ted Adams encountered the creators -- writer/artist Izar Lunaček and writer Jernej "Nejc" Juren -- at a recent Barcelona International Comics Festival; Adams is credited as editor on the book, and one does imagine the IDW brand (and the advantageous placement of its offerings in the Previews catalog) will offer some semblance of natural advantage to the project, though of course there's probably a limit on something that looks like it could have run in the hallowed pages of Critters. That's not a great comparison, though. Lunaček offers a much better one in an interview toward the back of the book, when he cites Juan Díaz Canales' & Juanjo Guarnido's Blacksad and Joann Sfar's & Lewis Trondheim's Dungeon as an applicably "catchy combo," and indeed the comic thus far (21 pages of sequential art and 3 pages of in-story illustrated prose) marries the detective tropes of the former to the antic and rather perverse cartoon drive of the latter.
Juren notes in the same interview that the creators are less interested in weaving human allegory than creating "a fun and complex animal world where cool stories could happen." Nonetheless, I will suggest that the first issue of Animal Noir is pretty much drenched in allegory - look at the hoodie on that zebra toward the bottom right... these are not uncharged symbols, and the creators are not unaware of that charge, suggesting an animal metropolis of upper-class lions (royalty of the animal kingdom, natch) who for some reason have managed to stem their predatory impulses into socially acceptable means of feeding on the less-advantaged classes of zebras and gazelles. Animals now behave as humans, complete with interracial (species) relationships; in fact, some of these relationships are strictly economic, as in the shadowy world of "hunt porn," where certain species simulate the process of being hunted and devoured by predators, for the gratification of those same predators flattering themselves as old-fashioned wild animals at home.
The best move Lunaček & Juren make is in depicting their detective protagonist, Manny, as a giraffe. First and foremost, it's really funny to see such a huge, lumbering creature as a man of action, immediately identifiable as an outsider simply of virtue of not being able to physically fit into many social situations. Metaphorically too, we can ascertain that Manny, a herbivore, is both literally and psychologically 'above' the prurient impulses of his investigation into the flesh-eating porno racket -- his uncle, a judge, is married to a celebrity gazelle with a past in the game, and doesn't want the information getting out -- marking him as something of a child of privilege. "I still think it says something about her, getting involved in that filth," our man hisses, his massive neck protruding from the open roof of public transport, but he is also, ultimately, potential prey, both of feline aristos with dirty hands and the organized criminal scene of hippos, which we all know are among the most dangerous of cute-looking beasts.
The danger here, obviously, is to stumble into racial determinism in depicting these animal societies; perhaps this is why the creators seem to distance themselves from allegorical takes. Of some interest there is the prose segment, which chronicles the downfall of an "equality" school for lions and zebras; the public perception is that the zebras beat a lion classmate unprovoked, though in reality the lion student was involved in the drug trade to an extent not readily assumed by the public at large. A similar sense of social unease hovers over the comic proper: a ably and amusingly drawn bit of familiar genre poking that probably won't immediately convert anybody with severe reservations over the concept, not at this early scene-setting stage. Nonetheless, I found it put together well enough to look forward to future installments; it is a rare specimen in stapled comic books, particularly those a semi-wide swathe of stores may carry.
***
PLEASE NOTE: What follows is not a series of capsule reviews but an annotated selection of items listed by Diamond Comic Distributors for release to comic book retailers in North America on the particular Wednesday identified in the column title above. Be aware that some of these comics may be published by Fantagraphics Books, the entity which also administers the posting of this column, and that I also run a podcast with an employee of Nobrow Press. Not every listed item will necessarily arrive at every comic book retailer, in that some items may be delayed and ordered quantities will vary. I have in all likelihood not read any of the comics listed below, in that they are not yet released as of the writing of this column, nor will I necessarily read or purchase every item identified; THIS WEEK IN COMICS! reflects only what I find to be potentially interesting. You could always just buy nothing.
***
SPOTLIGHT PICKS!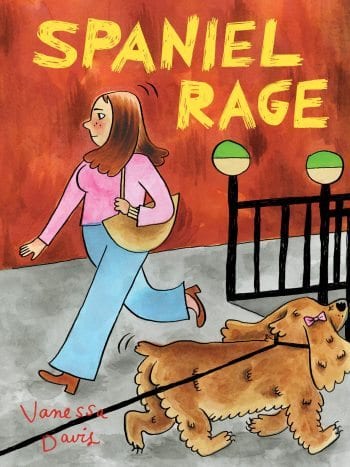 Spaniel Rage: It's valuable returns up here in the spotlight this week, starting with this signature collection from artist Vanessa Davis, its 2005 initial release the first dedicated book of comics published by the quickly-prominent Buenaventura Press, though its contents were drawn from yet smaller-press works. Regardless of format, these autobiographical pieces match delicacy and drollery in their depiction of a less sensational NYC youth existence than many cool-chasing media depictions of the '00s. Now, this 124-page Drawn and Quarterly edition can function as present-tense impressions that reveal something offhanded and genuine about the era, something inspirational to not a few prominent cartoonists of today - Michael DeForge, Lisa Hanawalt and Eleanor Davis all o the record at the publisher's site; $16.95.
Starstruck: Old Proldiers Never Die #1 (of 6): Ooh, this one's been a long time coming - exactly how long, though, depends on your perspective. The creation of writer Elaine Lee and artist Michael Wm. Kaluta, Starstruck was one of the standout ultra-dense genre comics of the 1980s, a universe-spanning vision of multifaceted femininity born from a play involving both creators (Lee as a writer and actor, Kaluta as a set and costume designer), and roughly comparable in texture to the SF comics Howard Chaykin was doing at that time: American Flagg! and (especially) Time2. Unlike those projects, however, the Starstruck corpus (never *quite* complete) has been subject to numerous revisions across the decades, its most prominently dangling loose end a 1985-86 Epic Comics miniseries, much of which has been excluded from subsequent recalibrations, including IDW's definitive-ish compendium. Now, hot on the heels of a 2013 Kickstarter campaign (FULL DISCLOSURE: I was and remain a proud backer), IDW presents a massive expansion of some of that orphaned Epic material, I think a little over half of the page space comprised of totally new stuff from Lee & Kaluta, with original coloring over the whole thing by digital painter Lee Moyer, a third constant in the IDW iteration of the work. They don't make 'em like this anymore... until now; $4.99.
--
PLUS!
Foggy Notions: Being a 36-page b&w comic dedicated to the autobiographical "darkly" humorous comics of November Garcia, who is based in the Philippines but depicts some time spent in San Francisco. A Hic and Hoc production, distributed by Alternative Comics; $5.00.
Bedtime Stories for Impressionable Children #1 (&) Crypt of Screams #1: These are new comics from American Mythology, a publisher largely devoted to licensed material, although these particular comics fit into the broader 'myth' of the great American horror comic book, E.C. style. Bedtime Stories is notable mainly for the presence of Jim Shooter as a contributing writer - some have told horror stories *about* him, but I don't recall much coming from the other side. Crypt of Screams, in contrast, while still structured as an anthology, is really a showcase book for one talent: Mike Wolfer, a longtime veteran of small-press horror stuff (I'd recommend his self-published 1993-94 'bad girl' miniseries Widow: Kill Me Again as particularly high-spirited evocation of VHS trash cinema) known for a very long association with Avatar Press, where he collaborated extensively with the writer Warren Ellis on the Strange Killings story cycle. Kickstarter-bolstered (I backed this one too), expect an all-b&w production, in the manner of the Warren pubs; $3.99 (each).
Jay Disbrow's Monster Invasion: The elite among you of course recognize Jay Disbrow as creator of the first original Fantagraphics comic book, 1979's The Flames of Gyro, but the artist is perhaps most often recalled for some very odd and gloopy pre-Code horror comics. This new Craig Yoe-edited IDW hardcover (148 pages, 8.7" x 11") promises to collect "the best" of that stuff, coupled with a new interview with Disbrow, now into his nineties; $24.99.
The Visitor: How and Why He Stayed #1 (of 5) (&) Cosmic Odyssey: The Deluxe Edition: Two tangents from the world of Mike Mignola, new and old. The ostensible conclusion of the Hellboy saga has not slowed production on numerous spinoffs with publisher Dark Horse, and so it goes for The Visitor, in which Mignola and co-writer Chris Roberson hone in on some of the more jarring, SF-flavored elements of the earliest Hellboy stuff. I'm mentioning it because the artist is Paul Grist (colored by Bill Crabtree), a UK-based mainstay of small-press crime and superhero comics (among other pursuits) since the 1980s. Cosmic Odyssey is a 1988-89 DC superhero miniseries notable to me as Exhibit A in the case for mainline comic book publishers not really knowing what to do with Mignola's particularities (here he is inked by Carlos Garzon and colored by Steve Oliff), though pre-'maturity' fare such as this can have its own appeal, and maybe fans of writer Jim Starlin will have some fun. DC's new Deluxe Edition is a 7.3" x 11.2" hardcover; $3.99 (Visitor), $34.99 (Cosmic).
The Ghost in the Shell Deluxe Editions: Three separate books here, collecting creator Masamune Shirow's foundational comics for what has become an international media franchise, with a dubious-looking live-action film from director Rupert Sanders due next month. I'm more of a Dominion Conflict One guy myself, but the 1989-90 original series (vol. 1) is undoubtedly a striking and cerebral action comic ceaselessly humming with the buzz of its body-augmenting ideas. Shirow then spent a prolonged period (1991-97) working on a sequel, large portions of which were subsequently deleted from the main narrative and reconstructed as their own book, 2003's Human-Error Processor (vol. 1.5), which functions as standalone SF/crime tales in the vein of the original series. The sequel proper, Man-Machine Interface (vol. 2), would appear as a massively-revised original book in 2000, and was further reworked in 2001 - a berserk mix of b&w and digitally colored art with a diamond-dense script and an unbothered propensity to gaze tightly upon manufactured female bodies, the book at least offers a useful bridge from Shirow's drawn comics aesthetic to his present work, as well as confirmation that manga artists can sometimes do whatever the fuck they want, even with a major publisher like Kodansha, the U.S. subsidiary of which is releasing these Deluxe Editions, each in the original right-to-left reading format with "new" bonus content; $29.99 (1), $19.99 (1.5), $29.99 (2).
Edgar Rice Burroughs' Tarzan: The Jesse Marsh Years Omnibus Vol. 1 (&) The EC Archives: Valor: A pair of Dark Horse collections for American comic books of the mid-century, all clean entertainment for young minds. Tarzan: The Jesse Marsh Years Omnibus is a 700-page softcover collecting Dell jungle adventure comics (1947-50) by the unique Marsh, an artist who's since become a favorite of connoisseurs. Valor is a comprehensive (168-page) color collection of a 1955 series E.C. released amidst the tread trails the Comics Code left atop its catalog. The included shorts, all 'period' adventure tales, are drawn by Bernard Krigstein, Graham Ingels, Al Williamson, Joe Orlando, Reed Crandall and Wally Wood, among others; $29.99 (Tarzan), $49.99 (Valor).
The Complete Little Nemo in Slumberland, 1905-1909: Not the first time Taschen has published McCay's prominent newspaper fantasia - 2014 saw a thick comprehensive edition released, of which this new book seems to be derived, albeit with only the years in the title represented via its 13.5" x 17.3", 368-page specs, along with a large illustrated essay by one Alexander Braun; $79.99.
Alex Toth's Bravo for Adventure - Artist's Edition: Finally, it's IDW again with another tall (12" x 17") glimpse into an artist's process, this time a 136-page guided tour of Toth's brief, adventuresome solo serial, shot from the original art and presented in conjunction with many preliminary drawings and preparatory materials; $115.99 (or so).