The next morning I took the train downtown to check out Occupy Wall Street. Joe was on his way to Chicago but he was nice enough to make me a survival bracelet.
It took a while to find the protest site. It's tiny. One small square block. I walked around looking for a cool t-shirt to buy. The Frisbee my mom bought me from the Waco siege taught me never to pass up a cool memento.
All my New Yorker friends refused to go to the park because they'd heard about the drum circles. But that was only a small part of the whole event. The park was flanked on one side by a line of police cars and vans, and on the other side by a row of TV crew trucks with umbilical corded poles, reaching four stories up in order to shoot their stupid little sound bites out to the world.
Earnest people in earnest meetings talked about the meaning and the movement. Like an AA meeting about revolution, people took turns standing up, saying who they were, and why what was happening was important. I finally decided which t-shirt I wanted.
As I was leaving a speaker started complaining about people who were capitalizing on the movement, making money by selling things, and how this ran against the fundamental principles of everything they were doing. He was then asked what they were doing. I left before I heard the answer. It turns out that the meeting's topic was "The Commodification of the Movement." Crap. There was no way I could possibly justify buying a t-shirt.
I waited in the food line for a free lunch. It was surprisingly good. The salad must have been organic. The tomatoes and lettuce were amazingly tasty. The pasta was mediocre, but man, that salad was good. I donated $5 for it, but seriously, that was a $9 salad.
Everyone there had a gripe. It was like a collection of 3D college newspaper editorial cartoons.
A happy marriage of voyeurs and exhibitionists. At least they had a message.
This cop wasn't happy with his portrait. He thought I'd drawn him too fat.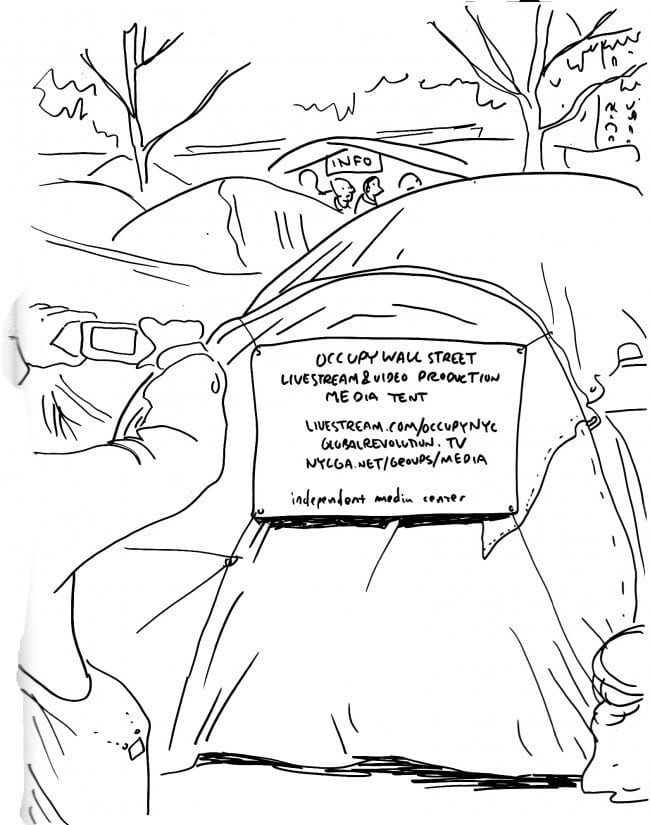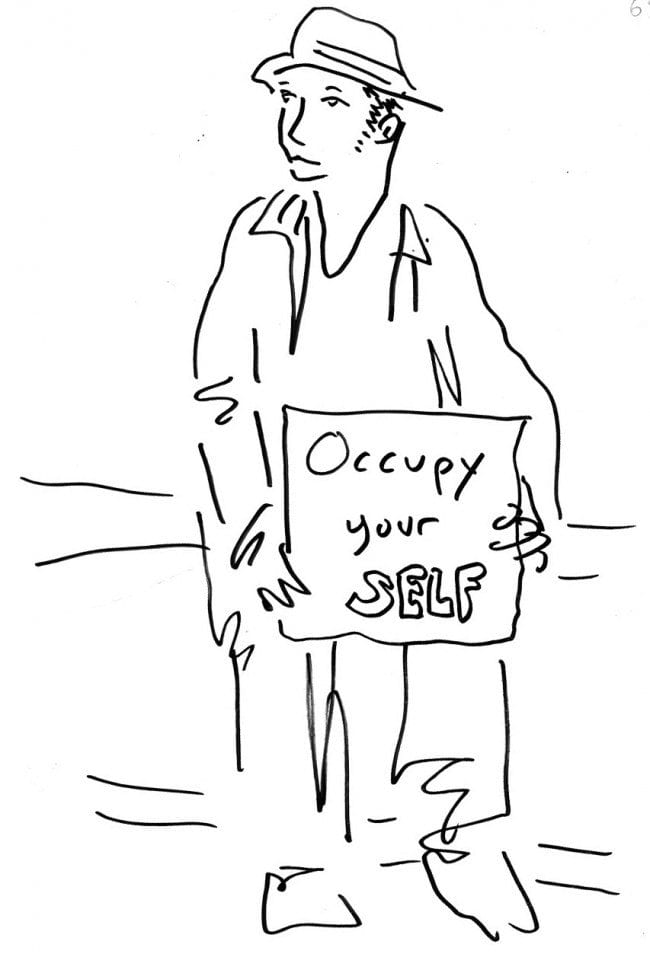 The protest had a blank template. Everyone could express their own problem. This 9/11 guy had a beautiful model of the Twin Towers sitting next to various skin ointments and inhalers. He wanted health insurance. Nice guy too.
All the drawings I'd done while walking around didn't express the feeling that the place was a microcosm - it seemed both tiny and big at the same time. I went across the street to the second floor of a pizza place to make this drawing. I asked the cook if all the people had helped business. He said, "Nah, everyone wants something for free." Both bathrooms had "Out of Order" signs.
I found a bathroom down the street across from a church. I collected my thoughts over an espresso.
On my way out I chatted up a graffiti artist. He used a stencil to spray paint "Occupy Wall Street" on the back of a Too Much Coffee Man shirt I had with me. I gave him $5 to buy more paint.
Shannon Wheeler is the Eisner Award-winning creator of Too Much Coffee Man, and contributes cartoons to The New Yorker. His latest book, Oil and Water, is in stores now. He is currently at work on the Bible.