All this talk of influencers...it makes a person wonder: "Could *I* be one?" Reader, do you feel influenced by the links I provide each and every Friday? Swayed by my suggestions? Coerced to click by the underlined words I've sequenced into sentence form?
Don't answer yet. Let's see how today goes.
And it goes! Like so!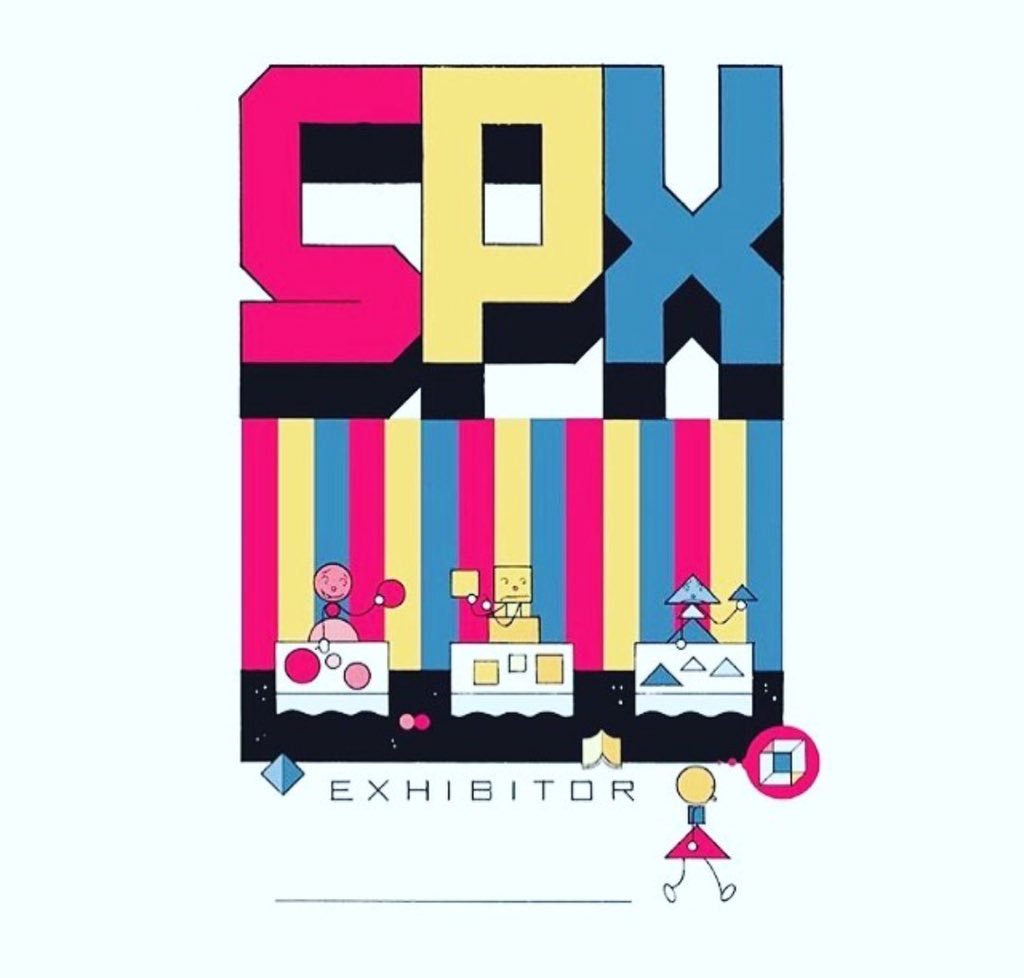 • Small Press Expo is almost upon us (unless you're reading this tomorrow or two days from now and then gee-oh-dee only knows what's upon us) — the big news is that "millionaire" cartoonist Chris Ware has designed a badge that people have contrasting feelings about. Honestly, it feels kinda gossipy to start with this but it's too fun to ignore...and if I'm going to successfully influence you I gotta kick things off with a bang.
In this corner, we have tweets from Ayo and Kim O'Connor wondering if the Ware image is too glum for an event celebrating comics. In what appears to be a response, Ken Parille gave the illustration a hearty analysis on Blog Flume. And then Julia Gfrörer tweeted this, which I thought was pretty sharp:
Remember when @KeefKnight's SPX badge was too racy? Now Chris Ware's badge is too mopey? Have you seen comics

— Julia Gfrörer (@thorazos) September 9, 2019
Is it generational? Is Ware yet another icon we've built up to burn? Is he even an actual millionaire, as suggested by responses to O'Connor's tweet? I have no kangaroo in this fight, but it's been every bit as scintillating to watch as an episode of Succession.
• Elsewhere, in unarguably more important small press news: a group of independent professionals calling themselves Cartoonists Against Amazon published "An Open Letter to Comics Festivals" on Medium, demanding all comic festivals refuse to accept sponsorship money from Amazon-owned ComiXology or allow themselves to be connected to that corporation in any form. The group's reasoning cites Amazon's labor practices and business connections with a company involved in surveilling undocumented people and union organizers.
• The iconic cult musician Daniel Johnston died on Wednesday. I'm not a Johnstonite, but I know he was a comics guy, even making some of his own, so I went looking for an obituary that mentioned this side of his creative persona. I found this at the Omaha World Herald.
• The mayor of Rio de Janeiro ordered the ban and seizure of books containing LGBTQ content from a Brazilian book festival, including a 2010 Marvel comic in which two men are shown kissing. In response, the country's largest newspaper printed the image, drawn by Jim Cheung, on its front page. Cheung defended the story and its message on Instagram.
• Kim Sung-whan, who produced the longest-running comic strip in Korean history, died on September 8th. The cartoonist and his work were remembered in The Korea Times.
• David King says he sent TEN COPIES of his Hercules and the Orbs of Woad mini-comic to SPX. I like David King comics and David King doesn't make too many comics, so I'm posting this out of a twisted jealousy. (I'm not going to SPX.) Perhaps I will influence one of you to buy it. (For me.)
https://www.instagram.com/p/B2PwP40jVex/
• Over here are some unseen pages from Grant Morrisson and Chas Truog's influential Animal Man comic book. So many lost DC pages coming to light lately! I bet there's something cool snoozing away in Kevin Maguire's flat files...
• The big, important newspaper in New York City ran an article about an upcoming tragic storyline in Funky Winkerbean. This article contains a spoiler alert, but spells it "Fans of the long-running strip who would like to be surprised by what happens to a major character may not want to read further."
• Publishers Weekly devoted a nice-sized chunk of internet to Lynda Barry, who was profiled by The Beat's Heidi MacDonald.
• Eleanor Davis shared some pages from her new book, The Hard Tomorrow, which is the next book I'm going to purchase after former graphic novel writer Margaret Atwood's latest prose work. Davis also had a baby this week! Huzzah! And if that's not enough, she's heading out on a short tour.
https://www.instagram.com/p/B2M4170j3Wg/
•••••
I almost forgot that we do REVIEWS like this now!
• Everybody and their nephew have been talking about Michael DeForge's Stunt: The Beat did so. Your Chicken Enemy did too! Hell, even PopMatters got in on the action.
• The Beat also gave us thoughts about Jen Wang's latest, Stargazing, and Skull-Face Bookseller Honda-san by Honda.
• Here's The NY Times on George Takei's They Called Us Enemy and Keum Suk Gendry-Kim's Grass.
• Over there is Fleen with things to say about Beth Barnett's Dreamers of the Day and Tillie Walden's Are You Listening?, plus a two-fer: Mighty Jack And Zita The Spacegirl by Ben Hatke and, once again, Stargazers by Jen Wang.
• Home on the Strange Dept: this here website, TCJ, wrote about A.J. Dungo's In Waves, Inés Estrada's Alienation, the Diane Noomin-edited Drawing Power, and Flanders Favorite™ Nick Maandaag's The Follies of Richard Wadsworth.
• Booksteve's Library checked out The Book of Weirdo!
•••••
• I don't know if Evan Dorkin will be irked or tickled to see this item, but no one has influence over what I put in my column. (Well, except my beloved editor, of course.) I like these villain pieces Dorkin does, and I really like seeing his reference books. Fun, indeed:
https://www.instagram.com/p/B2I54Y1BGMA/
• A day or so after Dorkin 'Grammed that, Matt Furie Tumbled this. Coincidence? Undoubtedly, but still all rad 'n' shit:
• The Nib ran an interesting comic about Peanuts promoting vaccinations within the strip. (I hadn't heard of the side effect where vaccines leave kids with big round heads. *Sorry, sorry.*)
• And then The Nib turned six years old, and founder/editor Matt Bors used the occasion to talk about where the publication has been and where it's going. There's no way I'm not going to quote this:
"...we've published over 4,000 comics and put over $1.5 million into the hands of cartoonists. In another six year, I want to be able to say we've doubled those numbers."
Long live The goddamn Nib.
• There's a potent piece on Comicosity about sexualized violence in mainstream comics, discussed through the prism of recent treatment of DC's Poison Ivy character and the fate of the character Foxfire in Marvel's landmark Squadron Supreme series.
• The Russian Minister of Culture thinks we're all a bunch of "morons." You, me and anyone over age eight reading anything with sequential art in it. Nyet, I say, but you have to laugh.
• Mike Lynch shared some work from the four "Cartooning Roth Brothers" (nary an Arnold among them) who plied their trade in the early half of the twentieth century.
• There is a new book of once unpublished Gary Panter, now published by Desert Island:
https://www.instagram.com/p/B2NjNC_gsOG/
•••••
I did remember we do interviews like this now.
• Retailer Brian Hibbs was a guest on the Off Panel podcast. I don't have much hands-on with the business of selling comics, so I found this pretty interesting.
• Charles "Chuck" Forsman and Michele "Fiffe" Fiffe were on the Cartoonist Kayfabe panel at Heroes Con, as captured on the CK Youtube channel.
• Maia Kobabe and Sarah Graley each appeared on Comix Experience's Graphic Novel of the Month Club. (Where Mr. Hibbs is the host, in a wild turnaround!)
• The New Yorker talked to Ivan Brunetti about faces, Peanuts, and his latest cover for the magazine.
• The Beat sat down with Rob Williams to discuss his new Judge Dredd book, and also spent time with This Week's Links triple threat Jen Wang.
• Here's TCJ's Melanie Gillman chatting with Blue Delliquanti and Dylan Edwards about LGBTQ speculative fiction.
• And one more video interview, this time with Lincoln Pierce, creator of the Big Nate juggernaut.
•••••
I think it's safe to say the only thing I've influenced today is the amount of time you spent staring at a screen. So let's wrap it the hell up. Three more things I've like to leave you with:
1! A big piece on Comicosity about the current X-Men books. Hey, what's more comics than talking about the X-Men? Somewhere deep down we all love at least one of them. (Mein gott, don't say otherwise!)
2! Cartoonist Kayfabe going page-by-page through a classic and rarely seen comic by Timothy Truman with inks by Timothy Bradstreet and a logo design by Stan Sakai!
3! This new painting by one-time comic book cover artist James Jean.
✨ New work: Gou Mang 句芒. Acrylic on Canvas, 36 x 48", 2019. pic.twitter.com/U1tol3Lu67

— James Jean (@JamesJeanArt) September 11, 2019
That's it, and that's all. See you next time.