I was very much struck yesterday by Ryan Holmberg's characterization of the manga studies terrain as "a field dotted with crumbling edifices and surrounded by vast tracts of virgin territory." Specifically, it appealed to the conservationist in me to check after the health of the edifices.
Is Leiji Matsumoto an edifice? I'd argue he's barely a foundation right now; in spite of the enduring success of animated iterations of his works, dating from Star Blazers in the 1970s to last year's Space Pirate Captain Harlock CG movie, the sum total of his officially translated manga oeuvre consists of a single short story ("Ghost Warrior") printed in Frederik L. Schodt's Manga! Manga! The World of Japanese Comics in 1983, and five volumes' worth of a 1990s revival of his Galaxy Express 999 manga published by VIZ 17 years ago in conjunction with the release of various anime. There may be more pages of licensed Matsumoto tribute comics from the '80s and '90s like Comico's Star Blazers and Eternity's Captain Harlock series than there are actual Leiji Matsumoto comics accessible in translation.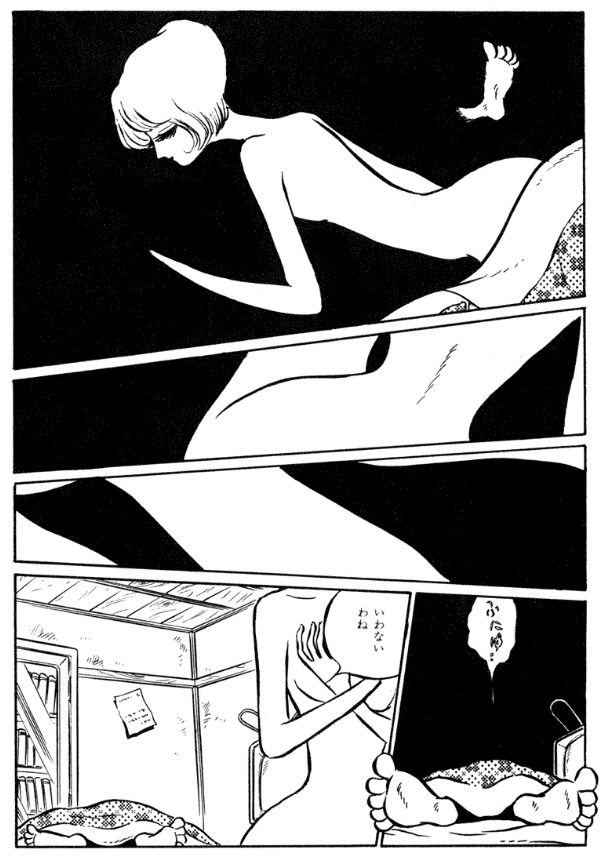 Yet Matsumoto endures. Maybe Daft Punk hooked up with him at just the right moment; certainly much of the dialogue surrounding him (as it is) focuses on wispy, allegorical space opera and interstellar wartime gallantry, although this is neither where Matsumoto came from -- i.e. the shōjo manga scene of the '50s and '60s -- nor where he first rose to great prominence: through a 1971-73 slice-of-life comedy titled Otoko Oidon, which ran in Kodansha's Weekly Shōnen Magazine, detailing the pathetic (and semi-autobiographical) circumstances of a student-aged man entirely lacking in serious prospects. Still, at least many of Matsumoto's admirers have *heard* of it.
What's less known is that Otoko Oidon was itself something of a domestication of a more ribald series Matsumoto had been running in the adult-targeted weekly Manga Action since 1970: Ganso Daiyojouhan Daimonogatari. Moreover, the same year that Otoko Oidon began with Kodansha, Matsumoto launched a *third* slice-of-life series in another venerable men's forum, Weekly Manga Goraku - it was titled Seibonjinden, it also ran until 1973, and it was predominantly concerned with sex. This is a topic that is little-discussed in the majority of Matsumoto considerations - this relating to an artist whose first major SF comic in the late '60s was titled Sexaroid.
All of the images here are from the first (of nine) collected volume(s) of Seibonjinden, which is a series of seriocomic vignettes centering around the typical hobbit-like Leiji Matsumoto protagonist's personal impoverished travails. Suicide is a frequent motif, though little stops Our Man from tumbling into bed with a variety of elven Matsumoto women; the '70s were a wild time! But while the main action of the series is incessantly chatty, the artist has a way of dialing back the verbiage when it's time for physical business, as you can see all around; fragmenting sexuality so as to deny the physicality (or even the basic communication) of the act has been visible in Matsumoto's art since Schodt, but seeing so many images of isolated partners plunging in and out of inky obscurity suggests ambivalence toward sex as a means of conjoining, even beyond the pragmatics of censorship - rather, these pages posit sexual pleasure as a retreat into the self, a sort of intensive voyeurism, annihilating even the experience of time as an external factor. Yet it is compulsive. It is terrifying, but you WANT it.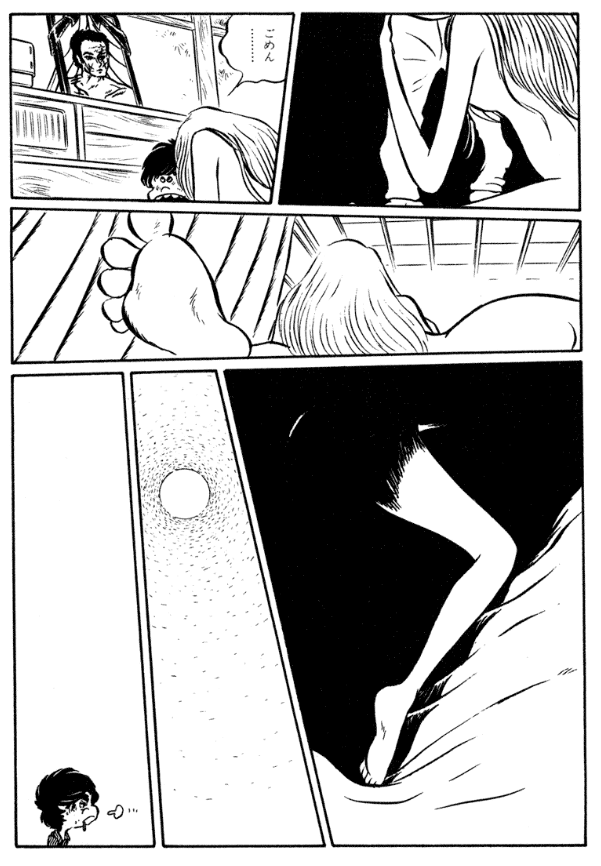 Of course, there is a lot surrounding these isolated scenes, both in Seibonjinden itself and the artist's wider body of work, which continued to exhibit comics in this everyday mode throughout the '70s. Just another chamber of the house we have imagined around these small erected beams out here in the badlands.
***
PLEASE NOTE: What follows is not a series of capsule reviews but an annotated selection of items listed by Diamond Comic Distributors for release to comic book retailers in North America on the particular Wednesday identified in the column title above. Be aware that some of these comics may be published by Fantagraphics Books, the entity which also administers the posting of this column. Not every listed item will necessarily arrive at every comic book retailer, in that some items may be delayed and ordered quantities will vary. I have in all likelihood not read any of the comics listed below, in that they are not yet released as of the writing of this column, nor will I necessarily read or purchase every item identified; THIS WEEK IN COMICS! reflects only what I find to be potentially interesting.
***
SPOTLIGHT PICKS!
Sisters: Another week, another gigantic mainstream comic book release, this time from Scholastic and YA superstar Raina Telgemeier, a 2003 Ignatz recipient, if you know your history. This one is a 208-page follow-up to the artist's name-making 2010 release Smile, itself a semi-autobiographical slice-of-life comic, albeit sweetened with a careful sense of narrative build and crisp comedic timing. Bright, colorful, and hotly anticipated; $10.99 ($24.99 in hardcover).
Hip Hop Family Tree Vol. 2: 1981-1983: And speaking of continuations, here is Ed Piskor with a second Fantagraphics collection of his very popular music-biographical webcomics. These 9" x 13" packages are notable for their production work, presenting the material in a very flattering faux-vintage environment that I think makes the case for print compilations as an opportunity for a more focused aesthetic experience than reading strips on a generalist webpage like Boing Boing. Preview; $27.99.
--
PLUS!
Zaya: I recall Jean-Pierre Dionnet mentioning this one last year as part of a trend in BD which saw French writers collaborating with manhua artists. And now here it is, in English, from Magnetic Press, a 2012-13 series from JD Morvan & Huang-Jia Wei, seeing a special agent come out of retirement to face "a biomechanical threat" which menaces her and what she knows. Very interesting mix of slick color values and lumpy, fleshy character art in this one. Your definite Eurocomic pick, 216 pages collecting the whole story in an 8.5" x 11" hardcover. Preview; $29.99.
Death in Oaxaca #1: Ahh, the alternative comic book - choice of champions. This one's from the ever-apt Alternative Comics, a 36-page b&w production of veteran cartoonist Steve Lafler, following two expats on a journey into surreal Mexico. Small sample; $4.99.
The Multiversity #1: A veteran of another sort returns here, as writer Grant Morrison -- who, truth be told, has actually been away from the spandex scene for less than a year, though his former prolificacy has made it seem longer -- tackles another of the off-to-the-side, self-contained superhero projects in which he specializes, this time an eight-part attempt at exploring the many alternate dimensions of DC comics via a two-part bookend (of which this is one half) and six one-off comics by various artists, some of them longtime Morrison collaborators like Frank Quitely and Cameron Stewart. Pencils on this one are by Ivan Reis, who has worked with Morrison on The Invisibles, but is better known for various Green Lantern works with writer Geoff Johns. Preview; $4.99.
Dark Horse Presents #1: This one's been away for an even shorter time -- three months! -- but Dark Horse nonetheless saw it necessary to once again relaunch their flagship anthology, this time as slimmer, less-expensive 48-page units. The headliner is Geof Darrow, presenting a new outing for The Big Guy and Rusty the Boy Robot, with dialogue by Mr. Frank Miller, whose rather belabored sense of whimsy was not my cup of tea on the original 1995 series, but Darrow - he can draw the comics. Also on board are Brendan McCarthy, with the new serial "Dream Gang", and David Mack, with a Kabuki story, among other contributors. Samples; $4.99.
The Fade Out #1: In contrast, Ed Brubaker & Sean Phillips now appear to be treating their assorted crime comic collaborations as one big personal anthology, since this 40-page debut of their latest arrives roughly one month after the conclusion to Fatale. Now we're in post-WWII Hollywood, where an actress has mysteriously died, a screenwriter sits tormented, and mystery swirls. The creators have signed a five-year deal with Image to do basically whatever they want, so prepare for much, much more. Preview; $3.50.
Little Nemo: Return to Slumberland #1: Man, I recognize the visual appeal of Little Nemo in Slumberland, obviously, but it's far from my favorite Winsor McCay. The whole epic fantasy serial setup had a way of drawing out the very worst in his already-eccentric (and rather vignette-driven) writing style, to the point where I find it extraordinarily difficult to actually read. Give me any of McCay's 'surreal life' strips instead -- Dream of the Rarebit Fiend, Little Sammy Sneeze, The Story of Hungry Henrietta -- where he adopts this completely bizarre approximation of everyday chit-chat until weirdness intrudes on the banal: that's my stuff! Nonetheless, Little Nemo is one of the great spectacles of the early American comics, and clearly has provided inspiration to Eric Shanower, whose done some amusing riffs on the style in the past, so here is Shanower and IDW fronting a new series, possibly in a shimmering/menacing Oz mode, with Gabriel Rodriguez and colorist Nelson Daniel providing the visuals. Preview; $3.99.
Amulet Vol. 6: Escape From Lucien (&) Jellaby Vol. 2: Monster in the City: Kids' comics! I probably don't need to introduce Kazu Kibuishi's Amulet; it's a big YA fantasy adventure success, and Scholastic has the 256-page latest. Capstone, meanwhile, brings a 184-page package from Kean Soo, a cute monster story which I believe is being reprinted here from its late '00s debut; $12.95 (each).
The Shark King (&) Jack and the Box: KIDS' COMICS. These are a pair of low-cost softcover reprints of Toon Books stuff. I'm mentioning R. Kikuo Johnson's The Shark King because it's secretly an outstanding action comic - aimed at third-graders, yes, but more formally effective than any damn superhero thing you're gonna drop five bucks on this week. Jack and the Box, meanwhile, is an honest-to-god new-ish comic by Art Spiegelman, which is worth mentioning on its own; $4.99 (each).
The Heroic Legend of Arslan Vol. 1: Plenty of manga available this week -- there's also a new Dorohedoro from VIZ, and new installments of Chi's Sweet Home and From the New World from Vertical -- but I'm gonna highlight this new Kodansha release, as it comes from the studio of Hiromu Arakawa. I don't think Arakawa's name is all that recognizable to big tent comic readers, but she's a major, major force in boys' manga today, with her adventure series Fullmetal Alchemist having been adapted to *multiple* successful anime series, and her agricultural school comedy Silver Spoon achieving the sort of prominence that makes you nod your head and go "yeah, agricultural comedy, there's a manga for everything!" This is her newest project, a comics adaptation of a fantasy novel series by Yoshiki Tanaka, of not a few prior anime and manga iterations itself. Leaving nothing to chance, Kodansha has also licensed a digital release with Crunchyroll, so you can read the newest monthly chapters in English as they're published in Japan; $10.99.
The First Kingdom Vol. 5 (of 6): The Space Explorers Club: Blasting off further into uncollected territory with Jack Katz and his spit-polished, re-lettered 1974-86 independent SF comics opus, now getting into space-faring territory. From Titan, in hardcover, as usual. Preview; $19.99.
The Conscience of a Cartoonist: Instructions, Observations, Criticisms, Enthusiasms: Finally - Fantagraphics has a bunch of stuff out this week. In fact, I hear Simon Hanselmann's Megahex *might* be showing up in some stores, though Diamond is not actually listing it, so keep your eyes peeled. There's also a new Peanuts Great Pumpkin-themed collection, and a softcover reissue of Tales Designed to Thrizzle. But I'll leave you with a heavy project, a 14" x 11", 608-page compendium of cartoons and writings by Jeff Danziger, a "tour of instruction and exemplification of the political cartooning art, based on the years following the 9/11 attacks in New York City." Not a high-profile release -- and apparently limited to one printing only -- but worthy of inspection; $100.00.