On your left, dear visitor, you see my latest comic shop discovery, illustrative of the fact that many retailers stock comic-like materials in with the funnies, specifically here the European albums, for some reason. I will guess that Chris Foss -- one of the prime science fiction illustrators of the latter half of the 20th century, and not to my knowledge ever a comics artist beyond some early political cartoons and Penthouse contributions in the late '60s -- became entangled in somebody's subconscious with Moebius and the like due to his similar design-capacity association with projects like Alejandro Jodorowsky's aborted Dune and Ridley Scott's Alien; or maybe it's just the European artists tend to get the nicer art books (perhaps just the ones accessible through Heavy Metal). I picked this one up over the old Kitchen Sink collection of (Tanino) Liberatore's Women; it's a softcover Paper Tiger release from 1990.
Yet Diary of a Spaceperson is nonetheless an intermingling of words and pictures, a rather eccentric attempt to fuse a selection of Foss' SF book covers and paintings (detailed here) into a coherent literary work; as such, Foss also provides a running series of diary entries by a young lady of the far future, detailing her many adventures as a means of sorta justifying the presence of all these looming visions of color machinery without actually getting into years of release, etc. Immediately, the Heavy Metal-minded associates this effort with Karl Kofoed's long-running Galactic Geographic series of speculative magazine articles, but a closer inspection of the Foss book reveals a much more compelling comparison: the Victorian era erotic diary.
What makes Diary of a Spaceperson unique, in fact, is that it blends Foss' comic shop-friendly mecha with the other publication for which he is well-known: The Joy of Sex, to which he contributed b&w line drawings in 1972. Likewise, the action of this book is liberally interspersed with b&w images of the heroine and her various human (female) and non-human (who knows) associates, the former group always striking some often-goofy pose while somehow displaying their breasts via kitschy space costumes. What limited impression I get of the reaction to the book is that almost everybody seems to accept it as an oddly decorative showcase for Foss' art, though I am personally content to read it as a literary work: a veritable Fred Olen Ray late nite Cinemax version of The Ballad of Halo Jones, touched with a fascinatingly thorough emphasis on casual drug use that I can only attribute to the book's release at just past the crest of England's MDMA-fueled Second Summer(s) of Love.
There is also, truthfully, kind of a lot of rape, all of which is shrugged off by the heroine with the tongue-in-cheek flourish of late period Russ Meyer, or some dirty mid-century men's novel. Indeed, it's noteworthy that there's no especial love to any of the sex in this work - everything is either non-consentual or doled out as a means of exchange. Foss has expressed some antipathy toward the state of SF literature in the era where he was most active, so it could be that his own fiction is intended to cast a skewed, parodic eye on aliens and spaceships, thereby recontextualizing his own contributions to the genre by associating then with an updated text. It is not altogether successful (or even comforting) an effort, but it makes for a hell of a curiosity, right down to the climactic resurrection of the poor, ruined Earth's ecosystem at the hands of the illegitimate child of the Spaceperson and a random plant creature that abruptly impregnated her. It's not so different from Prometheus, when you think about it, though the spacecraft could have certainly used a little more color.
***
PLEASE NOTE: What follows is not a series of capsule reviews but an annotated selection of items listed by Diamond Comic Distributors for release to comic book retailers in North America on the particular Wednesday, or, in the event of a holiday or occurrence necessitating the close of UPS in a manner that would impact deliveries, Thursday, identified in the column title above. Not every listed item will necessarily arrive at every comic book retailer, in that some items may be delayed and ordered quantities will vary. I have in all likelihood not read any of the comics listed below, in that they are not yet released as of the writing of this column, nor will I necessarily read or purchase every item identified; THIS WEEK IN COMICS! reflects only what I find to be potentially interesting.
***
SPOTLIGHT PICKS!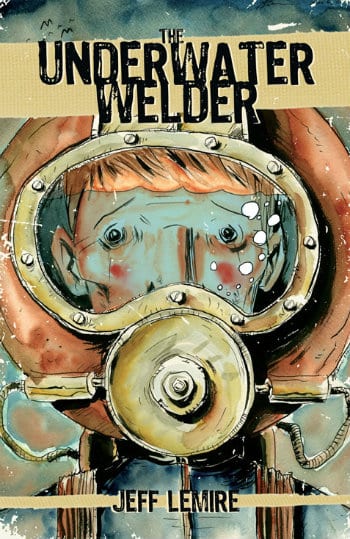 The Underwater Welder: Despite an increasingly high-profile slate of superhero writing projects over at DC -- and his soon-to-end Vertigo solo series Sweet Tooth -- Jeff Lemire has nonetheless completed a new 224-page project for Top Shelf, "[e]qual parts blue-collar character study and mind-bending mystery," per the publisher, in which a high-pressure specialist has a paranormal encounter in the midst of impending fatherhood. Note that Lemire is also doing a one-off Kid Eternity revival at DC this week under the title National Comics: Eternity, with Cully Hamner on art. Samples; $19.95.
Sakuran: Blossoms Wild: Certainly your deluxe manga choice right now, from Vertical, a 308-page all-in-one collection for a 2001-03 serial by Moyoko Anno, one of those *slightly* off the beaten path artists who sometimes pick up a good readership on the manga scene, which sometimes prompts English-language publishers to foist them on foreign environs to limited if appreciated effect. This one's a seinen project about the life of an Edo period courtesan, adapted into a sassy-looking movie in 2007. Some terrific (if very brief) color work in here, with Anno's usual sense of sure design throughout; $16.95.
--
PLUS!
Sergio Aragonés' Groo the Wanderer: Artist's Edition: A most logical addition to IDW's popular line of 12" x 17" hardcover original art showcases -- as always, printing the b&w original art at actual size in color, so as to draw out every nick and splotch -- wherein Aragonés' long-lived comedy barbarian navigates a divine competition of heroes spread over four issues (#96-99) of his Marvel/Epic series in 1993. With Mark Evanier and Stan Sakai, I'm sure, as well as an apparently re-drawn version of the title character's first appearance. This week also brings the ($125.00) second edition of that very fast-selling Wally Wood volume, if you're so inclined; $100.00.
Resistance Vol. 3 (of 3): Victory: This is the conclusion of a First Second OGN series by Carla Jablonski & Leland Purvis, depicting the adventures of a youthful gaggle of sibling agents in the French resistance of WWII. Doubtlessly your designated peek into the world of high-end YA comics publishing for the close of July. Samples; $17.99.
Naoki Urasawa's 20th Century Boys Vol. 21 (of 24): What will our world look like with no new Naoki Urasawa suspense comics to translate? Will someone pull the trigger on his billion-or-so volumes of early sports manga? Maybe the Pineapple Army resurgence is nearly upon us? Is Kodansha gonna release Billy Bat or what? All that's certain for now is that Viz is nearing the end of this world threat saga. Be aware that my "(of 24)" designation is a slight misnomer, as Viz intends to preserve the formatting of the Japanese series, which saw vol. 23 switch the title to 21st Century Boys and restart the volume count from 1 for the final two volumes; $12.99.
Everybody Loves Tank Girl #1 (of 3): Titan is again the publisher for this particular Alan Martin-helmed outing -- tanks & stuff, comedy, etc. -- noteworthy for art by Jim Mahfood; $3.99.
Elephantmen #41: Almost a free-floating showcase for British sci-fi comics talent at this point, Image's Richard Starkings-created anthropomorphics-in-distress series now compliments its Shaky Kane issue (#33) with a story written and drawn by David Hine - his first such work in a long while. Preview; $3.99.
Haunt #25: I sort of lost track of this Robert Kirkman/Todd McFarlane endeavor after its issue #19 revamp by Joe Casey & Nathan Fox; don't even remember when the last issue came out. Still, here's a new one, by that same team. Preview; $2.99.
Prophet #27: Hell, I'll just make it an Image trilogy here and note the return of Giannis Milonogiannis as artist for this Brandon Graham-written series. Preview; $2.99.
Fictionauts: Because credit is nonetheless always given when due in this very capricious column, I will now direct you to what appears to be earlier work by Leandro Rizzo, the fellow who drew that recently concluded Jamie Delano Crossed storyline about the United States proudly segueing into a wholly amoral society. Writer Mauro Mantella (and adapter Chad Jones, suggesting some foggy non-English origin for the material) presents a super-team tasked with battling anomalies across the psychic landscape of world fiction in this collection from Studio 407. Preview; $12.99.
Cerebus the Barbarian Messiah: Essays on the Epic Graphic Satire by Dave Sim and Gerhard: Finally, your book-on-comics for the week -- from McFarland, also presently of Todd A. Comer's & Joseph Michael Sommers' Sexual Ideology in the Works of Alan Moore and Terrence R. Wandtke's The Meaning of Superhero Comic Books (glad that's settled) -- a 238-page collection of essays on the 1977-2004 small press/self-publishing institution, edited by Eric Hoffman. Contents; $45.00.
Marie Severin: Mirthful Mistress Of Comics: Aah, what the hell, I'll do another one! This is one of TwoMorrows' artist-focused softcovers -- the publisher also has a Modern Masters book dedicated to Eric Powell this week -- a 176-page tribute to the longtime artist and color specialist, with testimonials from many collaborators sprinkled throughout the expected career-spanning interview. Many samples; $24.95.
--
CONFLICT OF INTEREST RESERVOIR: Significant Objects is not a comic -- not an awful lot of comics this week caught my eye -- but a potentially interesting prose compilation culling the 'best of' Joshua Glenn's and Rob Walker's online effort at selling knickknacks through eBay by commissioning writers to create short stories for the item descriptions, with comics folk Gary Panter, Ben Katchor and Ann(ie) Nocente (along with frequent writer-on-comics Douglas Wolk) joining the likes of William Gibson(!), Jonathan Lethem and Neil LaBute as contributors; $24.99.