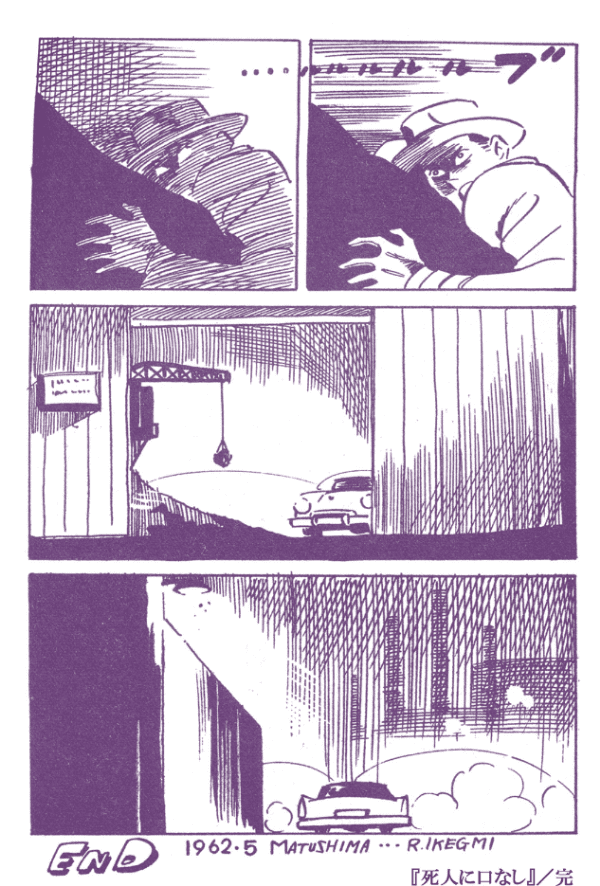 Oh the ignominy! To have one's former life of teen angst exposed by The Comics Journal! Still, I did not hesitate, for this is among the earliest accessible art by Ryōichi Ikegami, about whom I've written before. As you might recall, Ikegami has lived a varied artistic life - a Shigeru Mizuki assistant and a contributor to the early years of the unique magazine Garo, Ikegami gradually built himself up to a star artist of mainstream manga, developing a heavy, rather global art style which made him uniquely accessible, for a while, to interested eyes in North America and other international sites.
I had known before, however, that Garo did not mark Ikegami's professional debut; like not a few manga artists of the postwar period onward, he'd actually begun work as a teenager, in Osaka's kashihon rental manga scene. Some of these works had been reprinted years ago as a special insert book to LIBIDO, a limited-edition collection of Ikegami's erotic illustrations from the used book retailer Mandarake, but now some of that material has been made available in digital form for the benefit of historians, nostalgists, and thirsty foreign columnists alike.
The above pages, as you can see, were first published in early 1962; Ikegami was 17 years old. They are the final pages of "Dead Men Tell No Tales" -- hopefully an accurate localization of 死人に口なし, as visible on the bottom right -- a 33-page thriller purportedly first seen in the pages of Shadow, the very anthology that served as forum for the Gekiga Workshop experiments of the 1950s. Ikegami also contributed to Mazō, another Hinomaru bunko anthology (noted for publishing early works by historical bloodshed specialist Hiroshi Hirata); all of his works, though, appear to be united by a doomy sense of futility. I have yet to see a story from this period of Ikegami's work that does not conclude with the primary character's death, and from that we might predict the tone of his late '60s and early '70s work, filled with bloodied swords and creeping anxiety and a significantly distraught Spider-Man, even by Spider-Man standards. This first decade would prove to be the only period where Ikegami would write the majority of his own comics; as commercial considerations grew, so did the artist come to focus mainly on honing his aesthetic, which is maybe a story of manga-as-commerce too...
***
PLEASE NOTE: What follows is not a series of capsule reviews but an annotated selection of items listed by Diamond Comic Distributors for release to comic book retailers in North America on the particular Wednesday identified in the column title above. Be aware that some of these comics may be published by Fantagraphics Books, the entity which also administers the posting of this column. Not every listed item will necessarily arrive at every comic book retailer, in that some items may be delayed and ordered quantities will vary. I have in all likelihood not read any of the comics listed below, in that they are not yet released as of the writing of this column, nor will I necessarily read or purchase every item identified; THIS WEEK IN COMICS! reflects only what I find to be potentially interesting.
***
SPOTLIGHT PICKS!
Don't Get Eaten by Anything: Ah, Canada! TCAF! I'm told that due to inclement weather, TCAF has only recently ended for certain traveling exhibitors, but now everybody can enjoy a slice of local magic through this Conundrum Press edition of daily webcomics by Toronto's own Dakota McFadzean. A 5.75" x 8.25", 368-page color hardcover presents "the absurdity of life and the fundamental loneliness of the human condition, more often than not to humourous effect," all in tiny fictive and autobiographical fragments; $25.00.
Nimona: And speaking of web cartooning, such were the origins of this 272-page HarperCollins release from artist Noelle Stevenson, who is also one of the founding writers (with Grace Ellis) on the very prominent BOOM! studios series Lumberjanes. It's a fantasy adventure comic, of a "subversive" and "irreverent" nature, per the publisher; a print-exclusive epilogue can be expected. Official site; $12.99 ($17.99 in hardcover).
--
PLUS!
Wuvable Oaf: Being a 264-page Fantagraphics hardcover collection of comics by Ed Luce, who's been self-publishing these chronicles of a large bald man's romantic misadventures since 2008. That doesn't sound like an adequate description, huh? Some really skilled and attractive drawing here, so maybe it'll be best to flip through a copy - I think five regular issues and a number of minicomics are included. Preview; $29.99.
Ghetto Brother: Warrior to Peacemaker: The newest international affair from NBM, this time coming from a German-born pair: writer Julian Voloj (also a noted photographer) and artist Claudia Ahlering. It's a 128-page biographical comic, focused on the life and times of Benjamin Melendez, a South Bronx gang founder, musician and local activist, who helped broker a major truce among NYC gangs in the early '70s. Based on numerous interviews with Melendez and others around at the time. Preview; $12.99.
Injection #1 (&) Mythic #1: Two debuts from Image, both coming from longstanding talents. Injection reunites writer Warren Ellis and artist Declan Shalvey, who enjoyed a very popular run on Marvel's Moon Knight last year. "A serialized sequence of graphic novels about how loud and strange the world is getting," per the solicitation, the project promises "science fiction, tales of horror, strange crime fiction, techno-thriller, and ghost story all at the same time." Mythic, meanwhile, pairs writer Phil Hester with veteran British comics artist John McCrea for a story about diverse mystics maintaining the machinery of the supernatural - and if *that* doesn't press your 'Image is the new Vertigo' buttons...! Injection preview; $2.99 (Injection), $1.99 (Mythic) (for now).
Sanctum Redux: Humanoids has been around long enough in North America that we're now seeing sequels and revised editions of work they've previously released in English. For example, Sanctum ("Sanctuaire" in French) -- a Xavier Dorison/Christophe Bec series about ancient terror in underwater caves -- was first released way back in 2002 as a set of hardcover albums, with collected editions following. Meanwhile, in France, a completely different creative team, Stéphane Betbeder & Riccardo Crosa, produced a remake of the original series in a b&w style reminiscent of Katsuhiro Ōtomo; this was titled Sanctuaire Reminded and saw release in French in 2007. Then, Betbeder & Crosa returned to the same concept again in color BD style for Sanctuaire Redux, a 2009-12 'television series' to the Dorison/Bec 'movie'. That lattermost iteration is what is collected in this horse-choking 628-page, 6.8" x 9.7" hardcover, complete with Andrea Rossetto's substitution for Crosa as artist for the final chapter. Samples; $34.95.
Walter Simonson's Star Slammers: The Complete Collection: A hefty 300-page IDW collection of visually unique space comics by Simonson, spanning an early '80s Marvel Graphic Novel and a mid-'90s comic book series from Bravura (haven't head *that* name in a while). From glancing at the previews, I presume this is the Remastered (recolored) version IDW had been releasing as comic books. Samples; $49.99.
Night Nurse: I think this has something to do with that Daredevil show on Netflix? Regardless, I do like seeing Marvel release small runs of older comics as big, thick new comic books, and that's what's going on with this compilation of the 1972-73 Jean Thomas/Win Mortimer/Linda Fite miniseries, focusing on life after dark on the superhero universe streets; $7.99.
Strange Sports Stories #3 (of 4): Finally, I'll make note of the fact that Vertigo has been maintaining a sports-themed anthology for a little while now, albeit a Strange one. Both Paul Pope and Gilbert Hernandez are somehow involved with this issue, if the Vertigo site in any reliable indication, so maybe have a look; $4.99.