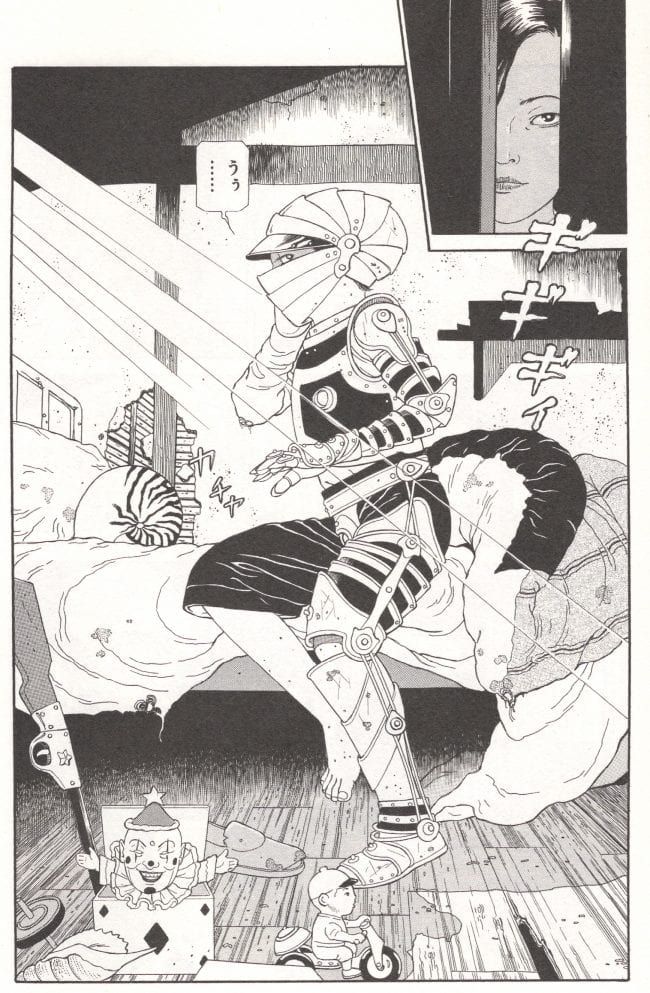 Only one man's vision of humanity makes sense this late in the season: Suehiro Maruo, who is the only cartoonist I actually *follow* in Japanese instead of dipping in and out by circumstance. This sequence is from the second collected volume of his current series, Tomino the Damned, which follows a pair of trouble-prone young children through an increasingly surreal chain of calamities involving clairvoyance, movie-making and human oddities in an ultra-stylized bygone era. The book was released in May -- I didn't say I followed Maruo quickly -- around the same time as a live-action film adaptation of Maruo's 1984 comic Shōjo Tsubaki (aka "Mr. Arashi's Amazing Freak Show"). There was an earlier, animated adaptation of that book, infamously personal and tonally harsh, but from the looks of its trailer the new film seems to be emphasizing the parodic character of Maruo's work though a very arch and self-consciously literal translation of the artist's visual cues. It's rather camp.
It's also something that's advertised directly on the jacket of the new Tomino, which is not a wholly unrelated endeavor. Maruo is not the same artist that made the likes of Ultra-Gash Inferno anymore; the extreme content of his notorious shorts has largely vanished, placing his visual compositions and gale-force obsession with bygone aesthetics in a position of unopposed primacy. But Tomino nonetheless deliberately evokes comparisons with his past works (Shōjo Tsubaki powerful among them), suggesting a retrospective intent - a summarization of where the 60-year old Maruo has been, in perhaps a more accessible form. Still, in comparison to the new Shōjo Tsubaki film, Tomino demonstrates how drawn images by a confident artist can better incorporate symbols and fetishes and aspects of heavy design into a 'world' that reads as natural to the eye. The film stands at a great remove, while Maruo's comics are inescapably Maruo's world...
***
PLEASE NOTE: What follows is not a series of capsule reviews but an annotated selection of items listed by Diamond Comic Distributors for release to comic book retailers in North America on the particular Wednesday identified in the column title above. Be aware that some of these comics may be published by Fantagraphics Books, the entity which also administers the posting of this column, and that I also run a podcast with an employee of Nobrow Press. Not every listed item will necessarily arrive at every comic book retailer, in that some items may be delayed and ordered quantities will vary. I have in all likelihood not read any of the comics listed below, in that they are not yet released as of the writing of this column, nor will I necessarily read or purchase every item identified; THIS WEEK IN COMICS! reflects only what I find to be potentially interesting. You could always just buy nothing.
***
SPOTLIGHT PICKS!
Neo Parasyte f: Hey, a little more manga here. Last week Kodansha debuted a western-original anthology of stories based on Hajime Isayama's Attack on Titan series. Now we get an equally unusual proposition: a 288-page anthology of stories inspired by the 1988-1995 Hitoshi Iwaaki horror/SF series Parasyte (which just had an anime adaptation a few years back, in case you're wondering as to the relevance). The twist, however, is that Parasyte was a seinen manga, whereas the contributors here all hail from the world of comics aimed at girls and women. Expect appearances by Asumiko Nakamura (Utsubora: The Story of a Novelist), Kozue Amano (Aria) and Kaori Yuki (Angel Sanctuary) among a dozen others; $13.99.
Cometbus #57: And if we're covering the unusual, I guess we'll just skip to your non-conflicted book-on-comics of the week, the 90-page latest in Aaron Cometbus' long-running zine series, which just happens to be dedicated to interviews with 14 comics-related personalities active in the NYC area. Charles Brownstein and Zak Sally contribute some of the pieces, while Nate Powell supplies illustrations, but mostly it's Cometbus chatting people up, ranging from artists like Gary Panter and Julia Wertz to curators (Robin Enrico), retailers (Gabe Fowler), editors (Bill Kartalopoulos) and others, down to a concluding segment in which MAD veteran Al Jaffee gallantly answers leftover questions from the prior interviews regardless of context or personal expertise. Less a comprehensive presentation than a fleeting ride-along on a current of curiosity, distributed to comic book stores via Last Gasp; $5.00.
--
PLUS!
Looking for America's Dog: Okay, yes - an actual U.S. politics-related publication this time. Steven Weissman released Barack Hussein Obama with Fantagraphics in 2012, assembling a "dada-esque" (as the publisher put it) vision of national political figures. This is a 112-page hardcover follow-up, in which hapless Joe Biden lets Bo the White House dog run out of the gate, prompting First Daughters Sasha and Malia to maneuver through "an increasingly strange and hostile world." Again, that's from Fantagraphics; $22.99.
At the Shore (&) How to Survive in the North: Two comics from artists with a smooth and practiced style. At the Shore is the work of Jim Campbell, an artist and musician affiliated with the Meathaus group from a while back. He's been working on this comedic horror project in serial form for a while; the 208-page collected softcover arrives from Alternative. How to Survive in the North is a Nobrow release by Luke Healy, a Center for Cartoon Studies graduate blending historical fact and modern-set fiction in 192 pages of struggle in icy terrain; $19.99 (Shore), $22.95 (North).
Summerland: I am wholly unfamiliar with the work of artist Paloma Dawkins, though I understand she is a Canadian animator and illustrator, with some comics work out there. Color schemes look to transition throughout this 48-page Retrofit/Big Planet release on the topic of vacationing and playacting, which I presume will serve as a succinct and inexpensive means of becoming acquainted; $9.00.
Who Killed Kurt Cobain?: Your Eurocomic of the week (non-reprint division) is this IDW English edition of a 2015 book by artist Nicolas Otéro, himself adapting a 2014 prose novel by Héloïse Guay de Bellissen in which the story of the beloved titular musician is observed by his childhood imaginary friend Boddah, the addressee of his final letter. A 152-page presentation in hardcover. Preview en français; $24.99.
Century's End: And here are some French comics reprints from the catalog of Enki Bilal, formerly published in English by Humanoids but now arriving courtesy of Titan. The 184-page, 9.7" x 12.8" hardcover package collects a pair of political thrillers written by Pierre Christin: 1979's The Black Order Brigade and 1983's Hunting Party, realistic fictions in sharp contrast to the allegorical fantasies that Bilal and Christin had collaborated on earlier in their careers; $34.99.
Black Panther: World of Wakanda #1: Without a doubt the big take-a-look superhero project of the week is this Marvel spinoff of a very high-profile Black Panther run by writer Ta-Nehisi Coates. Here the primary writer is Roxane Gay, a very prominent novelist, editor, essayist and academic, making her comics debut in the company of artist Alitha E. Martinez, of various superhero, SF and young adult projects. There will also be a second story written by poet Yona Harvey and drawn by Afua Richardson, making this I believe the first Marvel comic in which all of the writing and drawing roles are fulfilled by women of color. Preview; $4.99.
Heavy Metal #283 (&) Klaus: Two from a genre comics long-timer, Grant Morrison, who's been fronting Heavy Metal magazine for a few issues now. Readers of this column will want to be alert for #283 -- the seasonable untimely but politically *very* timely Fear Issue -- for a new collaboration between Morrison and longtime Cerebus background artist Gerhard, the latter drawing anthropomorphic animal characters in a mystery story. (Yes, that's new comics by Dave Sim and Gerhard in the space of two weeks.) Klaus is a hardcover collection of Morrison's recent project with artist Dan Mora and BOOM! Studios, exploring the figure of Santa Claus through "Viking lore and Siberian shamanism," to presumably superheroic ends; $7.95 (Heavy Metal), $34.99 (Klaus).
Usagi Yojimbo - Gallery Edition Vol. 2: The Artist and Other Stories (&) Voodoo Vengeance and Other Stories: Artist-focused books both, each one bypassing the reproduction styles of their component parts. The Artist and Other Stories is an original-art-reproduced-in-color project from Dark Horse, displaying 256 pages of 21st century stories by Stan Sakai at 12" x 17". Voodoo Vengeance is another Fantagraphics collection of EC stories presented without color, all of them drawn this time by Johnny Craig. It's 216 pages; $125.00 (Artist), $29.99 (Voodoo).
More Heroes of the Comics (&) The Gaze of Drifting Skies: A Treasury of Bird's Eye Cartoon Views: A dynamic duo of, ah, comics-adjacent projects from Fantagraphics. More Heroes of the Comics is a 184-page suite of color portraits by the great Drew Friedman, all of them devoted to figures from the history of American comic books. Note also its predecessor, from 2014. The Gaze of Drifting Skies is a 9" x 12" softcover showcasing "marvelously orchestrated scenes of human bustle," a device frequently used in newspaper and magazine illustration of ages ago. Jonathan Barli edits; $34.99 (Heroes), $29.99 (Gaze).
The Comics Journal Library Vol. 10: The EC Artists Part 2: Finally, your book-on-comics of the week that could not be more obviously a conflict of interest considering that this is the digital venue for The Comics Journal - a 256-page, 10" x 12" hardcover collection of interviews with figures associated with the very famous purveyors of pre-Code crime, horror, war, humor and SF comics. A new Gary Groth chat with Jack Davis is included among archival encounters with Bill Gaines, Harvey Kurtzman, Al Feldstein, Marie Severin, Bernard Krigstein, Alex Toth and others. Fantagraphics publishes, following 2013's Part 1; $34.99.