Earlier this year The New York Times published a story entitled "The Sistine Chapel of Comic-Strip Art" which revealed that an East 44th Street sports bar called the Overlook houses several vintage multi-cartoonist "murals" that harken back to the location's salad days as the former Costello's, a once-renowned watering hole for cartoonists, writers, and other members of the fourth estate.
Of course Costello's was neither the first nor the last Manhattan public house where cartoonists congregated, quaffed, and left their boozy marks. The fabled Second Avenue steak house The Palm traded on its cartoonist graffiti for decades. (The King Features syndicate, the United Feature syndicate, The New York Daily News, The New York Daily Mirror, INS, and UPI were all located within staggering distance of The Palm–and of the other venues discussed here.) Hundreds of originals that had accrued there since, roughly, the repeal of Prohibition were mysteriously "scrubbed clean" in 2015 by the building's new owners— just in time for a 90th birthday facelift that died on the operating table.
Part of the mythos of the 20th-century newspaper cartoonist was the role of the deadline- haunted hollow-legged libertine, part workhorse/part fraternal drinking machine. Big-city newspaper art departments were notorious for their in-house tippling and impromptu frescoes. In a 1979 oral history, the radio producer Himan Brown (desperately seeking an audience with cartoonist Milt Gross) recalled his teenage impression of the New York World art department of the 1920s: "For me to describe the place these cartoonists worked in, in the old World building down on Park Row in Lower Manhattan, is really a nightmare in itself. These were tough hard-bitten men, an elite unto themselves. They sat side by side, doing the cartoons and comic strips that were so familiar, in this one smoke-ridden room, with spittoons and filthy dirty pictures on the wall. Pornography was invented by these guys." These dual impulses naturally migrated to the local saloons after office hours.
Among these was The Inkwell, a now-forgotten postwar establishment that once catered to this particular elite. Located at 693 Third Avenue between 43rd and 44th Streets on the East Side, "a few doors south" of the original Costello's (which occupied number 699 until it relocated to East 44th street in 1973), The Inkwell was christened with a moist nod to the high-hat steak row eatery, The Pen and Pencil. Esquire described it as "a hangout for cartoonists and writers, actors and musicians, models and magazine editors." Knife and Fork in New York, a period guidebook, described it as a "boothed gossipry for folk from near-by newspaper offices " and went on to praise both the steaks and "big luscious porkchops, Southern-style."
The Inkwell was opened for business in a sweltering June of 1945 by Dan W. O'Connor, a "genial Irishman and cartoonist in his own right." Born in a log cabin, the son of a Hopkins County Kentucky coal miner named Dan O'Connor, young Dan's creative ambition diverted him from a future in the family profession, which he had tasted at age 16. Described by his grandson (also named Dan) as a "Rube Goldbergian inventor and cartoonist who admired and made friends with some of the greats," O'Connor lit out to Elgin, Illinois in 1930 and attended the Chicago Art Institute in the evenings after hacking a cab all day. He met and married Genevieve Grund, then 15½, and two years later made the big move to New York City, apparently with the career goal of becoming a cartoonist. According to a 1945 write-up in the Louisville Courier-Journal, "He packed up his stuff and got on a train and then he looked around and there was his wife. He hadn't expected her to come. But he was might proud she did." While Dan never became an industry professional Genevieve did in 1935, landing a position as a "confidential secretary" to Joseph V. Connelly, the general manager of William Randolph Hearst's King Features Syndicate.
Perhaps feeding hungry cartoonists seemed like a better proposition to Dan than being a cartoonist who might not eat regularly. O'Connor originally tried a joint on the West Side of town, catering to "a different crowd" but leapt at the chance when a Third Avenue location opened up in 1945. "I'd been dying to open a place over here," he told the Courier-Journal that year. And they came. "Cartoonists are Mr. O'Connor's second love" (after Kentucky). "The walls are covered with colored drawings by the well-known cartoonists who come in for a quick one," the same newspaper reported 2 years later. "There are Ernie Bushmiller's 'Nancy,' O. Soglow's 'Little King,' Russell Patterson's leggy girls and many others in larger size than you see in the funny papers. Framed originals in black and white furnish further decoration… In the back, where the booths are, Mr. O'Connor paints the names of his more distinguished customers: cartoonists like Rube Goldberg and Milton Caniff of 'Steve Canyon' are there, and so are newspapermen representing every wire service in New York."
That year Esquire noted the restaurant was now "favored by musicians towards midnight," and made mention of The Inkwell's "general air of congeniality, good whiskey, intelligent conversation and, surprisingly enough, excellent food. The chef, Oscar, serves up free clam chowder, chop suey or ravioli dinners for O'Connor's frequent Thursday night party nights and The Inkwell, all in all, is a cozy spot to note down in your little red book."
Physically the joint was long and narrow with chest-high wainscoting stained dark, plank floors with shallow wooden pallets behind the bar and a standard-issue stamped tin ceiling. The front end contained two slat-shaded windows with lined potted plants facing out to the street. A seasoned, mirror-backed oak bar extended along the north side, topped with a fabric awning. A wooden plaque on a metal chain above the cash register posed the eternal question: "Anybody here from Kentucky?" Another simply posited "Chops". Midway into the darkness a lateral arched supporting beam was decorated in a calligraphic face with the warning: "All Ye Who Enter Herein Leave All Dopes Behind." Deeper still were several cozy shellacked wooden booths set for table service, a two-man kitchen, restrooms, coat and hat racks, a piano, and a jukebox. The regular staff included "Chef Oscar" plus assistant, a wait staff of two ("Chris" and Neil"), a couple of barkeeps, and Mousie, the barroom cat.
For what appears to have been a venture of great promise, all public record of The Inkwell ceases abruptly after December 1948. (Could it have been all those free Thursday night feeds noted down in all those little red books?) The walls at 693 were undoubtedly repainted without hesitation by the next occupant (another bar) and The Inkwell faded from memory, just as a generation of inner-city cartoonists began an exodus to Connecticut.
Dan and Genevieve O'Connor started a family and later moved to Armonk, New York, and later still to New Milford, Connecticut, another cartoonist town. Genevieve furthered her career as an executive secretary; first to the president of the Popular Club Plan in Rockville Center, Long Island and then as a legal secretary at the American Can Corp. in Greenwich. Dan furthered his career as a genial Irishman and cartoonist in his own right. He also expanded into the catering and prepared food business, fronted by a mythical "Mrs. Dano." According to his grandson, Dan Seward, O'Connor never stopped drawing "all kinds of cartoons and gags and inventions and failed patents. He was a sign painter on and off as well." Dan also continued to relish the company of cartoonists. "He would sit and gab with Jerry Marcus and a bunch of others at Nick's Pizza in Ridgefield Connecticut in the 1980s." Daniel W. O'Connor passed away in 1986 and Genevieve O'Connor in 2000. "They enjoyed their time," confirmed their grandson.
While short-lived, The Inkwell did not quite vanish without a trace. The following well-thumbed snapshots (annotated by O'Connor himself) survived and filtered down through the family. They leave us with just enough evidence to suggest that there may have been more than one "Sistine Chapel of Comic-Strip Art" on the East Side of New York.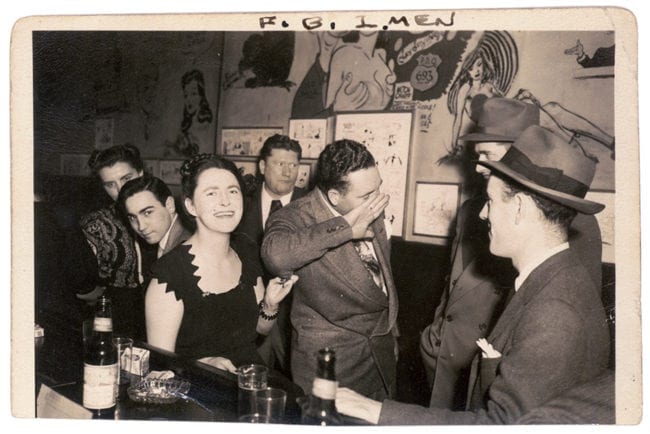 Postscript:
While The Inkwell's murals were not preserved, Dan O'Connor did manage to hold on to some sweet souvenirs, several of which he deposited with Mort Walker's Museum of Cartoon Art in the early 1970s. Five originals inscribed to O'Connor are now on tap at Columbus Ohio's Billy Ireland Cartoon Library and Museum, which acquired that museum's holdings in 2008.
Today 693 Third Avenue is owned by the third largest provider of fiber-optic internet access in the United States, while the storefront itself is inexplicably occupied by 5th Avenue Chocolatiere. (Yelp: Be the first to review! Facebook: Closed now.)
Next Week: Another visit with the characters of The Inkwell (both on and off the walls).
A special tip of The Inkwell cap to Matthew Thurber and to Daniel Seward without whose generosity these pictures would remain unseen. Images © 2018 Daniel Seward, all rights reserved.
Hirman Brown quote from Five Directors: The Golden Years of Radio (A Directors Guild of America Oral History, Series No. 15). Ira Skutch, ed. Scarecrow Press, 1998.