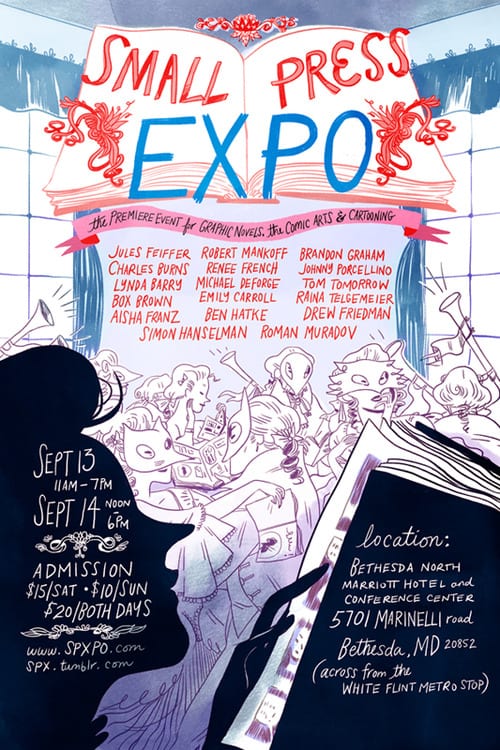 "And for you." Warren Bernard, executive director of the Small Press Expo, handed out metro tickets to a bunch of casually dressed cartoonists in the Bethesda North Marriott Hotel & Conference Center lobby Friday morning. It was a veritable who's who of cartoonists and comics professionals, ranging from Charles Burns, Emily Carroll, and Tom Kaczynski (Uncivilized Books) to Jacq Cohen (Fantagraphics), Alvin Buenaventura (Pigeon Press), and Box Brown (Retrofit Comics). Despite this, everyone stood around like children nervously waiting to go on a field trip. And it was indeed just that. We were headed to the Library of Congress to see the rare comics collection.
This was just the beginning of what was to be a long and eventful weekend. The Small Press Expo, the largest independent comics expo in the United States, was to be held at the Marriott, transforming it into a "cartoonist camp" of artists, industry professionals, and fans from around the country and world. The show was celebrating its 20th anniversary which had a lot of implications. How had the show changed since it's 1994 inception? And what did this mean for a show that was bursting at the seams enrollment-wise?
I hoped to begin to get some of these answers during our Library of Congress trip. My invitation to this event was quite random. I had run into Warren Bernard at the Comics and Medicine Conference, which I covered for The Comics Journal earlier this summer. We had gotten into a conversation about SPX as well as African American political cartoons and Warren was kind enough to invite me to come along.
After a forty-minute train ride, we arrived in Washington, D.C. The James Madison Memorial Building, one of the three buildings of the Library of Congress, has a clinical, hospital-like feel. Wings are designated by colors such as "red core" or "blue core." We took the elevator up to the Prints & Photographs Reading Room, checked our bags, and were brought over to a curated selection of original comic art on display ranging from Krazy Kat and Li'l Abner strips to more recent work by Jillian Tamaki. Comics history buffs like Bob Siroyak and James Sturm animatedly analyzed and discussed the pieces, making me wonder how different it was for my generation of cartoonists.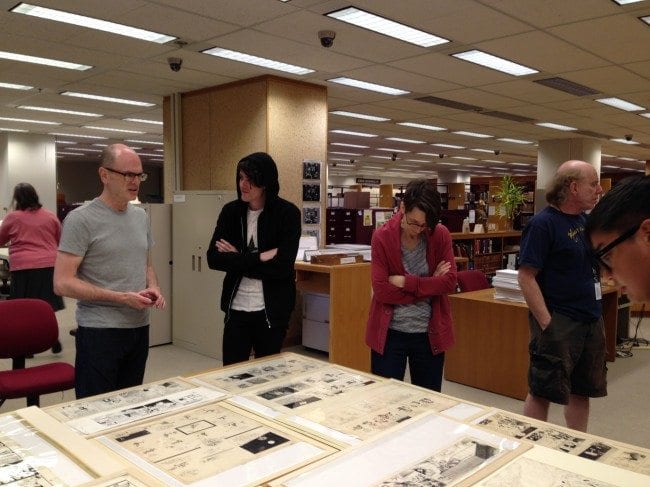 Simon Hanselmann, dressed in a hoodie and skinny jeans, surveyed the art by himself. "I'm excited for your wedding," I said. His face lit up. "Yes Whit! I bought a $400 wedding gown. It's off white!" Hanselmann would be getting "married to comics" on Saturday night, an event that both seemed unorthodox and completely normal for SPX.
As everyone continued to look at the art, I sat down with Warren to talk to him about the show. Warren started volunteering at SPX in 2002 and eventually became the executive director in 2011. For him, coming from the corporate world and managing "large multimillion-dollar projects," running this show was a lot less stressful, and an avenue for exercising his creativity. He noted that he and his staff received no compensation for SPX, explaining that because there was no personal monetary gain their motivation for running the show was intrinsic. Warren's goal for SPX was to "provide a low-cost event for people with the understanding that the economy is tough for people in their twenties and thirties." He proudly mentioned that SPX had booked the Marriott until 2016, so that hotel rates would not go up for participants for a few more years.
Warren's business savvy has been noted as a large reason for the SPX's relatively smooth sailing and operation. But it's been less publicly apparent that Warren's attention and interest in comics' past, as well as the current comics landscape, is what keeps the show both honoring comics history as well as keeping it relevant to the emerging generation of younger cartoonists.
For instance, he came up with the idea of focusing on alt-weekly cartoonists who he felt are vibrant and influential but sorely under-recognized. Seeing the decline of alt-weekly papers and the money associated with being a syndicated cartoonist, he decided that these artists "needed their place in the sun" and emphasized that "comics are rife with sins of omission from the canons and this is a chance to right one of these wrongs."
Looking into the future, Warren talked of next year's theme, which he was going to announce at the Ignatz Awards the following night. SPX would be celebrating its 21st birthday, and as such, the show would highlight cartoonists who had only practiced in the 21st century. Guests would include Lilli Carré, Luke Pearson, and Matt Bors, to name a few.
But what of Warren's project linking the past to the future? Perhaps Warren's greatest accomplishment in regards to SPX was fostering a relationship with the Library of Congress, who have now established an SPX Collection with the Serial & Government Documents Division and Prints & Photograph Division. Warren was concerned about a "collective disappearance of amazing work," meaning that many minicomics, especially self-published ones, were in desperate need of archiving given their often small-print runs and distribution. Warren had reached out to the Library of Congress shortly after becoming executive director and they signed a Memorandum of Understanding which was set to expire next year but has been extended. The Serial & Government Documents Division had originally only wanted to collect only Ignatz-nominated work, but now that there were more curators covering the floor at SPX, more comics could be collected.
"Why don't you take her to the vaults. Show her some cool stuff, like Superman No. 1 or something".
Megan Halsband, a reference librarian in Serial & Government Publications Division who manages the comics collection, whisked me away to the vaults. Stacks of unfiled newspapers and comics crowded the stacks. "This is unbelievable!" We walked past rows of newly boxed comics as Megan explained the archival process.
"Has the Library of Congress always been cataloging comics?" Not always, Halsband explained. They have some catching up to do because in the past, archivists did not feel that "comics were worth saving." Currently, the LOC held seven thousand comics titles and 125,000 items. Since starting the SPX Collection, they now have two thousand minicomics archived and plan to expand their efforts. Halsband noted the importance of minicomics in allowing historians to chart the evolution of artists from their Xeroxed minicomic beginnings to becoming more established, bestselling graphic novelists. She also mentioned that since many minicomics do not have filed copyrights (they can claim hardship), these comics would not pass through the LOC automatically. The LOC had also recently embarked on a webcomics archival project, starting to catalog Ignatz-nominated comics as well as preserve sites that were no longer functional, but contained large collections of important comics, such as James Kolchaka's American Elf.
I headed upstairs with Halsband, where she carted a collection of Box Brown's minicomics to the site of his afternoon presentation, "How to Make Comics Everyday and Still Be Alive". Brown chronicled a week in the life of being a cartoonist and freelance illustrator; in this case, the week in April that his New York Times bestselling graphic novel Andre the Giant: Life and Legend came out. Brown explained that he was an "artist without a medium before comics" and that "when I found comics, something changed profoundly inside of me. I didn't have a sense of self before, but it filled the void inside of me I didn't know existed."
After Brown's presentation and a group lunch, we headed to the ornate Thomas Jefferson Building which houses the Main Reading Room. Megan gave us a tour and we mingled around display cases, one of which featured picks from the SPX Collection.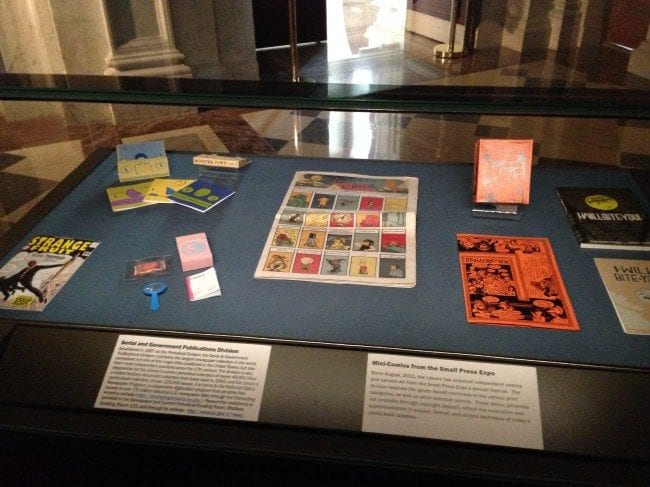 On the train ride back, a young, wide-eyed woman with a large suitcase asked us where the White Flint station was. "That's where we are going, if you want to follow us," said Warren.
"I'm headed to a big comics show. It's my first time."
"SPX?"
"Yes! You know about it?"
"Yes. Hi, I'm Warren. I'm the executive director of the show." He extended a hand as she nearly keeled over.
To me, this was my first notice of SPX's transformation. This was only my 4th year coming to SPX and I had only recently turned 30, so up until now, I considered myself to be a younger cartoonist, not only in terms of age, but also experience. This was still true overall, but as I was to see, SPX was already a different show than it was when I started going. I chatted with Rob Clough, TCJ contributor and HighLow comics reviewer, while tabling my first day at the show. Clough started attending in 1997 when the show was a one-day event held in Silver Spring, MD. The next year it moved to a two-day event and the following year to Bethesda. Back then "the third day was reserved for programming for cartoonists only as well as the famous softball game (cartoonists vs. Diamond reps) and the cookout."
He believed the show peaked around 2002, declined for a few years, and resurged when Warren Bernard took over as executive director in 2011. "What's changed?" I asked. He noted a divide between the art comics crowd and mainstream indy comics crowd, which has changed into a current divide "between the altcomics/minicomics crowd and webcomics crowd." Increasing diversity was another change, as the show has transformed from attendees and exhibitors being overwhelmingly male to a more even split now. He also noticed more racial and age diversity, and more queer cartoonists and attendees.
Frank Santoro mentioned this growing diversity too. Furthermore, he explained that in the past the majority of people buying comics were cartoonists themselves, but that now many attendees were just readers and fans, which he finds healthy.
I immediately knew what he meant when he said this. I have talked to many industry people who feel that the indie comics community will not be sustainable if it remains so insular. There is a tendency for cartoonists to buy from and support other cartoonists with little interaction with the greater outside world. This points to the necessity of the indie comics world needing to reach outwards if it is to have a more functional economic base.
Indie comics creators seemed to be growing in number though, which Santoro also mentioned. "It's not really a 'fringe festival' anymore," he said. "That saddens me a bit. I like waving the freak flag. I'm not sure how I feel about the alt/art comics being accepted by the larger culture." This growth has not only been evident in the increasing number of shows popping up around the world, but the number of people applying, in this case, to SPX. In response to Tablegeddon 2013 (SPX's website crashing due to the overwhelming amount of people applying and the complicated aftermath of allocating tables), SPX created a half-curated, half-lottery system for this year's show. When I asked Warren if this model would continue, he vehemently stated that SPX would never forgo the lottery because it promotes the "great ability to discover work you just don't know." Indeed, if the lottery didn't exist, I would never have been able to come to a show like this starting out. And I would never have learned that such a world existed.
Growing exhibitor interest in the show was not the only indicator of this growth in indie cartooning. Ignatz Award submissions have grown steadily for the past few years, and as a 2014 Ignatz juror, I was acutely aware of this. We had received around or over six hundred submissions, which when you consider that most of the entries were received in late May or early June, made for a nearly impossible job. I talked with Darryl Ayo, a fellow juror, about his experiences judging the awards and we generally agreed on the need to amend some of the categories, as they were outdated and not accommodating of the current growth in submissions. "First off, you've got to separate the outstanding anthology or collection category because they are completely different," Ayo said. I agreed. We then talked about the difficulty of delineating between minicomics and comics, especially given the growth of micropresses publishing floppies. And webcomics? There was not enough time for that discussion.
That night, the Ignatz Awards, hosted by James Sturm and drag queen Sasha Velour (cartoonist Sasha Steinberg), breezed through quickly in typical style. Warren unveiled the 21st birthday plans and winners accepted their awards graciously. Most notably, Promising New Talent winner Cathy G. Johnson gave a heartfelt and much needed mention of the inhospitable environment that many female cartoonists find themselves in and the need to create a safer more respectable climate, free of harassment.
Following the awards, the Hanselmann/Comics wedding commenced in front of a group of baffled and amused witnesses. Hanselmann, decked out in his off-white gown and flowing red wig with bouquet in hand, sauntered onto the stage, flanked by his bridesmaids. He read his vows to a pile of comics and Michael Deforge, reading vows on behalf of comics, returned them in kind. The vows were silly, sarcastic, and sometimes sexual. As Hanselmann and his publisher Gary Groth kissed at the end of the ceremony, I looked at the crowd's collective head scratch. Was it a Fantagraphics stunt? An inside joke? Hanselmann capitalizing on his special brand of humor? It was one of those "I'm not quite sure what happened, but I'm happy about it" situations.
Cartoonists overwhelmed the main foyer, feasting on mini hamburgers and indulging in booze provided through the drink tickets handed out by Chip Mosher, Vice President of Comics & Marketing at comiXology. I walked over to Prom with cartoonist Cara Bean, and we stood there observing the exuberant young crowd, which was feverishly dancing to "Shout". I felt… old. But that was OK.
In the grand scheme of things I wasn't old. A great deal of my peers were at the show. But for those in the generation previous to me, things were changing. "My tribe's gone," said Frank Santoro, also mentioning that many of them had dropped the starving cartoonist lifestyle, instead seeking out more financial security and starting families. I had read of the same phenomenon in a somewhat recent blog entry from Ignatz Award winner Jason Shiga, titled "Webcomics, a Young Person's Game?". Comics, especially indie comics, does not provide financial security for the majority of artists. It's a fact and a main reason why one heard so many people complaining about going back to their day jobs on Monday. People were making comics for the most part because they loved it and were afflicted with the comics bug, for better or worse. "Aging out" of the lifestyle was a reality for many, but so was complaining about the younger generation. As Clough mentioned, "I talked to a lot of thirty-something cartoonists who were baffled by the new Tumblr generation. A decade ago, my crowd was baffled by that same group that's complaining now!"
I ran into Jason Viola, cartoonist and contributor to the new comics site Festival Season, and we sat down for some drinks and conversation despite our exhaustion. Viola and I discussed how we were both "writers who draw," the less popular leg of the comics world, which is largely driven by visuals. We had come into the drawing game later than many, which was becoming even more apparent in a world where more cartoonists are going to art school. Despite the curse of having to "catch up" artistically, we had also developed an interest in writing about comics.
Viola had recently written an article for Festival Season on Corinne Mucha's exploration of mindfulness in her work. This article had pointed me to a guided meditation app, Stop, Breathe, & Think, that Mucha had illustrated. What stood out to me about this article was its utility for people outside of the comics world. Viola agreed, explaining that he did not think it was enough anymore to just write about comics in a way that was only accessible for people in the industry. It was more of the insularity. And what of comics criticism and reviewing? We talked about our conflicted feelings about reviewing, especially in a community where many of the artists being reviewed happened to be friends or acquaintances. "How do we go beyond recommended reading and make crit more rigorous and honest?" I asked. Viola and I agreed we were too tired to articulately deal with this issue at the moment.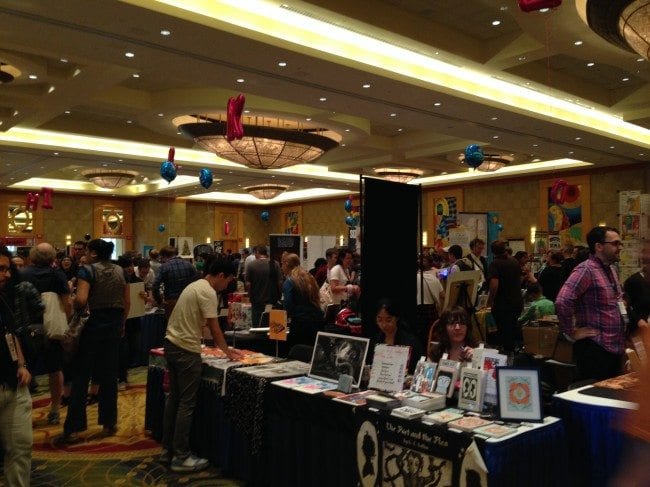 The second day was a bit slower attendance- and possibly sales-wise, but from an exhibitors' perspective it was the same overall: sitting behind one's table selling (or not selling) comics, dreaming of checking out the interesting programming (thank you, Bill Kartalopolous), and briefly sneaking away from the table to catch up with other exhibitors.
So how do you summarize a show like SPX? If you go on Tumblr or other sites you will see cartoons and lists rife with personal anecdotes about the show. You will see accounts of cartoonists meeting their heroes, being flattered and surprised by people who are following their work, and finally meeting people they've only talked to online. You will hear of plans to be thrifty but inevitably blowing money on comics. You may not hear of bad blood, flirtations, newfound friendships, a night of too many gin-and-tonics, and a Sunday hangover. The answer to the question is that you can't summarize SPX. It's a laboratory, a breeding ground for new ideas, projects, and relationships. As Rob Clough put it, "It's the strongest mirror there is in regard to what's happening in the small press world. It's the definitive, flagship show of alt and indy comics."
And on some level, its success is in that it's an equalizer. I'll never forget four years ago that my ramshackle half-table sat across from the late Kim Thompson and Fantagraphic Books. It has, and continues to give me something to aspire to.