Simon Deitch, a member of a superbly talented family of comic artists and writers, whose work first began appearing in the earliest days of the underground comix revolution, died of kidney failure Tuesday morning, June 21st, at the Bronx Lebanon Special Care Center, according to his brother Seth Kallen Deitch. He had been a patient at the facility for the past decade, suffering from dementia that "may or may not be the result of bad habits he had in the past," Seth Deitch wrote in a 2017 Facebook post.
Simon Deitch was born on May 12, 1947, in Los Angeles, the second son of the former Marie K. Billingsley (1923-2012) and Gene Deitch (1924-2020), the cartoonist, illustrator and Oscar-winning animation director known for Munro and Nudik, who served as creative director at the CBS/Terrytoons studio (where he created the television series Tom Terrific) and later enjoyed a long career adapting children's books to the screen, among many other accomplishments. Deitch is survived by his older brother Kim, a key figure in the underground comix movement who continues to contribute important work to the field, and younger brother Seth, a writer and collage artist. Over the past decades, Simon collaborated with his brothers on a number of projects, including Kim's Waldo World! (Fantagraphics, 1994) and The Boulevard of Broken Dreams (Pantheon, 2002). All three brothers contributed to an illustrated work of fiction, Deitch's Pictorama (Fantagraphics, 2008).
As an early participant in the underground comix movement, Simon Deitch's work appeared in publications like the East Village Other, Gothic Blimp Works, Tales of Sex and Death, Skull Comics, and Thrilling Murder Comics, on which he did the cover art for issue #1. Deitch, who struggled with drug addiction, later did work in the field of animation, and was a regular contributor to the magazine Mineshaft.
"Since I was born in 1947, my life has had more ups and downs than a biorhythm chart on horseback," Simon Deitch wrote in his Biographical Notes for Deitch's Pictorama. "I've been kickin' around the comics fandom racket in one form or another from the very beginning. I had my first artwork published in 1964 and worked the N.Y. convention scene from the get go. I slept on the floor of Gary Arlington's comic book store, the legendary San Francisco Comic Book Company, for the first year of the '70s and was Rory Hayes's roommate for the next two. Since then I've worked in animation, doing design work on the first two Nicktoons. I now continue to stay visible on the fanzine circuit. After three unsuccessful marriages I now make my home with a roommate and a diabetic cat."
Growing up in a household with a father who was a professional cartoonist and animator, it was not surprising that Deitch became interested in art at a young age. And his success came early.
"I became interested in drawing at a really early age.... I must've picked it up a lot from him, I guess," Deitch said of his father in a 2008 Comics Journal interview with Gary Groth. "When he had his comic strip, I'd hang around his desk and watch him draw those things. I even gave him ideas. I came up with names of characters. He was always listening to us kids because he was trying to do a comic strip that was about kids....almost everything that I was interested in had an art aspect to it. Like around, let's say, 1960, I was 13 [and] was interested in horror paperbacks and old Weird Tales, pulp magazines, and then of course I got interested in the various artists. There was a guy named Matt Fox who did the covers on Weird Tales in the late '40s, and I got obsessed with him, and I started drawing like that, and then I discovered fanzines, and got a hold of a fanzine editor (George Zebrowski, later a science-fiction author) who put out a thing called Epilogue. It had like weird little illustrations in it, but they weren't very good. I knew I could do better ones. I'd been reading all the Arkham House books with various great cover artists, so I was interested in this stuff, and I got interested in weird drawings, so I guess I was the first one of us Deitch boys who got published—in a fanzine called Epilogue."
That same issue of The Comics Journal (#292) featured individual interviews with the entire Deitch comics clan—Gene, Kim, Seth and Simon. Gary Groth wrote that Simon "was, evidently, something of a prodigy in terms of drawing, but his focus was less prodigious than his skill; he was peripherally involved in underground comics, wrote and drew a handful of stories, but didn't stick to it as his bother Kim did."
In that same issue, his father Gene said, "Simon wasn't the guy who would be drawing something like Tom Terrific or [Terr'ble] Thompson. Simon tried to be a realistic artist. He liked to draw as realistically as possible. Although he didn't study enough to be really good at it, as he could have been, he definitely is a far better draftsman, as far as the craft of drawing, than Kim is.... [Simon] has inner torments. He's somebody I cannot say I know well enough. He seems to be a recovering delinquent."
Gene Deitch described his middle son as an artistically gifted, if troublesome, child from the very beginning. "Simon was a firecracker; an uncontrollable kid who would throw tantrums and would get so furious sometimes he would actually run in to a wall and bang his head on the wall. We were of course very modern parents, and we wanted to bring up these kids in the best possible way and introduce them to art and culture. We didn't buy them any mechanical toys. What we bought our kids were unmarked wooden blocks so that they could be creative with them in their own way. Most kids would take wooden blocks and make a little house out of them. These were big blocks, actually bigger than bricks. You could really build a little fort or a house or a tower. But Simon would take these bricks and he would lay them out on the basement floor of our house in Terrytown in the form of a dinosaur skeleton. Who do you know who would take wooden bricks and use them in that way? To make a picture? I was going down to the garage. We had bought a clothesline rope that Marie had wanted to rig up in some way in the basement. I couldn't find the clothesline rope, so I went outside and asked the kids if they were playing skip rope or something. Simon had taken that rope and cut it into little lengths and he arranged the rope on a stone to look like a cat. Simon had natural graphic talent."
In response to his father's claims that he was a "juvenile delinquent," Simon told Groth: "I know what he's saying. I don't exactly see it that way. Of course, I did get involved with guys who were sort of crazy, but I was sort of crazy, so I just gravitated toward people like that.... I wasn't public enemy No. 1 or anything. I was difficult, yeah. I'd steal money and stuff, but not a million dollars or anything, just money to go out to get some candy bars and comic books and stuff like that."
Deitch's entry into the world of underground comix came at the East Village Other, where his brother Kim was doing the strip Sunshine Girl and other work, in the late 1960s.
"I took an interest in what [Kim] was doing," he told Groth in TCJ #292. "And he's smoking pot, and so was I. At first it just started with me making a suggestion here and there, and then we just did a few that were absolute collaborations, and they were signed Deitch Brothers, Inc., that sort of thing. So from that point on, anytime I saw him working on a strip, whether it was an absolute collaboration or not, I always gave him some suggestions, or you know, I'd do him a little sketch, like, "Why don't you do this? Why don't you do that?" He liked what I had to say. He always thought I had a good sense of these kinds of things. But what happened then, you know, suddenly, it looked like things were happening in San Francisco, so he and Trina [Robbins, Kim's girlfriend at the time] went out there to check on what was going on, and when he did, I just showed up on paste-up night with a piece of Bristol Board under my arm and a bunch of felt tips and whatnot. Joel Fabricant, who was the editor—great guy—he just said, 'Hey, are you gonna have a strip? Are you gonna have a strip ready?' And I said, 'Absolutely.' So I did my first solo strip right then and there."
Deitch is perhaps best known for editing and doing the iconic cover art—and interior "color treatment"—for Thrilling Murder Comics #1, published by Gary Arlington's San Francisco Comic Book Company in 1971. The comic also featured the work of Jim Osborne, Kim Deitch, Bill Griffith, Spain, Greg Irons and S. Clay Wilson.
"This book would have convinced good Dr. [Fredric] Wertham that 1950s comics like Crime Does Not Pay were mere child's play," reads the item description at Denis Kitchen's online store. "This comic also contains a very effective gimmick: a second color—red—is added to most stories to emphasize the blood. There's a lot of red ink!"
"Simon made this comic when I was 14 years old," said Seth Deitch. "It has become over time one of the truly iconic comic book covers. He sent a copy to me when it was printed, but I never saw it. It was intercepted by our mom who was truly horrified by it. To be clear, our mom was pretty liberal and open minded. Nonetheless, she took pains to get it out of the house post haste. Si told me later 'I got it back so fast it came the day before I sent it!' My copy ended up coming from a local head shop. Si was very proud of this book. The front and back covers were heavily influenced by Al Feldstein. Simon ran into Feldstein at a comic convention and tried to give him a copy. Feldstein said, 'Maybe you should give this to someone who will actually appreciate it.' Definitely a bit on the dickish side. Si was annoyed and disappointed by the encounter, but he loved telling the story. One thing Si always wanted was a copy of the issue of the Brit rock magazine Oz that used the cover of Thrilling Murder as its own cover. I don't think he ever got his hands on one."
Deitch also contributed to his then-roommate Rory Hayes' Bogeymen comics.
"Well, Rory, he's a strange little guy," Deitch told Groth. "He'd always walk around, and he had this suede coat, a long suede jacket, and he had white socks and penny loafers, and he was real straight-looking and kind of strange. His eyes were a little off-kilter. He always looked like one of his eyes was looking off in some far direction. He was probably crazy also. We all were... [Rory] was also interested in [EC], came up with this crazy thing of doing a horror comic starring teddy bears, which was Bogeyman #1, in that strange, primitive style of his.... I did one [strip] about drugs. I did one about a mass murderer. I was into these weird comics and shit, you know? And in California at that time, the Charles Manson trial was kicking up, so the newspapers were like some kind of crime comics, you know—it wasn't like real news. It was like the San Francisco Chronicle turned into the Enquirer or something. They had all these stories about devil cults and this and that."
In later years, Deitch moved back to the NYC suburb of Westchester County, eventually entering the field of animated cartoons. Among the projects he worked on were Doug for Nickelodeon and MTV's first season of Beavis and Butt-Head for J.J. Sedelmaier Productions in the early 1990s.
"I was going through a divorce," he told Groth. "My wife moved out of the house, so Kim moved in and he was talking with Tony [Eastman, an animator], and Tony brought up the fact that they were looking for people at Nickelodeon. There was a little company called Jumbo Pictures down on Spring Street in New York, and he just told me the kind of samples I should put together. They asked me to come in and bring my portfolio, and I did, and I told them I had an animation background in my family, and they put me to work. I stayed in that for a while. It was the very beginning of what they call 'Nicktoons' nowadays. One of the very first ones was called Doug and I was a designer on it, and a layout guy. Then I went from job to job. That's the way the animation thing was, you know.... There was a place called Curious Pictures. I worked there for a while on a couple of different things. There was some kind of series we were doing for ESPN; it was like a sports cartoon. And then a Captain Crunch commercial, at Curious Pictures. Then I was working for a guy, J.J. Sedelmaier who opened a studio in White Plains, and what we did was the first season of [Beavis and Butt-Head]."
Deitch, who struggled with addiction throughout his life, was arrested in New York City in 1969 for heroin possession.
"If you wanted to go up to Harlem, you could get [heroin] for $2 a bag, and if you just bought it downtown, it was double that, $4 a bag, but still not very expensive," he told Groth. "But it got expensive. If you started getting yourself a real habit, you're doing 10, 12 bags a day. In 1969 money, that could be a lot of money.... What happened was, things were getting pretty bad, and I knew it. And I got busted on, what was it, Dec. 31, 1969, and by the time I was booked, it was Jan. 1, 1970, and I remember, this cop literally beat the living shit out of me. You know, it was crazy. It was like assault. It was really nutso, tactical patrol cop. And I had to sit in the Tombs for 10 days or so—I guess it was actually 15 days—and then my case came up, and when I showed up, the cop didn't show up, so the judge said, 'All right, we're going to reschedule this. In the meantime, you're released on your own recognizance.' I got my shit together and got the hell out of New York."
As his brother Seth told me in a Facebook Message, "throughout his life, Simon was not exactly kind to his body." Or, as Simon told Groth, "When you start going over my life story, this is gonna come up all the time. I was always doing something to get high. It was one of my stumbling blocks."
Below are a few memories of Simon Deitch by some people who knew him well.
* * *
Everett Rand
(publisher, Mineshaft magazine)
Simon Deitch began contributing to Mineshaft in 2004 with his mythological drawings and interpretations in #13. We published his fascinating letters in many issues of Mineshaft around this time. Simon was a regular contributor for the next 7 years with his "Note from the Crypt" EC-style drawings in Mineshaft #15; an excerpt from "The Golem: A tale of the Dark Ages" in #16; "Rubber Suit Monsters of the Drive-In Era" text & drawings in #18 (as well as his "monster worm" front cover art for that issue); and his "Dodo Bird" feature in #25.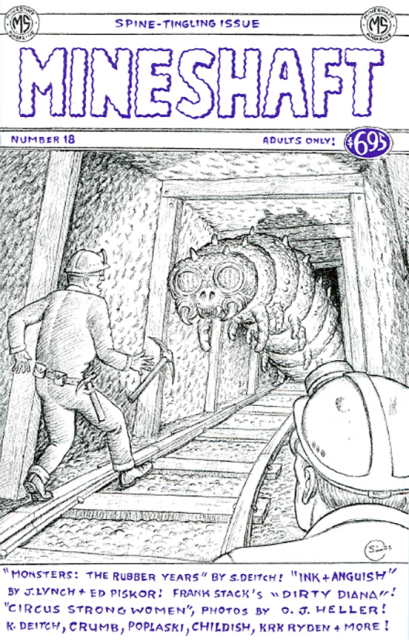 Simon had a very interesting esoteric knowledge about B movies, popular culture, comics, and artwork. He was unpretentious. He worked hard on his Mineshaft features just for the hell of it, as a generous gratuitous act. He always drew in pencil. Simon loved King Kong. He was a Quixotic person. It was surprising to many artists who I communicated with that Simon was so good artistically, since Simon had lived a somewhat self-destructive lifestyle, and had disappeared from view for many years. But Simon had genius. He was, perhaps, unreliable at times, but he had something intangible that was very special; what the French call "je ne sais quoi."
He did some of the work on The Boulevard of Broken Dreams graphic novel by Kim Deitch, and I've always thought of that book as a masterpiece. Simon was just a truly unique individual. His brother Kim originally put me in touch with him. I considered Simon a friend, and feel lucky that I was able to work with him on so many entertaining projects.
* * *
JJ Sedelmaier
(founder, J.J. Sedelmaier Productions)
It was veteran animator, mentor and friend, Tony Eastman that had recommended we bring Simon on staff as we were gearing up for production in 1992-93 on the first launch season of MTV's Beavis and Butt-Head. Tony had grown up with both Simon and his brother Kim in Connecticut while their dad Gene was working at Terrytoons and other NY studios. Simon lived in White Plains, where our studio is located, so it was a nice deal for all those involved! He did primarily assistant animation work, and the studio production room was treated to not only his talent, but his stories about all the folks he knew through the years in the cartoon and music world. After we finished our run on Beavis, I think Simon went on to MTV Animation. He also worked at Jumbo Pictures on cartoons like Doug.
A few "Simon Memories." He loved to go out onto the roof here and pick up dead birds and xerox them. He had no recollection of how or where he'd acquired several of the tattoos he had. He came in one morning and I noticed he was holding his face in a weird manner. I asked if he was ok, and he said, "Yeah... my tooth was really bothering me last night..." I asked if he needed to go see the dentist, and he said, "Nah, I pulled it out myself with a pair of pliers..." Most all of us remember stories like this... I think of him whenever I reflect on what a special and varied group of artists we've had pass through the studio. The last time we spoke, he was annoyed that we didn't have enough work to bring him on more...
* * *
Seth Kallen Deitch
(artist, writer, younger brother)
My brother Simon was a complicated man. He married three times, but died alone. He was a brilliant, but undisciplined artist. He knew everything about dinosaurs. He had a heart full of love, but was often untrustworthy. He was the black sheep. He was in no uncertain terms, a genius. 
Of we three brothers, he was probably the smartest in terms of native intelligence, and his brain was indeed phenomenal. The things he really knew the most about were dinosaurs, monster movies and comic books. He was a high school dropout, but he tended to grasp complex subjects as well as if he had a Ph.D. He was skeptical and hard to fool. Rarely deceived by either magic tricks or special effects. He was a scholar of the work of Willis O'Brien and Ray Harryhausen. I gained a great education about them by sitting beside him watching the movies of these men.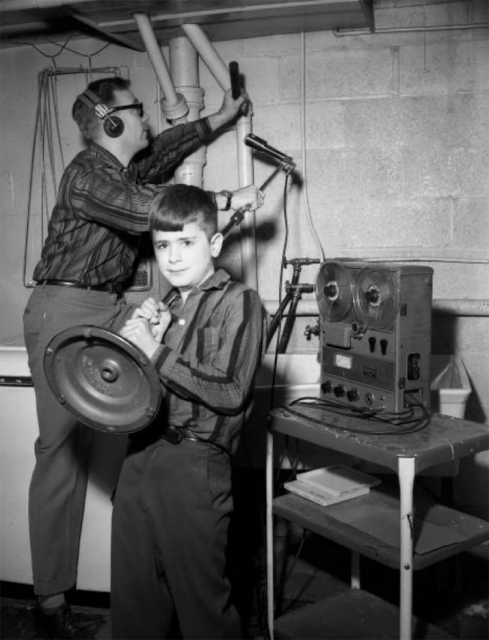 He was there for the early days of serious Golden Age comic collecting in the '60s. As a young man, he had a job as a blue printer, a job that I myself would have many years later. He experimented with the then more primitive reprographic technology. At one point he made a complete copy of Captain America #2 all in negative image. He also experimented with laminating the covers of Golden Age comics with transparent contact paper, a practice that seriously reduces the value of the book; however, he told me that he had seen some comics that he had treated that way for sale at conventions 20 and 30 years down the line and said they still looked great.
Si taught me a *lot* about various graphic arts techniques as they were practiced at the time, the mid 1970s. We worked together on the mechanical color separations for Gary Terry's Skull Killer comic book [Pulp Mania, 1975]. My work on it kind of sucked. I was 17 and it was my first time doing anything of the sort, so if you ever see that book it will be pretty easy to see which pages Simon did and which ones I did.
I collaborated with Si on a few occasions. God he was hell to work with! When were working on Deitch's Pictorama, I would be waiting weeks sometimes to get completed illustrations and he would get very annoyed when he was reminded by me or Kim that we needed to get the show on the road. Nonetheless, it was absolutely worth it, he produced sterling work! Although an excellent draughtsman, he never had any formal art training, but he paid a lot of attention to our dad who was a true perfectionist so far as drawing went. 
He also did some great illustrations for my book Bunnies and other awful things.
Like me, Simon was a 'zinester well before the term 'zine was ever coined. He was the art editor and principal artist on a fanzine called Epilogue in the early '60s. As an interesting aside, our father also put out a 'zine when he was a teen in the '30s! It's in the blood!
Si made friends with the wrong chemicals creating problems that would have effects on the rest of his life. Did things that broke Mom's heart time and again. He was well into his 40s before she fully trusted him again. Sad but true.
I only know bits and pieces about his life in San Francisco in the Golden Age of Underground Comics. I'm sure Kim can fill out that part of his story.
He ultimately returned to New York and moved in with Mom and I. This is the time when he really educated me about monster movies, comics and weed. We spent many an hour glued to the TV Creature Features stoned out of our minds. People sometimes marvel at my encyclopedic knowledge about things like rubber monster suits and stop motion animation. All that stuff was poured into my ear by Simon.
I will leave it to others to give the encyclopedic rundown of his accomplishments in comics, but they are more than a lot of people think.
* * *
Kim Deitch
(cartoonist, older brother)
I REMEMBER SIMON DEITCH
What can I say? There was a lot of water over the bridge of the 75 years that made up Simon Deitch's life. And I remember all of it!  Between the dual influences of both him and my Father, I seem to have been destined for this comics business. When Simon became an avid collector of Golden Age action/adventure comics back in the 1960s I got a great crash course in early Kirby, Cole, Everett, Eisner and all the other big guns of that era.  When I got so inspired by it in all its idiotic splendor that I drifted into the comics business myself, Simon was right there, my best and severest critic from day one. He was smart and discerning and I learned from him. It was not long before we were collaborating to some extent. He was a great back seat driver. I was always egging him on to make it more than that, but he lacked, what would you call it? Drive? Work ethic? You run into a lot of guys like that; first class minds [Simon definitely had that] but incomplete; somehow lacking the whole package. Nevertheless I never stopped egging Simon on. "Come on! Let's be partners! The Deitch Brothers! It'll be great!" And at a certain point it actually happened. It was turbulent, but we had some good innings. Most notably there was, The Boulevard of Broken Dreams, and the serial we did for Nickelodeon Magazine, "Southern Fried Fugitives". Well, eventually our partnership dissolved into lots of loud, tawdry acrimony. Oh. Did I mention that we were always fighting? For years it often seemed like an underground comics party wasn't complete without an actual physical brawl between me and Simon at some point.
So we sort of went our separate ways. Except, even after the Deitch Brothers were over professionally, I continued to avail myself of his great critical powers. When I was working on my recent book, Katherine Whaley, there was a certain drawing pose that was giving me a tough time. Simon was already sitting in the rest home that's been his home for the last 10 years. But I sent him the roughs of my trouble spot and he sent me a better rough that got me out of the hole I was in!
That brings me to last Tuesday. I was just kicking off sketchbook pages for the last long story in my next book when I heard that Simon was dead. I was just about to draw a made up vintage science fiction cover when I thought of an old drawing Simon had done. I used it as the basis of the sketch I made and I am enclosing it for you to see. I guess it will be my last collaboration with Simon Deitch.