"It's funny how people ask me if the stories in my comics 'really happened'" writes Karl Stevens in his latest graphic narrative, The Winner. The back of Steven's book jacket will tell you "Karl Stevens uses the graphic novel to dissect the line between the worlds of high and low art. While working as a museum guard he contemplates the plight of his aesthetic choices, and how they have affected his life thus far." Since this is true of The Winner, I think it shouldn't come as a surprise to an artist straddling the lines between reality, unreality, and surrealism, that his audience approaches the narrative reliability of his work with some skepticism. Stevens' wry and often laconic wit are as much a part of the subversion of his words as they are of his images. It often takes an extra beat after the punchline to determine the double edge of his intension.
In Stevens' work, I do not distinguish between high and low art, however. I would never say his work is not cartoony enough for comics, or realistic enough for the art world. While Stevens expresses simple sketches, primary color blocks, detailed engraving-like cross-hatching, and photorealistic paintings, I do not see these artistic styles as juxtaposed so much as superimposed in his work. The work that Stevens' graphic narrative reminds me of the most is that of William Blake, who by his own admission endeavored to create works of "memorable fancy" – something descriptive both of reality and the heightened ability of the human mind to imprint the imagination onto memory. I find Stevens' work converges upon itself, using his etched line-work as a type of base upon which he layers his colored portraits, and sometimes prints on colored paper. It is the repetition-with-a-difference in Stevens' work that makes up both the reality and the fantasy of his tales.
This blended element of reality and fantasy is reinforced by Stevens' signature first-person focalized drawing style. Often, we are seeing as the artist sees, from his point of view. In The Winner, most of what the focus revolves around is the artist's wife, Alex. The book often seems a tribute, or living memorial to her, an endeavor to capture her many sides, or to show the reader, why we too should fall in love with her. At times The Winner takes on a journal- or album-like quality of their moments together. Alex has radically changed the artist's life, and consequently, the trajectory of his art. This fixation resembles a nuanced study of that change – the change that can result from our relationship to a loved one. Alex's voice provides a wry and unperturbed commentary that is a refreshing complement to the artist's verbal track of self-deprecation, neurosis, and dark humor. She is often rendered in far more detail than the artist renders himself, a curious way to express that he cares more for her than even himself – a sensation the artist may not have thought possible.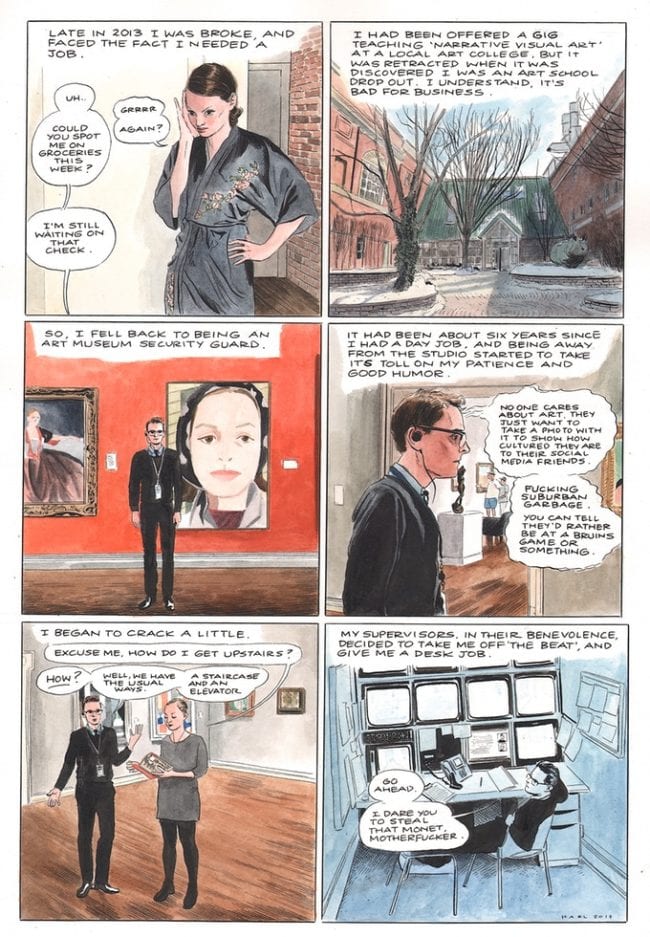 The Winner diverges from Stevens' other work and signals an evolution from a serialized cartoonist to an independent author. Previous books from Stevens such as Guilty, The Lodger, and Failure all feel like creative stepping stones to his work in The Winner. Guilty portrays the fallout of an unexpected encounter between ex's, created in a realistically-detailed, black and white, cross-hatched style. Works like The Lodger counter-point Stevens' weekly comic strips for the Boston Phoenix alongside paintings he creates while lodging with his former art professor. Failure creates a more intentional merge of the two artistic styles and eventually evolves into such playful and surrealist strips as Pope Cat. Unlike his previous works, The Winner does not rely on a regularly-produced comic strip which is supported by auxiliary work. Rather, The Winner marks a new form for Stevens that makes Stevens' self-documented life and experience the bedrock of the book and organically shows how imaginative and existential creations are born from the reality of our everyday experiences and relationships. This format makes plain the very powerful creative process itself – not the artist nor the subject, as Stevens muses at the outset of the book. The power of creation at the center of art – whether high, low, or blended – is the real agent capable of transfixing you in this tale. Stevens does have a 'winner' here, and it is not because of the dissected parts of sketch, painting, humor, subject, or artist, but rather because of the synergy that exists between them.