The mid-1980s were an age of big demonstrations. The televised Live Aid concert series was broadcast to more than a billion viewers. Five million people held hands in the serpentine chain called Hands Across America to combat hunger. And in early 1986, plans were afoot for a Great Peace March of five thousand people to walk from Los Angeles to Washington, D.C. to protest the nuclear arms race.
The nine-month Great Peace March, in which I participated, turned out to be more modest. Unlike Live-Aid, we didn't boast Queen or the Rolling Stones. We didn't even have five thousand people — about twelve hundred started out, with around six hundred making the complete journey.
But we had something nobody else had — our own cartoonist.
I first met Guy Colwell in San Francisco. It was in early 1986, a couple months before the March was to begin. Neither of us had a tentmate, so we joined forces and would share a green, two-person dome tent. Guy was sandy-haired, thinly bearded, soft-spoken, and at 41, a couple decades older than me.
At the time, I didn't know anything about my new tentmate except that he had drawn a legendary 1970s underground comic titled Inner City Romance, a single copy of which I had found in a New Orleans bookstore. Guy and I stayed friends through the march, but I lost contact with him in the years after that. Guy never attended reunions and didn't spend any time on Great Peace March-related social media groups.
Then, a few years back at marcher reunion in a campsite in Iowa, I was reminded of Guy. "We used to listen to you two all the time and laugh," said Yolanda, a woman whose tent had been next to ours. She remembered one time in the desert when we were setting up our tent. I threw the tent in the air and shouted, "The tent goes up!" and then Guy shouted "The tent goes down!"
Her story brought it all back — especially Guy's good humor and his ever-present notebook in which he drew his impressions of the march and the country around us. As we began celebrating the thirty-fifth anniversary of the Great Peace March, I decided to contact Guy and see if he'd go along with an interview about the journey and what it meant to him and to his art.
Like the march itself, the interview didn't go as planned.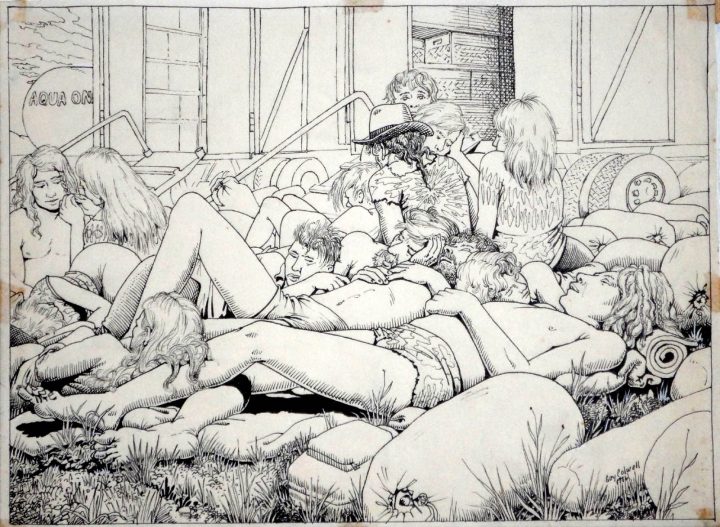 At 22, I was a less curious person than I am now. Perhaps this is why just this year I learned the story of a life that either Guy didn't feel like talking about in 1986 or, more likely, I didn't think to ask. Thanks to finding a copy of Guy's 1991 Rip Off Press book Central Body: The Art of Guy Colwell, I discovered details about his year and a half in the McNeil Island federal penitentiary for refusing to cooperate with the military draft during the Vietnam War; the politically charged social realism oil paintings he did after his release; and his time in the San Francisco commune that put out the underground newspaper San Francisco Good Times, where he published brilliant radical cartoons such as the two-page Greet Spiro, which showed protesters, some armed, greeting then vice presidential candidate Spiro Agnew riding in a car chauffeured by a skeleton.
In Central Body, Guy reveals that in 1985, as his marriage was falling apart, he began taking weeks-long walks into the forest. At that time, he started drawing the natural world — which in recent years he's expanded in spectacular works, including a cheery 700-square-foot rainforest wall for the Oakland Zoo, a brightly colored and bitter painting titled Litter Beach, and the 2016 Fantagraphics children's book In Fox's Forest. Soon, Guy began fantasizing about walking across the country. That's when he heard about The Great Peace March, and he joined up instantly. "When 1200 of us marched out of L.A., I brought a sketchbook, several ebony pencils and a box of watercolors," he later wrote.
Less than a month later, Guy and I were sharing our tent when we learned that the organization sponsoring the march had gone bankrupt. Like a bad Hunter S. Thompson parody, we were somewhere outside Barstow when the funds began to give out. Many left. Those of us who stayed found unique ways to keep going. Guy helped out by becoming the march mapmaker, and would also launch campsite figure drawing classes and shows for artists on the March.
Our ultimate success can be seen thirty-five years later in Guy's route map for the march. His carefully lettered names of each town and campsite over our nine months is an iconic image from that experience, with each stop a hard-won victory. Guy also drew and illustrated a yearbook that marchers would later use to stay in touch during those pre-Internet days.
But Guy's contributions went much further. Guy's artwork revealed us to ourselves. The march was sharply and lovingly documented by filmmaker Cathy Zheutlin as well as photographers Jeff Share and Dan Coogan, yet Guy's cartoons are indispensable. I return to them again and again for the range of personalities he depicts, and his evocation of the spirit that carried us forward. In many ways, they are how I remember us.
Hoping to interview Guy for this article, I first reached him last March, thirty-five years to the week since we started out together in Los Angeles. In recent years, I'd been more closely following his work, especially after 2004 when I'd learned that a gallery showing his painting The Abuse, a stark depiction of American atrocities in Iraq, was warned by San Francisco police that Guy's art should be removed from public viewing to ward off possible violence.
As we emailed, Guy started referring to our interview in quotation marks, as in, "… about our 'interview.'" Guy, both as a person and an artist, seemed most interested in the next project, and less interested in retracing old steps, even when those steps led across the country. He made it clear he'd much rather talk about a graphic novel about the 16th century painter Hieronymus Bosch, one of his artistic influences, that he's been working on for the past six years.
But he'd indulge me. Sort of.
I pressed on with lists of questions and then an email showed up. "I've done some writing for you," Guy said. "I'm not exactly following your questions."
In a short essay, he told me how his activism started with Robert Pickus, a Quaker and peace activist whom Guy had sought out in 1963 to ask advice about applying for conscientious objector status. "I think I was hoping to get some advice or pointers on doing an interview at the draft board," he said. "He offered me some advice that has stayed with me for almost sixty years." Pickus told Guy that the draft board wasn't interested in his sincerity — all they wanted to know was if he had an approved religious exemption. "But," Guy recalled Pickus telling him, "there was an alternative — work for peace. That is where the heart of sincerity is actually located; in actions, not words."
Said Guy: "It was a relief to be freed up from having to know just the right words that would get me out of conscription just as the Vietnam War was looming. … The only thing I ever said at the close of my trial for draft refusal was, 'This has been an act of conscience, not an act of lawlessness.' Then I spent five hundred days in federal prison. This act of protest spoke more loudly and clearly than any words I could use.
"Work for peace. Work for peace. These words have knocked around in my brain for these many decades. These words proliferated and enlarged to be much more. Work for peace. Work for justice. Work for preservation of the planet. Work for civility.
"These words have put a surprising amount of structure into my life and my work as an artist. I could have done my time and forgotten about all the horrors that humans do to each other and to the planet. No one would have cared much. I eventually even got a presidential pardon for my refusal thanks to Jimmy Carter. But the act of refusing war seemed to require payment of some sort of debt to the world for allowing me to survive the violence into which the world intended to drag me along with so many millions of others.
"Most of that payment was made, is still being made, in the artwork I do. Message art; social realism; statements about violence, about injustice, about life as it is and notions about how it could be; about struggles for justice. I do art about how we treat one another and how we ought to treat one another."
Beyond his artwork, Guy added, he has joined up with groups working for peace. "Probably the high point in the arc of this life of art and action was joining the Great Peace March for Global Nuclear Disarmament. It was one of the few times my activism was somewhat effectual."
One of my best times with Guy was when the March entered Toledo, Ohio. As we walked into the city, we saw a sign that announced that Tiny Tim — yes, the "Tiptoe Through the Tulips" singer — would be performing in a lounge in a Ramada Inn. After pitching our tents, we went to the show. As Tiny Tim sang and played his ukulele, Guy sketched him. We ended up spending the evening with the singer and he showed up at the March the next day to give a free show. And he adored Guy's drawing.
That picture of Tiny Tim, signed by Tiny Tim himself, was in the folders of Great Peace March drawings that Guy emailed me this year. There were dozens of pencil sketches of faces I knew well. Each posture, expression and fashion tells its own story minimally, the way sparse blues lyrics can capture the ups and downs of an entire relationship. Another folder contained Guy's ink drawings, which intersperse scenes of marching with day-to-day scenes of camp life: friends braiding hair; lone figures standing around the food truck; grim marchers enduring a tedious meeting about some long-forgotten matter of March operations.
It is easy to celebrate the highlights of a cross-country march, but some of Guy's  most striking drawings evoke the more easily forgotten moments of those nine months — how we actually spent those days, with all the doubt, restlessness and even occasional boredom that accompanied the flashes of exhilaration. In this way, Guy's drawings of The Great Peace March might be seen as the very antithesis of the mammoth, multi-media political and social spectacles that defined that age.
Then, as I clicked through the images, I noticed one cartoon I had never seen before. It's of a crowd of marchers — mostly youthful, mostly moving forward, one looking back as if encouraging others to hurry up. One woman wears a portable cassette player, lost in her own music; others seem to be singing and laughing with friends. In the center, a shaggy headed young man, wearing big glasses, is seen in profile. He seems quiet and determined.
I emailed Guy.
Yes, he said, that's a drawing of his 22-year-old tentmate. It was the final image for a magazine article that he'd written the year after the March.
In this way, I joined a long line of people who can recognize themselves in Guy Colwell's work. Firmly in the alternative comix tradition that he helped pioneer, Guy has created comics and art in which we see ourselves in unexpected ways, at unexpected times —  just as he once populated Inner City Romance with people and actions not otherwise represented in pages and panels, and later revealed corners of our communities and country with so much accuracy that it shocked, even outraged.
Ask for an interview; instead, see yourself in a thirty-five-year-old cartoon. From an old tentmate, I'll take it.