When Julie Doucet was selected as president of the 50th edition of the Angoulême Comics Festival in 2022, the announcement included news that the 2023 show would be accompanied by a major retrospective of her work. This was something I did not want to miss, as another exhibition that I was planning on documenting—one dedicated to the late Henriette Valium—was being set up by Pakito Bolino of Le dernier cri in Marseille for February of that year.
Henriette Valium and Julie Doucet are major Canadian\Québécois artists with many affinities: both receive acclaim outside of comics for their artistic explorations with collage, silk screening, films and the creation of art objects and books. They are also the two main artists that have been a constant source of inspiration for me and the entire comix community in Montreal for the last 30 years.
With two graphic novels selling well and getting positive reviews, I had a good year in Quebec comics. It was a perfect opportunity to organize a small Quebec delegation to Angoulême in France (with friend and artist Siris among others). We got a travel grant to go and promote our books, do some signings and participate in a few of the official conferences, including one on underground Quebec comics in the early '90s with Doucet, Obom, Julie Delporte, Siris and myself (organized and presided over by Maël Rannou).
I wanted to document both the Doucet and Valium exhibitions. In Quebec, the general public is slowly catching up to Doucet and Valium, who first had recognition on the outside. Photographing these events helps people understand the huge impact these artists have had on an international community of artists. Also, some exhibitions in Angoulême have short lives. Julie's was up only for the length of the festival, from January 26th to the 29th. Four days! It seemed such a shame that it could not travel to North America, since it was such a perfect balance of original comics pages, handmade objects and collages. Julie Doucet, toujours de grande classe ("Julie Doucet, Always a Class Act") was curated with intelligence and finesse by Julien Misserey.
I stayed on an extra week in France in order to join, in Marseille, another Quebec delegation of artists and silk-screeners invited by Pakito Bolino to help finish VALIUM for ever!, the humongous Valium exhibition, the likes of which I have not seen often. Here my aim was to produce daily reports on social media and document the making of and the debut of the exhibit itself.
Since Henriette Valium passed away in September 2021, there has been a lot of interest in his work. An exhibition of originals organized in Montreal last spring by Silvia Gérome, Valium's partner, was a major coup and garnered rave reviews. Like Silvia, Pakito Bolino processed his grief for the loss of a close friend by giving himself fully to creating the most spectacular homage to Valium that he could muster. The idea was to overwhelm the visitor with the artistic power of Valium's creations! With giant pages of recent comix enlarged to enormous proportions, as well as films and music that you could sample and view, Bolino did indeed create a space where one literally enters Valium's mind without any virtual reality gizmos. In the center, built by artist Craoman with authentic finishing touches by Caro Caron and Silvia Gérome, stands a huge reproduction of Valium's last place of residence: a garage from the east end of Montreal that he remodeled himself into a fantastic practical workshop and living space.
An homage section organized by Caro Caron, myself and Pakito Bolino featured original art and silk screen prints by hundreds of artists from Quebec, France and Belgium. It is there, looking at these amazing and heartfelt tributes, that one can clearly see the impact that Valium's art and comix have had over the years on a community of artists gathered around Le dernier cri and its director, Bolino. The opening weekend in Marseille coincided with the Vendetta festival, which gathered artists, zine-makers, silk screen masters and small publishers from Québec, France and Belgium.
VALIUM for ever! will remain up in Marseille, at the Friche La Belle de Mai, until May 21, 2023. While you're there, stop by the gallery and printmaking workshop of Le dernier cri (on the second floor of an amazing artistic complex which used to be a Gauloises cigarette factory!) and sample their amazing books and gallery space!
-Marc Tessier, March 2023
* * *
Thanks to Jamie Salomon, Siris, Mark McGuire, Alain Chevarier, Thomas-Louis Côté, ARCMTL, Louis Rastelli, Julie Doucet, Caro Caron, Silvia Gérome and Pakito Bolino. All photos by Marc Tessier, unless otherwise noted. Click any image to enlarge.
* * *
Julie Doucet, toujours de grande classe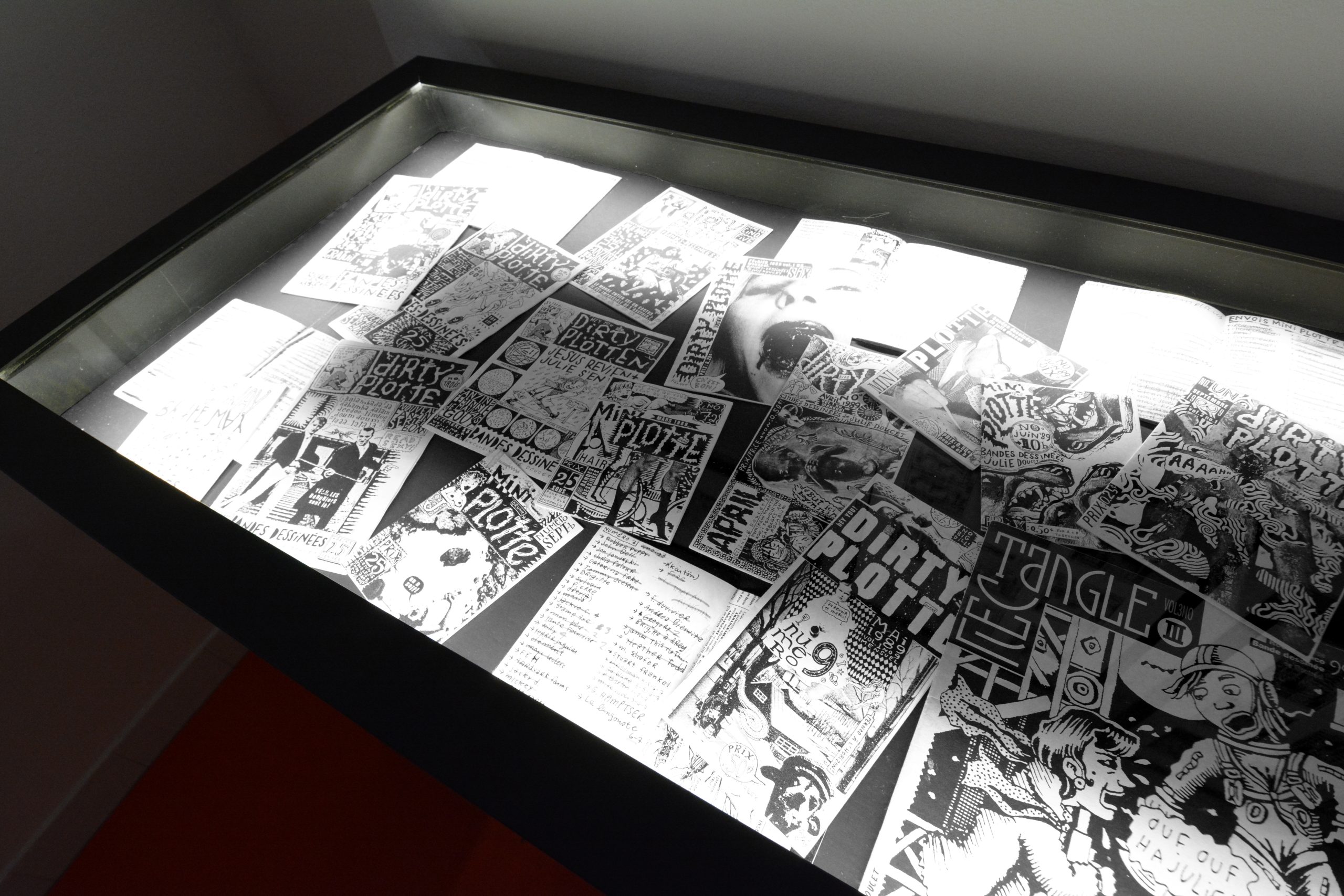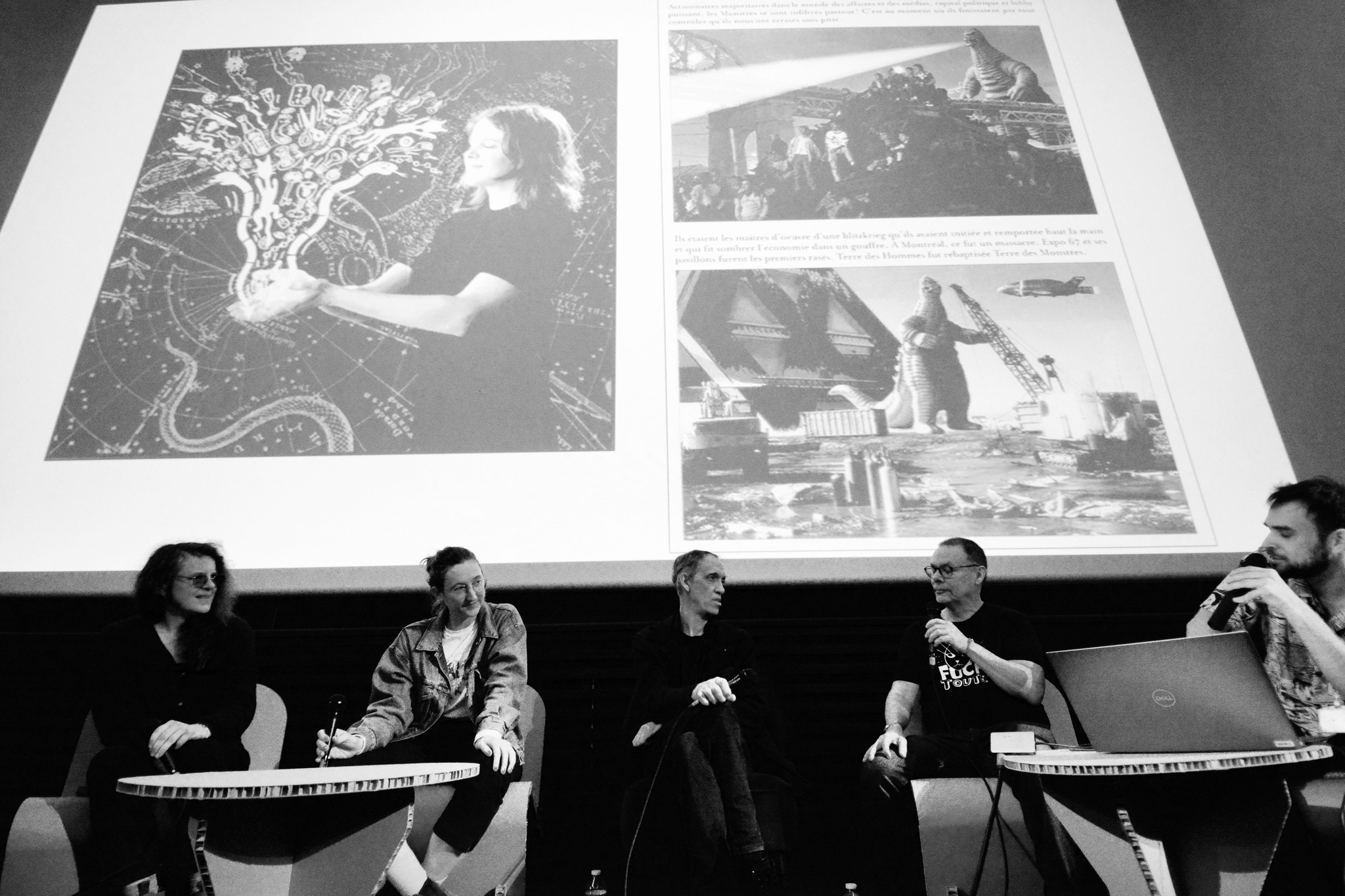 INTERMISSION: A visit to Le dernier cri's workshop in Marseille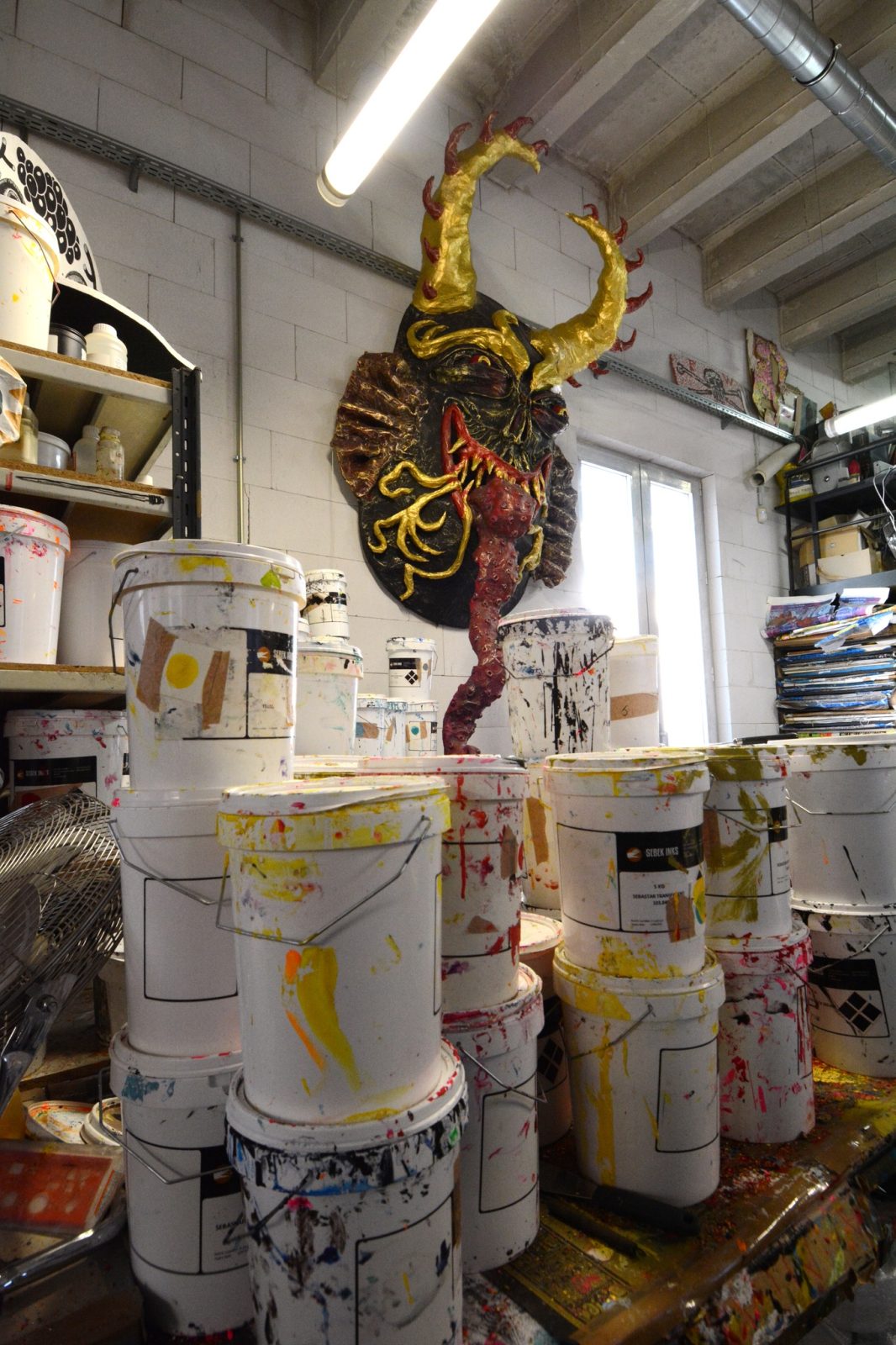 VALIUM for ever!