Przemysław "Trust" Trusciński (born 15 December 1970 in Siedlce) is a Polish comics artist, illustrator, and a story board artist, who graduated from the Academy of Fine Arts in Łódź (FB, Instagram, #truscinski, Wikipedia, Culture.pl). He designed the Witcher character for the video game CD Projekt Red and has illustrated for the Polish editions of Playboy and Newsweek. He was also awarded with the Decoration of Honor Meritorious for Polish Culture and a Silver Cross of Merit by the president of Poland, Bronisław Komorowski.
I spoke to him shortly after the end of the Krzycząc: Polska! Niepodległa 1918 [Shouting: Poland! Independent 1918] exhibition at the National Museum in Warsaw, organized as part of the 100th anniversary of Polish independence. He is the only Polish comics creator honored with the opportunity to showcase his popular culture works side by side with the 19th, 20th, and 21st century masters. He has grown to be one of the major comic book artists in the 30 years since the fall of communism in Poland, but he also loves to venture outside of the medium. He is no stranger to set design and illustration in different media – from the music scene to gigantic murals. As he himself says with a certain dose of pride and superiority, he gets bored fast and looks for something new – particularly new content and graphic solutions. "I like to be the first," he claims.
Michał Chudoliński: How did you begin your adventure in this medium?
Przemysław Truściński: It all started with my mother. I stayed at my grandma's for the summer break when I was about eight or nine years old. I cried like the baby I was, so my mother gave me a comic book. I remember that like it was yesterday: it was Relax, with a cover by Grzegorz Rosiński, the illustrator of Thorgal. I got sucked into the world of visual arts. The colors, dynamics and vigor present in this book amazed me. From that very moment I knew what I wanted to do for the rest of my life. I developed my interests further in art school. I practiced my craft every day, mostly in sci-fi, horror, and fantasy genres. I cannot put a price tag on the experience I gathered back then.
Life has not been easy on me. I had to quickly find a way to separate what I drew for pleasure and what I drew for my clients. The most important thing is to follow your own road and not stray from it despite the difficulties.
In 1991 I had an accident involving an aquarium, resulting in my right hand being completely inert for two years. I was unable to draw with it. I did not complain though – the minute I regained consciousness in the hospital I tried drawing with my left hand. That hand won me my first award at The International Festival of Comics and Games in Łódź. Thankfully I fully recovered and even managed to find pleasure and inspiration in commercial work now.
I bet the life of a comics artist was not easy, especially here, in Poland.
It wasn't and actually still isn't. Drawing comics is something you do in your spare time, after work done for advertising agencies or television. What's different nowadays is the regard for comic book culture in Poland. Twenty five years ago graphic novels had no place in Poland. Today no one asks whether comics is a form of art. Since the past 12-15 years people have stopped asking me that question. We can truly say that the readers and reviewers of comics, as well as journalists, not only tied to the comics scene, have matured and grown up. Comic books now appear alongside other artistic media in the review sections of serious, widely-read newspapers, magazines… Cases like Leszek Bugajski asking in Newsweek whether Maciej Sieńczyk deserves a nomination to the Nike award for Przygody na Bezludnej Wyspie [Adventures on a Desert Island] are a rarity. It's just that you still have to be ready to fight, prove, defend.
There is also more work for the comic book artists.
The world has become more open.
Totally open. If I were to say to a young person that they are to be a creator working only on the Polish market and there are no other opportunities…that's no longer the case.
I've been visiting the comics festival at Angoulême for over ten years, and it's only in the past few that I feel there is more of an openness to Poland, to Polish art. It might be irrational, because Polish creators have been appearing there (Krzysztof Gawronkiewicz, Jakub Rebelka), there were Polish creators working in the French and American markets, but I see this openness. Young people, new trends, what's going on in Polish comics right now – there is also more openness to the world. This is not to say that we as creators made worse art before, but our offerings today seem more attractive, not just in Poland. A young artist today can do everything. They only need talent, you need to be making great comics, and the whole world is wide open for you.
What are Polish comics like in relation to the European ones?
It'd be hard to say that every Polish comics creator is incredibly original in comparison to the world. No. We are of course a part of the European tradition, much more so than the American or Asian ones, although with the popularity of manga that changes somewhat. But a common thing across the world is that an artist needs to have something to offer, something original that the world is waiting for. Like the majority of Polish creators, I no longer have to think that I want to make a French comic, as it used to happen, before the process of globalization. Nowadays I'm just trying to make my own stuff. I want I to be Trust-ish. I would like my style to be recognized in France, the United Kingdom, Asia, Australia, without my signature.
Is the reception of your work different outside of Poland than in the country?
Since I've been working and living here, in Poland, there are of course grounds to worry whether my artistic choices are universal. But I was not entirely surprised to discover that the values I try to instill in my drawings and comics seem to be recognized across the world. I have proof of that in foreign exhibitions and meetings with people who attend them. I will never forget an exhibition in the Chinese Canton, where I received my first standing ovation. Of course, it was due to the fact that aside from my comics work, there were also illustrations for the first Witcher game, for which I designed Geralt. When the person in charged mentioned that these are my works, everyone stood up and started applauding. I won't deny it felt very nice. There seems to be something in my work – expressive, emotional, but strongly based on craft – that it gets a positive reception regardless of place. I think it makes a similar impression as in Poland. Good work will speak for itself everywhere. When you go to a museum in London, Paris, Tokyo, you know immediately when a work of art. is beautiful, captivating, educational. The geographical latitude means nothing.
For the Witcher games you designed the character of Geralt, who has appeared in various media also including literature, comics, an upcoming TV show. What would you say you brought to that character?
I tend to be a buffoon sometimes, though I would very much like not to sound like a buffoon here… That first drawing of the Witcher, which later had colors added and which was the basis of a 3D model created by Adam Wągowski – and bearing in mind that hundreds of people worked on the game in its final form – that drawing was the first step on CD Project's road to where they are now. When I was drawing it, they were still putting in doors in CD Project's offices. When Adam was walking me around the studio, there were only desks for the sales people. They'd only just started thinking about a room for people who'd be creating The Witcher. It was a small room for today's standards and they were still bringing in computers. Now the company is worth 22 billion zlotys. That one drawing started it all and in that sense I do feel like a part of that history. Of course, the Witcher as a pop-culture character has been evolving in further installments, other artists have made their contributions. But the thing that I personally brought in were my emotions. That's absolutely mine, in consultation with people who ordered the design. Every buckle, stud, teeth sewn onto the protectors, flasks, the famous Witcher medallion – these are my emotions which echoed in millions of souls across the world. I added the deepest part of myself, but that's how it always is in the creative process. Comics are no different.
You are known for your unlimited imagination and diligence. You've been called a one-man band. What inspires you and gives you strength for new projects?
I'm mostly influenced by Franconian creators like Moebius, Juan Gimenez, or the already mentioned Grzegorz Rosiński. I have to mention Bogusław Polch and Jerzy Wróblewski as well. I'm still keeping an eye on current trends at the annual comics festival in Angoulême. I always bring back loads of albums from different creators, though I usually don't revisit them. My wife tells me not to bring more of them since I don't even read them, only skim through. But they inspire me. It's not only artistic works though. I love reading books with a cartoonish sensibility, which demonstrate the possibilities of transforming the characters. I usually get inspiration from everything that happens around me. I'm addicted to watching. I have no idea how different my observations are from the points of view of other people. However, I get the feeling that everything is being saved on the hard drive in my head. Everything I see, everything I feel – like the landscape that surrounds us – seems relevant somehow.
Do you feel inspired by American comics as well?
I have always been fascinated by the wealth of imagination in American comics. From a more analytic point of view, I was intrigued by the action in those stories, the spectacle, the framing, the pace of narration. I have also been very impressed with how the simple superhero stories about fighting evolved into more sublime, psychological forms. I know about the artistic comic tradition in America, about Chris Ware, but it's this development in superhero comics, where in addition to explosions and fights we delve into the character's emotions, their desires, their subconscious impulses, that is very fascinating to me. Thanks to that comic books have become the mirror of the age, of the souls of their readers.
A key experience for me was encountering the works of Bill Sienkiewicz. When I was in art school I was very impressed with him, his style influenced me at the model drawing stage. He, Dave McKean, and Kent Williams comprise a set of erudite creators, whom I personally value very much. Nothing is accidental in their work. They are mind-blowing artistically, very conscious of the form in which they create. They make comics among other things. They know how to marry their talent with knowledge, experience, intelligence, they are able to create fascinating work through some sort of graphic nuclear fusion. For me as an art student discussing contemporary art with professors that was a huge opening. It showed me that yes, you can do things like that, there are educated artists working on such advanced projects. It was very inspiring, and not just for me – if you've seen Spider-Man: Into the Spider-Verse, you've experienced this accumulation of time periods and styles, including a version of Kingpin based on Sienkiewicz's work. The creators of that particular animation went through a thought process that resulted in this multitude of aesthetics being combined into one reality. This is a perception of contemporary art that is a characteristic of great artists. They look at art widely, and if they want to make comics, they make comics, including ones that move. There are no barriers for them. It fascinates me and that's why I make illustrations, murals, that's why I'm waiting for when I'll be able to pitch my own animations. Directing fascinates me.
You said once that comics can be a trap. How do you break out of it?
It applies to any artistic medium. You can't look at it from just one perspective, because it will reach its limits. In order to create, you have to observe. To be present. You have to hear the couple next to you, the noise of the coffee machine. You have to notice that lady's dress and how she needs to hold her hat so the wind doesn't take it. You need to be curious about the world. You cannot close yourself off. Reading is indispensable to being an artist, and so is music. You recognize great artists, great people, by the wideness of their interests. Going back to comics, in order to make great comics, you need to know painting. You need to know Art Nouveau, medieval painting; you need to reflect on it to be able to create art for the 21st century. That's why you are an artist and what contemporary culture tries to do – the culture and art that is useless, that tells us it's important to have a car, get full and that's it – shows us how people are degenerating, if I can be blunt. We forget about art and culture. What happens in the world, in politics, the ongoing brutalization, how we treat each other in the street, comes from the fact that we forget about culture. The proportions have changed – economic growth is the most important, and what happened to culture sections in news programs? It's below all the news, below the automotive section. And then we find out who dates whom, who fucks whom.
It's the clicks that count.
It is the way it is, because a wrong approach was chosen, sucking up to the audience instead of shaping the audience for the future, which is a much more sophisticated approach, because we do not try to fit into his preconceptions, but create larger possibilities. But viewership is more important. However, the creators of the biggest sites see that this is a road to extinction – how much more can you suck up? How much shit can you publish on your site, because people like it? How much more? Without culture we fall, we can see it in our attitude towards nature. We prefer brutal things, buying fighter jets, and meanwhile a city in Poland has no water. We forget about the important things, especially about culture. I ask the comic artists as well – how many more guns, explosions? There has to be a revolution. There will be a breakthrough in video games, comic books, films. I bet there will be a superhero movie, in which the hero doesn't put on a suit once. The new Joker movie with Joaquin Phoenix is shaping up to be like that. The superheroism is not that fascinating, it moves to the background. What matters is how the protagonist achieves it. That's what's most interesting about a person: how do they reach who they are?
What experience do you transfer from comics when working in other media?
My work in comics allows me to insert elements into my illustrations that turn them into narratives. My illustrations are like comics without bubbles – I make up novel-length stories for them and fit them into a single image.
This influence goes both ways, however – I have recently started on drawings in the science fiction style for a book. It will influence my work on future comics. It's a simultaneous process. I would not be a good comics artist without illustration and without comics
What do you desire most, as an artist?
Autonomy. Each and every character has to be infected with me, it has to be visible at first glance. But I wouldn't want someone to say "ooh, not the same thing again" while reading my comics. Each story has to live its own life, and this is the main idea behind my works. For example, the comic for the Praga Gada [Praga Talks] compilation is based on history, like all the others, but was drawn in its own style. It seems very realistic, but I was also looking for something fresh. The final effect is always a big unknown. If I got a new script right now and the writer would be convinced I would draw it in a certain way, I would fail miserably. I myself don't know how the story will be drawn. Every project needs its own research, for example on how will the protagonists dress, what will the buildings look like, the everyday objects, the space… Everything is prone to my own interpretation. For this type of work you need not only knowledge, but first and foremost an intelligence that needs to be fed new experiences. Knowledge from the books, art albums, photos, movies, music… Interestingly, when I say this kind of things on comics workshops it's usually met with a great surprise. Sometimes I make the young creators realize how unprofessionally they treat their aspirations. Obviously, I don't claim they lack talent. Sometimes they just lack the courage to go their own way. What is more – art is not about following one path – it's about creating crossroads, bifurcations. It's about discovering completely new horizons. It's important to realize the existing possibilities. It's also important to remember the responsibility – you need to expand the worldview of the reader.
Do you have any negative memories of teaching comics?
No, quite opposite, in fact. I'm impressed. During every workshop there are few persons who are really talented. Obviously, there are also young artists that need to work hard to forge their own ways. Leading the workshop is not about giving orders, it's about convincing the young to consider some tips that need not be easy to implement. It's not only about saying things like "OK, this is good, but this other thing you need to work on.". Mostly it's practice, practice, and once again – practice. Everyone knows that. It is important to mention the less obvious aspects of working on comics – the already mentioned intelligence, the need to keep working and learning on new things. You also need to teach the young people how to care for the psychophysical working conditions. Moreover, after the comic book has been finished, you need to work on the whole promotional campaign. The everyday character of the creator is also important. You need to be a showman, create your own image. Some people don't realize that. But it's also me who learns during the workshops from people who want to do something with their own imaginations.
What's the role of the comic book script for you?
I don't really need a precise script to create a very good comic book. I can draw having only an inkling of a plot, which is what I usually do. However, if it's a large, 120-paged project, you need to find a professional script writer who will be capable of describing the particular frames and maintain the rhythm of the whole story.
Who was the best companion to work with during your career? Do you think any Polish writer would write a good comic book script? If so, who would you like to work with?
I don't want to create any personal top lists. I'd rather say that I am very lucky. I was surrounded by people capable of creating good stories from day one. Most of them, not everyone though, are present in the "Album". Some of them are Błażej Kronic and Jacek Waliszewski – the ones I started with. It's hard not to mention Michał Jabłoński, Tobiasz Piątkowski, Rafał Skarżycki, Dennis Wojda, and, of course, Tomasz Kołodziejczak. But the talent of storytelling can be found everywhere. Michał Jabłoński is a great example demonstrating that a story can be told in many ways, not necessarily by writing a formalized script. I credited Michał as a co-creator of Podbój Księżyca [The Conquest of the Moon] because I think that if our history disputes did not take place, I would have never finished this comic. I'm not locked up in a world of comics. To be honest, I'm not even up to date on what is going on in Polish comics right now, I feel like an outsider.
I'm capable of working with many writers, which doesn't seem easy considering the hard work of the creation process. Once it begins, I tend to interfere in almost everything and I'm capable of putting my foot down. On the other hand, I'm willing to compromise – I just need to understand the point of it. The potential of Polish stories is enormous. There are universes that are easily as good a franchise material as The Witcher. I'm deeply impressed by Tomek Kołodziejczak's world created for Czerwona Mgła [Red Mist] compilation, which I was the illustrator for. I am deeply convinced that we could create something much bigger with it.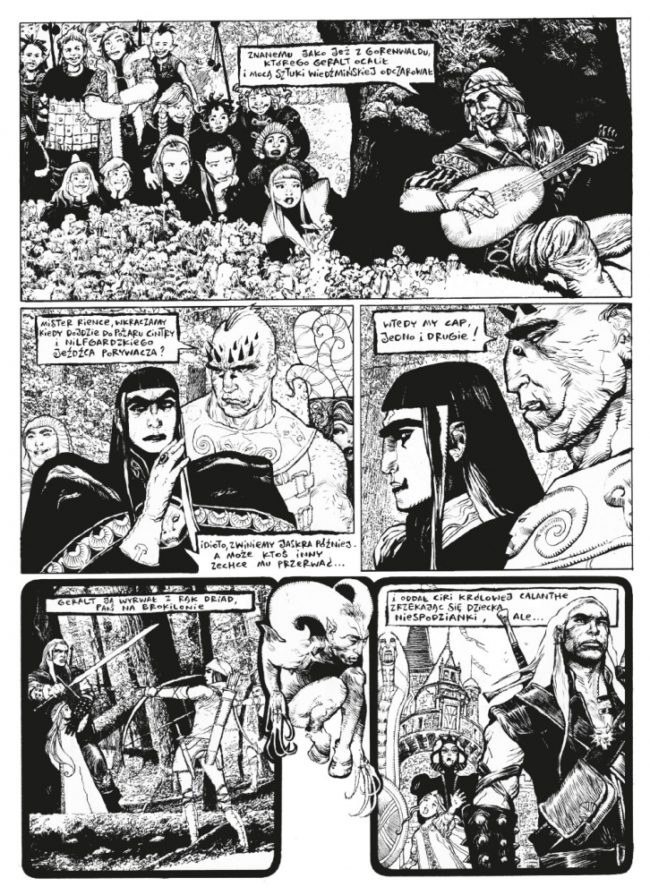 A big part of your output is collections of shorter stories. Do you prefer that format or longer stories that fill a whole album?
Short forms are due to the history of the medium. When I started out in comics in 1989-1990, all of the publishing houses have fallen and the only chance of publication was winning the competition in Łódź at the comics festival. This state of affairs lasted for the next 20 years. There were no publishers or only small ones with limited output. And so people took to short forms because there was no other possibility.
Another factor, this one personal, is that I'm not interested in making a certain number of albums. I was and continue to be more interested in searching for new paths. Artistically, I'm a child, I get bored quickly, always look for something new and exciting. I need that to make my brain more efficient. Those paths can be found by making single illustrations, comics longer or shorter (more often shorter), because I contain every search for a new form in a few pages. It's a result of my life as a freelancer, taking on new jobs and challenges every day, which I like, because it means I am moving non-stop.
You've been distinguished by President Komorowski for "preserving the memory of Poland's recent history". How do you see the role of comics in the discussion of Poland's national history?
Comics are a great medium for storytelling. Refreshing history in the shape of an interesting story, the means of expression available, make comics ideal for talking about history. And nowadays, when every political option tries to impose its own narrative, its own interpretation of historical events, it is all the more necessary to be telling history independently in terms of contents and art, to use authentic and made-up characters, all of the historical set-dressing, and I don't just mean what the characters are saying, that what is happening is more or less historical. The perfection and difficulty of comics is that we have the setting, the clothes, the make-up – everything serves to relate the truth of the times. We see how politicians from across the spectrum and from different countries throw around interpretations of history, and that's why the creators bear a huge amount of responsibility. It's an enormous challenge and enormous responsibility.
Looking back, do you see any effect of those publications?
Close to none. I don't want to diminish any creators, and I haven't seen or read everything. Taking into account how historical comics function in the public space, how they are a part of a nation-wide debate, I think they helped a lot; I'm actually happy to have contributed to the reconstruction of the Warsaw Uprising – that has worked. But it's not a coincidence that after a few editions of the comics contest the contest has been suspended – we saw that the entries start to decline. We thought it might be worthwhile to wait a few years, so that certain topics are discussed anew, so that new textual layers amass that the creators could mine in future works. I'm talking here about historical findings, but also ways of telling stories.
It is also a fact, and Poland is not special in this regard, that there are comics which thoughtlessly contributed to an unjust, manipulative vision of history, which one political fraction or another wanted to see in the public discussion. Artists should be careful here, because they should not be manipulated. I'll willingly admit that it's not easy, to defend everything you'd like to show what is worth showing – honest, sincere, emotional – while various stimuli are coming from the left and right, up and down. Especially since history itself is emotional as well, which provides great possibilities for comics, but which also requires great care. When you perceive things emotionally, you forget about stuff you have to include.
If you were to recommend someone one work of yours to read, which one would it be?
There are two anthologies. One is Trust. Historia choroby [Trust. A History of Illness], which collects short stories, from science fiction to formal and graphic experiments. The other is the recently published Trust. Album. It contains all my major comics, illustrations and concept art., as well as paintings, graphics and ad projects. Some of my work can also be found on my webpage or Instagram.
Your monography Trust. Album is impressive in its size. None of the Polish creators managed to gather so many works in one publication. What is the story of the publication of this album?
This album came to life on the occasion of new exhibitions in BWA galleries in Jelenia Góra and Warsaw. I am very proud both of the displays and the album itself. It is a kind of a summary of my work, although "summary" may be an inappropriate term in this case, as I was, am, and will continue to be creating new comic books and illustrations. It is a very important moment for me. None of the Polish comic book authors were promoted on such a scale, in so many great galleries.
The main point of this album is retrospection, even though contemporary works will also be present. But it won't contain the full set of my works. What is presented in this book is the result of a collision of (exhibition curator) Piotr Machłajewski's and my views. This publication is the result of hours and hours of discussions, or sometimes even quarrels over the way we perceive art. However, we are left with so much material that maybe, one day, a Trust. Album vol. 2 will come to light. The new volume would be centered on illustrations, comics reportage, interviews. Time will tell.
Do you think an exhibition is a good way of telling people about comics?
Absolutely. I am a big fan of exhibitions – that's the reason I have so few albums and so many exhibitions. I treat each of my frames very seriously, too seriously sometimes. Each and every one is created as a work of art. I could see all me works in an exhibition space. That space allows people to understand comics. Thanks to exhibitions comics can reach not just artists, connoisseurs, critics, and reviewers, but they are also covered by people, who treat the art world holistically. Without that our niche would be too hermetic.
What are your plans for the future?
When it comes to comics, there are three projects on my mind, two co-created with my friend Bartek Sztybor, a brilliant script writer working for both Polish and foreign publishers. One is Dust, which is my personal spin on superheroes. Although the comic is full of criminals and drugs, it's hard to define Dust himself – is he a hero? Or a demon with ectoplasmic wings? For me and Sztybor it's a way of playing with pop-culture tropes full of narcotic trances, with the atmosphere of the mythic Warsaw Praga, which is famous for its night-time attractions.
Ryfa (which in street slang means a cock-up) is our main project for this year. Its first pages were published in the Pismo [Writing] magazine. Here we want to de-mystify Poland, mix apocalyptic tones with Polish street culture. We want to delve deeper into Poles – their flaws and virtues, because I'm very surprised by what's currently going on. I mean – I'm not surprised by the hopeless political class, trying to manipulate people and reciting their mantra: security, security, threats, threats, security, but I am surprised that the nation which after 30 years should be moving towards the world, opening to it, buys it. Yes, we are traveling around, getting along, everything's cool, then suddenly – politicians appear, talking of internal and external threats, siccing people on one another – and people buy it.
I am also working on an album I will call Shibuku or just Fukushima, where I had a chance to live long before the disaster – I didn't even know there was a nuclear power plant. This story is my love letter to Japan, a testament of my fascination with that country. I will play with realism and cartoons, as well as Japanese pop-culture.
I almost forgot! I'm also drawing Andzia – an illustrated reconstruction of Bishop Mańkowski's poems. When he was a bishop, he was visiting his family home to rest, and he was frequently disturbed by his niece, Andzia. The poems are about her and they are total hardcore. In every one of the nine poems Andzia disobeys her elders and the weirdest things happen to her. The illustrations are a result of years of searching for a way to depict those poems. Andzia's adventures will be almost Grimm-like, like something out of a horror story – she will fall apart, change shape. Everything will be possible.
I have a lot of plans, as usual. I always have something to do. Lately I've been dreaming of making my own movie, becoming a director. I will manage to do it sooner or later for sure. Right now I am working on comics set during the November Uprising, can't tell much more about it though. Moreover, I'd like to finish Niebajki [Not-fairy tales] and have some adventure with surrealism with Jacek Waliszewski. It's also worth to take a look at Trust itself. The album contains first frames and concept art of many stories that await realization.