On the site today:
-Patrick Rosenkranz returns with a rare profile of Diana Schutz, who has had a fascinating career in comics and, as Patricks susses out, an also intriguing career as a teacher.
-TCJ Talkies gets the great cartoonist Howard Cruse on the line. I've admired Cruse's comics for a long time. I remember going to a signing for Stuck Rubber Baby in St. Louis many years ago and still think of that book as a landmark in ambition and execution. Cruse is a true trailblazer, and I greatly enjoyed and heartily recommend his recent book from Rizzoli, The Complete Wendel, which collects his longtime comic strip, Wendel, which was published in the Advocate. Besides featuring Cruse's excellent, lush cartooning, the book is one of the only records of the gay community in the 1980s in comics form. Don't miss it.
-And Michael DeForge's week in March continues.
Elsewhere: Things I've seen and enjoyed lately:
* A Raymond Pettibon film.
* I loved Richard Merkin's wonky, heartfelt artwork. It used to appear in the New Yorker before his death. Evocative, blurry images. He was also a prolific collector, and some of his fabled accumulation is now up for auction. Here is a 1910 Tad Dorgan advertisement up for auction. Beauty itself.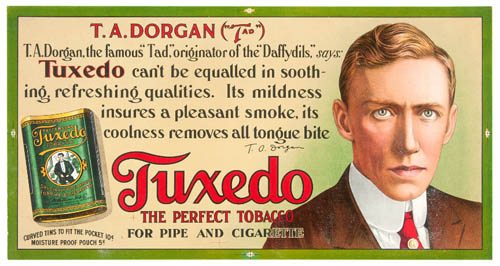 * Tom Spurgeon on the late Lee Ames.
* Via Will Sweeney: Hawkwind on the Marc Bolan TV show. And no, I didn't know such a thing existed.
What did Hawkwind have to do with comics? Barney Bubbles, man! What did Barney Bubbles have to do with comics? Well, he did some good Druillet swipes and...Uhhh, I'd hazard a guess that the future 2000 A.D. blokes kinda liked this:
and this:
Not to mention this:
* Oh, and don't forget about Forcefield. Seriously.