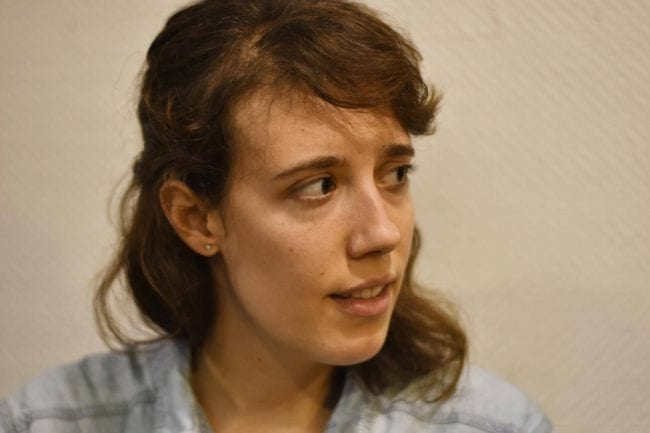 Kathrine Avraam was born in 1990 and studied in Greece and France. She settled in Angouleme and attended the Master Comic Strip at the European School of Image. During these two years she participated in the creation of several exhibitions, both personal and collective, and worked in particular on the realization of the Augmented Reality of "Synoptic", alongside Loo Hui Phang during the 44th International Comic Strip Festival of Angoulême. She also directed KATABASIS, an interactive digital comic and is apart of the collective Superflux. Kathrine and I got together and talked about her new comic projects, illustration and technique, and making a life in Angouleme.
Sloane Leong: What are you working on at the moment? How did this project started?

Kathrine Avraam: These last few months, I've been working on "Kora, le Néant rouge" ("Kora, the red void"), a dramatic story comics and my first book (if everything goes well with the publisher!). It's a project I consider both as intimate and potentially universal as well, because it talks about of faith and mythology. I really love Joseph Campbell and as I was watching one of his interviews, something he said really stuck with me: "the personal mythology dictates how we die". It really resonated with me back then! Around that time I had done this illustration of a village burning down in flames and a female character holding a dagger coming out of the smoke, without knowing what it really meant, but I knew there was a story behind this. This is the story I chose to to explore more with this project.

Is death a main theme of your work? Why is that?

Until now, I did not consider it as an important theme in my universe, yet its recurrent appearance in recent years shows the opposite. Indeed it was through KATABASIS , my end-of-study project in the form of a digital comic that I was able to explore both this new medium and my "intimate narration". It's a very personal story of my grandfather's death that demonstrates this perplexing psychological fabric that it's family. Since then I am much more aware of the presence of death in my work, as an opportunity to revisit and thus to explore again a story that is considered closed.

You have a very distinct textural style that's all very gestural. How did you develop it?

I always switch from analog to digital and the main reason is precisely in search of good graphics that goes with what I want to tell. The place of the texture thus becomes crucial in this game. Younger, I felt frustrated in front of any tool (charcoals, acrylics, pastels etc) and the idea that there are so many techniques of paintings that I do not know and that I will never be able to control. Now my goal is to draw the best of all these two worlds, the spontaneity of analog and digital freedom. And then the role of the texture, unlike the line, is not descriptive but rather revealing! Revealing the emotional state to which I push my reader.


What are some of your visual and narrative influences?

The god in my pantheon of cartoon writers is Nicola Presl and I think they will stay there for a long time. And then there is of course Karine Bernadou, Lorenzo Mattotti, Florence Dupré the Tower, David B, Roman Muradov, Cyril Pedrosa and others who manage to provide a solid narrative through a captivating and sometimes mystical graphics.
Why did you choose to becomes a cartoonist?
I have to admit that comics are a challenge for me. Coming from visual medias studies, I've been taught to think with images, compositions, and visual hierarchy, but not necessarily to tell story in sequential ways. Coming to France, and discovering the important story of comics, it gave me a desire to understand and learn this medium, so I could finally tell things.


What is your journey from scenario to concept to end product?

I kind of work randomly for the scenario. I have an image in my head and more or less an idea or where it's gonna take me, but I don't really have a very detailed and finished scenario. I work from one scene to another. That's why I first write a draft of the dialogues at the same time as I storyboard, so I can start working straight away on the final page. My roughs drawings are like a matrix, I put colors and textures on it to get a clear idea of compositions and contrasts and when they're scanned, I rework it digitally. I can correct the framing if I need to, redefining shapes and brushes of textures, always so that every image contributes to the general composition of the page.

What are the challenges you have to deal with at the moment?
It's always risky for me to work alone, with only my own eyes on my project. For the scenario or the way I tell the story, my challenge is to not constantly question myself or what I'm doing! On top of that, as it'll be my first book, I explore the way I work, or how I optimize my workflow for this to be as efficient and fast at the same time.

How was the Maison involved in your project?
The Maison des Auteurs is a symbol for me, a real valorization of my work and the way it brings me confidence in my own work as well. The project is not necessarily connected to Angoulême as a city, neither to its history, but as I've been living here for 4 years, the Maison is a key component in maintaining an artist network and also renewing it. And this is exactly how the the Maison has supported my project, the comfort of a community.
What are the pros and cons of the residency in Angoulême?

What's amazing about the Maison is that it's around the corner from where I live, which allows me to have a space to work without having to go too far or waste precious time. The only problem I see is that it can't last forever! And sometimes I'd like to listen to loud music without bothering anyone...

What are your feelings on the world and market of comics where you are from? Is it changing?
The comics industry in Greece is not really a market, definitely not like in France. It might be silly but I really believe we are missing out on not having the story of comics being written seriously about, may it be a public research type of thing working to highlight it or actual academic work around it, we need to know about our roots. Talking about French/Japanese/American comics is super cool, it shows a culture but it doesn't really highlight ours. We want to "become" but we don't even know who we "are".