I took an Amtrak train from Raton, New Mexico to New York City. 60 hours of travel time. I left on Monday in the afternoon and arrived Wednesday in the evening. I read two James M. Cain novels. And listened to Miles Davis the whole time because this knucklehead behind me wouldn't shut up. I would just sleep with the music playing.
The train is a really nice way to travel I think if you have the time. You go thru parts of the country where there are no roads and see things you would never see otherwise. The tracks roll around rivers and valleys that feel lost to time - like if there was a road there the view would be choked with the inevitable strip mall medley of late 20th century gloom. The weirdest part was that the train went right past my mom's house in Pittsburgh, Pennsylvania. If it hadn't been 4 in the morning I might have called and asked her to stand out on the porch and wave.
And now this the hungover morning after the Brooklyn Comics and Graphics Festival. Michael DeForge and I had this vague plan to do today's column as some sort of fumetti jam - but I saw him a mere 5 hours ago and we had forgotten all about it. But in theory we are going comic book hunting later at the game reserve in the wilds of Manhattan. I've been here for 3 days now and haven't made it back across the river. Now's the time.
----------------

Christopher and I the first nite here.

Watching Gary Panter sound check. Jacob Ciocci in foreground.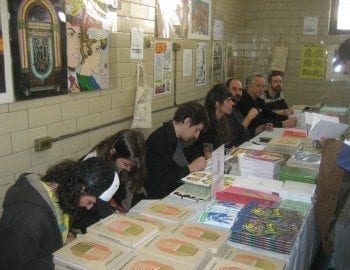 Kramers signing: Santoro, Bell, Shaw, Davidson, Harkham, Panter, Forgues.

Dash Shaw, Anya Davidson, Sammy Harkham, Gary Panter, Christopher Forgues

Gabrielle Bell and unidentified ham.

Me drawing reverse of Dash's drawing.
--------------
More later. XO.
All pics by Nadel. BooYa.