There was a period in the early 1970s when it almost seemed like cartoonists from the Philippines were taking over the comics industry. That wasn't really the case, but it seemed as though artists like Tony DeZuniga, Alfredo Alcala, Nestor Redondo, Alex Nino, Gerry Talaoc, Ernie Chua (Chan), Fred Carillo, Vicatan, Jess Jodlomon and dozens of others, appeared at some point in almost every comics title put out by DC, Marvel and Warren for a few years, especially in the mystery and war anthology titles. However, the artist who really broke trail for all of the others was Tony DeZuniga, even though he was younger than his mentors Alcala and Redondo.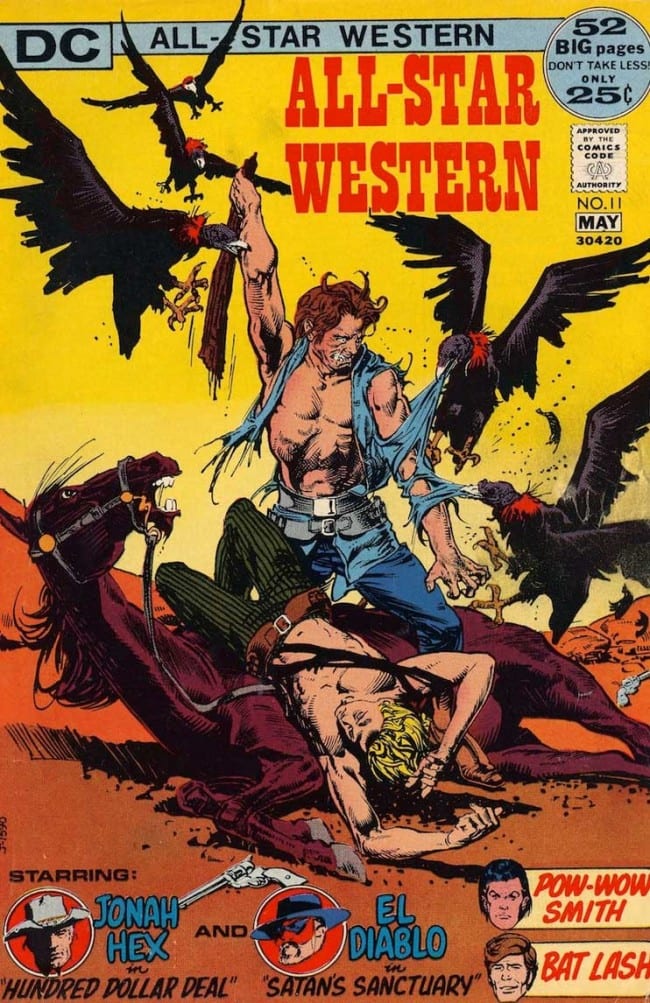 He is probably best-known to American comics fans for co-creating the surly supernatural western hero Jonah Hex with writer John Albano, and the Black Orchid, working alongside venerable cartoonist/editor Sheldon Mayer at DC, as well as for his work on Conan the Barbarian over at Marvel. Tony DeZuniga ultimately achieved legendary status in the comics industry because of the vast volume of excellent work that he produced, first as an inker, then as a penciler, from the early 1970s until relatively recently, when he had to curtail his comics work and convention appearances because of increasing ill health. Although no cause of death was announced, it's certain that DeZuniga succumbed to various complications brought on by a massive stroke in mid-April of this year. Despite his many years of toiling away in the comics industry, DeZuniga didn't have enough money to pay all of his hospital bills, so friends and admirers in both the U.S. and Filipino comics community chipped in to help the well-liked DeZuniga pay his mounting medical expenses. Filipino cartoonists pooled their talents on Free Comic Book Day in May to sell sketches and t-shirts to raise money for DeZuniga and his family.
As a child, Tony DeZuniga loved comics, especially Alex Raymond's Flash Gordon and Rip Kirby, and anything by Jack Kirby or Alex Toth. Breaking into the Filipino comics business at 16 as a letterer, DeZuniga worked alongside his friends and mentors Alfredo Alcala and Nestor Redondo, already established Filipino cartoonists, whom he would later help break into the comics business in the United States. While still living in the Philippines, he earned a Bachelor of Science degree in commercial art through the University of Santo Tomas. He first came to the United States in 1962 to study graphic design in New York City, then returned to his homeland as an advertising artist, while still freelancing for the burgeoning Filipino comics industry, drawing for titles like  Hiwaga Komiks, Caravana Klasiks, and Romansa Komiks, for most of the 1960s. DeZuniga finally returned to the U.S. in the late 1960s and broke into American comics with the help of visionary DC Comics editor Joe Orlando. His first DC assignment was inking pencils by Ric Estrada for a romance story (Girl's Love Story #153). He debuted as penciler with a horror story for House of Mystery #188 (Sept./Oct. 1970) and was allowed to ink his own pencils on that job. From there, DeZuniga was off and running as a DC regular. He was also instrumental in fomenting the "Filipino Wave" of cartoonists when he convinced Joe Orlando and DC Editor in Chief Carmine Infantino to visit the Philippines and scope out the local talent.
DeZuniga moved to the U.S. in 1977 and eventually wound up dividing his time between Marvel and DC for 18 years, drawing not only Jonah Hex and Conan, but also many other well-known characters like Doc Savage, Thor, The X-Men, Swamp Thing, Batman, Dracula, Iron Man, Doctor Strange, Red Sonja, The Punisher, and Spiderman. In addition to his impressive comics career, DeZuniga also broke into the lucrative videogame industry, working as a conceptual designer at Sega for 10 years. Among his other freelance accounts were McGraw Hill, Scholastic, and TSR, for which he illustrated The DragonLance Saga Book Three from a script by Roy Thomas, among other projects.
He had recently returned to his signature character, for a new graphic novel entitled Jonah Hex: No Way Back, published to cash in on the release of last year's unsuccessful Jonah Hex film starring Josh Brolin and Megan Fox.
DeZuniga eventually retired from the comics business to pursue an interest in painting with oils and acrylics and drawing with charcoal, though he was still a familiar face at major conventions such as San Diego's Comic-Con International in addition to smaller events such as the Phoenix Comic-Con. After retiring from comics, he made his living doing convention sketches for fans, and private commissions and portraits. He also taught portrait painting and taught a class in drawing superhero art at the Lodi Arts Commission.
When DeZuniga was hit with a serious stroke in April of this year, his doctors managed to save him, but he soon fell prey to a series of medical complications. The stroke led to brain damage, and heart failure, and while his doctors labored valiantly to save the talented artist, their efforts were ultimately futile, and he passed away on May 11th.
Tony DeZuniga will be remembered for his vigorous and attractive figure work, his lush inking, and the sheer volume of work this hard-working cartoonist produced. He is survived by his wife Tina.