Above we see a few of the comics I robbed off of teens at a McDonald's near the Small Press eXpo this past weekend in Bethesda, MD, having identified my targets through the SPX tumblr; we live in the best of times, reader! From left to right (more or less), top to bottom (basically), the selections are:
Temporama, by Clayton Junior (wordless, heavy color comic book experience from a Brazilian artist via a British publisher)
Pope Hats #3, by Ethan Rilly (I vigorously assured Rilly that the law office scenes in issue #2 were totally accurate, and in fact biographical of myself, as he sketched in terror)
Kid Mafia #3, by Michael DeForge (Lose #4 is also pretty terrific among this season's DeForge crop)
Diary Comics #4, by Dustin Harbin (Jeet Heer was totally my favorite character, he should be IN Cerebus)
Happiness Comix #2, ed. Leah Wishnia (I backed issue #1 of this gritty lil' anthology on Kickstarter, and shed tears of joy at seeing my baby up and walking free; there, Dan, I just invalidated Kickstarter forever)
Wayward Girls #2, by Michiel Budel (Hadn't even realized this was a comic book series as opposed to a bookshelf thing; it looks like an especially choice back-issue find from the 1990s where you don't know if the publishers are pornographers or not but you're sure it got racked behind the counter with The Young Witches)
Ojitos Borrosos, by Inés Estrada (I recalled Estrada from the Baltic comics anthology š! #9, but hadn't connected her to the artist nominated for the Outstanding Artist Ignatz alongside Jaime Hernandez and Craig Thompson until this was thrust into my hands)
Monster 2012 Vol. 1, by various (Note the "SPX" designation on the removable cover for this long-lived Fort Thunder-derived anthology)
The Blonde Woman, by Adian Koch (Yes, I also bought print editions of comics I've enjoyed on the internet, for that special whiff of 'collected the floppies, now the trade' otherwise absent from an arts-focused show such as this, although I obviously did like The Blonde Woman a lot)
SF #2, by Ryan Cecil Smith (probably the #1 scavenger hunt high score guarantee of the show)
Suspect Device #2, ed. Josh Bayer (now 120 pages; still good and nasty)
Morons, by Keith Jones (a British man assured me this was funny)
Puppyteeth Vol. 3, ed. Kevin Czapiewski (I saw this on the internet)
17x23 Showcase Vol. 1, by various (a very new multi-artist Nobrow release, apparently looking to be the Drawn and Quarterly Showcase to Blank Slate's Ignatz-like Chalk Mark line of oversized comics, to sound a potentially insulting note of North American exceptionalism)
Period, by Christopher Adams (a lil' experimental minicomic where the artist implored each purchaser to pencil in the front cover title themselves at the table; as you can see, I totally knocked this handwriting deal out of the park)
I had a good SPX overall, though the highlight was plainly my sitting in on Disney and the Making of Postwar Manga: The Case of New Treasure Island, an excellent presentation by Journal contributor Ryan Holmberg to which I was pleased to offer approximately 80 words of supplemental commentary. It was an exciting tour of 1947's New Treasure Island, the landmark manga by Shichima Sakai & Osamu Tezuka that rocketed the latter to superstardom, with a special focus on the American influences present in the work. Ryan also let me page through a few vintage akahon, which I manfully refrained from dropping into a glass of water or accidentally eating.
I also managed to misspell the name of Joseph "Jijé" Gillain, whose contributions to occupation-era Belgian Superman comics I was attempting to explain; thank god I didn't enter myself into Saturday night's combat spelling bee, occurring down the hall from the post-Ignatz drawing battle, which I stared at for a little while in withdrawal from the sensory overload I'd already grown accustomed to, as happens every time, if not quite so nicely as last weekend.
***
PLEASE NOTE: What follows is not a series of capsule reviews but an annotated selection of items listed by Diamond Comic Distributors for release to comic book retailers in North America on the particular Wednesday, or, in the event of a holiday or occurrence necessitating the close of UPS in a manner that would impact deliveries, Thursday, identified in the column title above. Not every listed item will necessarily arrive at every comic book retailer, in that some items may be delayed and ordered quantities will vary. I have in all likelihood not read any of the comics listed below, in that they are not yet released as of the writing of this column, nor will I necessarily read or purchase every item identified; THIS WEEK IN COMICS! reflects only what I find to be potentially interesting.
***
SPOTLIGHT PICKS!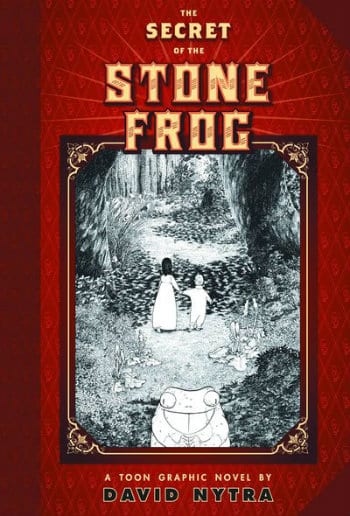 The Secret of the Stone Frog: I've had multiple people come up to me raving about this one, the first in the much-admired TOON Books line to identify itself as a 'graphic novel,' owing perhaps to its comparatively lavish 80-page length. The artist is David Nytra, with whom I am not familiar, though its scenario of children lost in a strange forest full of whimsical and somewhat threatening creatures brings to mind a few early newspaper fancies that might catch the eye of a line descended from the RAW of yore. Preview; $14.95.
Comics Sketchbooks: The Private Worlds of Today's Most Creative Talents: Normally I'd end with your not-quite-a-comic of the week, but I think some special attention is warranted for this 352-page Thames & Hudson compilation of Steven Heller selections from dozens of cartoonists' sketchbooks, including Robert Crumb, Gary Panter, Joost Swarte, Posy Simmonds, Mark Newgarden, Kevin Huizenga, Vanessa Davis, Kim Deitch, Carol Tyler, Jim Steranko, Rutu Modan, Johnny Ryan, David Mazzucchelli, Joseph Lambert, Lilli Carré, Peter Blegvad, Charles Burns, Danijel Žeželj and many more. Quite a nice-looking production, very much worth a flip; $44.95.
--
PLUS!
Blue: I could have sworn Diamond had already released this 96-page landscape-format Top Shelf hardcover by Australian cartoonist Pat Grant, though its not marked as a reissue or anything. Nonetheless, it is an attractive piece, dealing with local teens fucking about in a world where alien creatures have recently "immigrated." Online edition; $14.95.
Dark Country: This is one of those cross-platform deals, spun out of a 2009 film directed by actor Thomas Jane, whose RAW Studios is listed as publisher. It's noteworthy for the participation of Thomas Ott, whose dialogue-free scratchboard art will be occupying about 80 of this hardcover package's 128 pages, adapting the original short story by Tab Murphy (also included) from which the movie's screenplay was derived. Samples; $24.99.
Dark Horse Presents #16: Aficionados of introductions to interviews with comic book artists will no doubt roll their eyes as this burdensome reiterations, but nonetheless: this is the place where Richard Corben really throws himself into a new line of Edgar Allan Poe adaptations. A first taste was presented in issue #9, and details were offered via an interview at this site a couple months back. Yes, he's doing the colors himself. At least two subsequent issues will feature a new story, and a Conqueror Worm standalone comic is due in November. Elsewhere in this issue -- it is an 80-page anthology, after all -- artist Phil Stanford attempts to revive the Crime Does Not Pay brand with a (presumably crime-related) serial, and David Chelsea does something, if Dark Horse's online solicitation is accurate. Samples; $7.99.
Eerie Archives Vol. 11: Corben will not be found in this collection of issues #52-55 of the eponymous Warren magazine -- and anything that could have been found would have been in Dark Horse's Creepy Presents: Richard Corben compilation from a few months back -- but you can nonetheless enjoy art by Paul Neary, Esteban Maroto, Tom Sutton, Vicente Alcazar, Jaime Brocal and others. Although I think all the Neary stuff has already been collected too, in the Eerie Presents: Hunter hardcover from last April. There's another one of those 'storyline' collections coming in December, Eerie Presents: El Cid, showcasing the art of Gonzalo Mayo. Samples; $49.99.
Fatima: The Blood Spinners #4 (of 4): Hey, yet more Dark Horse, why not? I enjoyed the hell out of issue #3 of this Gilbert Hernandez sci-fi/romance/blood eruption series, enough so that after somebody pointed out that different pages in issue #1 were dated to both "2011" and "2001," I made it a point to try and ask Hernandez about the discrepancy at his SPX panel (moderated by the Journal's Sean T. Collins). Beto wound up broaching the topic himself, essentially, in noting that the series originated in a crime-y idea with a different cast and premise, though presumably a similar love of people getting shot in the head. Otherwise, the series as released is a strange, childlike thing, as if fascinated by the mysteries of bodily function intruding upon Archie-ready interpersonal longing... Preview; $3.99.
Lobster Johnson: Caput Mortuum: Another recent Dark Horse series I liked was Lobster Johnson: The Burning Hand, a slightly bemused Year One-ish series for Mike Mignola's pulp-style costumed murder guy, which had lively art by Tonci Zonjic and a crackling way of tearing through genre archetypes and Mignolaverse fan service alike, at least until the now-obligatory Mignolaverse inconclusive ending, which was sort of a generalized bone of contention in the argument over whether B.P.R.D. was any damn good I happened to overhear among several known funnybook personalities last weekend. Perhaps we can expect more of a modular experience in this Zeppelin-set one-off that reassembles the entire Burning Hand team. Preview; $3.50.
Roger Langridge's Snarked! #12: Being the final issue of Langridge's Lewis Carroll-informed series with Boom!, one of those series that launches with a decent amount of appreciation behind it, only for typical conversational attrition to leave you wondering where it is if you don't follow it that closely. Here. Preview; $3.99.
Womanthology: Space #1 (of 5): This is a new iteration of the massively popular all-female anthology project, now a comic book miniseries from IDW, here themed as designated. It looks like Marvel/Image artist Ming Doyle is the most prominent of contributor names; $3.99.
House of Five Leaves Vol. 8 (of 8): Viz may have (for all intents and purposes) wrapped up its SigIKKI attempt at serializing 'mature readers' comics online for collection in hardcopy volumes without quite finishing much of anything at its site, though it's worth noting that one of the involved series is actually concluding here in old-fashioned new-to-print format; it's a swordsman-days drama by Natsume Ono, perhaps the most visibly-'pushed' artist of the whole endeavor, which lends a sense of circularity. I believe Kodansha Comics has a collection of Ono's short stories (Danza) due later this year; $12.99.
Naoki Urasawa's 20th Century Boys Vol. 22 (of 24): Also nearing the end - Viz's publication of comics by Urasawa, whose superhero revival-like Tezuka homage Pluto became one of last really notable 'crossover' manga of recent years. Maybe something more will be announced? Technically, this is the 'final' volume of the artist's suspense thriller magnum opus, since the series will re-title itself 21st Century Boys for its last two volumes, in keeping with the Japanese releases; $12.99.
Berserk Vol. 36: I'll close with this, the latest release in Kentaro Miura's whack-'em-up action series, something of a recurring favorite among a few SPX participants. I was just arriving at the Ignatz awards on Saturday, actually, when I heard someone (I think MC Jerzy Drozd) mention on stage that manga represents an idea of creative freedom to young artists, and while this isn't especially accurate from a pragmatic standpoint -- most higher-end pop comics in Japan receive some firm editorial guidance as to the demands of the market, and even superstars like Akira Toriyama tend to find themselves maneuvered into positions they'd have rather avoided -- it's certainly true that the market itself is wider than we've got here, and that an attentive artist like Miura can basically chase whatever loose ends he wants within certain strictures, so long as his popularity endures. No end in sight for Berserk; $14.99.