There is no more obvious a conflict of interest than writing about a book you're in, so let me state up front: I am a contributor to Drawn and Quarterly: Twenty-Five Years of Contemporary Cartooning, Comics, and Graphic Novels, an unperturbed hagiography of 776 pages seeing release this week from the eponymous publisher. In addition to writing-on-comics, though, there are quite a lot of actual comics in the book, including enough in the way of new work among excerpts and reprints to imagine a Drawn & Quarterly Vol. 6 from out of the larger body of praise. However, because that body is so large, and the reading of it so long, I am concerned that reactions will limit themselves to commentaries on the publisher as an entity, rather than its book as a collection of works.
For example -- and in keeping with what we might laughingly call a 'focus' (ha ha) of this column -- there is a pretty interesting trio of manga segments, all of them containing work that has never before been seen in English publishing. What you see above is from doubtlessly the main event: a 20-page selection from the late Yoshihiro Tatsumi's A Drifting Life Part Two. It remains something of a mysterious work; the excerpt is preceded by a short introduction by Chris Oliveros, who tells of Tatsumi showing him roughly 200 pages' worth of "early pencil drafts" in late 2012. From Oliveros' language, it is implied that the artist did apparently finish enough work to form a book, covering "a much broader timeframe, from [Tatsumi's] early days as a Garo artist mainstay right through to the early 2000s and his first meeting with his English-language editor, Adrian Tomine." My god, is the world ready for Adrian Tomine: Manga Character?!
Probably yes, in fact, since what's presented of Still Driftin' (a title I have just invented) proceeds in exactly the same manner as A Drifting Life. Tatsumi (or, "Katsumi", from behind the fictive veil) sits around in 1960 discussing historical events such as a Sputnik launch and the arrival of instant coffee in a stilted and expository manner; some choice book and magazine covers are drawn in from photo or live reference, and then bad vibes invade from the rapidly shrinking rental manga scene. Detailed city drawings dwarf their soft-looking human denizens. If you were mixed on A Drifting Life -- its burbling pace, its fondness for indelicate scene-setting factoids and the necessary limitations of its first-person historical recollection -- I doubt this will sort you out.
I found myself fascinated, though, by its cadence. Some of the eccentricity of the original work can be attributed to its origins as a serial in a bookstore chain's auction catalog - nostalgia and explication were plainly intended as contextual traits. But why, then, does Tatsumi continue in the same way? Perhaps the success of the work convinced him that he'd better continue on the same path; after all, while North Americans only know of A Drifting Life as a big brick, it was released in Japan across two volumes by Seirinkōgeisha. "Part Two", then, is technically the third Japanese volume (if indeed it is being published in Japan), and what mangaka of worth would suddenly change the whole series on vol. 3? This isn't JoJo's Bizarre Adventure. But then, Tatsumi's continued dealings with Seirinkōgeisha are not the most appropriate subject matter for D&Q 25.
I should add that the Tatsumi excerpt is also accompanied by a selection from Adrian Tomine's essay on the artist from way back in The Push Man and Other Stories (2005), as well as a new appreciation from manga translator and Youth in Decline publisher Ryan Sands. The actual translator of the comic, however, is Zack Davisson, who contributes his own remarks elsewhere in the book on Shigeru Mizuki, who is introduced via a biographical sketch by the great scholar and translator Frederik L. Schodt. D&Q has released quite a lot of Mizuki's comics, although a big portion of the D&Q 25 Mizuki section is actually devoted to excerpts from 1992's Yōkai Encyclopedia, which pairs detailed illustrations with Mizuki's descriptions of the creature lore that made him a cultural superstar.
Still, there are comics, poised to offer a rather different view of the artist. Davisson notes that Mizuki is a bit of a Charles Addams, giving "a familiar, melancholy face to the darker side of life." As such, eight pages' worth of 1970 selections are presented from Silent Shock, a feature in the magazine Gendai Manga. Set against sinister, oppressively detailed backgrounds that leave no mistake as to where the likes of Yoshiharu Tsuge got their shit, these wordless stories are extremely grim and bleak, betraying absolutely no spark of empathy for the struggles of humankind. They are also slapstick comedies, incorporating domestic abuse, alcoholism and anime cruelty into their japes - and they're damn good! I realize I'm making it sound like Maakies, but it's all a little closer to André Franquin's Idées Noires, only wordless, and set in the type of uniform horizontal panels that always suggest to me a manga artist with one eye on international distribution. No need to flip the reading order on pages like that. Did Mizuki feel that such dark thoughts would travel better than his wonderful world of yōkai?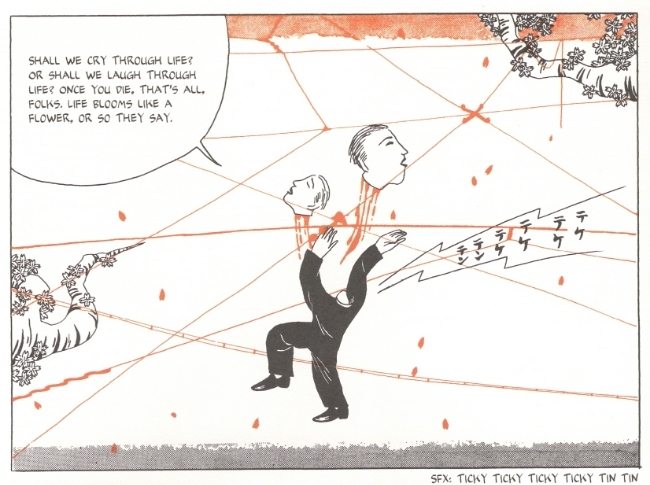 There is much that is not explained in D&Q 25 (though the damn thing is so big I might have just overlooked the answers). For example, all of the Japanese comics read from left to right; were they flipped? Were panels rearranged? The biggest surprise is perhaps the very arrival of Seiichi Hayashi, whose Red Colored Elegy was released by D&Q in 2008. Unlike Mizuki and Tatsumi, Hayashi does not come accompanied by any introduction or appreciation - on one page you're reading a selection from Abouet's & Oubrerie's Aya, and on the next you're suddenly faced with burning Japanese flags and a serpent lady breathing fire and a decapitated man juggling bloody severed heads. The only explanatory note identifies Ryan Holmberg as the translator; there is no mention of the origins of the story, "Street Performer", which (if I am not mistaken) comes from Garo #72 (Feb. '70). Did Hayashi rework the story at all for this new presentation? I don't have an original with which to compare.
Yet if anyone's going to look enigmatic, it'd best be Hayashi - despite having three books of comics released from as many publishers, I still don't think I have an adequate grasp on what this extraordinarily varied talent is all about. Apparently the narration of goings-on at a circus or freak show of some sort, "Street Performer" is like Suehiro Maruo arriving a decade early, complete with a suffering-yet-proud heroine: a mermaid who longs to return to her love in the sea as male onlookers gawk and her parents lament her birth in front of a television barking about progress. Unlike Mizuki (with origins in the itinerant art of kamishibai) or Tatsumi (who read a lot of comics, then started drawing comics, and then read more comics while drawing other comics), Hayashi had some early training in Japanese 'fine' arts, and there's an element of calligraphy to parts of this comic, in which highly decorative characters -- subtitled, so as not to spoil the unity of the page -- muse upon the agony of this damned woman. A few years before, Hayashi had also been studying ukiyo-e, which greatly informed his drawings of women; perhaps he intends to supply a folkloric chassis for a nonetheless rather pop single-like declaration of longing, a hint of traditional graphic appeal to an otherwise fierce display of externalized emotions - Hayashi uses red ink for blood, water, and handwriting, all in exactly the same way.
***
PLEASE NOTE: What follows is not a series of capsule reviews but an annotated selection of items listed by Diamond Comic Distributors for release to comic book retailers in North America on the particular Wednesday identified in the column title above. Be aware that some of these comics may be published by Fantagraphics Books, the entity which also administers the posting of this column. Not every listed item will necessarily arrive at every comic book retailer, in that some items may be delayed and ordered quantities will vary. I have in all likelihood not read any of the comics listed below, in that they are not yet released as of the writing of this column, nor will I necessarily read or purchase every item identified; THIS WEEK IN COMICS! reflects only what I find to be potentially interesting.
***
SPOTLIGHT PICKS!
Borb: The climactic edition of a recent project from Jason Little, who's been most prominent in print with his inquisitive Bee character from the whimsical capers Shutterbug Follies (2002) and Motel Art Improvement Service (2010). In contrast, Borb -- which was published as both a webcomic and a series of print minicomics -- adopts a 1920s daily strip style, pitting the newspaper comics iconography of the hobo against the struggles of actual homelessness. A 96-page, 8.5" x 4" landscape-format hardcover from Uncivilized Books. Samples; $19.95.
Bravo for Adventure: I guess there hasn't been a collection for this available since the Dragon Lady Press edition in the '80s? Man. I see Bravo for Adventure in a slightly different context - as maybe the most purely sleek and entertaining thing to come out of the American b&w comics magazine scene, when it was fully into its counter-mainstream period of the late '70s/early '80s (as opposed to regurgitating fond lumps of EC pre-Code phlegm, as had been much the project of the '60s). But really, writer/artist Alex Toth -- whom I will presume needs no introduction -- just wanted this stuff *published* after its original French market home proved non-viable, and it was The Rook (The fucking Rook!) that made for the most appropriate venue in those days of limitations. For those unfamiliar, Bravo for Adventure is a story of throwback derring-do that constitutes maybe the purest expression of its writer/artist's interests in stout, straightforward adventuresome narrative art, and this 9.5" x 13" IDW hardcover aims to present everything, including pencil roughs, preliminary drawings, additional story fragments and coloring samples across 100 pages; $34.99.
--
PLUS!
The Spectators: Another release from busy Nobrow, this time a 128-page color hardcover from French artist Victor Hussenot. "[A] poetic and philosophical introspection on the nature of man," says the publisher, promising departures from classic narrative structure reminiscent of la Nouvelle Vague. Samples; $22.95.
Verity Fair: Custard Creams & Pink Elephants (&) The Complete Pistolwhip: Two collections here, very different. Verity Fair is a 176-page release from the Borderline Press, bringing together a 2010-14 series by Terry Wiley, veteran of UK small press comics since the 1990s. I read the first three (of six) issues a while back; it's comparable to Love and Rockets in following eccentric women (some of which the artist has been drawing for decades) through comedic, dramatic and fantastic situations, though given a very specifically British sense of place, both through copious dialogue and Wiley's tendency to use photographic backgrounds. Pistolwhip is a series of crime comics from Jason Hall & Matt Kindt, initially published by Top Shelf during a millennial wave of crime-tinged works from comics publishers - indeed, Kindt's present, prolific work in superhero comics matches up with the travels of Brian Michael Bendis and Ed Brubaker from small-press crime books to the popular superhero series of that earlier time. The publisher is now Dark Horse, with a 336-page hardcover intending to collect everything, now entirely in color. Verity samples, Pistolwhip samples; $24.95 (Verity), $27.99 (Pistolwhip).
Nonplayer #2: This is an Image comic book from writer/artist Nate Simpson, a longtime video games industry professional. Issue #1 was released in the spring of 2011, at which time it attracted a volume of excitement and praise unusual for the time, but precognitive of just the flavor of hype that would surround many prominent Image debuts a few years later. The movie rights were optioned; back issue prices soared. And I do mean back issue, singular, as #2 never did arrive, for a variety of reasons eventually outlined by the artist. In a way, then, it was also a bit like the old Image comics - your Wetworks and Hellshock and Deathmate Red. But just as all of those series eventually saw something resembling continuation, so too does Nonplayer #2 finally arrive. It's about life in the real world, and drama in a video game fantasy world, and I can't really say much of anything else because issue #1 was never *actually* much more than scene-setting rendered in a heavy lacquer appropriate for production and concept design; $2.99.
Transformers Vs. G.I. Joe #7 (&) Age of Reptiles: Ancient Egyptians #1 (of 4): Two continuing series here, both very unique. Transformers Vs. G.I. Joe is a Tom Scioli & John Barber licensed comic from IDW, and a veritable goldmine of deeply-felt toy cartoon imagery given near-religious awe and fervor. Age of Reptiles is a long-running Dark Horse series from Ricardo Delgado, mainly comprised of images of dinosaurs romping around, though a narrative through-line is always quite clear. Joe preview, Reptiles preview; $3.99 (each).
Frankenstein: The Mad Science of Dick Briefer: And here's something else from Dark Horse, a 260-page hardcover dedicated to six issues' worth of the mid-'40s humor comics of Briefer, starring a zany variant on the famous monster. Longtime favorite among Golden Age connoisseurs, this. Samples; $49.99.
Drawn and Quarterly: Twenty-Five Years of Contemporary Cartooning, Comics, and Graphic Novels: And finally, your book-on/of-comics of the week, as seen above - a 7" x 9", 776-page hardcover memorial tome released on the occasion of D&Q's big 25th. I have an essay on the works of Kevin Huizenga, though other, more obscure writers also contribute: Margaret Atwood (on Kate Beaton), Jonathan Lethem (on Chester Brown), Lemony Snicket (on Seth), Naomi Fry (on Dan Clowes), Hillary Chute (on Lynda Barry), Ivan Brunetti (on Chris Ware), Aaron Cometbus (on John Porcellino), and many, many, many more, plus new comics by Joe Matt, Huizenga, James Sturm, Beaton, Michael DeForge and others. There's even a list of every D&Q employee and intern, every translator they've retained, a full bibliography, interviews, random appreciations, etc.; $49.95.