Can't you just smell the hairspray? It's 1992, and what you're looking at is a sample from Pixy Junket, the sole English-translated output of the artist "PURE," whom VIZ characterizes as "working in the tradition of Masamune Shirow." Jason Thompson, in his invaluable 2007 The Complete Guide to Manga, goes one step further and identifies PURE as "Shirow's former assistant." I got an email recently asking if I knew whatever happened to PURE; as is typical of my daily interactions with anyone, I was of no help, although I knew that another artist -- Sunao Minakata, of Akuma no Riddle -- also sometimes goes by the name of "Pure," although this younger guy is chasing way more of an anime look, and I've never seen anything beyond probably-accidental database connections linking him to the other guy. But who knows? I'm sure a good set of assistants goes a long way, though the older, purer PURE seems irretrievably planted among the licks of his generation. It occurs to me that this type of inexpert long '80s look was basically what early manga-inspired western comics art was chasing around that time... and, if you've happened to read Shirow's own early Black Magic comics, you know he had a significant inexpert period himself. PURE did some other work in the '90s, including contributions to Comic Gaia, the irregular and short-lived SF anthology Seishinsha launched in 1990 to house Shirow's Orion; having released Pixy Junket ('junket' in the sense of a custard dessert) as both a comic book miniseries (in '93) and a collected book (in '97), VIZ, I presume, had enjoyed its fill.
***
PLEASE NOTE: What follows is not a series of capsule reviews but an annotated selection of items listed by Diamond Comic Distributors for release to comic book retailers in North America on the particular Wednesday identified in the column title above. Be aware that some of these comics may be published by Fantagraphics Books, the entity which also administers the posting of this column. Not every listed item will necessarily arrive at every comic book retailer, in that some items may be delayed and ordered quantities will vary. I have in all likelihood not read any of the comics listed below, in that they are not yet released as of the writing of this column, nor will I necessarily read or purchase every item identified; THIS WEEK IN COMICS! reflects only what I find to be potentially interesting.
***
SPOTLIGHT PICKS!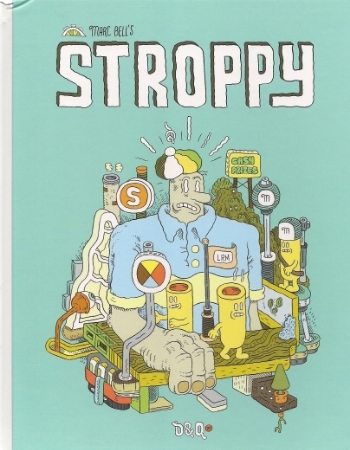 Stroppy: Being a dandy new 8" x 10", 64-page color album by Marc Bell, a very funny and engaging artist who's long worked in self-made comics and solo & collaborative drawings, with one-off books and collections also appearing from Highwater (Shrimpy and Paul and Friends, 2003), Fantagraphics (Worn Tuff Elbow, 2004) and Drawn & Quarterly (Hot Potatoe, 2009; Pure Pajamas, 2011). D&Q is marketing this as Bell's "first full-length graphic novella," one that's built from individually-titled comic strip pages or splashes in the manner of classical newspaper serialization. Themes of day labor and artistic conflict are active, as is Bell's command of a whimsy evocative of rubber hose animation and Elderian chicken fat. Does that make sense to anyone beyond a few dozen people on the planet? It's funny, okay? Samples; $21.95.
Russian Olive to Red King: A 176-page AdHouse hardcover, this 7" x 10.5" package represents the culmination of a long effort by Kathryn & Stuart Immonen, popular talents on superhero comics who've been chipping away at this book in their free time since at least 2010. The solicitation is very mysterious, alluding to a dead lover and humid flashbacks. It has also been described as a dispassionate romance and a ghost story that is not scary. These collaborators are popular enough that you can likely see for yourself at many shops. Preview; $24.95.
--
PLUS!
The Hic & Hoc Illustrated Journal of Humor Vol. 1: The United States: The latest Hic & Hoc release to secure Diamond's distribution to comic book stores via Alternative Comics, this time a 64-page comedic anthology from 2013, edited by Lauren Barnett & (Journal contributor) Nathan Bulmer. A full list of contributors is here; $10.00.
On the Ropes: This is also a re-release of something from 2013, albeit a more typical softcover edition of a hardback original. Writer James Vance first entered comics in the late '80s through Kings in Disguise, a serial graphic novel based on his writing for the stage. It was drawn by Dan E. Burr, who'd contributed to post-underground/tangential-mainstream anthologies like Death Rattle and Tales of Terror. This 256-page original graphic novel is the sequel to Kings in Disguise, based on an earlier Vance play, and again drawn by Burr. It's a human drama set in the late 1930s, involving escapist art and labor unrest. W.W. Norton is the publisher. Tom Spurgeon interviewed Vance in '13; $17.95.
The Kurosagi Corpse Delivery Service Vol. 14 (&) Alice in Murderland Vol. 1: Two manga here to bring back daydreams of earlier times. For example, Horror-comedy Kurosagi might remind one of 2006, which is when Dark Horse's translation effort began. Eiji Ōtsuka writes and Housui Yamazaki draws; it's up to vol. 20 in Japan, and Dark Horse will soon be launching a line of omnibus collections to make the earlier English editions more readily accessible. Alice in Murderland, meanwhile, is the new series from Kaori Yuki, a shōjo specialist who became very popular in the '90s for goth fantasies like Angel Sanctuary and The Cain Saga, which VIZ released through much the '00s manga boom. Yen Press has taken on more recent translations, and so it goes here for this fantasy riff. Kurosagi preview; $12.99 (Kurosagi), $17.00 (Alice).
Dinosaurs: Biggest Battles in 3-D: There's some continuing French comics series this week from Titan (The Chimera Brigade) and Cinebook (SAM and The Survivors), but are any of those in EXCITING 3-D? This 32-page kids' album (2013) from writer Arnaud Plumeri and artist "Bloz" sure is, so Papercutz is offering an 8.5" x 11" English-language hardcover, glasses included. It's exactly like seeing Jurassic World in every conceivable way; $14.99.
Superman #41: In case you were wondering, this is the start of Gene Luen Yang's run as writer for the most venerable of superhero characters. Penciled by John Romita Jr., inked by Klaus Janson, colored by Dean White. Preview; $3.99.
Don Rosa's The Life and Times of Scrooge McDuck - Artist's Edition Vol. 1 (of 3): Finally, your extravagant reprint of the week, in which IDW teams with Disney and Rosa for 160 pages' worth of scans from the artist's much-loved biography of the famous duck character. A 14" x 20" hardcover; $125.00.