When I was but a teen, there were three avenues by which I found myself exposed to the wide world of small press comics. One was the "Palmer's Picks" column in Wizard, which served as a useful enough 101 course in the early years of that slimy-slick mag. Another was the back covers of Shadowhawk, upon which Jim Valentino would take a break from delineating crime's maiming to promote much of the '90s self-publishing movement and other treats aside. And the third was the Kitchen Sink catalog, which raised a lot of interesting questions relating to Robert Crumb and Cherry Poptart; I got it by calling a number in the front of Kitchen Sink's collected edition of James O'Barr's The Crow, and nobody especially cared that I sounded 14.
I really liked The Crow. It is, of course, overwrought, and even as a young kid I could tell that some of the drawings were pretty bad, but all of that just pulled me closer. It was committed, and romantic, and there were some naked breasts and a whole lot of violence, and really it wasn't *that* far away from Shadowhawk, all things considered. I know I wasn't alone. A lot of teens of the immediately succeeding generation latched on to Jhonen Vasquez and Johnny the Homicidal Maniac in much the same way; maybe there's something like that for every bunch.
But, I've been looking through some O'Barr stuff lately (because I'd remembered Judge Dredd co-creator John Wagner had written some later sequels to The Crow, and I'd wondered how someone sardonic like him would approach such ripely humorless material) (A: not well), and this led me to reading through the first and only edition of Bone Saw, an item I'd become well acquainted with in those old catalogs from so many years ago, as Kitchen Sink had acquired the holdings of Tundra, the legendary money machine which, in 1992, had released an anthology of experimental prose, poetry and comics edited by O'Barr and John Bergin, the latter of the Tundra-published allegorical horror graphic novel From Inside (which its author, in 2008, adapted into an animated feature film; a new version with a score by Gary Numan is purportedly coming soon).
And inside Bone Saw, as a special color feature on special glossy paper, was 26 comics-format pages of Slave Cylinder.
Loaded with talking animals, bright hues, bad jokes, goofy asides and a general sense of half-action-comics-half-post-underground play, Slave Cylinder seems out of place among the doomy, drug-tinged horror content of much of Bone Saw -- and probably many readers' expectations of what James O'Barr was liable to offer -- but now it seems weirdly prescient; I could see Image publishing it today among its more loose-limbed offerings, plugging it in the back of Multiple Warheads. Adapted from a short story by one Jeff Holland (also included in its entirety, "so's you can all see how O'Barr butchered it," the comic finds a spiky-haired wastrel and his AI automated Plymouth Road Runner menaced by comparatively wily coyotes in a vast desert sprawl which connects seemingly all the world via highways.
In an Official Disclaimer, O'Barr theorizes a common bloodline between the rapid gags and violence of Warner Bros. cartoons and the frenetic sensory information rush of cyberpunk literature; in execution, his comic becomes a huge chase scene, and a showcase for some yeoman's work coloring by Carolyn Bergin, whom I believe contributed some art to the aforementioned From Inside, and not many other comics of which I'm aware. Nonetheless, she does a good job of suggesting (at least) the texture of filmic animation, which is not a sensation typically associated with O'Barr's drawing.
Still, unique as the effort is, Slave Cylinder runs into its line artist's limitations. There is very little sense of speed or imminence as the coyote in the first page above approaches the sharp curve, and the perspective on the following panels doesn't convey much in the way of height. Judging by the positioning of the vehicle in the last two panels of the first page, the Road Runner can't be moving all that fast itself, and a solid three to five seconds of dialogue occurs before it nonetheless SKREEEEches in avoidance of... the same turn? Another, heretofore unseen cliff? The "Abrupt Halt" caption in panel two of the second page becomes a little too funny, because it really is necessary to convey what's happening to the ejected protagonist, and in a comic otherwise straightforwardly pursuing extended chase scene thrills these admissions are damning.
I'd have liked to see O'Barr pursue these interests further; these aren't incurable ills. But even by '92 he was beginning to withdraw from comic interiors. Like another Image founder, Todd McFarlane, he puts out illustrations sometimes, but mostly remains behind the continuing propagation of his famous supernatural concept, now with IDW. And a number of paintings for a tablet comic, to remain hovering in the App Store, for a later and wizened generation to discover on their own.
***
PLEASE NOTE: What follows is not a series of capsule reviews but an annotated selection of items listed by Diamond Comic Distributors for release to comic book retailers in North America on the particular Wednesday identified in the column title above. Be aware that some of these comics may be published by Fantagraphics Books, the entity which also administers the posting of this column. Not every listed item will necessarily arrive at every comic book retailer, in that some items may be delayed and ordered quantities will vary. I have in all likelihood not read any of the comics listed below, in that they are not yet released as of the writing of this column, nor will I necessarily read or purchase every item identified; THIS WEEK IN COMICS! reflects only what I find to be potentially interesting.
***
SPOTLIGHT PICKS!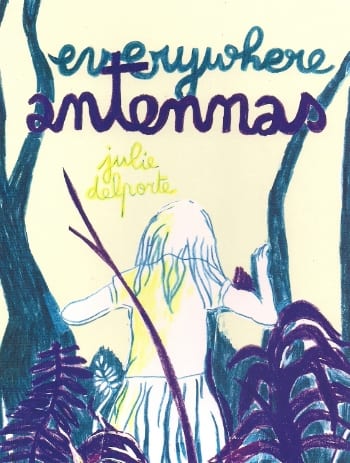 Everywhere Antennas: Being the newest release from French-born, Quebec-based Julie Delporte, who rose to wider attention just last year through Koyama Press' release of her autobiographical Journal; she is immediately recognizable for her use of colored lines, both searing and gentle, and the airy cohabitation of her pictures and (often free-floating) text. Unlike Journal, however, this Drawn and Quarterly softcover release is diaristic fiction, a sometimes visibly taped-together scrapbook relating to a woman's growing holistic intolerance to the urbanity's informational tide. In color and b&w, 112 pages, unlike anything surrounding it. Preview; $19.95.
Final Incal: And moving from the new generation to accomplished veterans of storied franchises, here is a package which might attract as many eyes for its notional bonus content as anything else. You see, back in 2000, Alejandro Jodorowsky reunited with the artist Moebius to fashion a point of termination for the spinal center of the multi-series sprawl (see also: The Metabarons, The Technopriests) that originated with their early '80s collaboration on The Incal. However, only one album of Après l'Incal was ever released; Jodorowsky himself has noted dissatisfaction with Moebius' contribution as a cause. A few years later, in the midst of Les Humanoïdes' attempt to fashion a cosmopolitan revival of Métal Hurlant, Jodorowsky made the acquaintance of José Ladrönn, Mexican-born artist of numerous Marvel/DC superhero works and the Image series Hip Flask (later Elephantmen). It was those two, beginning in 2008, who ultimately completed the three volumes of what would be known as Final Incal.
Now the completed work comes to English via Humanoids, with the earlier, aborted Moebius album included in a 216-page package, and while I don't know of a single soul alive on the face of the Earth who counts Après l'Incal among Moebius' better efforts, it is nonetheless of some historical interest, both simply as a translated example of the artist's commercial work from the millennial period (I won't hold my breath for Mister Blueberry or Sra), and particularly -- for dorks like me -- in that it's a direct collaboration with the same group of colorists, led by Fred Beltran, who attempted an ill-considered 'modern' re-coloring of Moebius' *original* The Incal around the same time. As for Final Incal, Jodorowsky deems it a testament to love in the midst of humanity's decline, and I can't imagine Ladrönn won't demonstrate his prodigious aptitude for scope. Be aware that the only print editions available right now are "Deluxe" versions, one a 9.4" x 12.6" slipcased edition, and the other a 12" x 16" slipcased package with a signed bookplate and loose illustrations. A considerably less-expensive digital edition is also available in three parts, with the Moebius stuff available separately. Samples; $99.95 (deluxe), $590.00 (hella deluxe), $5.95 (per digital album).
--
PLUS!
Phantoms of the Louvre: Well holy shit, it must be 1988 'cause we've got book releases by Moebius and Enki Bilal this week. Specifically, it's another Louvre Éditions co-production in which international cartoonists make books about the famous museum, this time a 2012 album finding Bilal augmenting photographs of famous works with his own illustrations of ghosts in the halls, their stories told via accompanying text. Added to the drips of Animal'z running in Heavy Metal, you might be forgiven for imagining the dam might burst again. An NBM release, 144 pages at 9" x 11.5". Samples; $29.99.
Amerika: AHHHH, IT'S THE RED KETCHUP GUY FUCK FUCK calm down, okay. If Québécois artist Réal Godbout is known at all to English-only readers, it's as the artist and co-writer (with Pierre Fournier) behind Red Ketchup, a floridly antic ligne claire parody of two-fisted sovereign action which delighted French-capable Canadians for much of the '80s and '90s. But Godbout has been active since 1970, and played a prominent role in energizing his comics scene; there's more to him out there, and now Conundrum brings an English edition of a 2013 Kafka adaptation, primed to demonstrate "a dynamic and colourful story, with a touch of absurdist humor." It's a 7.5" x 10" softcover, 184 b&w pages. Samples en français; $20.00.
Spain & Morocco: Also from Conundrum this week is a super pretty-looking hardcover from Alex Fellows, whose Blank Slate webcomic used to run on the Fantagraphics site. This is a newer online endeavor, begun in '09, tracking the adventures of friends looking for excitement and purpose in foreign lands. It's 11" x 8" in landscape format, 176 color pages. Official site; $25.00.
Petty Theft: Quebec again! If we don't do something, they'll take the place over! I shall petition the President of Comics for a sweeping executive order forthwith, but while it is pending we might as well enjoy the newest from Pascal Girard, a light comedy about an author ("Pascal") smarting from a recent breakup and also acute physical pain, who observes a woman stealing one of his books from a store and humorous complications thus arise. A 104-page Drawn and Quarterly softcover. Preview; $19.95.
The Amateurs: And here is Fantagraphics, with the bookshelf-format debut for Conor Stechschulte, an artist affiliated with the old Closed Caption Comics group. That means he's released some minicomics and self-published items, which is where this 64-page work had its origins back in '11, though significant revisions have now been made. The plot concerns "a pair of butchers who arrive at work one morning to find not only that there is no meat in their shop but also that they have forgotten completely how to do their job," and there is also a severed head which can talk. In softcover, 6" x 9". Preview; $14.99.
Brass Sun #1 (of 6): Say, didn't I just mention I. N. J. Culbard last week? He's a busy man. This is his ongoing serial in 2000 AD with veteran writer Ian Edginton, which Rebellion itself is now reformatting as a comic book series for added exposure to international readers of such things. Brass Sun is a pretty odd project, its kids-struggling-against-societal-oppression/discovering-cool-secrets scenario reading for the most part like children's fantasy a la The Phoenix, save for unexpected burbles of Tharg-approved bloody violence... which actually might make it all the more YA-capable, now that I stop and think. Regardless, it's accomplished stuff, and the qualities which make it stand out alongside Judge Dredd might well render it unique on the new releases shelf as well. Preview; $3.99.
Elephantmen #57: Speaking of! Unless there are brutal gaffes in the solicitation I've read, this issue should feature a co-writing turn by Marian Churchland (of 2009's well-regarded Beast) and art by Marley Zarcone; $3.99.
Attack on Titan - Colossal Edition Vol. 1: This is a pretty big comic, and now that the anime version is airing on Adult Swim, it's only gonna get bigger. In the spirit of bigness, Kodansha here offers the first five volumes (or, the first 944 pages) of Hajime Isayama's original, very rough-looking manga at its original magazine serialization size of 7" x 10.5", with bonus color pages. Put it next to your favorite Walking Dead Compendium and urge them to mate; $59.99.
Eerie Archives Vol. 16: Dark Horse pressing forward into a very deep library of Warren magazines. These are issues #75-80, in which Bruce Jones & Richard Corben offer a pair of dinosaur and nudity-laden time-travel stories and Jim Starlin begins a serial as writer/artist. With José Ortiz, Esteban Maroto, Carmine Infantino, Leopold Sánchez and others. Samples; $49.99.
Harold Gray's Little Orphan Annie Vol. 10: The Junior Commandos: IDW too is still pounding away, with 296 pages coming from deep in WWII, 1941-1943; $49.99.
The Art of Neil Gaiman: A Visual Biography: And finally, your book-on-comics-and-other-things of the week, in which Journal contributor Hayley Campbell puts together an assemblage of excerpts, artifacts and commentaries relating to the career of the famous writer of stories, I think by hiding in his attic; I've only skimmed this interview, which my interns promise is explanatory. An 8" x 10" color hardcover, 320 pages. Note that this is presumably the HarperCollins North American release, and not the Ilex UK edition due in the coming summer; $39.99.