So, what happened was, I'd backed a bunch of Kickstarter campaigns Digital Manga Publishing had been running for Osamu Tezuka books. Barbara, Unico, Atomcat - you know. And, I guess I hadn't paid very close attention to which sort of Kickstarter rewards I'd be getting besides my copy of each book, because before I knew it I'd racked up $40.00 in free stuff from eManga, DMP's digital manga service, which is a bit like the recently-shuttered JManga, except they let you download whatever you buy.
Also: it's mostly smut.
Mostly yaoi smut, mind you, i.e. comics about dudes getting it on for the pleasure of a female audience, but I did notice a handful of guy-targeted releases, and I figured "whatever, I just wrote about smut last week, but it's not like I know a hell of a lot about the contemporary Japanese sex comics scene... maybe some thrilling and educational surprises await?"
Quivering, I threw down my fake money and elected the CBZ format; eManga charges an extra dollar for every format you elect after the first, which I took as promoting responsible adult choices among their readership.
The first thing you notice at eManga is that digital smut is *expensive* - my 202-page edition of Chihiro Harumi's Velvet Kiss vol. 1 (of 4) ran $12.95 in fake money. Moreover, I can't say the CBZ file (which is basically just JPEGs in a zip archive) was of especially high quality, weighing in at a low, low 18.1 MB. None of that really mattered, however, because soon I'd become amazed at the level of... exchange between Japanese artists working for different demographics.
I'd picked Velvet Kiss because I'd heard it mentioned around the internet a few times as a good newer (2009-12) series. I now realize it'd probably gotten itself recommended because it's very much like a lot of other comics. Specifically, its premise -- luckless salaryman falls mysteriously into debt and even-more-mysteriously must 'fake' a friends-with-benefits-ship with a lovely young woman -- is remarkably similar to that of one of the series running right now in Weekly Shonen Jump(!!), Naoshi Komi's Nisekoi: False Love, a painfully boring thing about high schoolers from rival crime families who must pretend to be BF/GF and totally, *gasp*, start to develop feelings for real.
So it goes too with the earlier Velvet Kiss, which even sports a similarly distant, corporate raider-type maternal figure looming over the heroine. There's not nearly so many peripheral characters and dopey subplots, of course, since artist Harumi is apparently required to supply xx pages of mostly-explicit fucking per serialized chapter -- the series ran in Vitaman, which is a monthly seinen anthology known to blur the line between 'mature readers' serials and flat-out porn -- but even the visual style, pleasing anime-ready stuff that it is, screams for a certain wider nerd appreciation in the matter that erotic computer games can scrub away their sex scenes and find themselves adapted into niche television cartoons.
Even the rightmost panel above, the full-body drawing of the heroine: total girls' pop comic trick, meant to enable the reader's appreciation of the artist's fashion designs. This is a romantic comedy/drama after all, which is less of a gendered thing in Japan - boys, girls, men and women alike can all enjoy, which promotes a certain uniformity of approach in trying to lay down the most contemporary audience-pleasing take on the stuff.
Me, I prefer something different.
YES, this is more like it! I can't say the excellently sleazy-sounding Tokyo Prep Dorm: Study Hard! is a masterwork of originality or anything - quite the opposite, in fact, since artist Kaoru Hazuki, a 20-year (at minimum!) vet of the ecchi/hentai scene is working in a style derived primarily from '80s crime mangaka supreme Tsukasa Hojo, of City Hunter and Cat's Eye. Dude is old school, which highlights a potential joy of smut that goes beyond the surface pleasures of a young college hopeful enrolling at the august "Swallow Villa" to study for his (*sigh*) entrance exams: the endurance of a genuinely obsolete visual paradigm. This is a comic that was released in 2001, and looks like it could be two decades older, which is a rare and precious thing in our present-obsessed manga translation sphere of today.
Glancing at the legal text, all became delightfully clear. This is a proud production of Leed Publishing Co., LTD, the company established by Golgo 13 creator Takao Saito to keep his dream of top-down gekiga dictation alive and thriving. Leed was also involved in JManga, pumping out volume after volume of Saito's various rotgut projects from across four decades; in fact, they were among the first Japanese publishers to take a direct role in North American manga releases, having translated four books' worth of G13 material in the early '80s, in quite a deluxe, self-indulgent format. Nobody's going to mistake Leed for an industry leader in any sense, but it's wonderful to see them popping up for seemingly every new manifestation of manga's availability in English, always with something a little less reputable than the norm to offer.
It's not ideal, but it's worth an expenditure of free, fake money. Like Saito himself, I did it all in Tezuka's shadow.
***
PLEASE NOTE: What follows is not a series of capsule reviews but an annotated selection of items listed by Diamond Comic Distributors for release to comic book retailers in North America on the particular Wednesday, or, in the event of a holiday or occurrence necessitating the close of UPS in a manner that would impact deliveries, Thursday, identified in the column title above. Not every listed item will necessarily arrive at every comic book retailer, in that some items may be delayed and ordered quantities will vary. I have in all likelihood not read any of the comics listed below, in that they are not yet released as of the writing of this column, nor will I necessarily read or purchase every item identified; THIS WEEK IN COMICS! reflects only what I find to be potentially interesting.
***
SPOTLIGHT PICKS!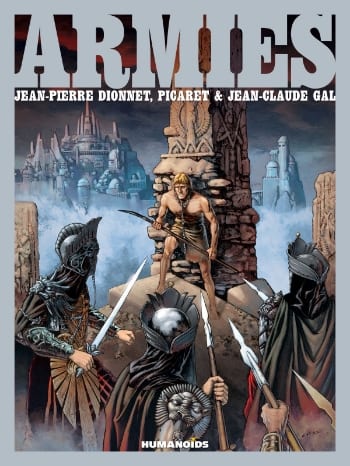 Armies: Aah, lots of history here. You see, way back in the Year of Our Lord Nineteen Hundred and Seventy Eight, Heavy Metal magazine (which had just launched the year prior) had begun playing around with the idea of releasing compilations of material in a format worthy of the great American bookshelf. Among the first offerings was Conquering Armies, a collection of short comics that had appeared in the earliest issues of the magazine, having been translated from their original appearances in the earliest issues of Métal Hurlant back in 1975. The writer was Jean-Pierre Dionnet -- Métal Hurlant's EiC and a co-founder of publisher Les Humanoïdes Associés -- and the artist was Jean-Claude Gal, a prodigiously talented art teacher and comics fan who'd only begun contributing professionally to BD a few years prior. The stories they created were ominous yet booming, setting hapless agents of dominant martial forces against towering natural and man-made structures, prefiguring the doom of their ambitions -- and *all* ambitions are ultimately doomed -- in Gal's obsessive rendering, the kind of art that leaves nothing unseen, yet retains a fabulous compositional balance. Not many recall the book, though British writer Pat Mills has cited it as a key influence on the 2000 AD serial Sláine, and it has endured as one of the secret second-hand treasures of Eurocomics in English.
AND NOW IT'S BACK, in a new, expanded edition from Humanoids, which is to say the publisher has paired it up with a later Dionnet/Gal series -- the Arn saga, co-written in part by "Picaret," who is best known as Jacques Tardi's writer on the early Métal Hurlant/Heavy Metal serial Polonius -- in a 9.5" x 12.5" hardcover, running 184 color pages. Note 'color,' as the material included is Les Humanoïdes' 21st century colorization of the original b&w art by American comics mainstay Dan Brown. I think the Arn stuff adds a lot to the package, as it sees the creators working in a more straightforward Conan/Sláine barbarian fantasy comics register, while preserving the doomy heart of the earlier stories' philosophy; truly this is the midpoint between the foundational visions of Moebius/Druillet and the latter received wisdom on what "Heavy Metal" comics looked like. Superb genre stuff, with an extensive introduction by Dionnet, and an appreciation by the aforementioned Pat Mills. Samples; $34.95.
Letting It Go: Being the new Miriam Katin release from Drawn and Quarterly; you will remember, of course, 2006's We Are on Our Own, the Hungarian-born animation designer & children's book illustrator's longform comics debut, a memoir with WWII experiences at its center. Now we see Katin visiting Berlin as an adult, navigating her own war-born qualms over life in a changing world. Certainly the best in autobiographical comics for the week, with a lovely, radiant sense of color. It's 160 pages, presented in a 7" x 9" hardcover. Preview; $24.95.
--
PLUS!
Benjamin Bear in Bright Ideas: Holy fucking shit, people really like Benjamin Bear. I mean, there is serious, grassroots SCENE SUPPORT for this Philippe Coudray creation, built around uniquely intuitive one-page gags meant to inspire logical thought in les enfants. At least 380 pages' worth of stuff is available in French, but this particular tome -- a 6" x 9" hardcover, with 32 color pages -- marks Toon Books' second outing in translation, following 2011's Benjamin Bear in Fuzzy Thinking. There is no reason to expect quality to flag. Video preview; $12.95.
Snow Angel: I was wondering when Dark Horse would get to this! One of the treats of the publisher's early relaunch issues of Dark Horse Presents was a short series of whimsical adventures by the great David Chelsea, concerning a little girl who can become a flying angel upon making the right patterns in the snow. This is a 32-page color comic book collecting those shorts, with a new piece included too. Preview; $3.50.
Recounting Streets: Can't say I know a lot about Spanish illustrator Juan Berrio, but he's got a nice, smooth cartoon line -- almost ligne claire, in fact -- and I've never noticed a collection of his comics getting itself published in North America before, so why not flip through this 200-page, 6.5" x 6.5" color square from KettleDrummer Books, comprised of "visual puns and fanciful humor" set in the city? Scroll down for a preview; $24.95.
Über #0: It's been a little while since Phonogram writer Kieron Gillen has started a new creator-owned series -- since Phonogram 2 ended, I think -- so here is your new superhero concept for 4/3, an Avatar-published ongoing series about a super-soldier arms race gumming up the resolution to WWII. Art by one Caanan White. Avatar looks to be going back to the '90s with their numbering, since "issue #0" here is pretty clearly supposed to be issue #1 (rather than a sneak peek), even running to an extended, introductory length. Preview; $3.99.
Mobile Suit Gundam: The Origin Vol. 1: Activation: And here comes your manga choice, a deluxe 456-page Vertical hardcover kicking off a new translation effort for this 2001-11 anime tie-in comic by Yoshikazu Yasuhiko, notable because Gundam is a foundational late '70s giant robot show, and Yasuhiko -- an accomplished manga artist of such Studio Proteus/Dark Horse gems as The Venus Wars and Rebel Sword -- was its original character designer. Here he begins an expansive re-telling of the original story, which, if the Vertical releases track the larger Japanese editions, should run to 11 volumes, though I'm not sure exactly how it'll all pan out. Glad to have Yasuhiko back in English; he can put together some exemplary action/chase scenes. With an essay by Neon Genesis Evangelion creator Hideaki Anno, one of many beneficiaries of the Gundam legacy; $29.95.
Battle Angel Alita: Last Order Omnibus Vol. 1: Also in big fat manga is this new Kodansha packaging of pretty girl cyborg violence comics by Yukito Kishiro, 672 pages' worth of stuff, collecting the first three volumes of the titular series with some apparently heretofore untranslated material. Last Order is a still-ongoing sequel to an earlier, 1990s Battle Angel Alita series, so know that you're not actually starting at the top here; $19.99.
Slam Dunk Vol. 27 (of 31): And hell, why not bring up a new Takehiko Inoue release from Viz? We're actually running low on material, now that the sports manga superstar's (and non-porno Tsukasa Hojo protégé's) famous basketball series is nearing its English-translated end; $9.99.
Godzilla: The Half-Century War #5 (of 5): Not 'nearing,' but right smack at its end is this popular James Stokoe take on another towering Japanese media property, as survivors of the atomic lizard's 1950s debut face the state of the 21st century with amazed trepidation. Preview; $3.99.
Glory #34: Less obviously ending (at least from the numbering) but also worth noting is one of the very high-profile Rob Liefeld Extreme Studios re-launches from 2012. This was the Joe Keatinge/Ross Campbell take on a superheroine battler, a series which I'll confess didn't hold my interest for very long, though Campbell's art went to some valuable and confrontational places in its depictions of the war-worthy female form in action. It started at issue #23, so that's 12 issues in sum; $3.99.
Are You My Mother?: A Comic Drama: Finally, I'll draw some attention to this new paperback edition of Alison Bechdel's 2012 follow-up to her massively influential Fun Home, because it's always worth noting that Fun Home's influence was largely on genre and marketing. Few subsequent comic book memoirs, however, have actually chased after the dense, literary patchwork Bechdel created -- she's a bit of an Alan Moore on the scene, having drawn her own Watchmen -- a situation thrown into only sharper relief by this quintessential 'difficult second album,' a tough, demanding blend of autobiography, auto-critique and self-analysis, well worth a second look if you passed it up; $15.95.
--
CONFLICT OF INTEREST RESERVOIR: Very strong week on the Fantagraphics front, kicking off with a most interesting Eurocomics release in The Adventures of Jodelle, a swingin' '66 special from Guy Peellaert, here presented in a 10.25" x 13.25" 164-page hardcover edition, approximately half the space of which is devoted to retelling the history of this experiment in spy fiction and Pop Art; $45.00. Next, Gilbert Hernandez collects and completes a serial from a few years back with Julio's Day, an account of 100 years of life in 100 pages; $19.99. AND THEN Charles Schulz faces down the end of the Reagan era with The Complete Peanuts Vol. 19: 1987-1988, introduced here by Mr. Garry Trudeau; $28.99.