I recently had the good fortune to obtain the initial three volumes of Kramers Ergot from Secret Headquarters; these are the books put out before the giant blue brick of 2003 that commonly demarcates the 'start' of the anthology's influence as an art comics agenda-setter, comics so elusive that the closest I'd previously gotten to even one of them was holding a copy of #2 at a comics show for three seconds before an exhibitor yanked it out of my hands and told me it was reserved. I think there's a certain mystery surrounding these early works, released annually from 2000 onwards via editor Sammy Harkham's own Avodah, Inc. (later Avodah Books); Harkham was still a teenager during the composition of some of these pages, representing the earliest comics of his accessible to the public.
A brief tour is in order.
I use the term 'his' deliberately, because the first thing you realize about the initial two issues of Kramers Ergot -- 48-page b&w comic books both -- is that they function as almost your classic Eightball-type artist's own showcase series, a two-part Crickets #0, albeit with an unusually large number of guest artists. Still, Harkham draws over half of issue #1 -- strongly evoking Al Columbia circa The Biologic Show in an opening short -- and maintains a continuing serial, Where the Sun Still Shines, into issue #2, employing only two wide panels per page, allowing for some alternation between images of characters standing centered in their surroundings and grim, inky close-ups of ominous details, or sometimes simple juxtapositions of white-heavy areas of character activity with a dread recurrence of environment, as seen above. Some of Harkham's zooms on dishes and furniture are effective as near-abstract images, though it all serves as a fairly obvious counterpoint to the guileless nature of the story's protagonist, a man pining after a woman who left and thereby unaware of the danger surrounding him - a story later in the issue, adapting an old tale about a bumpkin who needs to be pulled away from the path of a steam engine he doesn't process as dangerous seems indicative of the theme.
Issue #2's chapter functions in the same format, but with a twofold shift: Harkham is both much better at juxtaposition in terms of sheer impact, and much less interested in plot than evocative image-making. Only seven word balloons are seen in twenty-one pages, yet everything established in issue #1 is expanded and resolved through a system of non-chronological flashbacks that suggest the interrelationships among characters, if not to any inspiring end; this is juvenilia, basically, pining for love and acceptance as a shimmering exit from the horror movie of life, its striking moments undercut by the thin paper on which they are printed, an error eradicated by Kramers Ergot 4's lavish production. Irresistible metaphor, that.
The first two issues also bear a near-identical lineup, with only Luke Quigley continuing into Kramers Ergot 3. Columbia's influence seems even stronger on Quigley -- beyond the weirded-out Fleischer Bros. character designs, he even adopts a foggy animation cel style for the inside cover of issue #2 -- though he mainly comes off as something of a sponge, with the above image from issue #1 looking very Chris Ware diagrammatic, to say nothing of the smooth look of the fellow holding the balloons. By issue #2 Quigley settles into a groove of archly detached presentations of dirty jokes, one of them set up as a dialectic between the obscure anality of academic 'fine' art and the boorish vulgarity of ball sack comedy; such fretting over comics' place between the gallery and the gagland toilet seems alt-comics to the hilt, almost a throwback, or a recapitulation, certainly far away from a puckish Johnny Ryan cordoning off a special area in his Kramers Ergot 7 piece for the reader to literally measure his dick with the costly oversized item, or Joe Grillo lighting folks' eyes on fire with the frenzied marks of the seminal vol. 4.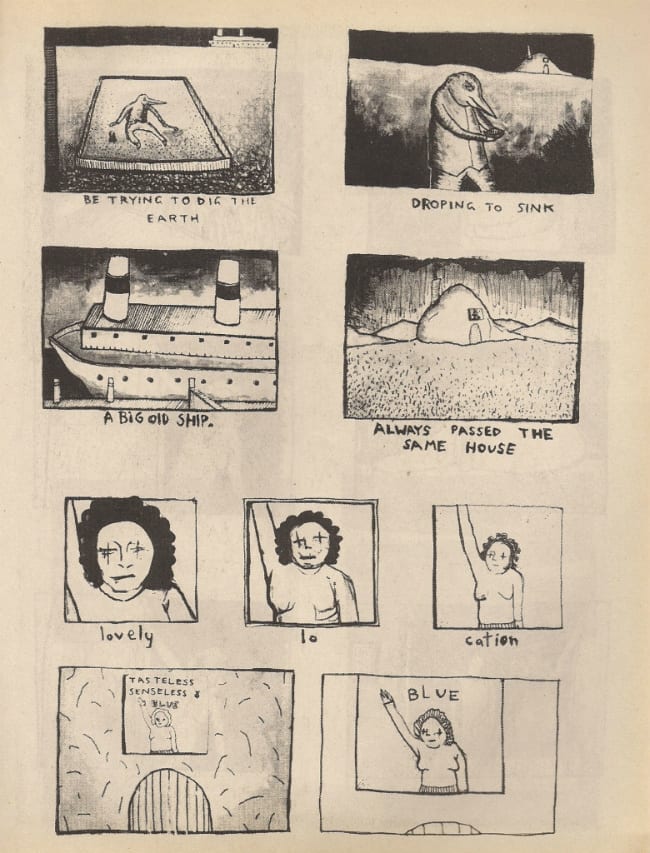 More interesting to me is the work of David Brook, about whom I know absolutely nothing; I don't have the slightest idea if he ever published another comic outside the works seen in issues #1 and 2. Nonetheless, they represent a fully-formed approach, adopting a self-conscious form of panelization that isolates frames in white space and tightly captures faces or objects, like stamps collected in a book. Captions are presented below some frames, apportioned so that they can be read as descriptions and bits of a story, their comparable unity suggesting something improvised to make sense of disparate images, though I suspect that effect is a result of some deliberation rather than genuine improvisation: see how the description stretches over a phrase as tier three above (from issue #1) performs a movie-like pan.
And here's the last we see of Brook, having boiled his style down to dozens of stamped images, free of words and any suggestion of animation or traditionally narrative cinematographic influence; 'motion' occurs through alternations or variations, like in frames from a structuralist film, though this could be less an exploration than an endpoint.
In contrast, the most traditional narratives in the early issues come from Justin Howe, now a blogger and a writer of prose fiction. His art, while loose, is cuter than any of the other contributors, and his stories -- setting up comedic scenarios as forums for light personal angst over identity and belonging -- seem maybe tonally simpatico with Top Shelf's wares of the period. Yet his use of horror images -- werewolves and ghouls and scary doll girls -- reinforces the positioning of the early Kramers Ergot as horror comics, or at least comics dealing with horror as a force, or as a system of understanding the mess of life.
But if Howe was loose, Dan Longfellow -- who only appeared in issue #2 -- was far looser. Again, the comic's production values get in the way, but we can still see how 'traditional' cartooning gives way to a delight in curls and motion; if this is the same Dan(iel) Longfellow, he'd have just been finishing his Master's in experimental animation at CalArts at the time, and his contribution, while small, would provide the first two issues' best anticipation of where the series would soon be going.
Kramers Ergot 3 marked the first of the series' expansions in size; it was 128 pages, with 13 contributing artists, some of which, like Sara Varon and Zack Soto, I'd not realized were part of Kramers. Easily the most confident and memorable piece in the book comes from Hans Rickheit, whipping up a 14-page Chrome Fetus short that clicks nicely with Harkham's contributions to the prior two issues in its blackened mystery images. There's also some funny Anders Nilsen stuff, but the real message from next year comes from the aforementioned Grillo and Ben Jones, proving above that they were into ponies way before the current craze, and issuing a final warning that Kramers Ergot 4 would require a second exponential expansion, something into color, something big enough to accommodate the tactility of their pasted-up collage, to emphasize the texture of marks, of papers, of the creation act. Ironically, these 'rougher' pieces would need a higher quality showcase to reproduce their handmade status, a state shared by the works of the former Fort Thunder, which had only closed down the year before.
For Harkham, vol. 3 represents a pull-back of sorts, seeing him work in six panel grids with a greater variety of perspectives. He is still playing with the disparity between a goofy oaf's happy nature and the darkness of the world, but you can sense more control. Kramers Ergot 4 would become known for its non-narrative segments, but Harkham's own Poor Sailor would represent a separate and startling step forward in his own aesthetic, a new maturity in pacing, framing and theme, though there would still be love, and horror. Love and horror stretching well into the exploitation movie setting of his best work so far, Crickets #3's Blood of the Virgin, and the grand guignol of his contribution to the new Kramers Ergot 8, which in its reduced size and tightened lineup and renewed focus on despair and ruination can be taken, in this widened context, as a more extensive return to the series' roots than heretofore believed.
***
PLEASE NOTE: What follows is not a series of capsule reviews but an annotated selection of items listed by Diamond Comic Distributors for release to comic book retailers in North America on the particular Wednesday, or, in the event of a holiday or occurrence necessitating the close of UPS in a manner that would impact deliveries, Thursday, identified in the column title above. Not every listed item will necessarily arrive at every comic book retailer, in that some items may be delayed and ordered quantities will vary. I have in all likelihood not read any of the comics listed below, in that they are not yet released as of the writing of this column, nor will I necessarily read or purchase every item identified; THIS WEEK IN COMICS! reflects only what I find to be potentially interesting.
***
SPOTLIGHT PICKS!
Orc Stain #7: It's been a while, but the recent focusing of attention on Image Comics makes this a fitting time indeed for the return of James Stokoe's particular brand of aplomb. It may be on the Shaolin Cowboy schedule, but hey - that thing's coming back this year too. Preview; $2.99.
Breathe Deeply: I know almost nothing about this 472-page release from the amusingly named One Peace Books (yes, I know the solicitation says 172 pages, but reviews indicate otherwise), but given the sharp contraction of the manga scene I'm willing take that as a plus; sometimes these Spotlight Picks(!) are about flailing toward mysteries, pressing a cover image onto your head to spark some slight recognition should you pass the real deal in a store, making you pause and think "hey, that's the one comic that guy from the internet didn't know anything about after I scrolled past all those pictures. I think it was Tim Hodler." Nonetheless, I do know it's a 2010 medical thriller from "Yamaaki Doton" (a spousal collaboration under a collective pen name), and it concerns stem cell research and guilty pain. Worth paging through, should you encounter it; $16.95.
--
PLUS!
Sex Pistols: The Graphic Novel: Being an Omnibus Press bio-comic dating back to 2008, though we now seem to be getting a new edition at a reduced size; I don't recall seeing any version in North American comic book stores. Anyway, it's from a pair of British pop comics veterans, Jim McCarthy (a frequent Peter Milligan & Brett Ewins cohort, particularly on the classic Bad Company) and Steve Parkhouse (of Alan Moore's Bojeffries comics and 2000 AD's infamous satire Big Dave with Grant Morrison & Mark Millar); $15.95.
Ralph Wiggum Comics: This appears to be the start of a new short run of comics from Bongo, the very thought of which rouses fantasies of Gary Panter and Mary Fleener staging a glorious comeback, though the real creative lineup nonetheless includes Carol Lay and Sergio Aragonés, which is worth noting on its own; $2.99.
Empowered Deluxe Edition Vol. 1: Strange is the path of '80s vintage OEL manga MVP Adam Warren -- remember, his professional debut arrived via the probably-never-happening-again phenomena of an officially licensed U.S. comic book variant of a Japanese anime -- and it's been heartening to see him enjoy a new century renaissance with this Dark Horse superheroine series, grown out of bondage-themed commissions and extrapolated into a detailed drama of sex 'n gags. Vol. 7 of the manga-style original softcovers is due in May, so now's the time to break out the three-in-one omnibus format, with 40 pages of supplements included. Unusually, this is the only item this week to cross the fifty dollar mark. Not that it means anything to me, apparently, since I just spent eight dollars on a fucking chocolate bar earlier today. UNLIMITED MONEY; $59.99.
Uncanny X-Force: The Dark Angel Saga Vol. 2: Also in hardcover is a high-profile collection for one of those big ticket superhero comics that manage to leap up from the pack and attract some special attention. Issues #14-18 are included, i.e. all the ones from this extended storyline drawn by Jerome Opeña, one of the top artists at Marvel at the moment. The writer is Rick Remender; $24.99.
Vampirella Archives Vol. 4: And here's the latest in Dynamite's line of vintage Warren reprints, more or less designed to compliment Dark Horse's Creepy and Eerie hardcovers. Issues #22-28 are included, marking (most of) Steve Englehart's short-lived run on the title feature's scripts, as well as the arrival of British writer Mike Butterworth, who provided a spritzy, faintly mean-spirited tone to the saga. At this point José Gonzalez was firmly installed as the magazine's star artist, with additional stories drawn by Esteban Maroto, Rafael Auraleón, Ramon Torrents, Jose Bea, Felix Mas and others, from scripts by Jim Stenstrum, Doug Moench, Nicola Cuti, Bruce Bezaire and etc. The period also introduced the delightful aberration that was Fernando Fernández, a dedicated writer/artist who sold Warren (and several other territories) on a series of decorative, harshly photo-referenced shorts that frequently stuck out for their furious dramaturgy; $49.99 (see? just missed it).
xxxHolic vol. 19 (of 19): Probably your on-the-whole most anticipated manga release for this week, marking the Del Rey-published conclusion of a very popular supernatural fantasy series by top comics collective CLAMP. As luck would have it, Dark Horse has the newest (second) volume of the group's most recent series, Gate 7, ready for the release at the very same time; $10.99.
Gantz Vol. 21: Also from Dark Horse comes the start of a new "phase" for Hiroya Oku's decadent action vehicle, commemorated by a new white color scheme on the covers, which will last until vol. 31 when things switch back to a deeper variant on the original color scheme of red, possibly to emphasize the circularity of stuff and shit. Gantz is very deep! Preview; $12.99.
GTO: The Early Years Vol. 11 (of 15): Much like Fantagraphics seizing the baton of the Krazy Kat Sundays from Eclipse, here we find Vertical picking up the '90s Tohru Fujisawa virginal tough guy manga Shonan Junai Gumi from Tokyopop, last seen in 2009 under the title GTO: The Early Years, owing to the presence of a character who Fujisawa would use in a later, more popular series also published by Tokyopop (and likewise continued today by Vertical). Note that this is a 360-page edition, similar to the prior ten volumes; $12.95.
Comics and the U.S. South: Finally, your book-on-comics for the week, a 304-page University Press of Mississippi hardcover collecting essays on representations of the U.S. South, edited by Brannon Costello (also behind last year's very good Howard Chaykin: Conversations) and Qiana J. Whitted. I'm personally pulling for a cameo by Captain Hadacol, the first superhero to derive his powers from getting wrecked on medicine show snake oil, but I think it's mostly about Pogo and Stuck Rubber Baby and the like. A boy can dream; $55.00.