So, last week I fucked up and started a tumblr. Anime + manga. Immediately, the compartmentalization of my life, which I'd cultivated for years, collapsed into a heaping mess of JPEGs. I mean, should I not be posting about Japanese stuff at the top of this column anymore?
On the other hand... we all still love Yoshikazu Ebisu, right? First seen in English via 1996's Comics Underground Japan and rarely seen since, Ebisu is one of those artists who's grasped a certain amount of mainstream renown in his homeland -- Taiyo Matsumoto is an avowed fan -- but mostly finds himself associated with 'weird' manga art in the west, particularly France, where Le Dernier cri recently featured him in an illustration collection titled (*sigh*) Kawaï Kencho Kintama.
That's not where I found the image above, though; it's actually part of a story, "Dirty Girl," which was presented earlier this year en français by United Dead Artists -- founded by Stéphane Blanquet, if I'm not mistaken -- as part of a 36-page comic book-format(!) collection of pornographic works titled A sens unique. Probably *not* due from Diamond any time soon, but the €5 retail price makes it eminently importable.
Not content to simply smut it up, however, the oft-satirical Ebisu transforms the book into an apocalyptic depiction of male desire. "Dirty Girl" is merely the prelude, in which a creeper 'reads' a woman's body language on the train as enticing him to ravage her - she then kicks his ass, and the man, inevitably, blames her for leading him on.
Soon, however, flying saucers are attacking. There are virtually no words in the second story, "La Jeune fille et le loup," which finds a naked girl crawling from the wreckage of her post-bombing home. She has lost her parents. Soon, she is pursued by a hungry wolf, which knocks her to the ground and... chews the cheeks off her rear end, as lasers blaze from above. A gross fantasy? A fairy story's warning against sexual activity transported to a (future) post-War setting? A parable of amoral masculine desire?
It's quite difficult to say. "L'Homme à sens unique" rounds out the suite by pitting one man against one woman in a world of the dead, skeletons laying in spiked blue grass and shadowy aircraft roaring overhead. A man with an arrow on his back confronts a woman with worms erupting from her vagina on a straight purple road. In a reversal of "Dirty Girl," the woman now seems desire the man's enticement, but he is angry and repulsed. Is this the conclusion of male fears of female sexuality? "...tu es un homme plein de préjugés," she declares, as the man sweats in her presence.
Certainly these works bear further examination, ideally coupled with additional Ebisu works; Comics Underground Japan co-translator Kevin Quigley cited to Ebisu's "hapless and perverse salary men," as manifestations of "a Swiftian horror and disgust with the world" characteristic of underground mangaka. From that, we might simply abridge the identification to 'hapless and perverse men,' alternately obsessed and disgusted with women, and doomed to fulfill their awful longings in only the bleakest circumstances. Not exactly sex-positive erotoca, but a sharp dispatch from a world that damns us for courting too many times a state of zero comprehension.
***
PLEASE NOTE: What follows is not a series of capsule reviews but an annotated selection of items listed by Diamond Comic Distributors for release to comic book retailers in North America on the particular Wednesday, or, in the event of a holiday or occurrence necessitating the close of UPS in a manner that would impact deliveries, Thursday, identified in the column title above. Not every listed item will necessarily arrive at every comic book retailer, in that some items may be delayed and ordered quantities will vary. I have in all likelihood not read any of the comics listed below, in that they are not yet released as of the writing of this column, nor will I necessarily read or purchase every item identified; THIS WEEK IN COMICS! reflects only what I find to be potentially interesting.
***
SPOTLIGHT PICKS!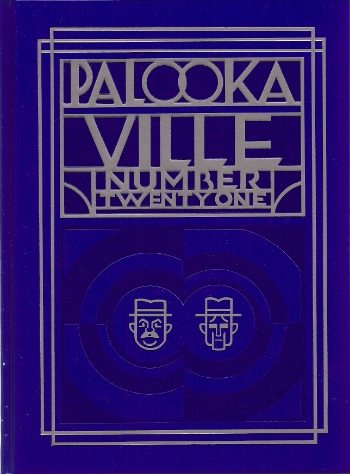 Palookaville #21: The only thing I find more thrilling than spelling "Palookaville" as one word is designating a 104-page hardcover book with an issue number! Should I use this entry as my new OkCupid profile? Maybe Seth will bring all of us that special someone, or, in lieu of that, pages 32-63 of Clyde Fans Book Four, which will be accompanied by the beginning of a serialized childhood memoir (Nothing Lasts) and a suite of rubber stamp diary comics (Sept. '09 through May '11); the latter has already inspired some good commentary from Kevin Huizenga. Handsome, of course, and compact at 6.25" x 8.5". Preview; $21.95.
The Shaolin Cowboy Vol. 2 #1: Personally, I consider The Shaolin Cowboy to be Geof Darrow's Palookaville. Sure, it's not so much a potpourri of features as a long, ambling, probably never-entirely-to-make-sense mega-story [INSERT CLYDE FANS JOKE], but conceptually it reaches all the way back to the artist's earliest Bourbon Thret art to summarize his evolving perspective on aesthetics. Of violence. I like to call this thing a "decadent action" comic, because it serves no purpose more evident than variations on the depiction of action, or even relevant departures therefrom - vol. 1, #1, from back in 2004, famously consisted of virtually nothing but a gigantic, wordless panoramic view of maybe a hundred goons gathered around the titular hero, raring for a fight and obviously doomed. Immediately, I knew I was in the presence of virtuosic potential. And while only seven issues and a weird illustrated prose digest resulted, Dark Horse is now insisting via their solicitations that three installments, at least, will be arriving monthly, so here's to life in fat city. Preview; $3.99.
--
I also think Arsenal Pulp Press' English edition of Julie Maroh's original comic of Blue is the Warmest Color *might* be hitting some stores this week, possibly listed under its pre-Palme title "Blue Angel"... consider yourselves on notice.
--
PLUS!
Battling Boy Vol. 1: Also in loooooong-delayed action comics, Paul Pope brings the 208-page debut of his own decompressed fight series, seeing a tween scion take off on a quest to rid the land of monsters and villainy. Pope, I think, enjoys a pretty diverse readership who've approached his work from different directions -- Batman Year 100 seems to have won him a lot of appreciation of readers who probably wouldn't be down for the zine-y likes of Buzz Buzz Comics Magazine, for example -- and it'll be interesting to see the reactions to what strikes me as probably a very manga-connoted project. Colors by Hilary Sycamore, published by First Second. Preview; $15.99 ($24.99 in hardcover).
Multiple Warheads: Down Fall: Being an 80-page Image supplement to writer/artist Brandon Graham's continuing exploration of puns and organs, wolfish and otherwise; basically, it collects what I believe is all material printed by publishers other than Image, including Oni's 2007 Multiple Warheads one-off, an applicable story from Alternative's 2004 Graham anthology Escalator, and the 2003 debut of the characters from the pages of NBM's Sizzle. Samples; $7.99.
Rocket Girl #1: Image also has its usual slew of debuts this week, including this teenage future cop/1980s period piece(!) from writer Brandon Montclare and artist Amy Reeder, the latter formerly of DC's Batwoman and both reuniting from the 2012 one-off Halloween Eve, also published by Image, and funded -- as was Rocket Girl -- through a Kickstarter campaign. Note that while this is an ongoing series, I think the creators have set it up for a five-issue monthly storyline, and then a break. Preview; $3.50.
Three #1: Incidentally, Brandon Montclare is ex-Vertigo, which sort of throws into the relief the occasionally-voiced line that Image is taking on all the stuff DC's mature suggestion used to handle. For instance, here is a new Kieron Gillen/Ryan Kelly series about a trio of slaves in flight from the vicious abuses of Spartan society... and no, whatever might be evoked by that title is presumably not a coincidence. Image: your source for confrontational revisionism of cherished tales?! Preview; $2.99.
Coffin Hill #1: But Vertigo still debuts new series too, like this Caitlin Kittredge-scripted project concerning an ex-cop and witch family heiress who confronts a dark power she helped unleash during her reckless youth. The artist is Inaki Miranda, who did some nicely fluid action work on Judge Dredd a few months back, so I'd give this a flip. Preview; $2.99.
Triton of the Sea Vol. 1 (of 2): You know who Yoshikazu Ebisu really liked as a kid? Osamu Tezuka. He was not alone in that regard, and so great is Tezuka's lingering celebrity that we're still raising projects from the depths, such as this 1969-71 account of godly exploits, a later anime adaptation of which served as the directorial debut of mecha master Yoshiyuki Tomino. Digital Manga Publishing is behind this 200-page softcover edition, funded through the same Kickstarter campaign which brought us DMP's releases of Atomcat and Unico; $19.95.
Creepy Archives Vol. 17: In which Dark Horse collects issues #78-83 of the original Warren magazines, which mark the beginning of Louise Jones' tenure as editor. Some really cool stuff in this one, including a Dave Sim(!)/Russ Heath piece, Jim Stenstrum's bleakly parodic The Super-Abnormal Phenomena Survival Kit! with John Severin (basically a 2000 AD short a year early and an oceanside off), and art by Alex Toth, Esteban Maroto, Al Williamson, Wally Wood in collaboration with Severin, José Ortiz, Paul Neary, Carmine Infantino (both solo and teamed with Bernie Wrightson), and some top-notch Richard Corben (also accessible in his own collection). Samples; $49.99.
The Art Of Archie: The Covers: Or, part two of 'the heck with you IDW, we can get Craig Yoe to do our own deluxe hardcovers!' A spiritual sequel, perhaps, to last year's The Art of Betty and Veronica, this new Archie-published 9.4" x 12.3" tome promises 160 pages of eye-catchers from Dan DeCarlo, Harry Lucey, Bob Montana and others, with some historical notes too, I'll bet; $29.99.
Rookie Yearbook Two: Finally, your not-really-a-comic of the week sees Drawn and Quarterly drop another thick (352-page) color compendium of content from and relating to Tavi Gevinson's nonetheless comics-friendly youth website. The solicitation indicates that Chris Ware is involved, among noted personages from film, television, music, science and fashion, accompanying the site's authentic teen contributors. Samples; $29.95.
--
CONFLICT OF INTEREST RESERVOIR: Huge week of prominent reprints from Fantagraphics, headlined by editor Michael Dowers' Treasury of Mini Comics Vol. 1 (of 2), an 848-page brick of 5" x 6.25" self-published specials (1969-2011), including work by Justin Green, John Porcellino, Roberta Gregory, Dylan Williams, Chris Cilla, Jim Blanchard, Marc Bell, Leela Corman, David Lasky & Jim Woodring (Jesus Delivers!), Ron Regé, Jr., Esther Pearl Watson, Noah Van Sciver and many others; $26.99. Then, we turn our eyes toward the taller, mainstream pages the National Lampoon for Ray and Joe: The Story of a Man and His Dead Friend and Other Classic Comics, a 184-page retrospective on the late Charles Rodrigues; $29.99. And then, Charles Schulz leads us into a new decade with The Complete Peanuts Vol. 20: 1989-1990, introduced by Lemony Snicket and designed, of course, by Seth; $29.99.