As it has almost every year since 1994, this past weekend saw the return of the Small Press Expo to Bethesda, Maryland. I spent the weekend at the Bethesda North Marriott Hotel & Conference Center wandering among the attendees of the show, sitting in on panels and the Ignatz Awards, and having conversations with everyone to get a sense of this year's vibe.
- Jason Bergman
While SPX itself kicked off on Saturday, in recent years the show has grown to include official pre-Expo events around the area. This year those included Derf Backderf speaking at the Library of Congress, talks by MariNaomi and Bill Griffith at area bookstores, and the world premiere of the feature film Married to Comics at the AFI Silver Theatre and Cultural Center in Silver Spring. Scheduling, and the realities of beltway traffic, meant that even a local like me had to choose which events to attend, so I went to the film premiere.
Married to Comics is a documentary about the life and marriage of cartoonists Justin Green and Carol Tyler. The film was introduced by SPX Executive Director Warren Bernard, and was followed by a Q&A with director John Kinhart and Carol Tyler, moderated by TCJ's own Gary Groth. The film is deeply moving, touching on art, mental illness and the twists and turns of a shared life together. It was especially nice to see this movie about comics with an audience of industry folk, including several who appear in the film.
Warren Bernard (Executive Director, Small Press Expo): I've known Jeff Krulick [maker of documentaries such as Heavy Metal Parking Lot] since I think he was in high school or something like that, and John Kinhart is a friend of Jeff's. Jeff came up with this idea [for the premiere] and we all met at the AFI and everyone was like yes, let's do this. The rest, they say, is history.

Denis Kitchen (underground comix artist and publisher, who appears in Married to Comics): I loved it. I thought John Kinhart did an excellent job balancing two really important and strong characters. I've known Justin obviously longer, but I love the fact that he basically showed this kind of a fangirl who goes to see Justin and develops into an artist in her own right. And toward the end of Justin's career, he was in a certain decline and she keeps growing. So I love the way he handled that. And I just thought Carol in particular was so emotional at times you couldn't help but get involved in it. Justin, of course, very reticent and, you know, not wearing his heart on his sleeve like Carol does. In so many ways that contrast was I thought brilliantly put together, and I learned stuff from it thinking I knew them both pretty well. That's testimony.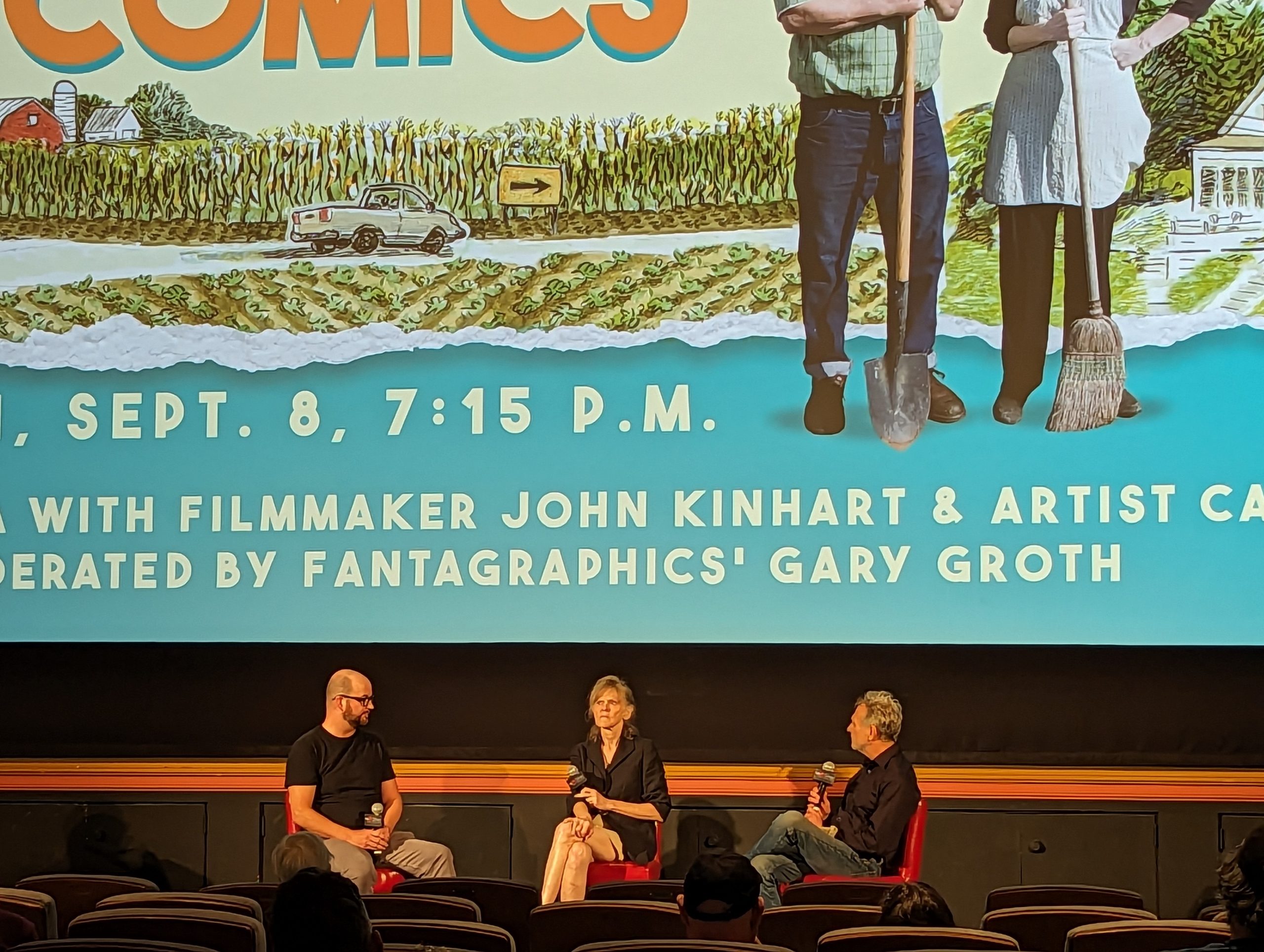 As exciting as the film screening was, it's safe to assume this will not be a regular thing for SPX.
Warren Bernard: I can't expect to be doing another world premiere of a movie at the American Film Institute. We're always going to have a lecturer, an SPX lecturer at the Library of Congress. We're always going to have book signings, but anything beyond that, I have no idea. We just don't have enough bandwidth to go ahead and try to expand that aspect of the show out.
The show proper opened on Saturday, and crowds were brisk, but haven't quite sprung back to pre-pandemic levels.
Warren Bernard: In terms of vociferousness, purchasing power, numbers, it's about the same as last year. People are still a little hesitant to, you know, come into these things. We'll see what happens, but I think we're doing all right.
One thing that may be apparent from photos is that all exhibitors and attendees were required to be masked.
Warren Bernard: I made that decision months ago. That's me. There are a couple of things. One, RSV [respiratory syncytial virus] was going around, and that's mask-abated. Two, if you look, every summer there's a COVID bump. And we have a number of people in the SPX community that are immunocompromised, or they have concerns about their health, and they're understandably risk-averse. And then you know, something? Me. Because people over the age of 50 shouldn't be getting COVID. It's very bad. And so part of this is self-preservation. Part of this is a practical thing. Part of it is in support of people who are not as well as other people might be. Part of it is an understandable risk aversion by a number of people. And it wound up as the right thing to do, because in the 72 hours before the show, I got a half a dozen exhibitors who said, "I can't come, I just tested positive for COVID." And we had 10 volunteers, about seven or eight percent of the volunteer crew, the same thing happened. So it's still here. And you know, we've been very pleased with the way people have been masking. We don't want to be responsible for a spreader event.
It is also notable that simultaneously, on the other side of Maryland, Baltimore Comic-Con, a larger, more mainstream show, with no masks required, was taking place.
Warren Bernard: That's their choice. Is it right? Is it wrong? They have to deal with the population of people coming through their convention. And sheer numbers. And in defense to them, to a certain extent, it's real different. Trying to wrestle 4,000 people, or whoever comes through the door here, to the 25 to 30,000 they get up there. So they have a numbers factor. I can thoroughly understand why it would be impractical.
Regardless, the crowd was at the show, and exhibitors were selling books. And while not everyone loves being in the DC suburbs, SPX mainstay Keith Knight considers it a positive.
Keith Knight (The K Chronicles, I Was a Teenage Michael Jackson Impersonator!): It's just great to see this show live up to its potential. I mean, this is the show where you make money. It's only second to [San Diego] Comic-Con. It's a great show for indie creators, and the publishers of non-superhero comics. Most of the other shows are in big cities like New York City. These indie shows work better in smaller settings because it costs so much to fly to New York state. You can crash on people's floors, but you're putting in a lot of money just to even be there. And there's so much other stuff going on, that it's hard to get a lot of people through. Whereas here, it's in Bethesda. And I know DC is close by, but I have teachers who come by and buy my portraits for their classroom. I have collectors who come by. It's great. It's wonderful.
The show is in the same location every year, and the layout is always the same. But there were a few tweaks to the browsing formula this year that were appreciated by exhibitors, such as the blue balloons visible from across the convention floor pointing attendees to Ignatz Award nominees.
Blue Delliquanti (Adversary, self-published): I have the balloon. The balloon is so exciting! People will come to look at the balloon. They don't necessarily know what it's for. I'll tell them about the Ignatz, and they're like, "Oh, that's what the balloons are about." [Laughs]
Several organizations took matters into their own hands, and ran "Stamp Rallies" to encourage attendees to explore more booths:
Aviva Maï Artzy (The Washi Station): So you get a stamp rally sheet or a passport and you go around collecting stamps from different participating artists or publishers or presses, and when you're done, you can go back to claim prizes from some of them. And it's a way of encouraging people to discover new artists and visit and support them.
There were a handful of these rallies going during the show, with some artists participating in more than one.
Nicole Goux (Pet Peeves, Avery Hill; Fuck Off Squad, Silver Sprocket): I've given out some sheets and then had people come by to get their stamps and, honestly, it's really fun. I've never had a stamp before, so I got to make a little stamp of my art, and I'll have it afterwards, which is really great. It's nice to see people going around and filling it out.
Much like last year, many exhibitors were having a blast just being at a show in person and meeting other creators, some for the first time.
BluRaven C. Houvener (It's Just another day, self-published): I've been to a ton of different conventions in the past, but this is my first SPX. They do a lot towards getting everyone to know each other, like the mixer, the prom, the award show, all that kind of stuff. And I really enjoyed that.

Henry Chamberlain (George's Run, Rutgers University Press): I've been here as a journalist in the past. This is my first time as a creator. It's wonderful. I feel like I'm in a dream. It's a lot of fun. I know a lot of the people here, so it's just a treat to see them. And I'm, like, in my element.

Lawrence Lindell (Blackward, Drawn & Quarterly): It seems like people are very eager to be here again, you know? I didn't come to last year's [show]. I don't know what it looked like, but this year it seems like everyone's in a "Yes, we're back!" type of thing.
Several artists made return trips, some after a long while. Adam Suerte, tattoo artist and creator of Apprendíz, an early '00s series which recounted stories of being an apprentice artist, returned to SPX after many years with a new book, Brooklyn Tattoo.
Adam Suerte (Brooklyn Tattoo, self-published): I haven't been here in over 12 years. It's great. It's a lot of fun. It's great when people come by and say they've seen the Apprendíz books, and they remember those. It resonates with some people. Someone just came by earlier, who is an apprentice, and their tattooists who are teaching her how to tattoo had her read my books as sort of a manual. That's really cool.
Other artists were back from last year. Veteran exhibitor Pangaea returned with their alien phallus coloring books and some new Star Trek-themed BDSM minicomics, this time with their mom helping out at the table.
Pangaea (Cardassia Kotok, self-published): I just can't stay away. It's been part of my life since I graduated college back in '05. Like I am either attending or I'm vending. This will be my 11th year vending. I can't stay away. I just still love it so much. It's very unique, it's not like anything else. People either know exactly what they're looking for, or they get caught by the colors, and they can't resist the siren song of alien cock, you know? That's just how it be.
The show isn't all BDSM slashfic and alien phalluses, of course. Javier Cruz Winnik's table was on the other end of the spectrum, selling a book for younger readers, A Reason to Smile!
Javier Cruz Winnik (A Reason to Smile!, self-published): It's my lifestyle book series. It's pretty much a comic book children's book. A graphic novel of amalgamation, that helps to try to bring something positive to the world. I'm enjoying being able to tell people about something positive, and something that is a little off the beaten path.
Babs New, a cartoonist and nude art model, split their booth down the middle, with one side featuring the kids graphic novel Billy Johnson and His Duck Are Explorers, while the other side had Body Issues, a series of minicomics for adults.
Babs New (Billy Johnson and His Duck are Explorers, Capstone Editions; Body Issues, self-published): I also do MICE [the Massachusetts Independent Comics Expo]. MICE is a lot more kid-focused. It's not all kids, but a lot more kids go to it than SPX. I do a little better with my all-ages stuff there than SPX. But I bring both of it. I have these two tablecloth colors to try and delineate the kids' stuff from the nakey stuff.
Johnny Parker II was a first-time exhibitor this year, and was drawn by the show's reputation for independent voices.
Johnny Parker II (The Black Man's Guide to Getting Pulled Over, self-published): I'm out here from L.A. This is my first time coming to SPX, and as an independent publisher, I've heard great things about the show. That it really has a strong comics community, where people love to see independent stories done by creators. And so I really want to come out here and just be part of the show for the first time. The people have been really receptive, there's a strong vibe and it's really cool to be here. A lot of times in some conventions, you have to call people over to you, but here people come up, they ask questions. They want to know about your art, about yourself. And so it's been really cool to see this community that they built here at SPX.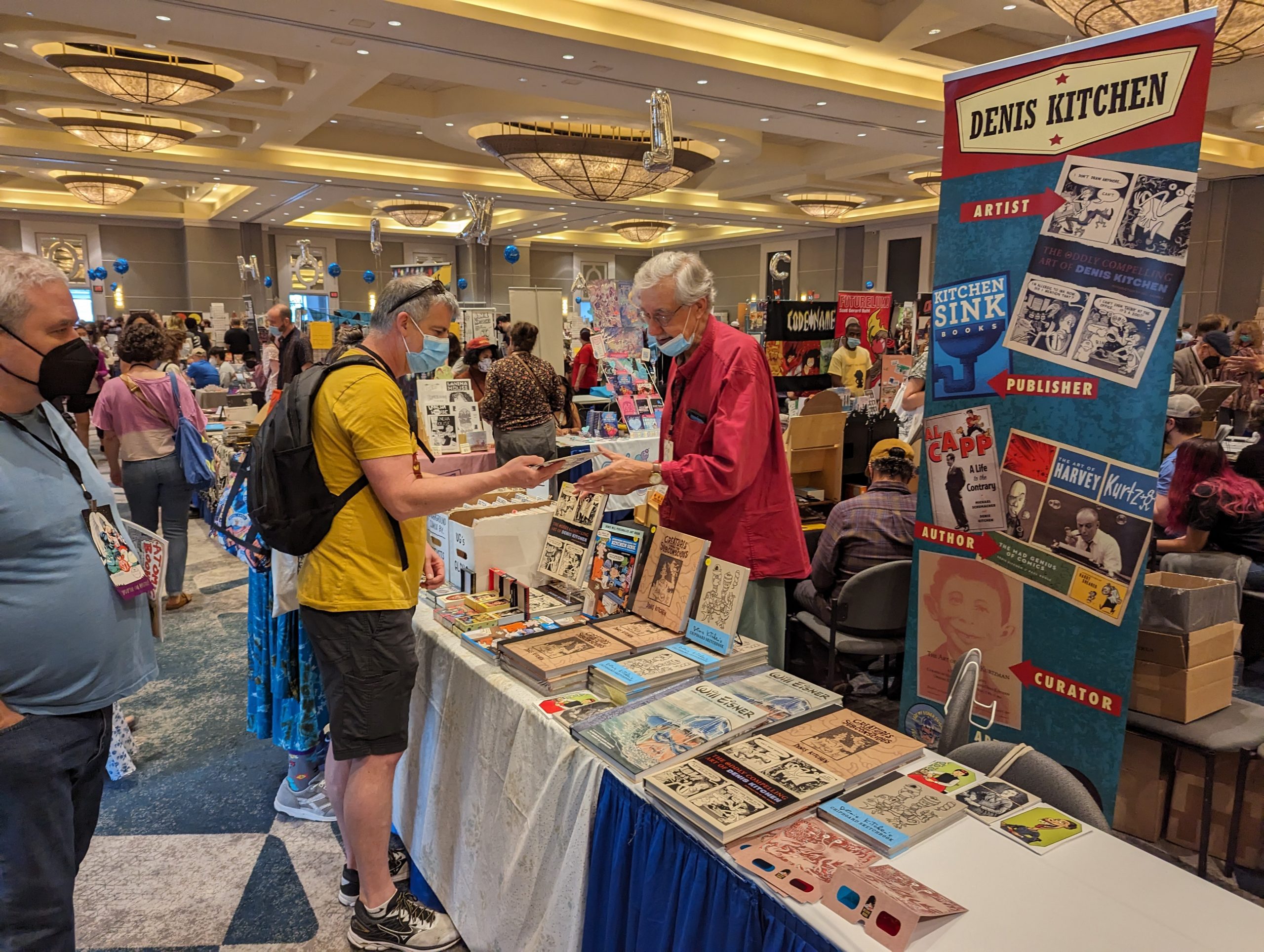 The demographics of the exhibitors at SPX have been shifting for years, and just looking around the exhibition floor, 2023 was the most racially diverse yet. But Warren Bernard says this is due to the community itself, not any proactive work on the organizers' part.
Warren Bernard: When it comes to who you are and what you represent, we just don't give a shit. We don't! If you do comics, you apply to the lottery [by which SPX exhibitors are selected], you can get in. When someone comes in from the lottery, we just make sure they have comics. We have no idea what these people look like. None whatsoever. I understand other shows that curate [i.e., select exhibitors on the basis of their work], and that's a tough job, and I admire them for doing that. But to us, we didn't want to introduce any concept of aesthetic bias. So these people are here. Not because we chose them. It's a series of diverse voices. What you see is representative of the people who create comics that want to get into shows like this.
Whether it's because of the audience, the creators, or the shifting demographics of comics, SPX has been an outwardly queer show for several years now.
Blue Delliquanti: The queer element, especially, I can speak to, I think because I was part of that groundswell that happened in webcomics and indie comics, especially in the '10s. So I guess it's partially my fault. So, yeah, that's something very much where indie comics have been so receptive, and having queer comics, queer identity, queer stories become part of that makeup, I see that reflected really well here. And I've also been pretty encouraged by how that has been working for people from marginalized backgrounds in other ways. Like Black creators and creators of color. That's been cool seeing their work reflected in Ignatz winners and people coming from art schools, around the East Coast, but also the West Coast and the Midwest. Having that reflected in students who are studying comics or just getting involved in local comics and art making communities. I'm glad that that has been a proactive part of convention scenes in general, but especially SPX.
Indeed, the annual Ignatz Awards ceremony on Saturday night saw the overwhelming majority of awards going to persons of color. Popular webcomics artist Ngozi Ukazu gave the keynote address that night, a rousing speech and rallying cry for the small press community.
Ngozi Ukazu (Check Please!, print editions by First Second): [From her keynote address] Esteemed guests of SPX 2023, comic festivals like this one, rooms like this one, functions like these, this is where we make things right. We know that comics are powerful because anyone can make a comic. Anyone can write a comic. You can write a comic about coming out to your parents. You can write about being Black in the summer of 2020. You can illustrate the statistics of violence against the Asian community. You can draw the story of reproductive rights in America. You can make a portrait of trans joy. We know that comics are powerful because anybody can pick up a pencil and make a comic, and to some people that's scary as hell.
I spoke with Ukazu the next day on the show floor.
Ngozi Ukazu: There's new styles, there's new artists, there's new stories. But what has truly stayed the same is that sense of excitement and enthusiasm and community that SPX really maintains from year to year. I don't think that's ever, you know, knock on wood, gonna go away. It's just different comics. Same love for comics. It is wonderful walking around SPX and just seeing the diversity of talent, background, even ability, age range. People starting their careers.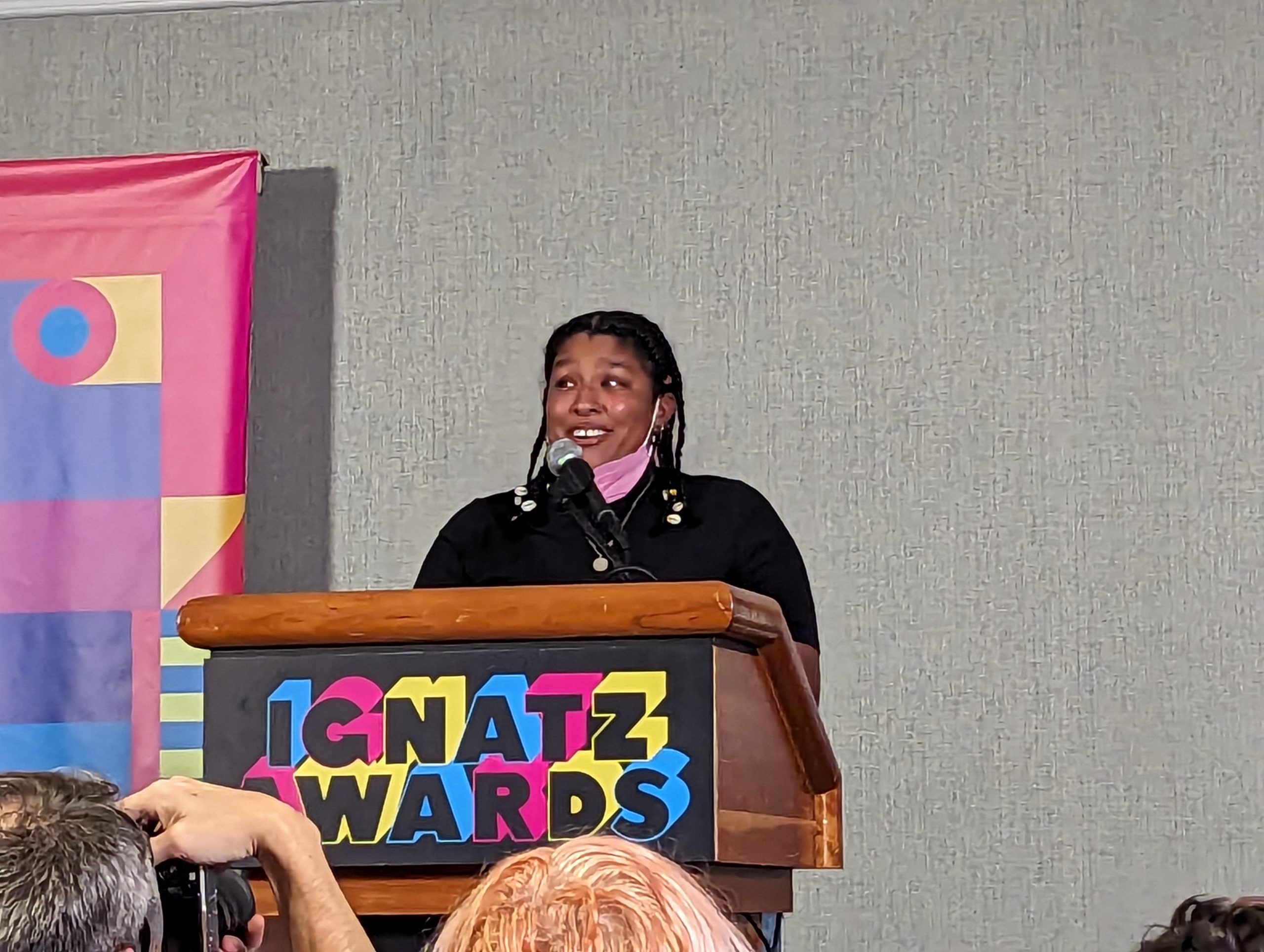 The 2023 Ignatz winner for Outstanding Story was "Ride or Die" by Jamila Rowser & Robyn Smith, from their collection of linked short stories, Wash Day Diaries. A very emotional Smith accepted the award for both of them. I spoke to her the next day about what that meant to her.
Robyn Smith (Wash Day Diaries, Chronicle Books): I got really emotional because Jamila and I, 2017 is when we connected. So we ran a Kickstarter for this 27-page zine. And then being recognized for something that we worked really hard on, it never gets old. We're just like, oh my god. Wow, that really paid off. Just how much of our time and energy and love went into it. So it felt really special to win. But also, specifically this year, Jamila has been going through a lot. And so have I. And outside of comics - just life, basically. And it seemed to hit us both at the same time. It's always just, like, oh my god, this is happening. Oh my god, this is happening. It's just too much. But here's this thing that makes us really happy and it makes other people happy too. And I felt all of that in that moment. I knew she was watching because she told me she would be. I think just knowing that for so many reasons she couldn't be here - money, health. Like all those things that just make the way that we live so hard, especially being Black femmes who are just trying to survive, but we get to do art still. Also that made me emotional. So I was just, I don't know, man. I'm just gonna cry. So it felt like a release, kind of.
R. Sikoryak was in the audience for the Ignatz awards:
R. Sikoryak (Constitution Illustrated, Drawn & Quarterly; Frost, self-published): I was really taken by just how genuine the feelings were in the room. And that's always true at the Ignatzes. But, you know, it was fun to see that again, and heartfelt. It wasn't just fun, it was-- it was rather moving, honestly.
Sikoryak was back at SPX this year as both an exhibitor and with Carousel, an annual event where creators perform their comics live.
R. Sikoryak: I've been doing Carousels at SPX for many years, and I've been doing them even longer in New York, and it was really fun to come here and do it again and have a whole new group of artists, a new generation of artists participating in it. I just love seeing what's happening. And even though a lot of the show I'm trapped behind the table, it's still great to have the feel, the energy, and the vibes from everybody.
If it's not obvious, the continued vibe from SPX is community. Unprompted, it's the most common thing I heard throughout the show.
Gabriel M. Howell (Forget Me Not, Secret Aces): Comics are the best, the fucking best form of media, because everyone super wants you in. The last time I did [SPX] I was on a panel about trans narratives and comics, and ever since then that community has just grown and grown. Like I thought these stickers [points to bumper stickers that read "screamo is for transsexuals"] wouldn't go well, but there's so many fucking trans people here and I love that. Everyone immediately is like, I don't give a shit what you have under your belt, like this is beautiful. And just really supportive - like obviously, we're all a bit competitive, right? But it's so much more supportive than anything else, and that's maybe because there's no money in it. I think that's part of it. So it's all a passion project and it's all about finding a community to connect.

Justin Remo (Dust, self-published): I have had so many amazing conversations with people. Oh my god, getting the opportunity to talk to so many people that are into the same stuff I am and making the same stuff I am is like such a dream, and to be able to trade work and information and contact - it's just been so amazing.

Nicole Goux: It's really nice to be in a community where people are making similar types of work as you, and also very varied work. And there's kind of an acceptance here for the artistic nature and aspirations of comics, in a way that there often is not in other places where half the people are asking you if you have any Deadpool.
Here's to another year at Camp Comics!