Hey there, Valentines! What'd ya'll get me? My favorite candies are Butterfinger BB's and my favorite flowers are vulture necks. I'm extra-medium in t-shirts and a 9 1/2 in Wallabees.
C'mon then, loves — aren't you excited to open your treats?
•••••
• Do you think I'm the kind of knucklehead who doesn't kick things off with the new Emil Ferris-illustrated poster for the Michigan State University 2020 Comics Forum? I thought you knew me.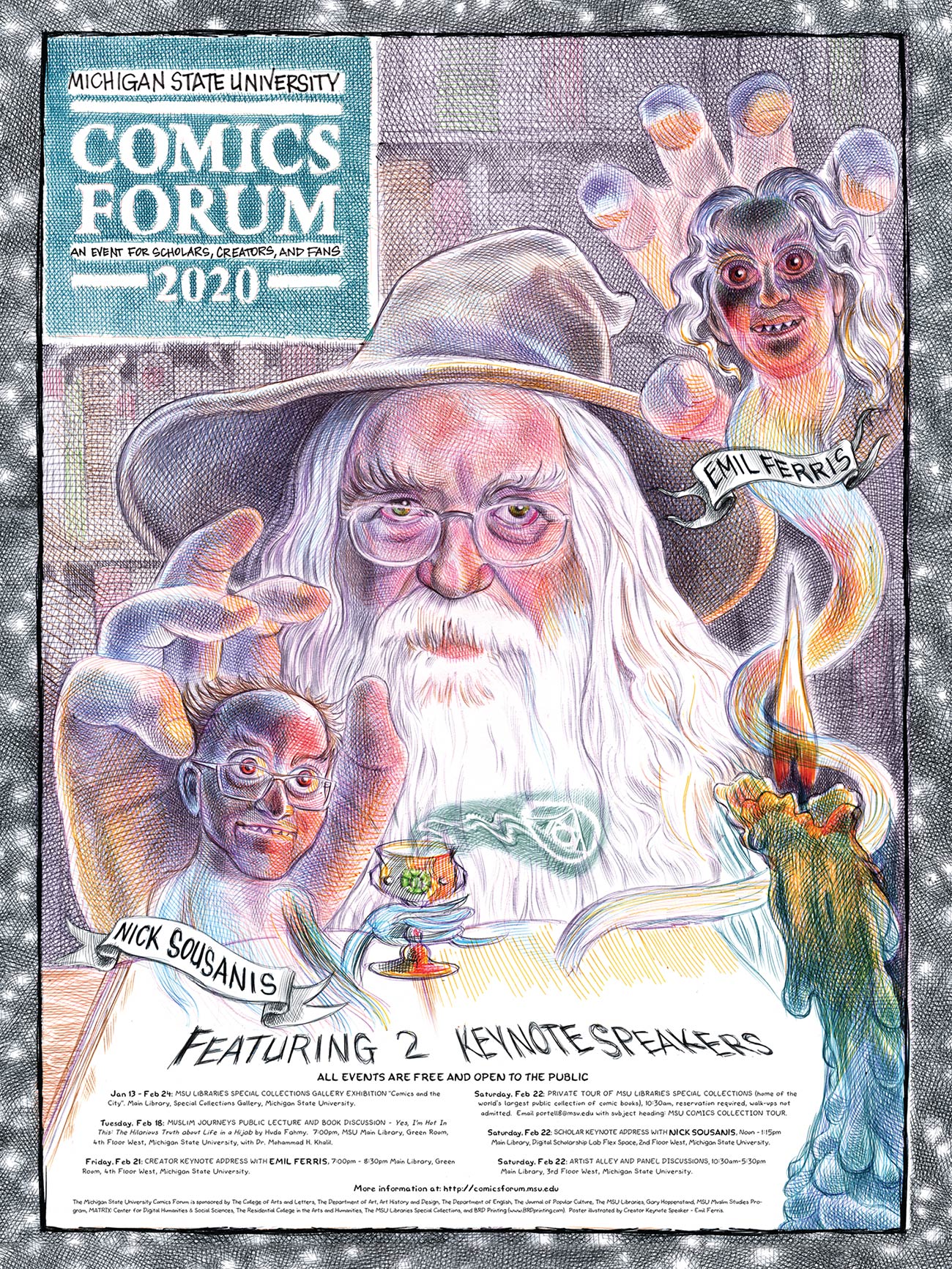 • Legendary French cartoonist Claire Bretécher has died and is remembered at The Guardian.
• The 2020 Creators for Creators grant is now accepting submissions. As Brian K. Vaughn wrote on Instagram:
"Some of your favorite writers and artists have banded together to give $30k to an unpublished creator or duo to support the creation of their debut comic."
• Long-time editor-in-chief of Archie Comics, Victor Gorelick, has died, and is remembered by Archie Co-President Mike Pellerito at 13th Dimension.
• Here is a complete list of winners at the Angoulême festival, which I should have but didn't post last week. I especially like this link; it shows book covers and photos of the winners receiving their awards.
• Also from Angoulême: a video chock full of Wally Wood originals for an exhibit of his work at the show. Via Mike Lynch.
• And Broken Frontier has Joe Stone walk us through his experience at the big French event.
• Tenacious D is getting a graphic novel — written by Jack Black and Kyle Gass and actually seriously drawn by Jack Black!
• Cool process from the always super stylish Michael Cho (swipe right):
https://www.instagram.com/p/B8ZUg03hCFw/?utm_source=ig_web_copy_link
•••••
ValentInterviews
TCJ
• Cartoonist Seymour Chwast interviewed by cartoonist Dash Shaw
• Translator Edward Gauvin by Alex Dueben
Cartoonist Kayfabe
• Todd McFarlane, on video talking to Ed Piskor and Jim Rugg
Multiversity Comics
• Writer Matt Kindt by Kyle Welch
RiYL podcast
• Kevin Huizenga speaking with Brian Heater
The Beat
• Cartoonist Brandon Dayton by Matt O'Keefe
• FlameCon chair Maya Bishop by Samantha Puc
Off-Panel podcast
• Artist Declan Shalvey talking to David Harper
The Drawl
• Writer Ivan Brandon sitting on benches with Jason Latour
A Case for Pencils
• Cartoonist Nick Downes by Jane Mattimoe
•••••
• Editorial cartoonist R.J. Matson recevied the the Berryman Award at the National Press Foundation's annual journalism awards. (Hat tip to The Daily Cartoonist.)
• TCJ has the latest manga-focused eye-opening column from Joe McCullouch: "The Artist's Life and Death Redundant: Inio Asano's Downfall." Go learn something, will you?
• Newly-minted Best Picture of the Year Parasite is getting a graphic novel — of sorts — composed entirely of the movie's storyboards, which were drawn by newly-minted Best Director of the Year Bong Joon Ho.
• Women Write About Comics pick some highlights from this year's Hourly Comics Day.
• Also at WWAC, Dani Kinney takes an in-depth look at the recently-relaunched megaseries of Marvel mutant titles and how the stories and their subtexts compare with queer history and experience.
• And another strong piece at WWAC, as Adrienne Resha writes about Arab representation in super hero comics.
• Hey there, Nic Klein, that's some nice drawing:
https://www.instagram.com/p/B8Y-jsoKaGJ/?utm_source=ig_web_copy_link
•••••
Rosy Red Reviews
TCJ
• Ben Passmore's Sports Is Hell by Martin Brown
• Ram V and Sumit Kumar's These Savage Shores by Keith Silva
• Faith Erin Hicks & Rainbow Rowell's Pumpkinheads by Hillary Brown
• Chris Cajero Cilla's The Sleep Gas by Frank M. Young
Pop Matters
• Keum Suk Gendry-Kim's Grass by Hans Rollmann
The Beat
• Dave Chisholm's Canopus #1 by John Seven
Ryan C.'s Four Color Apocalypse
• Kriota Willberg's Stubb & Leski's Catsmas by Ryan Carey
• David King's Yellow Flag Intelligence Squadron #1 by Mr. C
Solrad
• Paco Roca's The House by Daniel Elkin
• Aimee de Jongh's Taxi! and Jon McNaught's Kingdom by Rob Clough
• Mark Alan Stamaty's MacDoodle St. by Ryan Carey
Broken Frontier
• kuš! comics' all-Australian issue of š!, reviewed by Andy Oliver
• The Eric Reynolds-edited Now #7, by Andy O.
•••••
• Be sure to click/swipe/scroll right on this post from the Schulz Museum, so you can see a few of Charles Schulz's sketches for Peanuts playing cards:
https://www.instagram.com/p/B8WmPdMJtvO/?utm_source=ig_web_copy_link
• SyFy Wire's Behind the Panel has posted part 2 of its video about the the history of Milestone Comics.
• Also at Syfy Wire: an exploration of the often violent origin stories for black heroines in comic books.
• Yowza, wait until you feast your eyes on these P. Craig Russell pages posted on Twist Street.
• I think a bunch of you are going to like this: Bill Sienkiewicz's YouTube channel has uploaded "History of Big Numbers pt. 1" — PART ONE!
• Look at this awesome project coming out of Desert Island in Brooklyn:
https://www.instagram.com/p/B8Ucx44gXrh/?utm_source=ig_web_copy_link
• The shortlist for the LDC Awards, a prize for graphic novels-in-progress being created by women, has been announced.
• History.com recounts the story of the 1957 Martin Luther King, Jr. comic book that galvanized activists in the civil rights movement — and which later inspired the graphic novel series March.
• TCJ's Cartoonist Diary returned this week, featuring the life and times of Michael Comeau.
• Fleen has the latest info about the San Francisco Comics Fest, kicking off at the end of February.
• The National Cartoonist Society is giving the Gold T-Square Award to Doonesbury's Garry Trudeau and the Silver T-Square to Andrews McMeel big shot John Glynn.
• I love the labels Simon Gane illustrated for Burning Sky Brewery, below. Tons more from this series at Gane's blog (yes, blog!) here.
• This feels worth mentioning: Adrian Tomine popped up with a new illustration to accompany a piece of Haruki Murakami fiction in The New Yorker.
• Cartoonist Liza Donnelly did a TED Talk!
• The Library of Congress takes a look at Rosa Parks' appearances in comics, as well as a short-lived 1950 romance comic book featuring only African American characters.
• New comics publisher AWA, run by former Vertigo and Marvel editor Axel Alonso, has created a promotional video for it's soon-to-be-launched line.
• I always enjoy when The Daily Cartoonist shares the first and last episodes of a comic strip. This time around, it's [The Girls in] Apartment 3-G.
• Check out some odd old Captain Nice strips from the practically-unrecognizable hand of Wally Wood, posted at The Bristol Board.
Well, you've spent a nice amount of time with your first love (comics, not me, who am I to presume anything along those lines), and now true romance awaits you out in the real world. If you're not sure what to talk about over VDay BLTs, below is Chris Ware's just-debuted poster for MoCCA Festival 2020. Parsing everything that's going on here (and debating whether or not we're actually allowed to like it) should keep you and your dear one occupied until dessert at least.