Though born in 1921, Fukui Ei'ichi was a relative newcomer to comics.
After graduating from middle school in 1938, Fukui joined the animation department of Nippon Eiga sha (Japan Movie Company), best known for its propaganda work during the war. In 1945, he was hired by the Tōhō-funded and Masaoka Kenzō-founded Shin Nihon Dōga sha (New Japan Animation Company), before moving to Nihon Manga Eiga sha (Japan Cartoon Movie Company), where, under the famous Mitsuo Seo, he worked as a chief animator until the company's collapse in 1949. One of the studio's feature-length films, The King's Tail (Ōsama no shippo), had been barred from distribution because of supposedly Communist-sympathetic content.
Like others of the staff, Fukui fell into the burgeoning youth publishing industry. His first commission, from Manga Shōnen, was, in retrospect, a portentous one: to take over the popular baseball comic Bat Kid (Batto kun), following the sudden death of its creator, Inoue Kazuo. Sports comics, alongside historical-set adventure comedies, became Fukui's bread and butter. The two genres ultimately came together for him in the form of moralizing martial arts manga.
The history of sports and martial arts manga is filled with producer-inspired successes. Though one usually thinks of the 60s and writer Kajiwara Ikki's work with Shōnen Magazine in this regard, or later Shōnen Jump's tight control of content, the beginnings go back at least to Fukui's work in the early 50s. Editors and publishers, much more keenly than artists, have their eye on trends. The Allied Occupation had just ended. Restrictions on chanbara and martial arts films had already been relaxed a couple of years earlier. But with the Americans now fully gone from government, entertainment industries plunged bodily into the mass culture of a supposedly discredited past.
Prewar-style bildungsroman reestablished itself as a viable mode soon after the war. Whether the stories were set in the slums of Tokyo, in the deserts of Utah, in Tarzan's jungle, or on Mars, juvenile fiction and emonogatari typically starred the kind of morally impeccable, "hot-blooded boys" (nekketsu shōnen) that had been popular during the 20s and 30s. By the early 50s, such heroes no longer needed to venture so far afield to exercise their Japanese spirits. Galvanizing was the re-release, in 1952, of Kurosawa Akira's debut film, Sugata Sanshirō (1943), an adaptation of a wartime novel, set in the Meiji period, about a judo prodigy whose moral uprightness is only matched by his physical prowess. Tezuka's exotic foreign and science fiction fantasies had made the most of dreams unleashed by the Occupation. Their preeminence was now to be challenged by the return of clean-cut boys from the past, supported by a new, simpler, but no less effective visual aesthetic.
Publisher Akita Shoten's monthly Adventure King was a hothouse of emonogatari. In the early 50s, the magazine shifted its energies increasingly to comics. While courting new-wavers like Tezuka, they also called in elder but less proven cartoonists like Fukui. He was asked by the head editor of Adventure King for a comic that was "just like Satō Kōroku's risshin shusse stories," meaning the kind of stories about brave and admirable boys who "made something of themselves in the world" that had been before the war, during the editors' and cartoonists' childhood. The result, reportedly much shaped by the magazine's staff, was the judo title Igaguri kun (1952-54).
The mad success of Igaguri kun could not have been foreseen. Not only did it push Adventure King to a monthly print-run of 300,000. Judo manga spread like wildfire through boys' publications, maintaining a strong presence into the late 50s, only to be challenged by other martial arts and sports (professional wrestling, boxing, baseball) with a similar focus on dynamic action and moralizing character. In his history of postwar shōnen manga (1996), Yonezawa Yoshihiro explains how the manga's influence extended even further. "Having lost his mother and living alone with his father, the judo youth Igaguri fights his rivals, which results in nurturing their friendship. A kind of realism was established by making the hero a middle school student. This alone probably appealed to readers. But there was also Fukui's adaptation of Tezuka-type cinematic techniques, his dramatic progression of panels, and Igaguri's battling with powerful enemies one after another with special moves. He established a pattern of combat that continues up to Toriyama Akira's Dragon Ball." The implication here, given the roots of Shōnen Jump-style action comics, is that Fukui also paved the way for the rise of supokon (sports-guts) manga in the 60s.
Yonezawa continues with a thesis on the cultural appeal of Fukui's work. "Serious and honest, kind to those who cannot stand injustice, the judo-loving Igaguri was all too Japanese, down to how he was drawn. This premodern quality must have felt surprisingly fresh in an era witnessing the forward march of Americanization. The masses found comfort in the manga's nukamiso (fermented rice bran paste) smell. More kids went crazy for it than they did for Tezuka's polar opposite, butter-stinking intelligence. Igaguri kun's appearance forecast the end of the age of emonogatari, and became the occasion for the transformation and proliferation of Tezuka's story manga. It marked the emergence of a heightened form of mass entertainment based on Tezuka's techniques, and greatly empowered comics." I would add that this evolution was only made possible by Tezuka's own re-appropriation of the techniques in question, and then their elaboration within kashihon comics.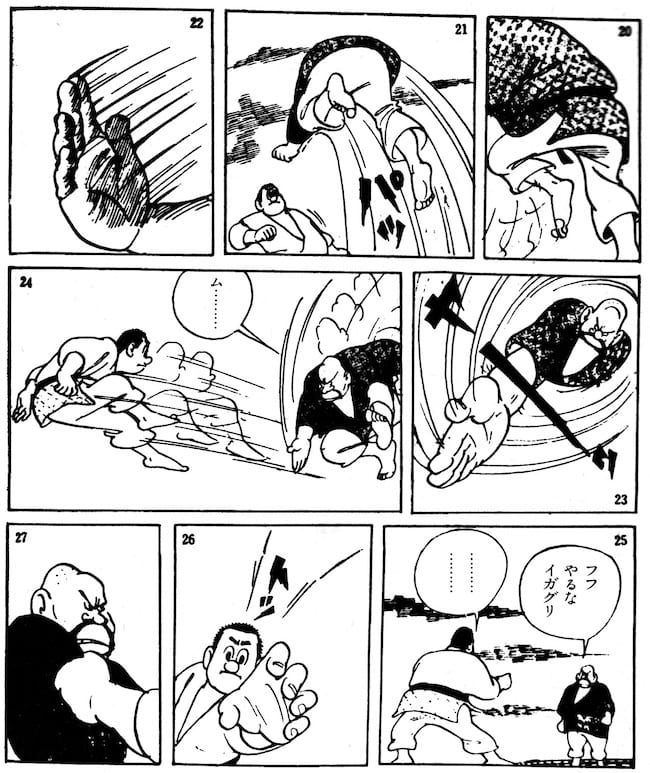 Tezuka's response to Igaguri kun will be detailed in the remainder of this essay. Next time, I will look more closely at the formal qualities of Igaguri kun with the goal of theorizing how the martial art of judo and its unique physical dynamics of grappling and tossing shaped Fukui's work, Matsumoto's work, as well as that of Takano Yoshiteru, whose manga served a key intermediary function. But first let's continue with the Fukui Ei'ichi Incident, which would hardly count as an "incident" had it ended with Tezuka's lighthearted critique in Manga Classroom.
(cont'd)