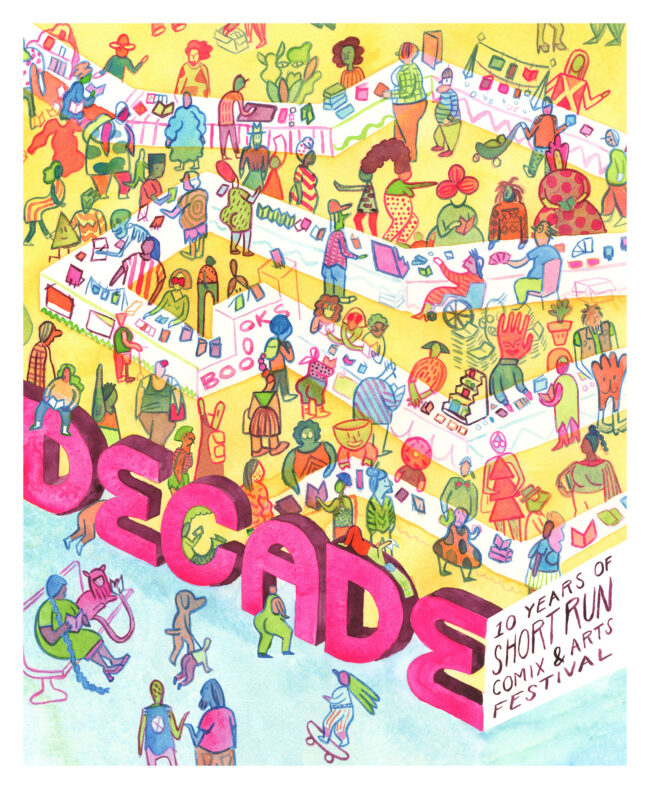 The following message from Short Run Comix & Arts Festival Co-Founder and Executive Director Kelly Froh discusses the impact of COVID-19 on the festival and how it has changed the convention landscape. -The Editors
* * *
The Short Run Festival takes place inside a huge hall with floor to ceiling windows, located in the middle of Seattle Center's expansive campus of performing arts buildings, community gathering spaces and sports arenas. It's where the Space Needle is. It's where the monorail goes. In addition to our tried-and-true roster of supporters that we've built over the last decade, we have been able to count on tourists and locals alike, who just happen to be at Seattle Center, to find their way to the festival floor. Because of our size, we are filed in the "first to close, last to re-open" category of businesses. We are eager to return to festival planning, which we usually begin a year in advance, but our worry is that large, crowded, indoor events like Short Run won't see the attendance we are used to anytime soon unless half of the population holding us back suddenly changes its collective mind and gets vaccinated.
We've always looked at Short Run as an opportunity to build community among people from all over the country and the world — to put into conversation all the different perspectives they bring to comics. Though the US has declared itself "open for business," many other countries continue to be in crisis. We don't want to exhibit American arrogance by just proceeding as if the pandemic is over, and put on a festival with no international guests.
We don't think people are mentally ready to attend large events again, and we are not seeing a lot of psychological guidance on how that would work or what to expect. We're also not sure exactly what level of safety precautions we will be responsible for when our fest does return.
There will likely be an additional permit, and needed approval of an extensive safety plan. These permissions will come with new costs to be added to our biggest expense — the venue rental — and are hard to predict and plan for. How can we be sure that we can keep our exhibitors safe? They are stationary for seven hours straight with people swarming all around them. We have to think about ourselves, too. The organizers and volunteers would be the ones there from dawn till dusk, enforcing who knows what kind of protocols. Taking people's temperatures? Installing plexiglass walls in between every table? Do we declare "vaccinated people only", so that parents and guardians would feel safe enough to bring their kids? Or do we allow unvaccinated people to attend if they agree to wear a mask? How can we actually ensure compliance? Do we ask volunteers to put themselves into a situation that could escalate into an argument, or worse? Will the event insurance be astronomical because it needs to protect us from liability if one of our guests contracts COVID after we advertised the festival as a safe space? So many unknowns.
We will have to hustle harder than ever to rebuild interest in an annual event that's been cancelled two years in a row. Considering 1,000 new residents move to Seattle every month, there's a lot of people who don't know about us. We are looking for alternatives to the newspaper and media platforms we've lost: several have closed down completely and some have been dreadfully minimized. We are in the process of remaking our connections with venues, businesses that donate items and services to us, and like-minded art org partners, who have experienced intense loss and turnover. Even our venue of five years has established new restrictions on one-day rentals, and it appears that every Saturday in 2022 is already booked (we are the "second hold" on a bunch of dates). Moving forward will depend on booking a date on our city's overcrowded calendar.
Over the course of the past year, we've attended dozens of artist talks and presentations via virtual festivals and we've been watching to see how these kinds of online programs are being received. We are hearing from people who have been left out of the in-person festival — because of lack of income or access — who are really relieved that they can experience festivals and cons from home. At the same time, clicking links to buy books, paying shipping and then waiting for them to arrive in the mail is a completely different experience than leaving a festival with a tote bag full of comics and zines that you chose after talking face to face with hundreds of artists. So there are pros and cons. We believe that fests of the future will not abandon the virtual format and find ways to integrate it into the overall experience.
For our next festival (whenever that may be), we plan on facilitating a live stream so that people who cannot attend can still be part of the vibe. Having a person on the floor moving around while recording would be the perfect job for the right person, and there would be opportunity for exhibitor interviews and other interactions not possible before. We also admit to being willy-nilly about recording artist talks and performances, and not having a place to archive them. We love the idea of sharing what we are doing here in Seattle with the growing global audience of comics artists and enthusiasts.
In mid-2020, we began working on a huge 10th anniversary "festival in a book" that contains hundreds of photos, illustrations, several essays, reprints of every poster we've ever made, etc. It's going to be really crowded and chaotic and fun to read. This project allowed us to properly archive our 10 years as a festival and organization and gave us the opportunity to pay a bunch of artists for their contributions at a time when a lot of them were losing work. We see the "festival in a book" idea as no less radical than a virtual comic festival, and we hope it will console the many of us who are missing each other right now.