Ramsey Beyer's spirited, often warm chronicling of her real-life journey through her freshman year at college is as much driven by the familiar trappings of teenagedom as it is punk rock, against-the-grain sensibility. Little Fish: A Memoir From a Different Kind of Year is a mixed media affair, with Beyer employing an intimate DIY approach honed in her adolescent zine-making days as often as she does black and white comics art, melding list- and poetry-driven prose with personal comics. Humble as it may seem, Beyer's blend of rough, zine patchwork-styled pages and graphic memoir is marked by a bold perspective on diary comics and the graphic storytelling medium.
At more than 270 pages, the young adult graphic novel Little Fish is hardly "little" -- it's rife with verse and photocopied bulleted lists, a recreation and re-appropriation of the seemingly active LiveJournal account that Beyer registered in her youth. LiveJournal, a social network and blog hosting platform that pre-dates Facebook and MySpace (although still set to many home pages in Russia), was the ideal forum for her High Fidelity-type pros and cons assessments and, of course, a "things I'll miss about home" rundown when she prepared to head off to a Baltimore, Maryland art school. The author's formerly digitized records here are reproduced as diary pages and typewriter-sourced ruminating pasted between drawings for Little Fish. Beyer's journalizing and poems are organic and scrapbook-like, fashioned to mimic the stapled zines that likely paired with seven inches and silkscreened shirts peddled at punk shows she visited back then (dig the Shel Silverstein-fired surrealism and painstaking detail lent to Beyer's flier artwork). Her thoughts are far removed from the cold digital sphere from which they were extracted, and "social" in Little Fish refers only to the antiquated physical relationship-building that we all used to engage in years back, when "like" actually meant "like," and the like.
In shaping the journey toward a new life in Baltimore, compulsive list-maker Beyer's memories of her small hometown of Paw Paw, Michigan -- where she "grew up on 100 acres of land" -- are painted with bursts of free verse and nostalgic imagery. There are sled rides across snowcapped fields, big basement sleepovers washed in the artificial glow of lousy television, and simple declarations. Beyer is keen on painting, "obsessively document(ing)" her days hanging out with friends, and punk music. As her book isn't as defined by panels and traditional sequential storytelling, an occasional page simultaneously hosts both her zine tendencies and a love for comics art. Beyer's affinity for the latter played a bigger role in 2012's Year One, a more conventional but equally communication-based graphic novel that preceded Little Fish.
When Ramsey Beyer took on an ambitious diary project after moving to Philadelphia in late 2011 (Baltimore was home for six years, then Chicago, then Philly), she produced a Web-first straight comics-styled examination of city dwelling and more prominently, romantic relationships. A closely knit East Coast city's punk scene again proved inspiring for Beyer in the self-published 136-page Year One, which wasn't supposed to be longer than two monthlies. There are hyper-detailed West Philly row home apartment interiors with a radiator in every room, where lines between imperfect wood floor slats run perpendicular to those squaring off her dog's quilt and the blanket on her bed. Tattooed and clad in black tank tops, she works steadily at her drafting desk in the book, while stylish dialogue choices box conversations in Facebook windows and a text messaging interface rather than in conventional panels. Having sweated through t-shirts at many punk shows in Philadelphia's cramped underground venues during the 1990s, I felt close to the book's distinctive staging of the city's punk rock community and the kinships that evidently still materialize solely because of the scene there. And chat screens aside, Year One's portrayal of relationships and romance is largely of that old-fashioned brand, a lot of which is front and center in the more backward-peering book that followed.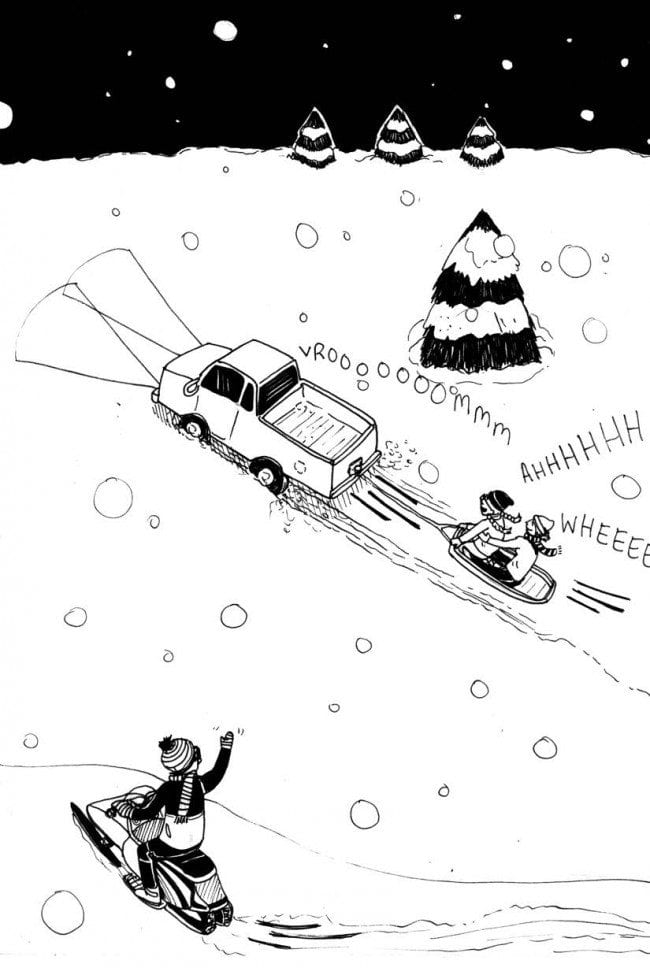 A "Things to Do For Fun in Michigan" Little Fish splash page is half occupied by one of Beyer's many typed lists, which can feel repetitive. But this one is pasted into the black night sky that's set in a forest scene. The creator and her friends are nestled alongside a towering fire in the woods that beams light on an insulated circle of ground surrounded by puffs of shrubbery and trees. A tallying of traits for rural Paw Paw and urban Baltimore sits atop night and day skyscapes, with Baltimore's angular building rooftops and spidery fire escape stairs set-off from the expansive farmland under the Michigan details. The Courier typeface pronouncements on these pages are probably made by lots of artful kids, but Beyer's work isn't without deeper passages that strengthen and clarify her voice. Her "Childhood" poem is breezy and rich with evocative visuals. Memories of her "checkered kitchen floor" and "pear trees" are the types of things that she'll take with her on the bumpy road ahead. Some hurdles materialize when a "shy and awkward" hardcore kid named Daniel gets close to Beyer, and the budding love proves more perplexing for her than anything else here.
Initial interactions between Daniel and Beyer are playful and somewhat flirty, with her rejecting the idea of letting any boy get to her, particularly one whom she considers anchored in the Friend Zone. They eventually share a wordless hug against a wintry Baltimore backdrop. Their embrace is bigger than the sparsely detailed apartment buildings and telephone poles that loom behind them, and it's one of many Little Fish moments reminiscent of the sweetness and air of innocent affection that flourishes between Craig (Thompson) and Raina in the Eisner Award-winning Blankets. The gingerly rendered relationship that Beyer has with Daniel proves just as illuminating as the tale's wealth of Xeroxed decrees. The two grow comfortable over late-night chats, crate-digging in record shops, and critically, when she decides to begin drawing comics after they discuss them during a cheese-free dinner. Many moons (and several apartments) later, it's a conversation that would yield meaningful friendships, stacks of self-published comics and zines, and a smart big book about the long road there.