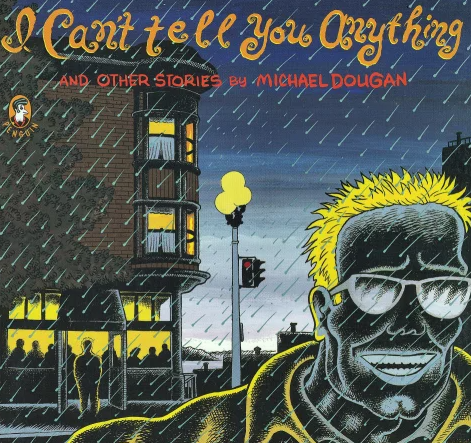 A few days ago, posts began to appear on social media reporting the death of cartoonist Michael Dougan, a longtime presence on the Seattle scene who had moved to Japan in recent years. A much-loved contributor to anthologies such as Weirdo and Real Stuff, in addition to the solo books East Texas: Tales from Behind the Pine Curtain (The Real Comet Press, 1987) and I Can't Tell You Anything and Other Stories (Penguin, 1993), Dougan will be greatly missed.
Below, Fantagraphics VP/Associate Publisher Eric Reynolds offers his memories of Michael Dougan.
-The Editors
* * *
I was (and am) shocked to hear of the passing of my friend, the cartoonist Michael Dougan. He was a great guy, and a fabulous writer and cartoonist. I first met him in the early 1990s - he was the first professional cartoonist I ever knew who rented his own studio space outside of where he lived (in a historic building on Seattle's old Ballard Ave., no less)! He was also smart, charming, funny, and good-looking - a true inkstud! (He was even recognized in Peter Bagge's and Helena Harvilicz's 1990s fanzine, I Like Comics, as one of comics' most eligible bachelors.) Michael was so well-rounded; he was at times a cartoonist, a newspaperman, a barista, a restauranteur, a tv writer, and a great conversationalist, to name a few. His work is not as well-remembered as it should be, although his best book, I Can't Tell You Anything, was released by Penguin in 1993 and still holds up as some of the best autobiographical work of its era. Part of Michael's obscurity is because in 2006 a fire destroyed his house in Seattle, taking all of his art and archives—and in some ways his comics career—with it. He seemed to process what was a cartoonist's Worst Case Scenario better than most could have, but it also seemed to fuel a desire to move forward rather than look backward. He spent a couple of years in LA writing for television. Whenever I brought up doing a collection of his work, he was interested but ultimately dismissed it as being too much of an "epic undertaking" to find the time for. I regret not pushing him harder, but when he and his wife Chizuko moved to Tōno, Japan, circa 2018, and opened a coffee roasting business and café, we agreed to table the conversation until he felt more grounded over there. Unfortunately, the pandemic started, and we lost touch over the ensuing three or four years. Just a few weeks ago, though, my family and I visited Japan for the first time, and Michael had been on my mind as we prepped. I knew we wouldn't be anywhere near where he lived, but I reached out to him on Facebook in late November to let him know I was thinking of him and wished we could meet up. He didn't reply, and I just figured he was busy and that I'd hear back from him eventually. But now I realize that we had always communicated via email before this, and I'm kicking myself for using Facebook despite neither of us being too active on it, because I think it deprived me of hearing from him one last time.
In 2003, I was proud to have been immortalized by Michael, along with Gary Groth and Jim Blanchard, in this autobiographic strip for the Seattle Weekly (later republished in Fantagraphics' own Comics As Art: We Told You So). I'm the longhair in the strip. Yeah, I know, different times, but what a great memory. R.I.P., Michael.