The word came up in every conversation: Exciting. Excited. Excitement. There's a buzz to every returning in-person event — sporting, concert, theater — and the 10th Anniversary Short Run Comix & Art Festival was no different. According to Executive Director Kelly Froh, four-thousand people attended the free one-day event Saturday, November 5, 2022, which ran from 11 a.m.–6 p.m. With the Space Needle and a perfectly autumnal day as a backdrop, people queued to get into the Fisher Pavilion, talking about how they were looking forward to the experience and how much they loved zines. Also located outside were "chill out-tents," as well as the merch and information booths. Showrunners Froh, Bella Rowland Reid, Mita Mahato and Arabella Bautista took point at the former, littered with programs that explained to attendees how to access lactation rooms, WiFi and more. Masks were required, and volunteers asked about symptoms as they fastened wristbands.
All photographs taken (poorly) by Kristy Valenti.
PROGRAMMING
The show doesn't have a panel block. Instead, in addition to Short Run-branded events year-round, there were Seattle-area satellite spotlights with special guests that Friday, Saturday and Sunday. Such as a comics embroidery class with Gareth Brookes (The Dancing Plague); a dynamic drawing workshop with Lale Westvind (Grip); a group reading by Claudia Chinyere Akole (In Our Image), Anna Haifish (Schappi) and Natalia Novia (L'Organisme); a Q&A with Shary Flenniken (Trots and Bonnie) and a Megan Kelso (Who Will Make the Pancakes)-guided tour of her Seattle Center public artwork.* 
In some ways, it's a comics event organizers' event. VanCAF's Robin McConnell and Jarrett Samson pushed Salmon Run, curated by a tabling Cole Pauls, into hands. Zack Soto, one of the founders of  the discontinued Linework NW, said, "It's a great show. It's an exemplar of the form …  No notes.…   I'm glad it's a masked event." Avy Jetter (Nothing Good Ever Happens at 4:00 AM), who ​​organizes Oakland Creates and the San Francisco Zine Fest, said, "It's actually really nice to see how other organizers produce the show."
PRINTING
Production values were particularly high all around, and audio cassette tapes were the trendy non-comics item. Artist, editor and publisher Michael Koehler credited the quality of Mortimer Megazines' (pictured below) to Mixam. When asked if there had been any shipping or logistical issues, Koehler said that once, a large DHL shipment had gotten wet in L.A., but he was was reimbursed for it.
Michael Heck of Cold Cube, a local "Risograph publication studio," was proud of the press's work on Glacier Bay's "special limited preview edition" of the first chapter of Aoi Mukoubi's To the Sea manga, as well as the orange-on-screentone printing for Wont 2 Cant, by Ian Mackay and Gavin Owens.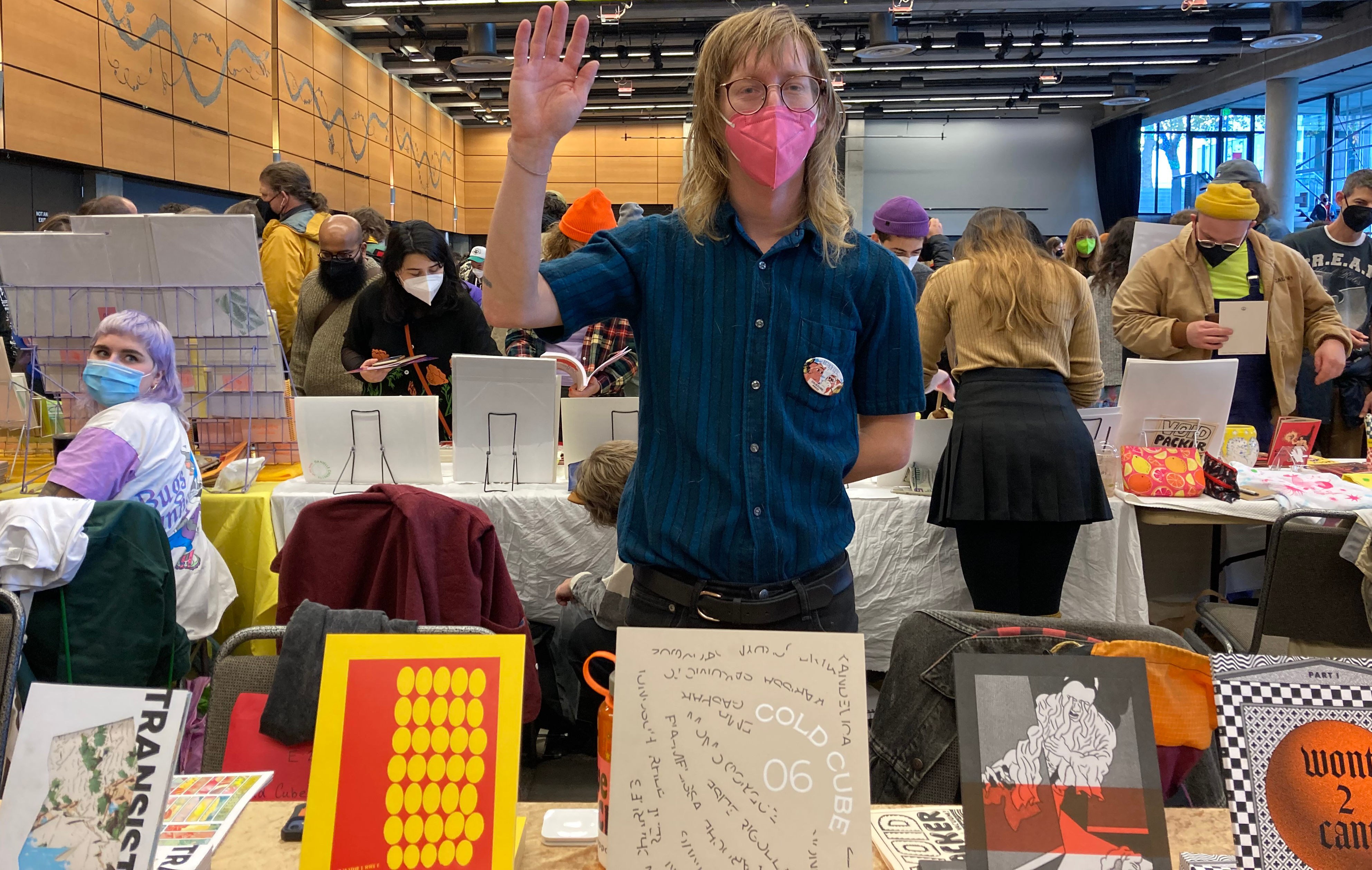 COVID AND COMICS
There were many works on offer about grappling with the pandemic. Avy Jetter said her newest was Shelter in Place, sketchbook drawings from 2020–2021. Special guest and mini-grant recipient Julia Wald created The Suspension of Disbelief: Covid-19 Stories, interviews with Seattle residents in comics form. Both Soto and Floating World comic shop proprietor/publisher/PNW con fixture Jason Levian talked about how comics had kept the community going. Levian commented that, "it was a fun thing that everyone was doing together every day, reading the latest strip on Instagram." Soto said, "A lot of people seem to have started making comics during the pandemic, as one of the many things that they do."
T Edward Bak, whose Sea of Time #1 comic Levian had published, said his process had "consciously change[d] over the course of shutdown. …  [He] ended up with a lot of students who use tablets and digital technology." He "bought an iPad, learned Procreate, and … started using it too much. So I went back and now I just use it to clean up stuff."
CROWDS AND SALES
Though the line to get in was relatively short as the con opened, it lengthened throughout the day. Various exhibitors said that they didn't have a chance to walk around. The Silver Sprocket and Glacier Bay tables were bustling; the latter tweeted that they had sold out of Oumi Konomi's From This Flame. Paper Press Punch set up a "zine machine" station, and attendees busily colored and folded.

The collective buzz of being together in person again seemed to boost sales. Tablers Colleen Frakes and Zach Clark had this Twitter exchange, which they granted permission to quote. On Nov. 7, 2022, @ColleenFrakes tweeted: "I've kept this spreadsheet of convention sales going as far back as Stumptown 2010. Sales-wise, this year's @shortrunseattle was my best show ever. EVER. The only show that even comes close is SPX 2015, right after "Prison Island" came out." Zach Clark @zachclarkis responded: "Hands down the best single day sales I've ever had, which I love because my previous Short Run experience was my single worst sales day."
A LIMITED EDITION
Every aspect of Short Run bears up to its double-entendre name. Since it's a one-day event, there are no hungover-cartoonists-gone rogue on Sundays, no sense of dragging in for another grueling day on the show floor. Casual readers can do their browsing/shopping in a couple of hours. Many people combine the show with vacations — even honeymoons — and simply catching up with old friends. Zomar — a black-and-gray-ink tattoo artist who uses micro pens and woodless graphite for shading — was selling Fantasma, a collaboration with Sara Romano Diehl, with whom he was tabling, and his own minicomic, Grog N Sturge #1. He hadn't self-published a book in 19 years, but he explained, "Sarah [and I] worked at a pizzeria together and that's what a lot of her stuff is based on … I inspired her to get into comics and then we lost contact for 10 years. And then she found me, and I was blown away because she was doing comics, so she inspired me to get back into comics."
Due to the nature of a short run, people will miss out; it is part of the ethos. With comics events spread out across the city over multiple days and times — it's simply impossible to talk to everyone, to look at every comic, to experience everything. It's Short Run's strength: what keeps it a "special limited preview edition" every year.
*Casanova Frankenstein (How to Make a Monster), Antoine Maillard (Slash Them All), James Spooner (The High Desert: Black. Punk. Nowhere), Ariel López V (Now) and V. Vale (RE/Search) were also special guests.