The morning continues. Calista and I meet again… She has converted to a standing desk, and is obviously much happier since—
We have much to plow through, starting with the line-up of our Fall 2013 season—a big one, where we roll out some heavy artillery. Two titles are in danger of missing the deadline, but we strategize on how to squeeze them through with a slightly later release. We talk over a couple interesting submissions and then cast our minds on a few "stragglers"—books that are taking a long, looooong time to be delivered by their authors. Most of them we decide are worth the wait. One of them we wonder if we'll ever see, and move it to the 2016 list.
Back to my desk, and lots of goodies waiting in the inbox. Among them, a couple of small revisions from Gene Yang for his magnum opus Boxers and Saints, in sublime color by Lark Pien. This is a glorious thing: it's epic, ambitious, funny, enlightening, far and away Gene's best work to date.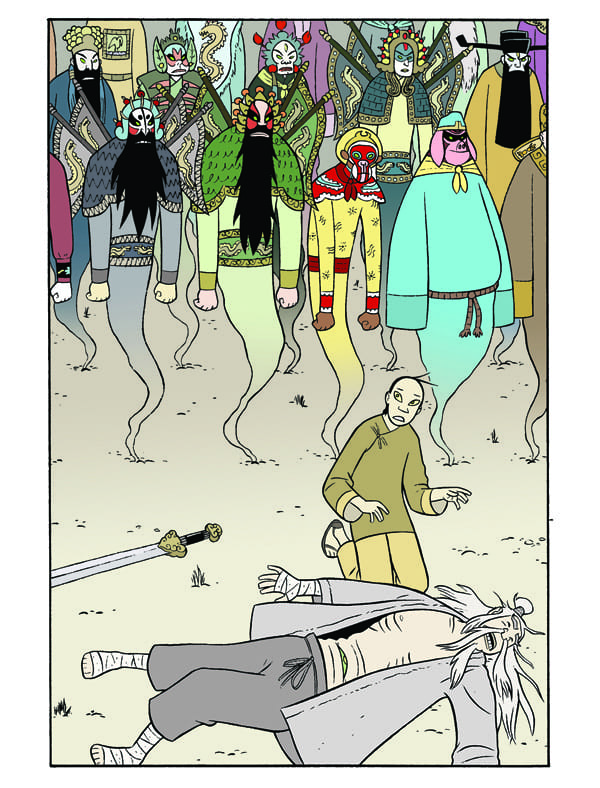 Next up, some paperwork to file. A couple expense reports from my trip to Anaheim, some galleys to mail to try and get blurbs (endorsements) on a new book. Some nice news from Holly in Foreign Rights: she just sold the 11th translation for Vera Brosgol's Anya's Ghost! In German.
Then a short marketing meeting about plans for the New York Comic Con.
I file a "CRM" (Contract Request Memo) for the Becky Cloonan project. It has the details of the negotiation, a Profit & Loss excel sheet for financials, and a few other pieces of production paperwork. That needs to collect a few signatures before reaching the Contracts department.
A couple more phone calls, with authors. One of them is Scott McCloud. That guy works so damn hard. On this big adult fiction project, he has thumbnailed the whole 400-pager four times. He's working this one to a high, high standard. I think everyone will be amazed at the magic he's pulling off—burying the theorist, and re-emerging as a major storyteller. Since we started working together he hasn't ceased to impress me. He just sent me some finished pages and he's cruising along faster than I expected. A couple snapshots:
Okay, barely made a dent with my inbox. But stomach growls, gotta get me some lunch. I walk down to CHOP'T for a fancy salad on 17th Street. Always a long line. Too many supermodels for good sense—they come from the neighboring photo studios around Union Square, I think. This seems to have the added benefit of making a lot of young men eat healthy around here. Me, I'm here for the exquisite greens. Okay, there is another CHOP'T closer to the office, but still.
Continues in Part 4…
Mark Siegel is a picture-book creator, and the Editorial Director of First Second books. His latest graphic novel is Sailor Twain.