Uber-collectors Glenn Bray and Lena Zwalve have invited many guests over the years to enjoy their collection of pop culture and sequential art, but with the publication of The Blighted Eye they have unleashed their eclectic tastes onto a broader audience. The 400+ page hardcover displays the many cartoonists, crackpots, caricaturists, and creative geniuses they've championed for years, conveniently listed in alphabetical order for easy reference. This array of illustrations was painstakingly selected from a much larger actual inventory, and only represents a little more than half of their collection. This lavish book displays much never-before-published artwork from well-known contemporary artists as well as the works of many forgotten illustrators from an earlier age. There are treasures galore, starting with Peter Pontiac's striking cover, even to those who consider themselves knowledgeable in alternative and underground art. It's a treat for even the unblighted eye to witness the curatorial results of these two dedicated art lovers, whom lowbrow artist Robert Williams calls in his introduction "intuitive collectors … scooping up the magic that usually falls through the floorboards."
Bray is listed as author, but Zwalve contributed as much to the book as he did, he insists. "During production she said you don't have to put my name on it, because I'm all over the book already, but now she says she's kinda sorry she did not take more credit." She does get star billing in the acknowledgements at the end of the book, with the inscription: "Lena Zwalve, to whom my love and this book are dedicated." Not the same as a shared byline, but he spelled her name right. Zwalve was the founding mother of Tante Leny Presenteert, a Dutch underground comic series from the 1970s.
Their home is not a museum, says Bray, a retired hardware store proprietor. "We live here. And we don't charge admission." He does rotate the exhibition periodically, and many visitors have asked to bring friends to view their wide-ranging artistic accumulations. Bray's taste runs to the satirical and the surreal, mostly by artists from the second half of the 20th century, but also embraces the current crop of cultural curiosities. Harvey Kurtzman's comic pages are well represented in this collection, along with fellow MAD artists Al Feldstein, Wally Wood, Jack Davis, and Basil Wolverton. The underground cartoonists have a large presence, especially Robert Williams, Rick Griffin, Robert Crumb, and S. Clay Wilson. More recent alternative cartoonists are also in the mix, including Dan Clowes, Jaime and Gilbert Hernandez, Chris Ware, Gary Panter, and Johnny Ryan. Several illustrators and fine artists from the early 20th century are represented, including Gluyas Williams, Virgil Finlay, Alan Odle, and the focus of his current fascination, Art Young.
Selection of art was based on rarity, he insists, rather than greatest hits. He didn't include all his Binky Brown pages from Justin Green's autobiographical masterpiece and it pained him to leave out the Kurtzman Frontline Combat pages, but there just wasn't enough room for everything. The book also contains an extended interview with Bray about his inspirations and collecting adventures, and the art is accompanied by captions that list vital statistics as well as anecdotes and acquisition stories. The result is more of an extended overview of a particular collector's taste than an art history that defines the context of the many delightful pieces.
If The Blighted Eye were a museum catalog, I would want to listen to an accompanying audio tour as I paged through it. Despite its generous inclusion of war stories, I find myself wanting more backgrounds on the artists, more stories of discovery, and more lessons of dogged persistence that paid off in new discoveries. Bray said his editor Gary Groth encouraged him to add personal information as they designed the book, and Bray obliged him but asked himself, should I leave the reader wanting more, or make him think I'm long winded and boring? "I'm somewhere in the middle," he insists. "The art speaks for itself."
See, that's the thing with collectors. They don't feel the need to explain what drives them, and other collectors don't need to ask, since they understand the thrill all too well. Holding and contemplating a piece of art matters more to its owner than explaining its place in art history. His motivations are straightforward and his satisfaction is simple. "I love to have it. I love to look at it," says Bray. "I do find bliss in my collections. There are so many times Lena has to call me from my room because I'm looking at my art. I love to have it available to see anytime. I'm preserving art for the future. You don't really own art. You only have it for a while and then it's passed on."
On the other hand, I wanted to know more. "Come visit me and I'll give you the guided tour and answer all your questions," says Bray. I may take him up on that, but it doesn't solve the problem for everyone else who shares my inquisitiveness.
For instance, why a Rime of the Ancient Mariner painting by Gustave Doré and not an etching?
He bought the original painting from a dealer who dealt mainly with lithographs done by other artists from Doré's compositions. The original art was devalued compared to the copies.
Xavier Cugat was an artist as well as a mambo musician?
Cugat worked as a cartoonist for the Los Angeles Times, even while he led the orchestra at the Waldorf-Astoria Hotel.
Who made that beautiful frame for the Astley David Montague Cooper devil painting? Bray said that an old Russian framer he sometimes hires zealously keeps that craftsman's name a secret and won't identify him. But it sure is a beautiful piece of work that fits the artwork perfectly.
Where did he find that Virgil Parch sketch, Whose Drawers?
It was in a bin of one-dollar frames at a thrift store. Don't count on that happening too often.
How did he get Big Daddy Roth to make the personalized t-shirt and has he ever worn it?
It was a gift from Robert and Suzanne Williams, who went to see Roth and made sure he did the drawing instead of one of his assistants. Bray never wore it and it's preserved in plastic and mothballs.
Does he have a computer database of everything, or index cards or some kind of cataloging system?
"I'm not that anal. I didn't organize it until I had to do this book."
How does he find things?
"I know from memory where it can be found. Framed paintings are easy. Go into the closet and find it." The stuff hanging on the walls is no problem to locate. Filing cabinets and plastic boxes are divided by artist and genre … Robert Crumb, romance comics, postcards, etc.
What ties everything together?
He has a general litmus test for new acquisitions. "Would Harvey Kurtzman have published this in Mad?" That is, if Kurtzman didn't have to deal with censors or editors or 1950s distribution channels.
Does he ever worry about losing his collection to a disaster, like an earthquake?
"I can't think about that or I'd go crazy. I have a good alarm system. If the house burns down, that will be the way it goes."
Is he at capacity?
"Close."
What will happen to his collection when he's gone?
"I'm not going anywhere."
Bray's crowning achievement was resurrecting early 20th century Polish sculptor Stanislav Szukalski, according to Robert Williams. When Bray discovered the forgotten genius was living nearby in Granada Hills, and in possession of an enormous amount of unseen art, he befriended and championed him and published several private editions of his work, including Troughful of Pearls / Behold!!! The Protong (1980) and Inner Portraits of Szukalski (1982) He also arranged exhibits of Szukalski's work in California and Chicago and is cooperating on a documentary film. Szukalski became newly appreciated to a whole new audience through Bray's efforts.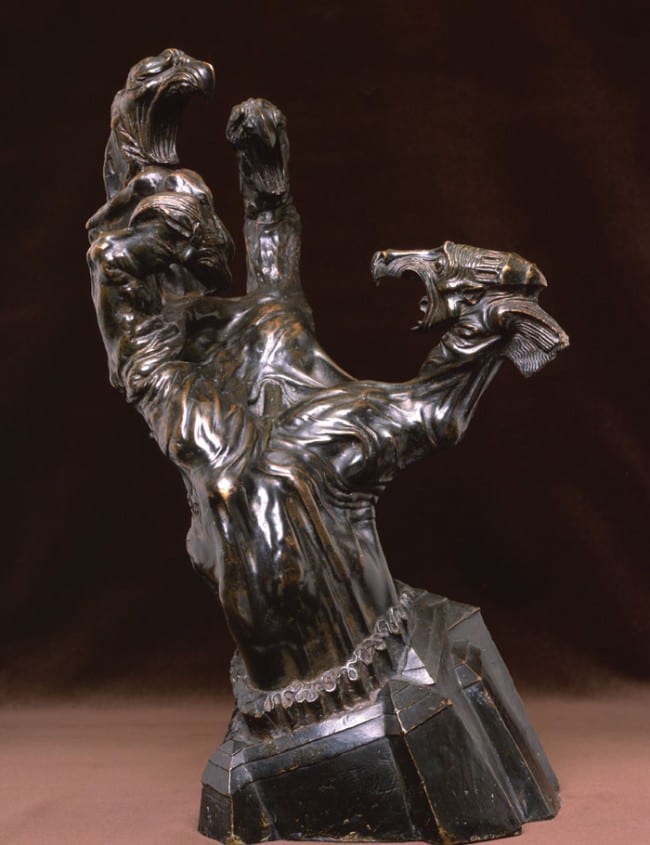 Bray also got to know Basil Wolverton personally and published some of his work in GJDRKZLXCBWQ (1973) and Foop Goop Frolics (1975) and more recently with The Original Art of Basil Wolverton (2007). He developed friendships with many of the artists he collects, he said, and bought art directly from them whenever possible. He liked Gary Panter's early punk work when he saw it in Slash magazine and met him at a friend's house in the late 1970s. Many European artists, including Edwin Pouncey, aka Savage Pencil, have been frequent guests in his home, and Bray and Zwalve visited a number of them all over Europe as well. Millionaire collectors who acquire large collections by buying them don't impress him.
Bray admits mixed feelings about putting his collection in book form. It solidifies his artwork into something concrete that was more amorphous in his mind beforehand and that change feels strange. "The part that makes me the happiest are the pages of photos on the inside covers," he declares. "I'm very satisfied with this section." The people and places in the photos are not identified in the book, but they serve to surround the collection with personal memories. Bray is glad to be among friends but the reader doesn't need to know who they are. A private person sometimes needs to play things close to the vest.
Meanwhile the book is finding its audience. A fellow collector named J. A. Goodman wrote a review on Amazon that said "This book gave me a major boner … I mean ... um … this book GIVES me a major boner! Glenn, can I have your collection when you die?"
See, that's the thing with collectors.
Patrick Rosenkranz recently completed Finders Keepers, a documentary about collectors. Buy it here.