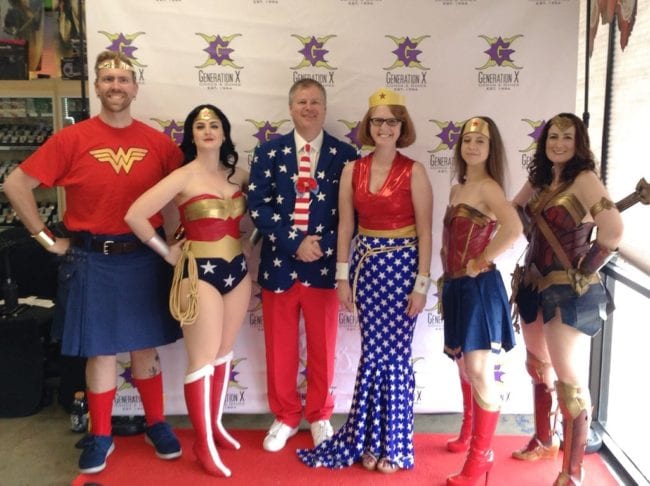 Generation X Comics & Games (aka GenX) opened in October of 1994 in the heart of the Dallas-Fort Worth Metroplex. On January 1st, 2014, GenX moved to its present 5,000-square-foot location, where the owner swore that it would never be full. Less than five years later, we wonder where to put the new lines we continually bring in.

For almost 25 years, GenX has carried the best of comics, toys, role-playing games, board games, miniature games, Magic, Pokemon, pop culture, and more. We have fifteen large glass cases of back issue comics, Magic & Pokemon singles, and a 76-foot wall dedicated to board games. GenX hosts many events in its game room and has been known to spill out to the parking lot for large events such as Free Comic Book Day and our birthday celebrations.

Plus, GenX is the only location on Earth to feature the wonderful Chris Powell in a kilt on Wonder Woman day!
We spoke with Wayne McNeil, the owner of GenX, about his shop. For more information, their hours, and location, check out their Facebook page.
The Comics Journal: How long have you been in comics retail?
Wayne McNeil: October will be 25 years. I was a successful retail manager for a large company and they wanted me to transfer out of state to become a district manager. I used that as an opportunity to revaluate my life and what I wanted to accomplish. Having always enjoyed comic books and games, I decided to open a store. It was a real challenge in the early years. I was in the middle of Lone Star Comics territory and I had to become really professional really quickly to survive. It has been an enjoyable ride.
What's changed the most for your business in the last ten years?
We moved the store five years ago and business boomed. I went from three employees to ten. It took awhile to get the hang of the influx of so many new customers. We doubled the size of our store and moved to a much more visible location. The window decals can easily be seen from the highway. Our foot traffic exploded but we also needed to become more "muggle" friendly. Thus we moved into the pop culture business in a big way. It amazes me the number of people who have a love for the characters but have no interest in reading the comics. But I have the toys, statues, and novelty items they want so they are happy. Plus we are trying to get readers at a much younger age. The all-ages books and even board books are a big hit.
With a larger sales base, we have become more active with charity work. We always supported as much as we could but now we can donate to multiple local charities and several charities for our industry like the Comic Book Legal Defense Fund and the Hero Initiative. My wife loves the ability to help multiple charities at once.
The constant relaunches are a challenge. Is this the relaunch that kills the book or the relaunch that everyone has waited for? Which alternate cover is the popular one? Plus there are a lot of speculators who show up on Wednesday morning and try to buy you out of Naomi or whatever the hot book for the week. But the nicest thing is the rise of the graphic novel. Ten years ago, a great graphic novel section was anything over a single section. Now it has grown to take up almost as much room as single issues. In fact there are the beginnings of a product glut. A byproduct of the rise of the graphic novel is the fact that most comics are written in arcs that many times are forced to stretch or squeeze into a single collected edition.
How do you decide what titles you are going to carry in the shop?
Since our customers mainly care about the superhero genre, we primarily carry the mainstream publishers. Although we try to branch out where we can, we are very selective about books outside that genre. Recent sales history is the best indicator. Whether it is a title or writer or artist, we can find data from our customers buying habits to give us an indication of how well an individual comic will do. But the staff is always looking for new hot books that might appeal to our existing customers and we try to carry a few unique books to appeal to different audiences.
Do you keep up with the comics news--and what does the term "comics news" mean to you?
I read the Diamond front page every day. That is my main source to get information from the publishers. And I love the From the Road reports - I always look at them to see how other retailers are merchandising their stores. Along the same line, I try to always read the Retail Therapy columns at the Comics Journal. I really like finding out how other retailers approach the challenging topic of making their store better. As for general news about the industry I read the Coliseum's Retailer Page on Facebook. Phil Boyle set it up for retailers to share information with other retailers about a wide variety of topics. I would like to attend more trade shows but I only have so much free time. Comic news is a pretty wide topic to me. Everything from specific publisher information to general information about how best to display books. I tend to enjoy the nuts-and-bolts type articles.
What's your weekly routine with your store like? Has it gotten easier or harder since you started?
My personal schedule revolves around ordering, marketing, and too many bookkeeping tasks. Occasionally I'll see that one of my excellent staff has missed a customer and I'll be able to work the floor for a short time but it is a rarity. I like boring. Boring is good. Too many times it seems like retailing is mastering the ability to navigate multiple potential disasters. Since I have more experience at seeing and avoiding trouble areas, things are a little easier. Everyone helps to receive and display merchandise. It's important to me to keep the store looking good. Everyone is also responsible for positive customer interaction. This is vital to the long term survival of my shop. Some customers need more attention than others, so it is a fine line but I think everyone at GenX does it well.
What do you wish more publishers knew about comics retail?
The lack of information makes it really difficult to make decisions. Too many "Whole New Era" and "Everything Changes" as a way to hint that SOMETHING is happening. And then when the event turns out to be minor then the decisions become even more difficult for next time. Plus, telling stores that a big event (like a marriage) was going to happen and then pulling it back makes the STORES look stupid, not the publishers. Finally, having multiple event books every year means fewer and fewer people care about any one "event."
I would also like to see consistent placement of issue numbers and barcodes. Trying to ring up a customer and having to continually hunt the front and back of each comic for each barcode is time consuming. And having issue numbers in wildly inconsistent places on the cover frustrates many customers who are trying to fill in their collection.
What do you wish more customers knew about comics retail?
That I wish the book they wanted was always there for them. I really try my best to have what my customers want when they want it. But ordering correctly is almost impossible. Please start a subscription list. And if you have a subscription list, then please pick up your books! Or let us know that you don't want them anymore. Either situation helps us a lot.
Most of my customers know this but I would like more customers to know that the release dates that publishers list for their books can change without notice. Just because they listed the release date as today is no guarantee that the book will actually be here today. Most publishers are good about updating release dates but some books slip through the cracks.
And finally, rarely are comics off the wall going to be worth anything. Buy them for enjoyment, not an investment.
What gets you most annoyed about comics right now?
Miniseries. So many miniseries. Miniseries that nobody will care about in a year. Skip the middleman and just put out the work as a graphic novel. Or just don't print it.
Also, I wish more stores would try new things and get moving away from the old non-inclusive model. Lets see some different people in our comic shops. Merchandise your shop to appeal to people who aren't your typical customers. It's sad to see shops that are stuck in a rut and aren't actively trying to get new customers. Otherwise I love my job. I have said this many times but it's still true - my worst day at the comic shop is usually better than the best days at any other job I've had.
What has you most excited about comics right now?
I'm really enjoying the run on Punisher right now. Unlike Captain America whose involvement in Hydra is glossed over, Frank Castle is getting his reputation back by killing Hydra agents. Lots of Hydra agents. I like this arc even more than when the Punisher had the War Machine armor.
Immortal Hulk. Who came up with the idea to make the Hulk a horror comic? It sounds like a disaster but it is incredible. "It's night. And the night is HIS time."
Naomi has been interesting but the story has been SOOO slow to develop.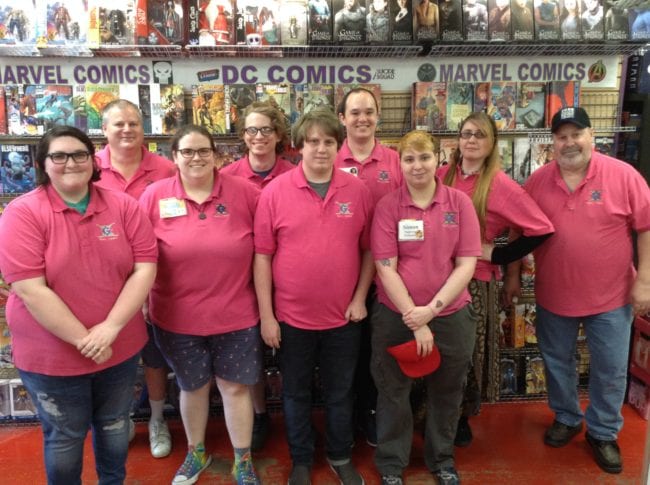 What's the next big thing happening at the store?
Twenty-fifth Anniversary Celebration! My wife had the amazing idea to give away $25,000 in gift certificates to our customers for this event. So we printed up 500 special gift cards and we are going to load them with various amounts and give them away for our big anniversary celebration in October. Twenty-five thousand dollars, wow.