The last month has been a whirlwind tour of comics, comics, comics. First there was France. Then a talk/workshop at the Center for Cartoon Studies in Vermont and then a talk/workshop at The Billy Ireland Cartoon Library & Museum in Columbus, Ohio. I just got back from the Ohio leg of the trip so I'm going to start there. The CCS Vermont trip will be another column. I thought I could make a double-feature tour diary but I'd miss the deadline for this column. So, lets go!
=================================
I was invited to speak at Ohio State University. Professor Richard Fletcher from the Classics department found my book, Pompeii, at the bookstore there on campus. He liked it and asked if I would come talk to his class. Then the Billy Ireland Cartoon Library and Museum graciously got involved. Jenny Robb and Caitlin McGurk from the museum worked with Richard Fletcher and Dani Leventhal's Rough Draft project and let me inaugurate the Will Eisner Seminar Room. They made the event free to the public. I was really honored.
I drove out on Sunday. The Thurber House, the Billy Ireland Museum, and Rough Draft got together to host a dinner that night. Lilli Carré is this year's Thurber House resident artist and since I was coming to town, the parties involved thought it would be nice if we could all grab some real life face time. It was freezing cold outside and lovingly boiling hot inside. Classic Midwestern March evening. But there was no whining on the yacht and we all had a great feast. Columbus is a really solid comics town. Jeff Sims and everyone at CMA and the Thurber House are doing interesting things. Check out their website here.
Monday was busy. First, I got a tour of the Billy Ireland "vaults" from Caitlin. It's like one of those fortresses you see in movies with secret doors and high security. Quite a sight. Oh look, there's a drawer filled with Chester Gould's original art for Dick Tracy. Or some of it anyhow. Oh look, there's the entire Bill Blackbeard collection. "It came here on six tractor trailer trucks", sayeth Caitlin.
I didn't know whether to cry or wind my watch. I was "in the stacks" of History. I actually thought of the lost libraries of Alexandria while I was back there.
Oh, and then we went upstairs to look at the Bill Watterson and Richard Thompson exhibition being installed. It's very nicely curated. Good flow. I actually saw the preparators framing some of the originals. I was slightly surprised that Watterson worked relatively small. Not too small but smaller than I expected, that's all. Really clean for the most part, too.
Then I walked across campus to meet with Professor Richard Fletcher's undergrad Classics Club. It was kind of exciting for me to visit the  Classics department at OSU. I'm a big Ovid fan, what can I say? Hanging out and talking ancient poetry is pretty cool in my book. Richard and I discussed Pompeii while I clicked through a pdf of it. It was a classroom with about 14 people, maybe. Students and some faculty. I basically just read the whole thing to them in five minutes and when I got to the end they applauded! I couldn't believe it. I felt like my version of the ancient world passed a test! It was a great feeling. They got my references. They peeled back the layers of the visual symbolism and fed it back to me through their interpretation. Actually, Richard's essay on Pompeii was the first to get many of the specific references. When I mentioned this he laughed and said something like, "That's what a classicist has to do—dig for clues."
We had a very pleasant and enjoyable Q&A. I felt like I was presenting comics to an audience that was very interested in the form of comics. There's a very fruitful line from modern day comics all the way back to the frescoes of Pompeii and beyond.
The Classics Club talk really psyched me up for the main event later at Billy Ireland. I really want to thank the Classics Club for inviting me to present my work. It was extremely rewarding and I feel like I learned a lot from the feedback.
=====================
My talk at the Billy Ireland was about how I compose my comics. The whole thing was videotaped (is that a verb anymore?) and I'll add a link here when it goes up somewhere. The place was was packed! (What a town!) The Will Eisner Seminar Room is this very nice airy conference room with big window windows type of deal. It came equipped with a state of the art chalkboard sized computer screen that you could use like a tablet and move the image on the screen around by touch. I felt like I was doing the weather on TV. I scrolled through a pdf of Pompeii, played some Miles Davis songs off YouTube and just tried to put across my process.
I like to think about how musical composition and arrangement relates to comics. Particularly modal music. I think there is a shared "pattern language." Mode means "way" essentially and I think that there is a way to use simple scales and rhythms like in modal music and apply them to composing comics. And I don't just mean the regularity of the grid. I mean abandoning the prison of "chord changes" and just "playing scales" under the melody instead. There can be more expressive playing within the mode because the pattern doesn't have to resolve. For me, the tension between "free playing" and "orchestration" is very important. It's an intuitive endeavor for sure, but comic book layouts can be arranged so that the maker is not attempting to play more and more complex chord changes, so to speak, and need to "resolve" them by the end of the song. There can be a notation system for comics, I think, to map all of this like sheet music. (See Chris Ware's famous Journal interview where he discusses seeing comics as sheet music)
Forgive me if my vocabulary of musical terms and expressions needs work. I'm learning. I know I am comparing two different languages. The translation may be spotty but the concept is there.
Then I lead a simple drawing exercise that is better seen than explained so come back another time for the video link. I think it went really well.
There was a lively Q&A after. A few musicians in the audience who could offer better translations on some of the finer points of what I was trying to get at were kind enough to share thoughts. That was great for me, because it felt like we were trying to all compare notes about this subject that is hard to attach words to because we are essentially dealing with audio and visual phenomena. Sort of like synthesia.
After the talk, I signed some books and got to meet some new people and say hi to some old friends or recent friends. Thanks to Matt Reber of the Wexner Center for the Arts bookstore for setting up a table outside of the Eisner Room and making my books available. And thanks of course to everyone who came out.
=============================
The following day was sunny and warm. Tuesday. Classic Midwestern March temperature switch. I was on cloud nine walking through campus on my way to study at the Billy Ireland Cartoon Library. I didn't make any plans. I just wanted to get lost in study. I wanted that feeling of submersion into serious research.
I decided to research cartooning correspondence courses and Noel Sickles. The two are directly connected. Sickles has always seemed to me to be a real source of energy for Milton Caniff, Alex Toth, and their small circle. He was like their guru. Caniff was involved with correspondence courses through the Landon School and the Famous Artists School. So there was an American line of heritage for me to trace. Plus, I wanted to pay respects to the home team. Caniff has a big connection to the library obviously, but more than that--Landon's correspondence school and Sickles (and Caniff) are from Ohio.
My real interest was looking at Sickles' magazine tearsheets of his own commercial work and his letters. The library had a lot of his framed original paintings and finished drawings. But I wanted to see the man's files. What did he keep? Prep drawings, letters back and forth to editors, ripped pages out of books for reference, and of course a tearsheet of the final printed illustration or comic strip. There was so much there. Each magazine illustration job was often a very elaborate production. I found whole sheaves of tracing paper with intricate tests for the editor to approve. These tests were some of the most beautiful pencil drawings I've ever seen. Yet they amount to a notation, a doodle on a letter. Text and image. An illuminated manuscript.
I was making all these noises. Like exclamations to the God of the Library. I couldn't help myself because I couldn't believe what I'd found. I found one letter from Alex Toth about the perils of photo-referencing. (And another from Toth very politely wishing out loud to be better friends with Sickles. Rather touching stuff.) I found a letter from Milton Caniff (who addressed Sickles as 'Bud' or 'Unca Bud') along with proofs of the Bruce Lee comic strip they worked on together towards the end. I found an original print edition of Hemingway's Old Man and the Sea which first appeared in Life magazine with illustrations by Sickles. And the notes for the project.
I felt like a detective picking through the evidence and digging for clues. I sifted through the Sickles archive for hours. What a body of work one is able to track (for 40 plus years—being at top of his game in terms of facility in execution and quality of work) just from his notes and letters. I was duly humbled.
Then I finally saw original Landon School of Illustrating and Cartooning correspondence booklets from the early 1900s. Charles N. Landon's students included Carl Barks, Milton Caniff, Jack Cole, and Roy Crane amongst many others (that's only the C's nyuk nyuk). The way the course worked was that you would get a booklet in the mail and then send your drawings to Landon's school for review. The interesting aspect of the course (so it advertised) is that the students didn't just copy a drawing—they created original drawings instead. A few examples of the type of drawing to be made for homework were provided but the student had to cobble together a new drawing on their own. I was startled to find many of the students' homework still in the booklets. There was a real charge to the work. Like cartooning was something new. The drawings had obviously been mailed to the school and then mailed back to the students because they were folded and had remnants of postage labels on them. The drawings were corrected and commented on in red pencil. "This is a very good drawing" written next to a circled study was a common comment. Often the instructor would redraw the students drawing next to it on the paper with arrows and bits of text explaining how clothes fold or something like that. Criticism seemed most focused on proportion and using thick pen lines for reproduction.
There must have been three complete sets of the Landon School courses from different periods. The 1910s, '20s, and '30s. The course didn't change much. I think it laid the groundwork for the more elaborate Famous Artist School that was not so specifically focused on cartooning. I looked at those "famous" fancy FAS binders and I must say I'm not as enamored of them as I used to be. I think going through the simpler Landon booklets made me think of self-publishing and the fragile beauty of folded notes, hasty violent sketches, and carefully arranged charts.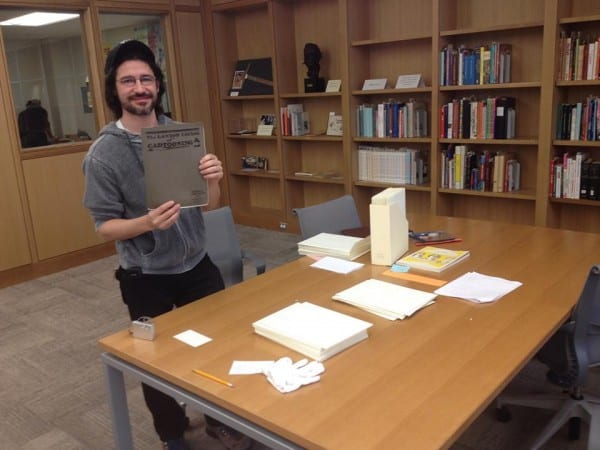 ==================================
I grudgingly left the library when it was closing. Big thanks to Susan Liberator and everyone at the library for helping me find all of that stuff in the stacks. Thanks again to everyone who helped make this happen.
==============================
Over and out.
=============
postscript: I did take photos of  what I researched but I'm only allowed to use them for personal use. Caitlin McGurk took the photos above. There are a few more of my talk here. Like I said, the talk was recorded so when it goes live I will post a link here. Thanks!
ALSO - my new correspondence course is starting May 1st. Email me santoroschoolATgmail for application guidelines. More info HERE. Thanks!