My Angoulême 2014 tour diary.
I love remembering summer art camps or hockey tournaments or comic book conventions where I made new friends and was somehow transformed by the experience.
I just had one of those transformations and I'm writing this to myself and my friends who I shared that time with. I'm writing for a reader too--you--because I wanna take you along. I went to France and I left my phone/camera at home. It was awesome. Instead of taking a photo of the Mona Lisa to prove I was there, I just looked at it, y'know? Are you here or there? Here AND there?
My publisher in France is çà et là which is run by Serge Ewenczyk. Çà et là is an expression that means "here and there" in French. It's a good way to describe the operation. Les Éditions çà et là is a French publisher which doesn't publish French cartoonists. Meaning Serge cherry-picks authors from around the world. Cà et là would be considered an indy publisher in the States. I think Serge has brought together a very interesting line up and I'm proud to be a small part of it. Check the author list here.
It's really hard for me to distill the trip down to a blog post. It was an epic adventure. Dash Shaw and I went to the Louvre on our last day there. I could write a book on just those few hours we spent getting lost in that place.
I could write a whole column on how different I feel there as an author. Yeah, I say "author" now instead of artist. "Cartoonist" doesn't sound right in America. You say that and people think you draw Dilbert. I was in this famous comics shop in Paris and I showed the owner a comic by one of my favorite American cartoonists and he said, "Anybody can be a 'graphiste.' It takes a whole different kind of energy to tell a good story." And my head just about exploded.
Anyways, if you have never been to Angoulême or need to be reminded of what it is like—here is a good primer by Brigid Alverson, who I had the pleasure of meeting for the first time on this trip.
Dash and I were on the same flight out of New York. Then we took the train from Paris down to Angoulême. We were delirious with jet lag when we got there which was fine but it just makes the whole arrival and meeting new & old friends so surreal and otherworldly.
It was also pouring rain when we got to Angoulême. Gregory Benton and his girlfriend Florence flagged Dash and me down and we all waited for our benefactor Serge to come rescue us. Eventually we were all at the çà et là booth in the Le Nouveau Monde tent—which is basically like the SPX part of the festival. Serge and his crew were setting up and I got to see the French edition of Pompeii for the first time and that was really exciting.
We all went to dinner and then Dash and I walked down the hill to the apartment in town we were staying at for the weekend. Locals rent out their flats for this blockbuster weekend. Lucky us. I'd kill for this beautiful old apartment. Except I would do something about the low beams sloping down from the ceiling upstairs. Both Dash and I smacked our heads really bad in the middle of the night stumbling around trying to find the bathroom in the dark. Oof.
That was Wednesday night. The festival starts on Thursday and is four fucking days long! It's like the heavyweight title fight of comic book conventions.
The çà et là signing schedule for each day was packed. Gregory Benton, Derf Backderf, Anneli Furmark, Joseph Lambert, Li-Chin Lin, Ulli Lust, Mana Neyestani, Dash Shaw, Joff Winterhart, and myself.
I've started doing my signings now while standing up and drawing on a box placed on the table. I like this way of engaging the crowd because I'm not sitting at crotch level when I do a drawing in the buyer's book. And also the person isn't leaning over the table. It caught on a little bit—especially with the Americans in our group. It made it easier to navigate the narrowness of the booth also 'cause if you are sitting, there is less room to walk behind you.
I gotta admit I was a little nervous and quiet during my signings at the beginning of the festival. But then on Friday, I was next to Joff Winterhart, who is from the UK, and Joff's way of engaging the crowd was so charming and full of genuine affection that I began to come out of my shell. Joff would sketch passersby and call out "Bonjour! Ça va?" in a sing song way and just about everyone would smile and reply. See, you don't say "ca va" to a stranger because it is a greeting you reserve for a friend. It would surprise the locals and then they would generally just stop in their tracks and then gravitate over to Joff. They'd look around at the books and Joff would be sketching the person(s) all the while. Then Joff would say "desole" (sorry) and tell them he couldn't speak French. By then he'd finished the sketch and would give it to the person. The person might look at his book and buy it--or maybe they wouldn't-- however it created this very pleasant and affable atmosphere around the booth and I really have to thank Joff for that as it made me so much more comfortable in the early part of the festival.
I'm going to skip trying to describe the festival and basically try to just describe how fun it was to hang out with the çà et là gang. I feel like we all got along really well. We'd all eat dinner at the same restaurant at the end of each day, and at the restaurant you would see other publishers with their stable of authors. It was a great way to compare notes and get to know each other better and meet new people also. After a show in the States, we all seem to scatter and then rarely have any time to catch up with friends and colleagues outside of the show itself.
The highlight of our gang's weekend had to be on the last day when Derf won le prix révélation for his book My Friend Dahmer (which he shared with Peter Blegvad). Derf had been making jokes all weekend that he never wins any awards that he is up for—especially since last year he was always up against Chris Ware. So, when he won and came back to the booth with the trophy we all cheered like we had won too. Gregory Benton made a big sign announcing the win. Serge was grinning ear to ear. A huge group of people crowded around the booth to get the book and have Derf do a "dedicace." It was an electric moment, and a great way to end the festival.
On the last night in Angoulême I finally caught up with Matt Madden and Jessica Abel. They sat at our table at the end of dinner and then took the gang to a bar for a farewell nightcap. Jessica and Matt have been living in Angoulême for over a year now and are planning to stay longer. I'm definitely jealous. They told me to not be too jealous as life in Angoulême is very quiet when the festival isn't going on. Still. I could think of worse places to live than a quiet town in the Bordeaux region of France. It was really good to see them. I appreciated them taking us out and sending us on our way.
Then the gang took the train to Paris. Half of the gang, that is. Serge drove some of the gang back to Paris. The rest of us took the train. Joe Lambert tried to sleep but couldn't. I sawed wood like a champ. Dash read magazines. Derf hit the cafe car. We were all in a daze. We couldn't believe it was only half over. We still had signings in Paris!
====================
We got to our hotel and then went looking for food. But it was early, and if you don't know, restaurants in France don't really start serving dinner until about 8 o'clock. We walked and walked looking for a place to eat and I started grumbling. Finally we found an Indian restaurant that was open and serving food. I was still grumbling as we sat down and Derf said, "Listen up, Santoro, there's no whining on the yacht. You're in Paris!" We all just about fell out of our chairs laughing. And from that moment on, anytime any of us ever attempted to complain about anything someone would say, "No whining on the yacht!"
Then we headed back to the hotel and noticed that across the street was a comics shop. Not just "a comic shop" but one of the most famous comic shops in the world: The Troc. It's a comic shop and a tea house and a record store and a history lesson all rolled into one. Owned and operated by career countercultural wizard, Ferid, the place is like an oasis. From what I understand, Ferid publishes Gilbert Shelton and is a champion of underground comics in France. He showed us his "golden book" of dedications from artists such as Spain, Lat, Doucet, etc. I volunteered Derf to do a drawing in the book. Derf gave me a look like he wanted to kill me. "Thanks a lot, Santoro. I don't even have my pens with me." I reminded him that there was no whining on the yacht and he took a swing at me. Derf killed it, though. He did a great drawing of Joey Ramone.
The next day we had lunch with Serge and got to see the Editions çà et là offices. Also at lunch was Christian, the owner of the fantastic comic shop Super Heros. Serge went back to the office and Christian took us on the subway and over to the store which is more or less across the street from the Centre Pompidou. We had time to kill so Dash and I tried to go there but of course it was the one day that it was closed. So we went back to the shop. Super Heros does this interesting thing where they make bookplates for authors who are having signings there. The bookplate is a an offset print of a drawing by the artist and then they glue the plate into your book. It's a very handsome way of making a special edition for the store. Really classy. So each of the çà et là authors had 100 bookplates to sign. We camped out in a cafe across the street and got to signing.
Then Derf and Joe Lambert took off for their own signing across town somewhere while Dash, Gregory, Joff, and I got set up for our signing at Super Heros. This was the second time I have had a signing at this store and it brought back so many good memories. When I signed here 4 years ago, I really felt like it was a career highlight. I had never had so many people show up for one of my signings. And it was in Paris. I felt like I recognized some of the people from 4 years ago and I felt fucking great. I didn't want the evening to end so I drew really, really slow—taking like 15 minutes for each dedication. Christian said that he likes having Americans do signings there because we seem much more enthusiastic than most European authors. I said, "Yeah, we never get treated this well in the States. Thanks for making us feel so welcome!" He laughed and gave me the new Blutch book. When you do a signing at a shop in Paris, they let you take a book for free. Incredible. That shit never happens in the States.
We all went to dinner again. Walking through the streets of Paris at night and feeling on top of the world. No whining on the yacht! It was a little bittersweet though because this was going to be our last dinner with Serge. The next day was our last day and even though we all had signings the next day, we were all going to be scattered to different parts of the city. Dash said to Serge that if there were signings by different "indy" cartoonists on the same night in New York that people would be conflicted about where to go. Serge just laughed and said, "Welcome to Paris. You can have multiple signings because there are so many different shops and so many different fans."
The next day the whole gang (except for Joff who was feeling a little under the weather) got on the subway early and headed for the museums. Derf, Joe, Gregory, and his girlfriend Florence decided to go to the Musée d'Orsay while Dash and I decided to go the Louvre. They are across the river from one another. I had never been to the Louvre and Dash thankfully insisted that I go there first before going to the d'Orsay. The d'Orsay is basically 19th century and onwards whereas the the Louvre is everything up until then. I was a little torn as I really wanted to see Monet's water lilies. Dash was like, "Frank, come on, you're going to the fucking Louvre." Right. Sorry, Dash. I'm glad I listened to my old pal. Holy shit. I had a heart attack about every 20 feet. What a magical place. Definitely something for the bucket list if you have never been. We raced around for 3 hours, had lunch inside of the place, and then raced around for another 2 hours. We left only because we couldn't fit any more information into the hard drive of our brain. Good grief!
Then Dash and I had a signing at a store called La Rubrique a Bulles that was around the corner from our hotel. Derf came along too before he had to split across town to a different signing. Run by a cool cat named Gregoire, this store was a little more mainstream than the other two stores we had been to in Paris—which is to say they carried manga and American mainstream comics whereas The Troc and Super Heros were more indy in feeling. What's funny is that in America it would be an indy type store. It's hard to explain. No matter. Dash and I were happy to be there and to sign books. I had done some dedications and then a very young girl (like 13) came up and started leafing through my book Pompeii. Her mother asked Gregoire if the book was suitable for a young reader (I can understand French a little bit) and Gregoire said it was fine. I said in my best "Franglais" that there was a little sex in it. The mom looked through it and seemed fine with it. So she let her daughter keep reading. The daughter wanted to buy it and asked me to draw something in it. I was kind of astounded. Like I've written in this report many times, that "never happens in the States." Gregoire let us take a book home for doing the signing. I picked up the complete Airtight Garage by Moebius in French. "Don't laugh," I said. "This is out of print in the States and the only editions are in color and it is meant to be seen in black and white."
The gang had one last dinner—minus Joe Lambert who was at a signing with Chuck Forsman and Alec Longstreth—and also minus Joff who was at his own signing somewhere else—and that was it. Nighty night. Time to pack up. Time to get off the yacht. Dash and I had breakfast in the morning and then took a cab to the airport. I popped a Valium and slept away the 10-hour flight to NYC. Said bye to Dash and grabbed a connection to the frozen tundra of Pittsburgh Pennsylvania.
My car was covered in snow and ice when I got to long-term parking and I shivered my way home. Slowly the dream faded and I forced myself to type all this out for the gang. Then I begged them to email me any and all photos they might have to prove to my mom that I was really there. Most of the photos below are by Florence, and a few by Derf and a few by Joe. Thanks for sending them along. Thanks to Serge for being such a great host. Really. Thanks so much, Serge. You're the fucking MAN!
Thanks also to Ted Stearn, Paul Karasik, the Dongery crew from Norway (sorry I missed you guys on Saturday night!), Ulli Lust, Kai Pfeiffer, Heidi MacDonald, Jen Vaughn, Joe Keating, Brigid Alverson, Callista Brill, MK Reed, Chuck Forsman, Alec Longstreth, Jessica Abel, Matt Madden, and of course Hélène Duhamel from çà et là (and Inés) and anyone else whom I am forgetting who was nice to me and said hello and who may have talked me down off a cliff when I was losing my mind from all the people… Seriously, there are so many people walking around this festival that it's a relief to see a friendly face. Thanks!
========================================================
This is the view when you step outside of Le Nouveau Monde tent (below):
======================
The view inside Le Nouveau Monde tent (below):
===============================
Me, Derf, Joff, and Ted Stearn in the foreground (below):
================================
Dash, me, and Joff (below):
=============================
This is when Joff was making me laugh while drawing passersby (below). Also that's Hélène Duhamel from çà et là:
===========================
Joff Winterhart (below):
========================================
Derf and Gregory Benton (below):
=====================================
Serge, Joe, and Derf (below):
=====================================
Me and Ulli Lust (below):
(above photo by Brigid Alverson)
============================
Mana Neyestani (below):
============================
Gregory Benton, Joseph Lambert, Derf, and Anneli Furmark (below):
=============================
Joff won an award on Friday night from AARGH! Magazine (below):
==============================
Joseph Lambert (below):
=============================
Li-Chin Lin, Joseph Lambert, Derf, and Anneli Furmark (below):
============================
Dash and a crowded booth (below):
=============================
DERF WINS!!! Florence is whistling and everyone is cheering! (below):
=================================
The champ and the chump (below):
======================================
Me stoned at The Troc: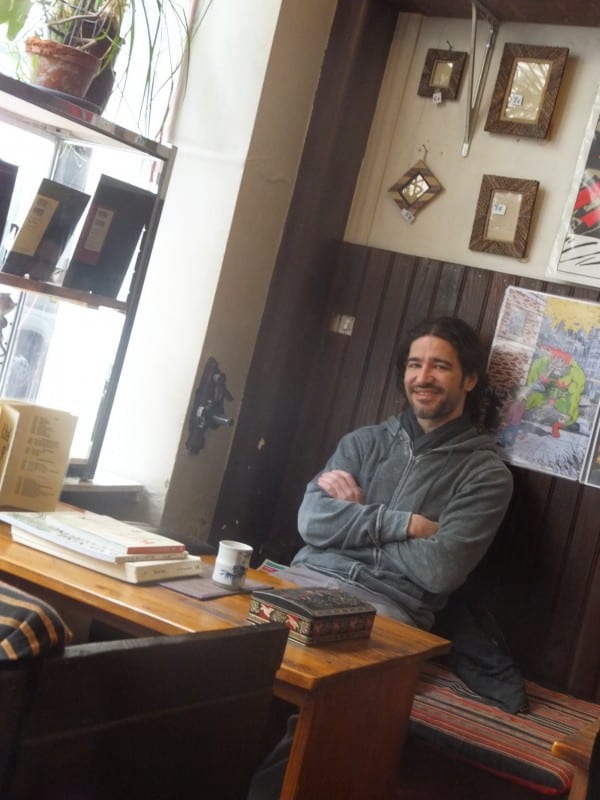 ======================================
Me drunk later. I was arguing about Batman and got so mad that the vein in my forehead popped out and Joe snapped this pic of my meltdown--
======================================
Super Heros (below):
=====================================
Super Heros window (below):
====================================
Super Heros signing (below):
=================================
====================================
That's Christian, Super Hero's owner next to Dash (below):
===========================================
Serge and Derf having a business meeting during dinner (below):
=================================
Joe and some doofus:
================================
Our last full day after the Louvre excursion:
=============================
Our final signing - our last night (below)
=============================
La Rubrique a Bulles window (below):
======================================
That's a good way to sign off. Over and out! See you next year!