August is upon us. It's week two of this grand experiment; a packed-to-the-nostrils list of news bites awaits below.
My guarantee to you: I will never link to anything about the person who makes "Dilbert," no matter what kind of backwards behavior that person has indulged in during the seven days prior. Life in 2019 is hell enough, let's try to keep at least a little PMA around these parts.
Once Upon a Time in...Comicsland: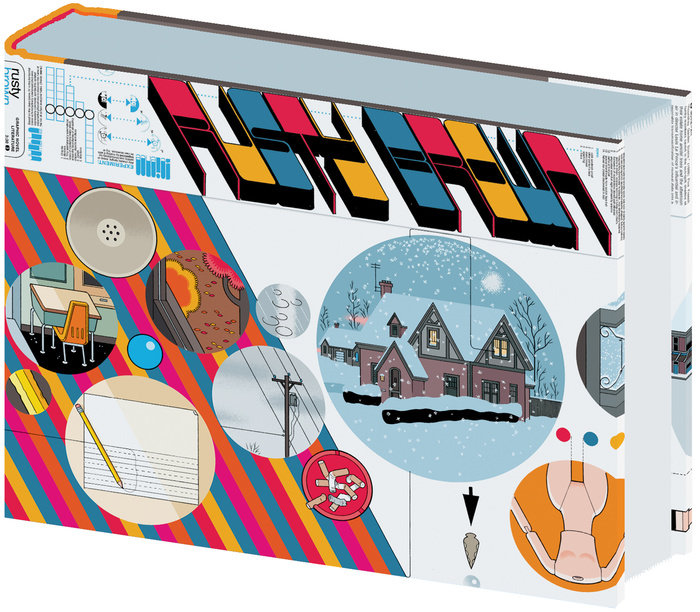 • Ooh ooh ooh there's a new Chris Ware eight-pager in The New Yorker, which they've also posted online — for subscribers only, I believe. (That's right, Fancy Flandypants gets mine in my mailbox.) The story is called "Mr. Ware," and Mr. Ware is depicted in it, painting himself in a somewhat surprising light — stoned and perverted. (I mean, yeah sure for those of us who have the Acme sketchbooks but I can only imagine what the Yorkerati will think.) Pantheon says it's a preview of Ware's upcoming graphic novel Rusty Brown, which they will be publishing, and which is shaped like Ware's Jimmy Corrigan book. My shelves will be surely be shocked and appreciative.
• The big time previews in big time publications don't stop there! The Paris Review featured the powerful and charming story "My Lil Sister Lena" from Ebony Flowers' debut book Hot Comb.
• There's an absolutely awesome neck-deep interview with Paul Karasik at Los Angeles Review of Books, including details on how a broken tape recorder led to How to Read Nancy, as well as the struggles of making it all work despite building a far-reaching and structurally diverse career.
• Wait, now, hold on...I hope you don't think they get all the good stuff over on those other websites. Right here on TCJ, we have Sloane Leong in conversation from Giorgia Marras about Sissi, Marras' biography of Empress Elisabeth of Austria. Wait until you see the elegance in this book's watercolor-painted pages...might make you wonder if comics deserves what Marras has to offer.
• The latest edition of The New York Times for Kids was composed entirely of comics. Editorial Director Caitlin Roper shared a GIF preview insisting we "don't miss it." I missed it! Why didn't Michael Barbaro mention this on "The Daily"? I'm squinting as tightly as I can, but I still can't figure out which writer and artists are in there, although Benjamin Marra and Francesco Francavilla both tweeted their involvement.
In your paper this Sunday, 7/28, the July issue of The New York Times for Kids is a special, ALL COMICS ISSUE! Every story is told graphically. Don't miss it. pic.twitter.com/vC6VY0AIMu

— Caitlin Roper (@caitlinroper) July 24, 2019
• Brian Nicholson of Longbox Coffin ran a scathing, strongly considered review of last year's much-praised Nick Drnaso book, Sabrina. He especially took issue with the artwork, asserting that "Comics should be drawn the same way prose is written: Ecstatically." As someone who considers Drnaso's uncomfortable, chilling art style an enhancement to his storytelling, I don't agree with many of Nicholson's points. Still, I found the review deeply absorbing.
• Here on TCJ, Brian Nicholson (yes, the very same Brian!) gave the final issue of Alan Moore and Kevin O'Neill's League of Extraordinary Gentlemen an intense and stunning analysis that has to be read to be believed. There's a ton of social, political and cultural context provided within, all of it fascinating. Yeah, yeah, I get paid by TCJ too, but I'm not kidding: I want you to not miss this so badly I'm linking to it twice in the same paragraph.
• The Daily Cartoonist realized that a new character in Ray Billingsley's strip Curtis is a fun homage to cartoonist Ted Shearer and his classic strip Quincy. (Or could it be Quincy himself all grown up?)
Also on TDC, some news about a Krazy Kat obsessive who has "figured out how to scrape internet versions of old newspapers" in order to create an online archive of public domain episodes of the strip. In a classy move, he's included a page with links to buy Krazy Kat collections directly from Fantagraphics.
• It seems safe to say that if you spend money on Marvel products, you are indirectly flowing cash to the United States President's 2020 campaign via Marvel Entertainment chairman Ike Perlmutter. Maybe that's hyperbole on my part, but I bet you're saying "What the--?" Los Angeles Magazine explains.
• George Takei's agonizingly relevant graphic novel memoir about his time in an American internment camp, They Called Us Enemy, has made The New York Times bestseller list. Not the graphic novel list, we all know that doesn't exist any longer — this one spans the breadth of paperback non-fiction.
• Simon Hanselmann promoted his new book Bad Gateway on local Seattle news. I was thrilled and touched to see how seriously the interviewer took Simon's process and the themes in his work.
• The Nib is officially independent and will be directly relying on its readers for support. This week, they published more great comics by a variety of cartoonists, like this one about The Bachelor and its fandom by Whit Taylor, and these about the fatherf'in "gig economy" by KC Green, Nomi Kane, Alex Combs and Erik Thurman. Big bosses Matts Bors and Lubchansky on The Nib's near future:
https://twitter.com/MattBors/status/1156643370875228160
• On Twist Street, it's a post linking to a tweet by David Lapham linking to a PDF containing 22 pages of unpublished Bill Sienkiewicz Batman art??? What the--?
• Smash Pages talked to writer Gary Phillips about his new book The Be-Bop Barbarians, and how this story of African-American comics creators in 1950s NYC, inspired by historical figures, differs from the crime fiction writing for which Phillips is so well known.
• Another sneak attack involving Benjamin Marra as J.Cole's Revenge of the Dreamers III compilation album got an out-of-nowhere companion newsprint comic distributed for free in only five shops across the U.S. That's Marra's artwork on the cover:
https://www.instagram.com/p/B0bsecPFEQt/?utm_source=ig_web_copy_link
• American Way, the...in-flight...American Airlines...magazine...?...has a pretty solid piece about comic book artists from Brazil. Way to think outside the overhead compartment, AW! Thanks to Dominic Umile for the tip on this one.
• Indie comics writer/artist turned Marvel writer turned DC writer Brian Michael Bendis was on Late Night with Seth Meyers. It ain't exactly Pekar on Dave, but it's still kinda cool to see a comics person on late night network TV. Meyers is an unabashed comics fan, so this isn't just PR shenanigans. I especially appreciated when Bendis made a point of mentioning colorist Jordie Bellaire after Seth showed a piece of Legion of Super-Heroes art drawn by Ryan Sook:
https://www.youtube.com/watch?time_continue=4&v=D5xRE90l1K8
• More from Smash Pages, where Teresa Wong discussed her new book "Dear Scarlet: The Story of My Postpartum Depression." It's her first as both writer and artist.
• Everyone's pal Michel Fiffe has let it be known that his smash hit Copra series is returning to your action-starved hands on October 2nd. And since you were extra patient, your TCJ morale committee has unearthed Fiffe's massive interview with under-appreciated comic book artist Trevor Von Eeden from The Comics Journal #298 — never before available on The Internetwork!
• Last things last, I find it hard to not stop in my tracks every time a new Silver Surfer image shows up in Tradd Moore's Tumblr. It's pretty great that an artist with with so much style is getting mainstream work in these commercially cautious times. (I don't believe accessing Moore's Tumblr provides income to Ike Perlmutter. Only Yahoo. And Verizon. And they don't own Disney. Yet.)