Ever since the 18th century, pundits, psychologists and philosophers have been fascinated by the art of children. The way youngsters tackle problems of depiction, as critic and theoretician Rudolf Arnheim wrote, creates "small accidents" that enrich their creations. This alone would make children's art absorbing. But their drawings are equally important for the window they bring into young perceptions. Children unaware of art's 'rules' don't imitate; they go straight to the point of what is in their heads.
This is exactly what you find in Detonations, 160 drawings by children from around the world. Created between 1914 and 2020, this art comes from southern Sudan and Guatemala, Manhattan and Sarajevo, Afghanistan and Vietnam. One thing connects it all: the fact that these young creators lived through awful events. This is art by children who have known mass violence, escaped death camps and bombardments, witnessed torture and destruction. Although their work comes out of camps and hospitals, it is touchingly alive and informative.
Detonations is on show at Marseilles' Museum of European and Mediterranean Civilisations (MUCEM). It's a rich, enlightening affair whose contributors range from memorial groups and refugee agencies to Médecins san frontières. The expo was assembled by Zérane S. Girardeau, who spent over six years on the project.
The show also has an "artist sponsor" in Enki Bilal. Bilal is the son of a Czech mother and Bosnian father who, when he was nine, fled Tito's Yugoslavia. Now based in Paris, Bilal creates best-selling bandes dessinées and he also works with film and installation. In 1987, he won Angouleme's Grand Prize; in 2012, he received a solo show at the Louvre. A year ago, the Musée Picasso made him artist-in-residence – for 24 hours – after which he created a book called Nude with Picasso. In comics, Bilal's graphic world is smokily futuristic and, like the works here, it is stalked by spectres and fears.
Enki Bilal made several pieces for the show. One is his own version of Picasso's "Guernica", which incorporates work by four of the younger artists. Of the six "contributors", he says in the catalogue, "Only the children really know what they're talking about. It's they – not me or Picasso – who have lived it".
The drawings and hand-drawn stories in Detonations are clearly children's art. Yet they are also something more unique. They don't simply struggle with their subjects visually; they also express (and expel) visceral traumas. Whether their vision of these is literal or abstract, every choice is suffused with emotion and evidence.
Yet because these are still drawings made by children, all the work does wrestle with representation. To study this, as children's art conservator Kathleen Lonbom has written, "engages us in a process of learning to see again, often from a much different vantage point."
Much of the work in Detonations is trying to conceptualize fear. A drawing made in Algeria in 1962, for instance, shows a bucolic field filled with flowers and trees. Yet it's also home to soldiers and an outsize snake – not to mention automatic weapons. All of them seem to have eyes and be watching. When an 11 year-old refugee draws "Fear", the gaze also dominates. His terrors become a figure, one with implacable black eyes and a body of flames. Far below him lies a small and sad-faced corpse.
Eyes also center the self-portrait of a young girl from Auschwitz. They are wide and frozen open, just as blank and powerless as her gaping mouth. The clues to a rape she cannot verbalize register as the sketch of a stick-like baby in her chest and a tiny, uniformed man at her side.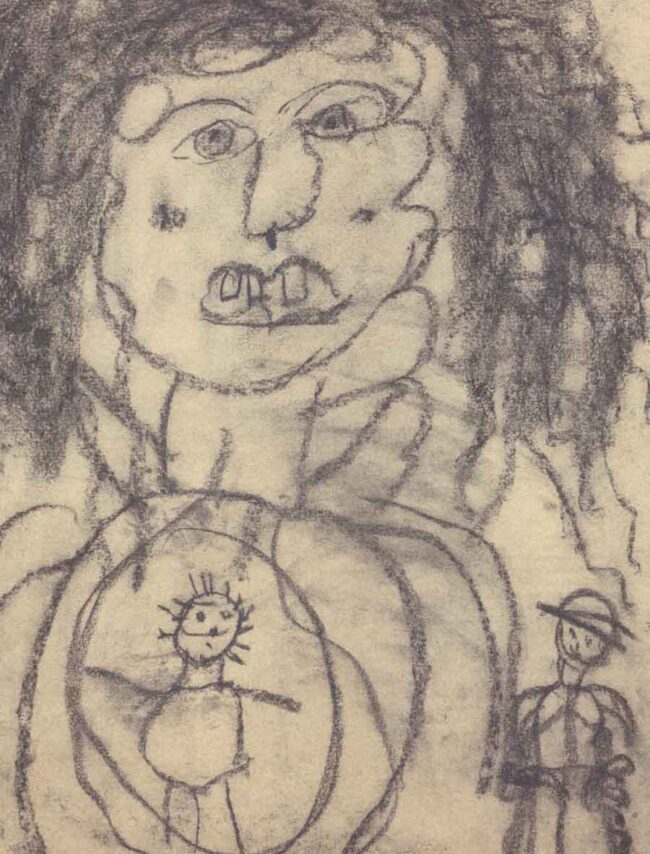 The impulse to abstraction is, of course, common to many children – including some whose distress came only through images. In 2002, shortly after 9/11, British critic Waldemar Januszczak visited a contest held for Children's Art Day. It was organized around a 'Barbie Prize', sponsored by Mattel for kids between 4 and 11. The winners' school received £20,000, but there was a separate, individual, prize.
The latter went to 11-year-old Jodie Fraser, who then attended Scotland's Coal Primary School. On that day the Twin Towers were attacked Fraser, however, was not in her class. She was ill at home, where she watched them blazing live on TV. When she made a piece about this – called simply "9/11" – she burnt 3,000 matches, one by one. She let each of them fall onto a canvas covered in glue because, she said, the towers looked "like matchsticks".
Januszczak, who has two daughters, found her abstraction surprising. At first, he wrote, he thought the idea had come from a teacher. "After all, the children's art we tend to coo over is generally stuff that looks like children's art… Speaking for my own household, it takes the form of colorful jungle scenes." Yet, he then reflected, his girls had never seen a jungle. Their joyous visions were as conceptual as Fraser's.
There's a lot of displacement-as-abstraction here and some drawings even take the place of speech. Kenza, a four-year-old, was enjoying Bastille Day in Nice when a 19-ton cargo truck plowed into the crowds around her. She survived because her mother threw them both between its wheels – saving her daughter, yet nearly crushing her. When the pair emerged, everyone around them was dead. Kenza, said one of her doctors, "then became literally one with her mother. For six months, she couldn't speak or be with anyone else." But her recovery eased when art started talking for her.
New Yorkers Elijan, 4, and Samuel, 5, saw the Twin Towers collapse from their window. Like Jodie Fraser, three thousand miles away, they were obsessed by the power of the fires. "Fire will eat you right up," Elijan told a project called The Youngest Witnesses. "The fire was so strong it burned up all the water."
The two brothers' picture echoes his words. Chaotic and overwhelming, the fire has clearly taken charge. Yet the youngsters give it a rhythm and dynamism. While they are drawing, at least, they have a modicum of control.
Such works show you why Picasso and Chagall loved children's art. It wasn't that they wanted insight into young perspectives. No – they envied the works' raw and instinctual power. To schooled adults, such fluency with line and color can seem supra-natural.
The violence and chaos that drive the art in Detonations might seem foreign to more stable societies. Yet the question these children pose is "foreign to where?". For none of us can actually escape their realities – these kinds of violence generate more than official history. Indeed, while war's incidents are central for a Robert Capa or a Kathë Kollwitz, events such as those they process have also helped forged comics we treasure. Such conflicts and many others like them changed the lives of artists from Hergé and Goscinny to Riad Sattouff and Marjane Satrapi. (Included in the show are sketches of Nazis by a young Tomi Ungerer.)
"As adults", writes Kathleen Lonbom, "we continually find ourselves grounded in the expected. Although a child's artwork stands as an artifact of personal, everyday life, it also documents that which is frequently outside those ordinary occurrences we adults experience."
That why Detonations has a special resonance now. Covid has forced even secure adults to re-examine routine and their dependence on the predictable. Those are luxuries these young artists lack and there's much to learn from their grit and energy. With nothing more than a pencil or crayon, each goes head-to-head with reality. At least on paper, they're determined to deal with it.