Once Everett "Busy" Arnold had moved Quality Comics from Manhattan to Stamford, CT, a small cadre of cartoonists began migrating to the Nutmeg State.
In a previous installment of this series we talked about two of the best known, Jack Cole and Gill Fox. This time our crew consists of Klaus Nordling, Harry Sahle, Tony DiPretta, and, in Connecticut for a brief stay, Alex Kotzky.
Although a cartoonist for most of his adult life, Nordling was only active in newsstand comic books for little more than a decade. He is best remembered as the artist of the definitive version of Lady Luck that he drew from 1942 until 1950. The sexy green-masked crime fighter began life in the weekly 16-page The Spirit comic book insert that appeared in a select list of Sunday newspapers, starting on June 2nd of 1940. Chuck Mazoujian, one of the Eisner shop artists, was the first to draw the feature, and when he left, Nick Cardy (alias Nick Viscardi) got the job. He also wrote it and his continuities were a bit lighter. He handled the feature from June of 1941 until February of 1942 and then went into the service. Arnold, by the way, also produced The Spirit booklets.
Klaus Nordling was a self-taught cartoonist. "I started doodling when I was a kid," he once told me. He was born in Finland in 1915, came to America as a child and his parents settled in a section of Brooklyn known as Fintown. He worked on Alexander King's satiric magazine Americana and drew a weekly comic strip about Baron Munchausen. He got into comic books in around 1939.
As he recalled, he signed on with the Eisner-Iger shop at about the time it was starting up. His first assignment was Shorty Shortcake, a diminutive fellow who looked like what Mickey Mouse would've looked like if he'd been a human and not a rodent. This ran in Fox's Wonderworld Comics.
He soon added more serious fare and took over Spark Stevens, about a daredevil sailor, whom Bob Kane had started. It, too, ran in Wonderworld. The shop provided art & editorial for the Fiction House comics as well and Nordling did Strut Warren, Powder Burns and Greasemonkey  Griffen for such titles as Wings and Fight Comics.  He usually worked at home, doing all the writing and drawing himself—"lettering, erasing, everything." 
When Will Eisner and Jerry Iger split up in 1940, Nordling stayed with Eisner. Fairly prolific in the early Forties, he contributed Crash, Cork & The Baron—"three flyers in the old bunch of pals adventure tradition" to Speed Comics and an unlikely superhero named The Thin Man to Marvel's Mystic Comics. This fellow had the ability to make himself as flat as a pancake and thus slip himself under locked doors. Nordling had a disdain for costumed supermen and admitted that this one was a tongue-in-cheek addition to the already crowded genre. Through Eisner he began working for the Quality line. Drawing and writing Shot & Shell for Military Comics, which Eisner was also editing, Bob & Swab for Hit Comics and Kid Dixon for National Comics.

His most successful feature was Pen Miller which appeared in National and then Crack. Pen was a cartoonist-detective and a "nemesis to the underworld." That the blond pipe-smoking detective looked quite a bit like his creator was not a coincidence, it was intentional. "I never had adventures like that. But, yes, everybody said he looked like me."

In 1942, Eisner summoned Nordling to start doing Lady Luck and join his studio in New York City. Nordling recalled, "So I dashed off in the middle of winter, left my wife and kids in Minnesota, to come and take over Lady Luck."  He hadn't been following the adventures of the debutante crime fighter and Eisner didn't give him much in the way of advice. "He just gave me a couple of strips from before… I just studied them and mulled over it for a while. And thought, well, this stuff is too straight. I liked to have a little comedy in there…so I suggested what I'd like to do with it to Will. And he said, 'Sure. Go ahead.'" 
What Nordling did was convert the feature into screwball mystery, mixing comedy, satire, and a bit of slapstick. The sort of thing that Bob Hope and Abbott & Costello were doing on the screen in movies like The Cat and the Canary. My Favorite Blonde and Who Done It?  To many, Nordling was "the definitive Lady Luck artist." He remained with the character for four years, writing and drawing over 200 four page adventures before stepping down.  Like Eisner, he became fascinated with integrating the logo into the splash panel. And one of the pleasures of following the weekly episodes was in seeing how the words Lady Luck fit into the design of the page and the opening of the story. Nordling used a different style of lettering each week. Commencing with Smash Comics #42 (April, 1943) the four-page adventures were reprinted, one an issue. She outlasted the magazine, which became Lady Luck with #86 (December, 1949). Nordling returned to the strip, contributing new, and longer, stories to the magazine's five remaining issues.
The Barker was not your traditional comic book hero. Jack Cole and writer Joseph Millard, a man who'd written mostly for the Fawcett comic books, co-created the character. He first showed up in National Comics #42 (May, 1944). Nordling was put in charge, drawing and scripting, shortly thereafter. The Barker himself was Carnie Callahan, a shrewd and fast talking fellow, who worked for Colonel Lane's Mammoth Circus. Soon settled in the lead position in the magazine, the feature dealt with the circus's peregrinations around the country and the adventures that befell Carnie and his colleagues. The chief costars were Lena the fat lady, Tiny Tim the strong man, Peaches the bearded lady, Spudo the Spider Man, who had four arms, and Bombo the human cannonball. Colonel Lane was an amiable gent and usually took part in the adventures. The Barker inspired Nordling, who now had 10 or more pages to play with, to do more ambitious stories. Arnold started a comic book devoted to the Barker. This lasted for fifteen issues, with Gill Fox doing most of the covers and a few of the stories. When Busy Arnold shut down, Nordling left newsstand comic books.
While with Will Eisner, Nordling had also worked on The Spirit.  "I wrote quite a few stories," he told me. "I actually penciled some. And I even, if I remember rightly, was forced into inking one." After Quality ceased, he spent several years aiding Eisner in producing educational and advertising comics. In addition to drawing, he had a life-long interest in acting and was active in little theater. He had a solid reputation in New England both in comedies and serious plays. He starred, for example, in a local production of Tobacco Road and earned rave reviews in Connecticut.
Klaus Nordling died in the winter of 1986 from a heart attack suffered while shoveling snow at his home in Ridgefield, CT.
Tony DiPreta, unlike many of the artists in this Connecticut Cartoonists series, was actually born in the state and lived there all his life. He resided first in Stamford and then in Greenwich. In an interview in the Connecticut Times he said that he'd been drawing since junior high. He'd heard that H. T. Webster, who drew The Timid Soul for the Herald Tribune Syndicate, made $50,000 a year. "I thought, boy, that's a lot of dough," he said in that 2007 interview. He'd been drawing since junior high and realized he might be able to earn a living as a cartoonist. He later graduated from the Stamford Guild Art School, where a couple of his fellow students had been Bob Fujitani and Elmer "Red" Wexler. Both went on to work in comic books.
After working at an ad agency, DiPreta did the lettering on the Lyman Young's Tim Tyler's Luck. Young, Chic Young's modestly talented brother, had been using ghosts throughout the 1930s. In the early 1940s, DiPreta also got into the fast growing comic book field. He had a bigfoot humorous style and a serious style. For Hillman Publications, one of several houses that was hopping on the comic book bandwagon, he drew features for Air Fighters and Clue Comics. Charles Biro, who was the one-man brains trust for Silver Streak and Daredevil Comics and was about to  invent Crime Does Not Pay Comics, was hired by Hillman to keep Air Fighters from crashing. He changed the magazine, drawing covers, anonymously, that were as bright and gaudy as circus posters and loaded with action, violence and bloodshed. The new star was Airboy, a teenage hero who had an airplane that could flap its wings. Explosive typography adorned each of the Biro-designed copies. BEWARE You Enemies Of AIRBOY! AIRBOY AMERICA'S ACE!, etc.
DiPreta used mostly his funny approach for this magazine. His character was Skinny McGinty, a fantasy feature about a thin barefooted fellow (a sort of rustic in the Li'l Abner mode) who possessed the ability to fly and helped the USA fight Nazis at home and abroad.  Switching to his sober side, DiPretta drew at least one adventure of Airboy. Hillman's Clue Comics was born in 1943, also designed by Biro and featuring a cast of oddball superheroes. The Boy King was the designated star and his sidekick was a giant living statue. Biro had launched Boy Comics a year earlier. It was an entire magazine of boy heroes, the leading one was Crinebuster.  Possibly the Boy King was a leftover from that venture. Among the other members of the Clue staff were Microface, Nightmare and Sleepy (a splendid name for a boy wonder companion) and Zippo, not a human cigarette lighter but a gent who wore huge metal wheels on his feet and zipped his way to crime scenes. DiPreta's humor contribution was Stupid Manny, a moderately heavy handed spoof of Superman. Manny was a plump fellow with a haircut modeled after that of Moe Howard, the headman of the Three Stooges. DiPreta also later took his turn with the fast-moving Zippo.
Clue was not a success, despite its crew of eccentric heroes. And despite Biro's type-cluttered and colorful covers. A striking slogan he wedged onto one cover read "PARENTS! YOU'LL SAY THESE COMICS ARE GREAT!"  By 1946 some of these characters were gone and a new hero was on the cover, and urbane, moustached and immaculately dressed chap in The Saint manner. He was Gunmaster, who gunned down criminal masterminds and gangland thugs. Among the artists who illuminated his cases were Jack Kirby and Dan Barry. With the 16th issue (June 1947) the magazine became Real Clue, another of the welter of comic books imitating Biro's successful Crime Does Not Pay.
In 1944 DiPreta did some work for Quality, his main effort being a humor feature about a character named Blimpy, the Bungling Buddha. It was another oddball fantasy feature, nicely drawn, about a statue who comes to life and goes about helping people. He has blue skin, wears only a pair of red trunks and a red fez.
DiPreta developed a new tough realistic hardboiled style for the late 1940s and 1950s. It's been estimated that he drew over 150 comic book stories in that period. For the Charles Biro/Lev Gleason true crime titles and the many crime comics Stan Lee was grinding out at Atlas/Marvel. He also did horror and fantasy. Earier he had ghosted the McNaught Syndicate's Mickey Finn newspaper strip from the late Forties to the early Fifties. When they needed somebody to draw Joe Palooka, about the perennial Heavyweight Champion, in 1959, they offered the job to him, He stayed with the strip until it ended in 1984.
A product of the post war boom in soap opera strips, Rex Morgan, M.D. was introduced by Publishers Syndicate in the spring of 1948. The writer was psychiatrist Nicholas Dallis. Artwork was handled by Marvin Bradley, former assistant to Ken Ernst on Mary Worth, and Frank Edgerton, who drew the backgrounds. The doctor was a handsome, dark-haired and unmarried young fellow who took over the practice of a deceased doctor in a middle-sized town. His patients, associates and friends indulge in most of the deadly sins which made for lots of action and suspense and helped the strip acquire several hundred newspapers. Andre Leblanc and Alex Kotzky were assistants/ghosts. When Bradley died in the middle Eighties. DiPreta was given the strip. Newspaper strips had been shrinking for quite a while and DiPreta had to work in cramped panels and did quite well. He left the strip in 2000 and retired.
He was a friend of Gill Fox and I met him several times through Gill. He was a genuinely nice guy and didn't seem to have any of the hubris some artists have. He passed away on June 2nd 2010.
Alex Kotzky was born in Manhattan in 1923, attended the High School of Music & Art and spent some time at the Art Students League in 1941. His earliest comic book work was done as an assistant to Chad Grothkopf at DC Comics. For Action Comics there was The Three Aces, which had been created by Bert Christman. For Adventure Comics he helped out on Sandman, another creation by Christman. By the time he went over to Quality, his work had improved quite a bit, it showed the influence of both Lou Fine and Reed Crandall, but was a bit more relaxed. He did a series of four excellent covers for the Crack Comics superhero Captain Triumph and drew a couple of covers for Military Comics.
These appeared in 1943 and 1944.Kotzky did some inside features as well—Manhunter for Police and Espionage for Smash.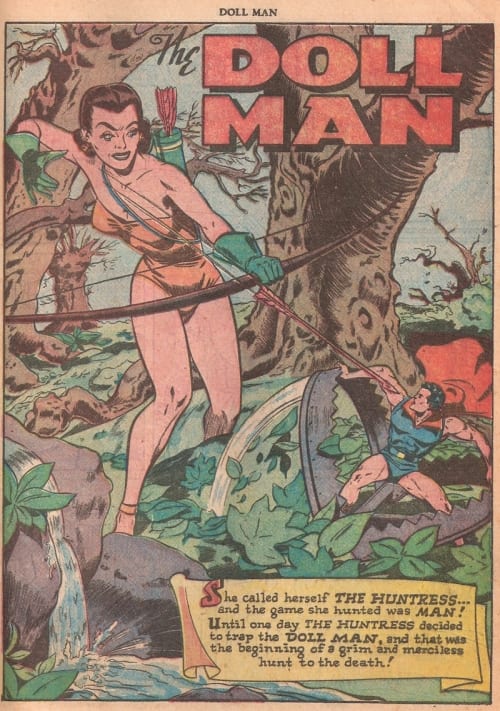 Before all this work had appeared in print. Kotzky "was invited to vacation with the U. S. Army." When he returned to the civilian world in 1946, he again worked for Quality. He now had a lighter style and was drawing Plastic Man in his variation of what Jack Cole was doing. Kotzky said that he considered that Cole was just about the best cartoonist in the business at the time and when Busy Arnold had assigned him do draw Plastic Man to back up the busy Cole, he'd modified his style from prewar approach to fit the job.
One of the new postwar comic book trends, as mentioned earlier, was for realistic law and order stuff. In the spring of 1947, Jack Cole was hired by Magazine House to create a magazine with the no-nonsense title True Crime Comics. Cole's first story for the magazine was an intense, moody one, Murder, Morphine and Me, dealing with a pretty blonde young woman whose life was ruined by drugs and pushers. In one panel she was being threatened with having an icepick thrust into her eyeball. This produced considerable attacks from Dr. Wertham and the growing number of people deploring the over the top violence showing up in comic books after the war.
Kotzky was hired by Cole to work with him on True Crime Comics and contributed some imaginative stories about violence in both historical and contemporary settings.  He told me that because of very tight deadlines, he and Cole had turned out the contents in a few days by working twenty four hour sessions. As the comic book industry began to falter in the 50s, Kotzky switched to commercial art, joining Johnstone & Cushing, the major producers of adverting comic strips, comic panels and comic booklets. In 1958 he drew an advertising Sunday page called Duke Handy, a hardboiled redheaded private eye who was handy with his dukes and loved to solve crime and smoke Phillip Morris cigarettes every chance he got. His style on this was a straight one, with no traces of Cole. He'd also been working ghosting Steve Canyon and there is a touch of Milton Caniff in this. Allen Saunders, prolific writer of Mary Worth, Steve Roper and Kerry Drake, wrote the scripts and managed to get a crime, a sexy dame and a pack of cigarettes in every Sunday.  Lou Fine, one of Kotzky's predecessors at Quality, was doing The Adventures of Sam Spade, as a hair tonic ad strip around this time.
Near the end of the decade Publishers Syndicate attempted to recruit a couple of guys named Alex. One was Alex Toth and the other was Alex Kotzky. The end result was a new soap opera strip titled Apartment 3-G by Kotzky.  Toth, who was a difficult man to negotiate with, sent back the sample contact to the syndicate with his changes, additions and deletions. Most newspaper syndicates, especially over a half a century ago, did not take kindly to such tinkering and Alex never did do a strip for Publishers.
The perennially young girls of 3-G moved into their shared New York City apartment with a nice list of newspapers on May 8th of 1961. They were Margo Magee, a brunette, Tommie Thompson, a redhead and LuAnn Powers, a blond. Tommie was a nurse, Margo was an advertising agency secretary and LuAnn, a very rich young widow.  Professor Papagoras was a slightly plump bearded fellow who dwelled in the same building. He served as a mentor and father figure, handing out advice, philosophy, criticism and guidance through all the traditional soap opera situations. The three roomies tangled with romance, mystery, intrigue, heartbreak and all the other problems that dwellers in soapland are heir to.
The writer of this new soaper was again Nick Dallis. Kotzky now arrived at a style of drawing he could live with. It was sophisticated, illustrational and inventive. His layouts were effective and enhanced the story telling. He decided to move with his family across to Fairfield County, Connecticut, that Nirvana of cartoonist and artists, from Long Island in the Seventies. Creig Flessel , in a much later interview, said, "They built a house in Connecticut. His wife did all the shopping and Alex never drove, never went out." The Kotzky house was, for a time, a legend among local cartoonists. He had decided to build a large studio for himself and one of the things he wanted was cabinets that were big enough to hold the large Bristol board sheets he used for his daily and Sunday pages. He built the cabinets himself, set up an ample drawing board, installed windows that let in plenty of north light. Within a few months, his wife decided she hated the house and didn't think that much of Connecticut. So they all moved back to Long Island.
Once there, Kotzky settled into an attic studio and rarely left it. The same sort of all-night drawing sessions that he went through in the days with Jack Cole became a fairly regular practice. Gill Fox grew concerned about his friend, worrying about the effect on his health of the marathon sessions at the board. Kotzky's health did start to fail and by the middle Nineties, he was no longer able to draw. His son, Brian Kotzky, a professional illustrator, drew the strip. Kotzky died on September 26th 1996 of the effects of kidney disease. Various other writers and artists have attempted to supply 3-G and the results have earned such reviews as "awful" and "incoherent." However, King Features didn't get around to laying the strip to rest until late in 2015.
To the best of my knowledge, Harry Sahle never actually resided within the borders of the Nutmeg State. Since he did do an enormous amount of work for Arnold's Quality magazines and therefore must have visited the Stamford offices frequently, I'm awarding him and honorary citizenship and fitting him into this segment. The major legend associated with him was that he died of a broken heart. This tale was often told around the campfires by Gil Kane. He told it to me a couple of times, naming names. Later on we'll recount it in a nameless version. 
Sahle was born in Cleveland in January of 1912. His ambition to become a cartoonist was early and strong and he was sending his work to such kid market's as the monthly contest in Boy's Life. He proceeded to be a staff cartoonist on a Cleveland newspaper and by 1940.when he and his family were settled in the Bronx, he was one of the cartoonists on the Funnies, Inc staff. Jacquet was supplying most of the content to Timely Comics titles. Sahle, with writer George Kapitan, did a feature about a costumed femme fatale named The Black Widow, who worked for Satan and lured souls to Hell. This character was originally called Madame Death, but that may have been thought too scary for kids. She lured in three issues of Mystic Comics, beginning in issue #5 (March 1941). At about the same time, a similar shady lady popped up for a short run in MLJ's Pep Comics, drawn by Harry Lucey. Oddly enough both Lucey and Sahle would later draw Archie.
Sahle's other lady hero was The Silver Scorpion and she was on the side of the law. She had a yellow costume and an impressive bosom. He did that one twice, using the penname Jewell, which was his mother's maiden name. The Scorpion was in Daring Comics #8 and Comedy Comics #9. Both Mystic and Daring had a very erratic schedule, with lapses of months between issues and massive changes of lineup. Possibly trying to get rid of surplus material bought from some of the lesser shops. Sahle did a lot of anonymous ghosting for Timely. Carl Burgos's The Human Torch was one of his specialties and he assisted on and ghosted some of his adventures. The fifth issue of the Torch quarterly (Summer 1941) was a full-length adventure of the flaming hero and Sub-Mariner and a monument to ghosts—Sahle ghosted The Human Torch and Mike Roy Prince Namor.  Over at the Novelty Press' Target Comics Sahle ghosted many of Burgos' White Streak episodes.  In addition he worked for MLJ.
In 1941 cartoonist Bob Montana walked into the MLJ offices one day with samples of a new character to show his editors. Now right here this particular legend starts to have a problem. Because the Archie Andrews in the sample was a prepubescent kid about 12 and outside of red hair and buckteeth he wasn't exactly the prototype for one of the most popular teenage characters in the world. John Goldwater, the J of MLJ, always maintained that he created Archie when he had asked Montana to come up with a sort of Henry Aldrich type. The teenage Henry had started as the star of a hit Broadway comedy, been turned into a very popular radio character and then appeared in the movies with a teenage Jackie Cooper initially portraying him. Archie took Madam Satan's spot and quickly aged, met Jughead, Betty and Veronica (too very sexy teenagers in those pre-Wertham days.) Archie now became the teenage idol he was meant to be and soon got a magazine of his own, In fact, Archie began gradually shooing all those costumed superguys out of Pep Comics. That was in 1941 and the next year an Archie Comic book was added.
From the third issue of Archie Comics, Sahle was drawing the covers and signing them and doing also the interior Archie stories. Busy Arnold concluded as time went by that he ought to have a teenage star. He gave the job to Sahle and wooed him away from the MLJ fold. Candy first appeared, of all places, Police Comics #37 (December, 1944), the home of such male heroes as Plastic Man, The Spirit and The Human Bomb.
A success, although not on the level of Archie, Candace O'Connor got a magazine of her own in the summer of 1947. Though built like a pinup girl, Candy was sweet and wholesome. Aggressive as well, she saw to it that she got her way and was very adept at managing her plump business man father and blond boyfriend Ted. She was quite similar to the energetic young girls to be heard on such popular radio shows as Meet Corliss Archer and A Date With Judy.
Candy is one of the few characters to appear to have appeared at about the same time in a comic book and as a newspaper comic strip.  Syndicated by the Chicago Times Syndicate and started running in newspapers on October 2, 1944.  Although the comic book first carrying her has a December cover date, comic books always dated their issues ahead. So Candy hit newsstands and newspaper racks at just about the same time. Sahle drew both versions and both were written by Ed Groggin.  Sahle remained with the strip through 1945, with Bernard Dibble ghosting a couple of sequences. Tom Dorr, an assistant to Russell Stamm on the Invisible Invisible Scarlet O'Neil, assumed the strip.
Sahle remained with the Candy comic book and did at least one other teenager strip, with a character name of Ezra, and one about a rustic fellow, Hickory, who hung out in Quality's All Humor Comics. He died on September 27, 1950, at the age of thirty eight, of cancer. In an interview Gil Kane, some time later, suggested that Harry Sahle had died because a broken heart had triggered his illness. The cartoonist had been in love with a female comic book artist who also drew pretty teenager features. She preferred a very successful comic book editor and cartoonist. Kane was a friend of Sahle and told me that all this was true. I pass it on.